Emilia-Romagna: The Good, The Fat, and The Lucky
Italy is shaped like a boot. There really is no way getting around that fact, so why not use it as often as possible, especially when trying to explain where a region is? Case in point, it helps for geographical placing of the 20 various regions. Emilia-Romagna is in the upper half of the boot, about where the cuff would begin, and stretches from the eastern coast almost all the way to the west. It's a wide band of land, consisting of just about every type of topography: mountains, valleys, streams, riverbeds, and coastline.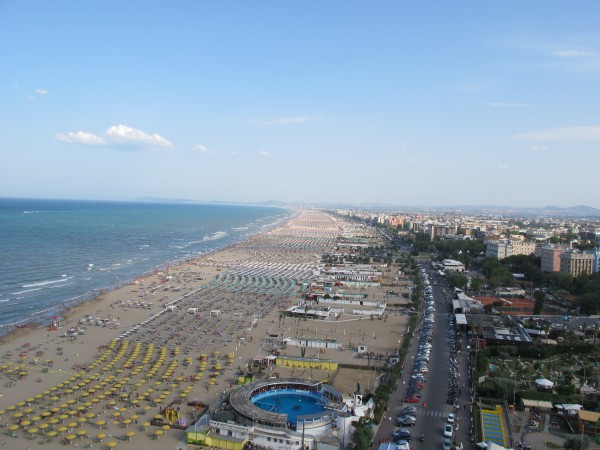 To the ancient world, such a naturally wealthy territory was prime real estate, and it is no wonder that the Etruscans, Gauls, and Romans all took up residency on this land. However, it was following their various reigns during Papal occupancy that Emilia-Romagna really flourished. The ancient trade routes were extended, bringing merchants from across the Mediterranean, which resulted in an influx of cultures, philosophies, and religion. Among other things, this set the stage for the establishment of Europe's oldest university, the University of Bologna, which to this day welcomes students from across the globe! Today Emilia Romagna continues to prosper and is one of the richest regions in modern-day Italy.
Blessed with rich soil, rivers and tributaries, and the type of climate that suits farmers, Emilia-Romagna is a key player in Italy's food market. With such sought-after delicacies as Parmigiano-Reggiano and Prosciutto di Parma, it is clear how the region received its famous moniker: La Grassa. The nickname, meaning "The Fat," was not meant to insult, but to accurately describe the richness of the land and its extensive products: meat, dairy, vegetables, legumes, and wine, to name a few!
What You Should See There
Emilia-Romagna still feels like a secret in Italy, especially for travelers. With so much territory, how do you know where to start? The answer can be a lot easier than you think: just go with what you love, and you'll find it there. Bologna, Parma, and Modena are Emilia-Romagna's "Big Three." Visiting any of the towns will give you a taste of the region's lifestyle.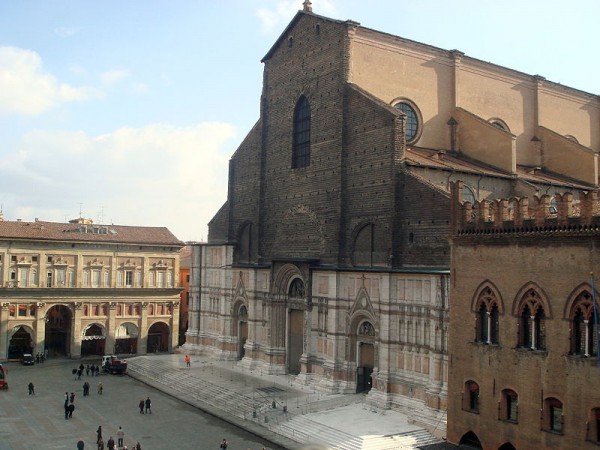 Literally. Gorge yourself on the salumi, cheeses, wines, and breads that earned the region its name  as you stroll the streets or even take a tour to see how the magic happens. Attend an opera in one of the oldest opera houses in Europe – one of the few which has survived virtually intact – and be transported back to another age of white gloves and gilded seats. Some of the most famous automotive companies in the world have their factories in the countryside between these towns. Just 30 minutes from Bologna you can visit the Lamborghini museum and factory, and catch a glimpse of the luxury cars being made. Or, to give your body a chance to slowdown, Ravenna and Rimini offer seaside escapes, with wide promenades to stroll along and super-charged evening activities in the height of the summer.
What You Should Eat There
Eating anywhere in Italy is an experience, but in Emilia-Romagna it is an art form. With so much to work with, it is no wonder that some of the most famous dishes in the US come from this region: lasagne Bolognese, tortellini in brodo ("in broth"), pappardelle pasta, and stuffed tomatoes. But to really get a taste of what this region has to offer, keep your eyes peeled for the products that the region has made famous – they don't need to be buried in a recipe, just put on display for you (or guests) to salivate over. Prosciutto di Parma "simply" comes on a plate but is one of the most sought-after products of the region. The King of Cheese Parmigiano-Reggiano is served with a drizzle of Balsamic Vinegar – that's it. And you are unabashedly thankful for it. La Grassa says it all.
Bring Emilia-Romagna to Your Table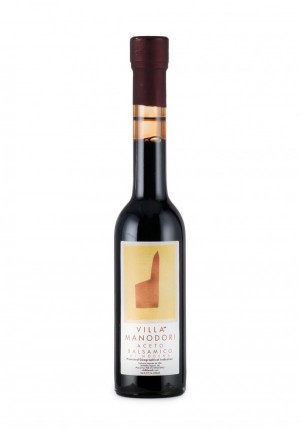 I had the true pleasure of visiting Emilia-Romagna last October. For anyone with ears (or eyes, if you've seen our newsletters), I should apologize. I've spent no less than 16 hours (a month, if I'm going to be honest) waxing poetic on what a treat this region was – and that everyone else was missing it. But now, thanks to the wise buyers at Eataly, a veritable superstore of authentic Italian food products, Emilia-Romagna can come home with you, and in fact, came home with me last week. My family rejoiced! Sunday dinner was on.
To transport me back to my days in Bologna, the folks at Eataly suggested a couple of products, one well-known and on the newer side of E-R creations: Villa Mandori Artiginale Balsamic Vinegar and Babbi spreads. I am no stranger to well-made, "legit" balsamic vinegar (check out our newsletter at the end of March, and you'll understand why), so I was more than ready to open that bottle. I rationed out some of the Parmigiano-Reggiano I bought from the factory last year – I've been treating this stuff like it was gold dust – and let my brother do the honors of pouring the vinegar over the cheese. Which took about 48 seconds longer than he thought, since he was dealing with REAL vinegar, which is darker in color and moves with the speed of warm molasses. We all started out so dainty. Using toothpicks to skewer each chunk of cheese, coated with the thick vinegar. Closing our eyes, we relished the sweet and savory combination. And then we were like savages. Literally pouring the vinegar into spoons (on fingers, in some cases) and grinning at each other. We were eating gold! Or at least it felt that decadent.
I am not a huge fan of Nutella (gasp! I know, but its true), so I wasn't certain what to expect from the Babbi spreads. I had two to try: chocolate and hazelnut. You well-versed readers are thinking "well, that's Nutella right there." Wrong. The Babbi spreads (which I later found out Eataly has pistacchio and coffee flavors, as well) is a different jar of happiness. The spreads are thinner, somewhere between peanut butter and ganache, and they pack a punch of flavor. The hazelnut is robust and earthy, while the chocolate is dark and rich, and together they make beautiful music. I made my great-grand-aunt's traditional biscotti (an Italian oil cookie, in this case) to enjoy with the spreads, but I now can see an entire dessert banquet. The spreads could be heated up and drizzled over cookies, brioche, or small cakes; they can be spread thin on crepes or pizzelles, or even used to paint some lucky strawberries and bananas. The possibilities seemed endless.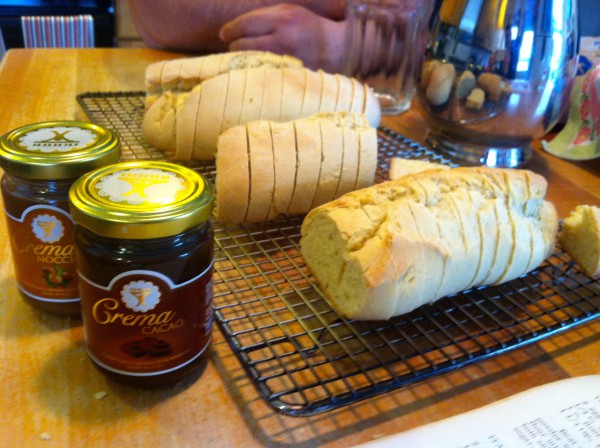 @ItalyFoodies: What's Your Take?
1. What is your best way to store balsamic vinegar? Do you worry about a shelf-life?
2. The Babbi spreads easily fit into the dessert category, but how would you use them in main courses or savory dishes?
3. What else can the balsamic vinegar be used for? Do you consider it "wasteful" to use it in a salad dressing or marinade?