Italian trains have been running since the 19th century and have been progressively modernized to become one of the most up-to-date and sophisticated railway system in Europe. Traveling Italy by train is the most recommended way by travel experts to explore this amazing country for at least three reasons: first, it is the most used mode of transportation to move between cities (unlike the US); second, it is the best way to admire the marvelous Italian countryside while sitting comfortably on your chair; and third, it is the most convenient and reliable option to travel throughout the country.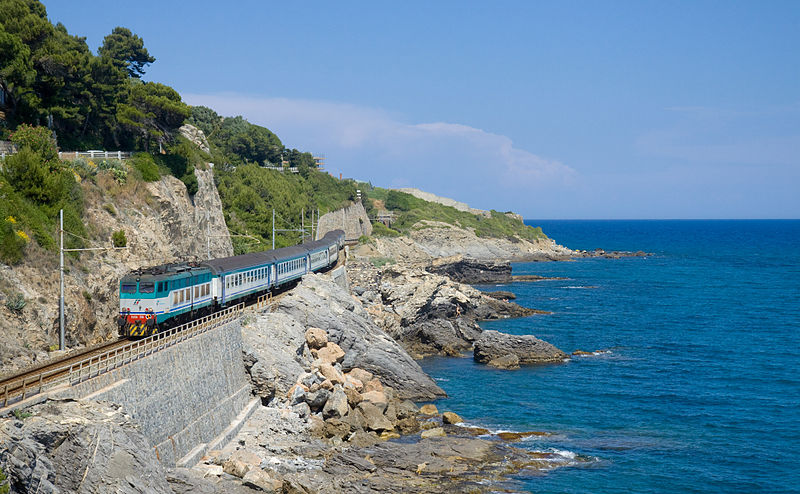 Using this mode of transportation can be slightly intimidating, especially for those who are used to cars and planes. This guide helps you approach this new world, offering clear explanations and giving you some very useful tips, coming straight from an Italian guy who has visited every corner of the country in recent years!
How to Buy Tickets
There are two ways to buy tickets for Italian trains: booking in advance or buying from the ticket office in Italy. We strongly recommend going for the first one for the following reasons:
You don't have to stand in lines or deal with ticket machines (and some pretty persistent beggars that usually stand right next to them).
You can avoid the unpleasant experience at the train station of finding that all seats for the train you'd like have already been reserved.
You can your seat next to your travel buddy (sometimes this is not possible at the ticket office, especially during busy days).
You benefit from a number of additional free services provided by online booking companies. One major perk is unquestionably receiving alerts in case of strikes (which usually happens on Friday in Italy).
Planning your trip in advance (places to visit, hotels where to stay, tickets to move between destinations) is the most efficient way to get the most out of your vacation, especially in a country so full of cities and places to visit.
Italian Train Companies
There are two companies that run Italian trains throughout the Peninsula: Trenitalia and Italo.
Trenitalia: As formerly holding the monopoly on the Italian train market until  Italo started operating in 2012, Trenitalia's wide domestic network ports customers almost in every corner of Italy. It offers first and second class coaches and different types of trains based on speed and routes.
Italo: Operating since April 2012, Italo is the first private train operator on the Italian market. Unlike Trenitalia, its high-speed train service run only between the major cities of Italy (Turin, Milan, Venice, Padua, Reggio Emilia, Bologna, Florence, Rome, Naples, and Salerno). You can choose the style of your journey among 4 different ambiances (Club Executive, Prima, Extra Large, and Smart).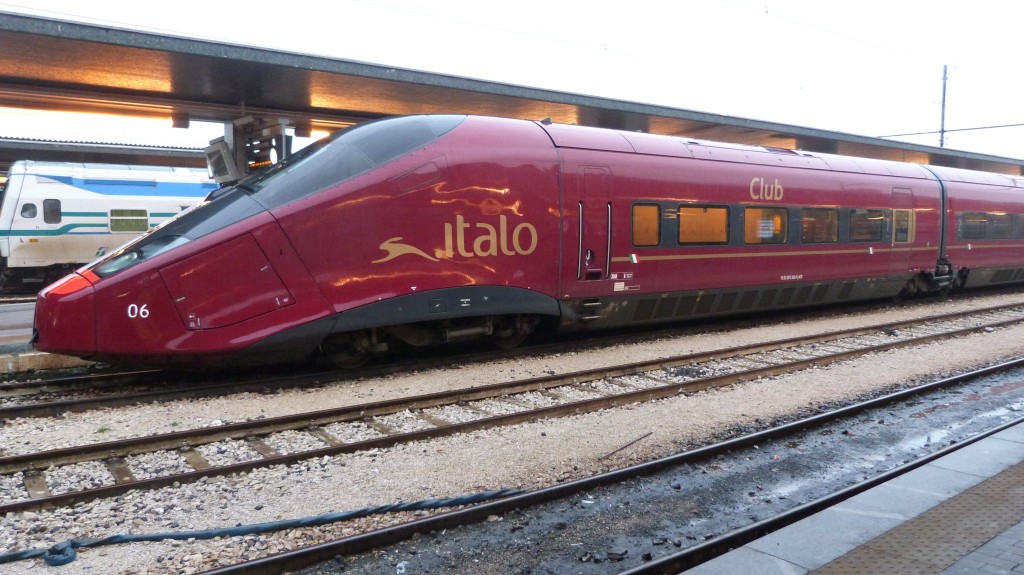 Types of Trains
While the newborn Italo uses only high-speed trains, Trenitalia offers 5 different types of train based on speed and price.
Frecciarossa: is the fastest and most expensive train. Traveling up to 300 km/h, this train takes you to the biggest Italian cities (Turin, Milan, Bologna, Rimini, Ancona, Florence, Rome, and Naples) except Venice. It has 87 daily connections and offers four level of service (Executive, Business, Premium, and Standard).
Frecciargento: these Italian trains runs through both the high-speed and traditional lines, therefore are less fast than the Frecciarossa. Frecciargento trains take you to main cities such as Florence, Bologna, Rome, and Naples but they don't go to Milan or Turin. In addition, these trains reach cities like Venice (and the Triveneto area) and southern regions like Apulia and Calabria. 58 daily connections are provided.
Frecciabianca: running only on traditional lines and connecting large and medium-sized cities, this is the slowest of the Italian Frecce. This train take you to 14 of the 20 Italian regions (Valle d'Aosta, Trentino Alto Adige, Umbria, Basilicata, Sicily and Sardinia are not covered). It has 86 daily connections.
Intercity: these trains connects more than 200 cities from north to south Italy. They are slower than Frecce because they stop at small cities, but are less expensive.
Regionale: regional trains run inside a region or between two adjoining regions. They will take you to almost every small town in Italy. This is the slowest and cheapest way to reach places. We strongly recommend to use Frecce to reach the biggest city of the region you wish to visit and then take a Regionale to move around.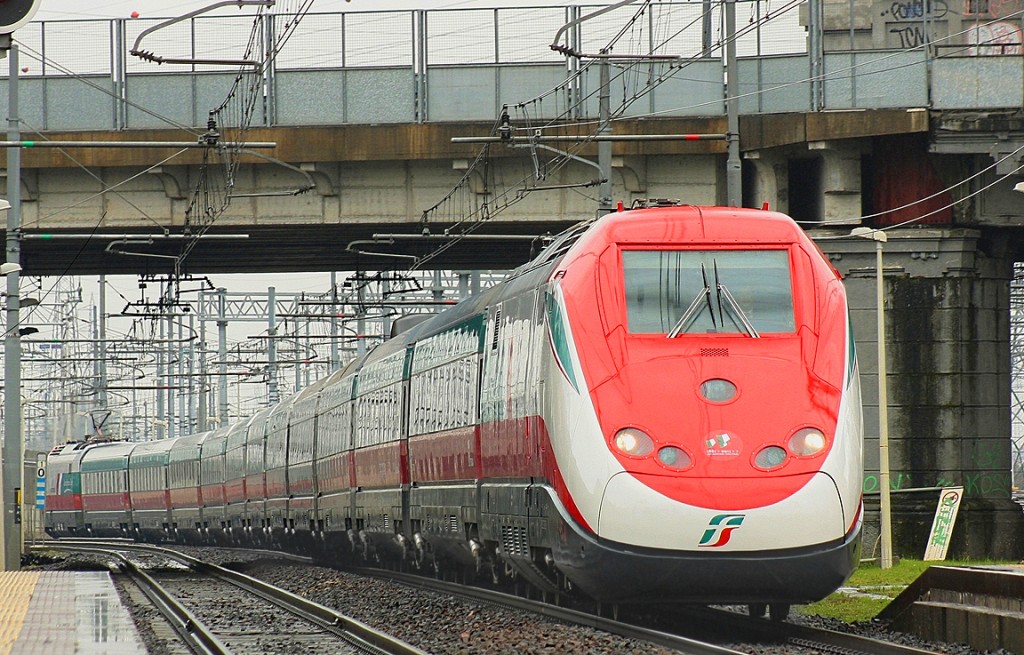 Duration of the Most Common Italian Train Routes
A tricky problem that often confuses travelers at the moment of planning their trip is the lack of information about the duration of a journey. Here is a list of the most common tourist routes (with no transfers required) with their duration divided by train operator.
Rome – Florence
1 hour 31 minutes (Frecciarossa – Trenitalia)
1 hour 32 minutes (Frecciargento – Trenitalia)
1 hour 23 minutes (Italo)
Rome – Naples
1 hour 10 minutes (Frecciarossa – Trenitalia)
1 hour 45 minutes (Frecciabianca – Trenitalia)
2 hours 8 minutes (Intercity – Trenitalia)
2 hours 37 minutes (Regionale – Trenitalia)
1 hour 20 minutes (Italo)
Rome – Milan
2 hours 55 minutes / 3 hours 20 minutes (Frecciarossa – Trenitalia)
6 hours 48 minutes (Frecciabianca – Trenitalia)
6 hours 39 minutes (Intercity – Trenitalia)
3 hours 14 minutes (Italo)
Rome – Venice
3 hours 45 minutes (Frecciargento – Trenitalia)
5 hours 38 minutes (Intercity – Trenitalia)
3 hours 45 minutes (Italo)
Florence – Milan
1 hour 40 minutes (Frecciarossa – Trenitalia)
3 hours 36 minutes (Intercity – Trenitalia)
1 hour 50 minutes (Italo)
Florence – Venice
2 hours 5 minutes (Frecciargento – Trenitalia)
2 hours 40 minutes (Intercity – Trenitalia)
2 hours 5 minutes (Italo)
Florence – Naples
2 hours 51 minutes (Frecciarossa – Trenitalia)
2 hours 57 minutes (Frecciargento – Trenitalia)
5 hours 10 minutes (Intercity – Trenitalia)
2 hours 32 minutes (Italo)
Milan – Venice
2 hours 23 minutes / 2 hours 35 minutes (Frecciabianca – Trenitalia)
Milan – Naples
4 hours 40 minutes (Frecciarossa – Trenitalia)
8 hours 40 minutes (Intercity – Trenitalia)
4 hours 31 minutes (Italo)
Venice – Naples
 5 hours 10 minutes (Frecciargento – Trenitalia)
4 hours 48 minutes (Italo)
Transfers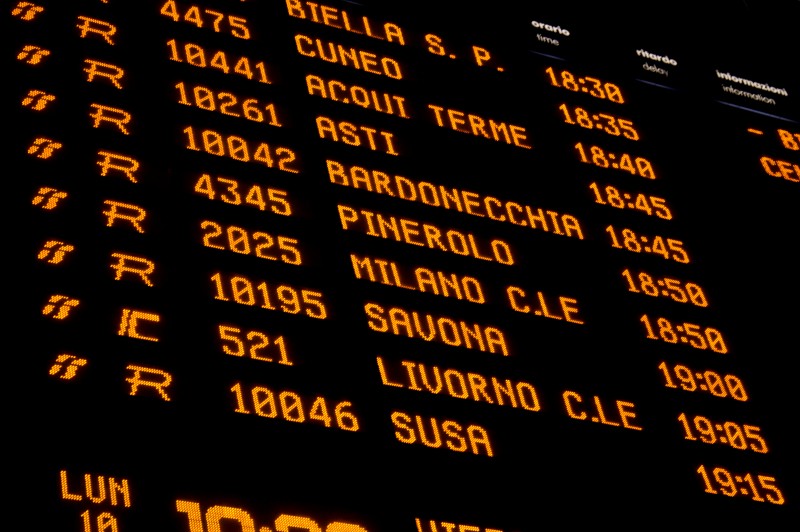 If you are switching from a type of train to another your route may require a transfer (which also involves having multiple tickets). Changing trains is not as hard as you may think – you just need to be prompt (in case of a tight transfer) and follow these simple steps:
Get off the train and find the monitors to check your next departure. There are smaller monitors on each platform and underground passages and bigger ones at the ticket office and waiting rooms (you will find both of them at the platform n.1).
Your ticket contains a large amount of information about your journey, but to quickly find your next train on the monitor you only need to look for 3 figures: the train number (under "treno" on your ticket and first figure from the left on the monitor), the platform from which it departs (the first figure from the right on the monitor) and the time of departures (under "ora" on your ticket and second figure from the right on the monitor).
When at the platform double-check that the train you are about to board is the right one. To do so check monitors above your head or simply ask staff or other passengers.
You are required to validate your ticket only if you are taking a Regionale (Trenitalia), otherwise look for your seat number (posto) and wagon (carrozza) on your ticket and simply get on the train.
Where Italian Trains Are Useless
Although Italian trains are the best way for tourists to move around the country, there are some famous destinations that are easier to reach with a different mode of transportation. Here is a list of the most popular:
Amalfi Coast: The only city on the Amalfi Coast you can reach by train is Sorrento. You need to get off in Naples (using either Trenitalia or Italo) and take a local train – but remember, you can only buy tickets locally. Once in Sorrento, the best way to go to other cities of the Amalfi Coast is booking a private transfer.
Matera: Neither Trenitalia nor Italo arrives in the UNESCO World Heritage Site of Matera. The closest city to get off at is Bari in Puglia. Once there you need to exit the train station and immediately enter the next smaller station on your left hand side named "Ferrovie Appulo Lucane" (a private and local rail service). Here you find a number of trains going to Matera. On weekends, you might need to take a bus instead of a train. The tricky part of it is that the correct bus station is not in the square outside the station, as it might appear at first glance, but is right behind the station on a road called Via Capruzzi.
Sicily: Trains in Sicily are slower and less frequent than in the rest of Italy. Also, the lack of a bridge connecting the island with the Italian peninsula makes the transit on the "Stretto" very slow. If you find yourself in Rome or northern Italy and want to go to Sicily we strongly recommend you to board a plane to land in one of the 3 Sicilian airports (Catania is the main hub). Another useful tip, Sicily is so beautiful and affordable that renting a car to move around is probably the best idea to enjoy the real spirit of this island.
Sardinia: This remote island can only be reached by plane or boat. Once there, our advice is to rent a car, same as Sicily: you have to take all the time is needed to enjoy the beauty of this region!
Long distances: Italy is a long peninsula (1300 km). The further south you go, the slower trains are. If you have planned to visit North Italy and then go South, you might consider taking a plane instead of using trains.
Where Italian Trains are the Only Choice
Some popular destinations, especially those away from main cities and airports, can only be reached by Italian trains (or rented car alternatively). Here is a short list:
Cinque Terre: Trenitalia does arrive in Cinque Terre. Once in Liguria, you need to take a Regionale train to get there.
Trentino Alto Adige: This mountain region has no airports. You need to get off in Verona (and maybe have a look at its fantastic city center) and take a Trenitalia Regionale (direction Brennero or Bolzano).
Salento: Many Italians say that the best beaches are in Salento (the southern part of Apulia). This remote place has no airport, a train or car are the only choices to reach it.
Perugia: Situated right in the middle of the peninsula, Perugia is capital of the region of Umbria. This is probably the most tricky region to reach, with no airports and no direct connections by train. Depending on where are you coming from, you might need at least one transfer to reach Umbria by train. But once there, you will soon notice that the journey was worth it!
With the exception of few places, Italian trains take you everywhere in the peninsula. This is the most enjoyable and affordable mode of transportation. A unique chance to combine the need of moving between places with the beauty of the astonishing Italian countryside!
If you are still unsure about how to reach places that weren't mentioned in this article please let us now in the comment and we will be glad to provide you with all the information!