Easter or Pasqua is the second most important Italian holiday after Christmas. This holiday covers a long weekend in Italy, with the additional Italian observance of Pasquetta (little Easter, also called Easter Monday) which according to tradition, you are free to celebrate as you wish. In fact, young people during this holiday tend to stay at a friend's country home or spend a long weekend in another city with no parents at all. A famous Italian saying for this time of year is:

"Natale con i tuoi, a Pasqua con chi vuoi."
(At Christmas with your parents, at Easter with whomever you want).
Visitors to Italy who are not spending time with friends may be interested to find that every city has their own traditions of note, and while you may not have friends and family to celebrate with, there are several ways to enjoy uniquely Italian traditions for Easter.
1. Chocolate and Painted Eggs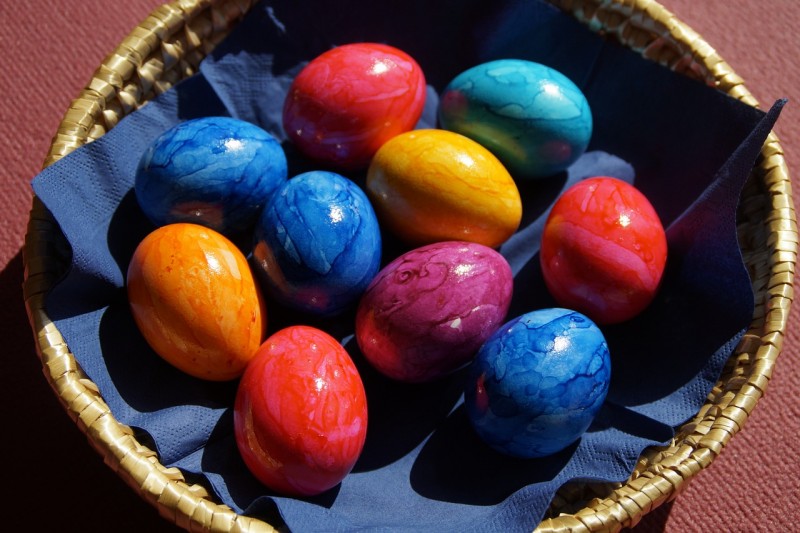 Every holiday in Italy has its own typical food. Easter is a particular exciting one for children since they receive over-sized, hollow chocolate eggs with a surprise inside. I, a native Roman, remember several instances during which I waited in anticipation while my brother broke an immense chocolate egg with embroidered sugar decoration during an Easter at a friend's country house. One of my favorite things to do during this period is stroll through the streets of the city and look at the store windows decorated with these chocoate eggs of all sizes, shapes, and colors.
The painted hard boiled egg  is also an activity that many children engage in. Some children paint the eggs themselves, while others color them in simple, monochrome ways by placing various spices, vegetables or fruits in boiling water. Some of the most common dyes are: beets for red, vinegar for brown, saffron for yellow, and blueberry for blue.
2. Florence: La Festa del Carro 
This tradition started in 1096, following the return of a Florentine knight, Pazzino di Ranieri de' Pazzi, who raised the Holy Cross banner in Jerusalem during the Crusades. For his bravery, he received pieces of flint from the Holy Sepulcher of Christ. Upon his return to Florence, these stones were used to light the Easter Vigil sacred fire and then ported around the streets of Florence.
Today Florentines commemorate this event with a Sunday procession during which a 30-foot tall antique cart is pulled by a team of white oxen during a parade of 150 soldiers, musicians and other people dressed in 15th-century attire. The procession starts at Porta al Prato and ends in Piazza del Duomo in front of Santa Maria del Fiore. Once arrived, a dove-shaped rocket (La Colombina) holding an olive branch is shot towards a cart loaded with fireworks, setting off the scoppio (the boom). This yearly event is meant to bring a bountiful harvest, stable civic life, and growing business.
3. Rome: the City of the Vatican and not Only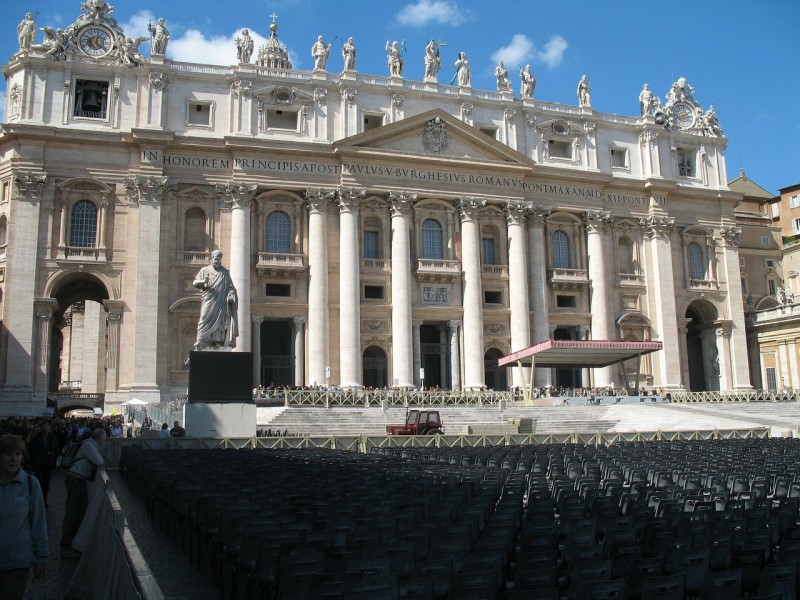 Rome is the city where the Vatican state resides, and who at this time a year is a mecca for Catholic pilgrims (do note that the Sistine Chapel does have exceptional closures during this long weekend celebration). Lucky for Roman visitors, however, all the other museums will stay open.
On Good Friday many people gather in Saint Peter's Basilica to listen to the Pope's mass at 5 pm, and immediately following, the Pope starts his walk to remember the Christ's Via Crucis with a candlelit procession starting at the Palatine Hill. After making 14 stops along the way to remember the walk of Christ and pray, the holy pontiff ends at the Colosseum. The beauty of this procession also lies in the gathering of many pilgrims with torches who follow: even for those who are do not consider themselves religious, this even it magical.
Traditional Easter food is the second most important celebration during Pasqua. If you want to eat at a restaurant, you'll definitely want to first check if the place is open and second, make a reservation, noting that several restaurants do close from Good Friday till Pasquetta. While dining in Rome, you won't want to miss the Roman traditional foods of Pizza Sbattuta, a sponge cake, hard boiled eggs, ham and corallina, a typical salami for Easter, as well as different varieties of salty cakes. You will also want to try the traditional lunch, consisting of oven-baked lamb, carciofi alla romana (Roman-style artichokes) and colomba (dove-shaped cake).
In Lombardia, the Colomba is the most famous dessert, a dove-shaped bread made with almonds, sugar and egg whites. Today this cake is known worldwide, but originates in the region that boasts Milan. Another northern tradition is the Pinza Pasquale from Trieste, a sweet bread with a three-point cross carved on top.
A Southern Easter tradition is the Casatiello from Naples, a salty cake containing cheese, sausage, salami, and even hard-boiled eggs. Catania, Sicily has a special kind of Easter cookies, aceddu cu' l'ova. These cookies are simple and have different shapes (the most famous one being a dove), and once made  they are given to family members and friends as a gesture of affection and good luck.
Buona Pasqua a tutti!
Which is your favorite Italian Tradition for Easter? We are curious! 
[su_frame]Editor's Note: This post was originally published in March 2013 and has been completely revamped and updated for accuracy and comprehensiveness.[/su_frame]