The Vatican is expecting millions of people in Rome on Sunday, April 27 for the canonization of two popes: Pope John XXIII and Pope John Paul II. This is a unique and historic event because no pope has ever made two other popes saints on the same day. However millions of people in St Peter's Square is nothing new.
Whether it is this April or another large Vatican event, here are a few tips for planning your day and surviving the crowds.
1. How to get there
Most large events are held in St Peter's Square, as is the case with the upcoming canonization. The first thing to plan is how you are going to arrive. The options are: metro, bus, train or your own two feet. Let's look at Rome's public transportation.
The first option is the metro. The closest stop to the Vatican is Ottaviano on the A line. Don't get off at Cipro which is closer to the Vatican Museums. Then head down Via Ottaviano towards Piazza Risorgimento, cross the street and you will see the colonnade in front of you.
There is also St Peter's train station which is only about a 10 minute walk from the piazza. Various trains run from Termini Station, Trastevere Station, as well as various others.
Many buses run to Via Cavalleggeri, which stops near the colonnade. Or you can take a bus to Largo Sassia-Santo Spirito and walk down Via della Conciliazione, which is the large road that runs right to St Peter's Square. Taking a bus to Piazza Risorgimento is also another option.
Remember that most large Vatican events are held on Sundays and public transportation often runs a bit slower that day. So plan ahead. Also buses and trains can be quite crowded, so another good option is walking. Or, better yet, walk exiting the Vatican area and then find a bus that takes you where you need to go. This is why it is often a good idea to book a hotel just outside the Vatican area.
Roma Termini is the main railway station of Rome
2. Entering and exiting the square
There are typically three main entrances to St Peter's Square for large events: in front of the square (in another square called Piazza Pio XII), and on the sides of the sides of the square (the Charlemagne wing of colonnade is on the left and the Constantine wing on the right).
You can plan how you are going to arrive depending on where you would like to enter.
Keep in mind that the piazza as well as Via della Conciliazione is divided into a left and right side, making it impossible to cross from one side to another. So enter on side you will also like to exit, otherwise you will find yourself stuck!
For those who don't succeed in finding a seat in the square, there are jumbo screens set up at the beginning of Piazza XII and at the end of Via della Conciliazione nearest to Castel Sant'Angelo.
3. What to bring
Come prepared! These events last around 3 hours. And typically you want to arrive a few hours before and it will take you a while to exit the square. So bring water and a snack or two. Sometimes people even bring a small picnic lunch because when the event ends, most people head to lunch and every restaurant is packed. It is also a good idea to bring sun protection: a hat, sunglasses etc. Finally binoculars can be a good idea since most likely you will be sitting far away from the action, as well as a portable chair or cushion. Often times there are few seats in order to allow more people into the square.
4. Finding a seat
Once you enter the piazza you have to find a seat or some place to stand. In the larger events there are often less seats. The seats that are raised in the front on the platform are often for special ticket holders. But if you are a small group sometimes you can find a few seats together even in areas which seem full. Otherwise it is a good idea to find a place along the sides of each section. Often the pope drives through the crowd and those along the edges have a better view, even if their seats are much farther back.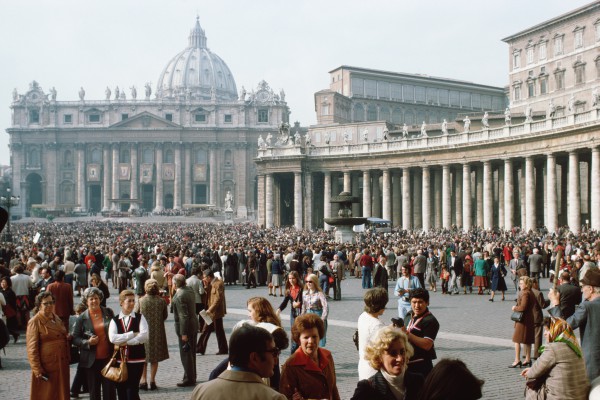 5. Where to eat
If you don't come with your own mini-picnic, it's easy to grab a piece of pizza at Alice Pizza (Via delle Grazie 7/9), or you can pick up a freshly-made simple sandwich at a place that simply says "Panificio" above the entrance (Borgo Pio 126). Otherwise if you want to move away a bit and sit down to a nice lunch try Osteria delle Commari (Via Santamaura 23).
Are you thinking of attending an event in St Peter's Square?