Aside from being famous for its mafioso stereotype, Sicily is still an ideal place to spend your vacation. Palermo, the capital of this gorgeous and sunny region, is the perfect destination for your next adventure in Italy.
If you like a city with amazing food, famous for the quality of its fresh ingredients; rich in history, from the ancient times of the Roman Empire to the Middle Ages, and with sunny weather, Palermo is the perfect city for you!
There are many interesting things to do and see in Palermo:
Food: trying the famous Sicilian arancini, cannoli, and fresh granite.
Opera House: visiting the famous Teatro Massimo.
Art History: visiting the Martorana church, the Palermo cathedral, and the Monreale church with its many stunning mosaics.
Food markets and shopping areas: shopping in the Ballaro' market and in the Palermo city center.
1) The Food
The region of Sicily boasts a variety of high quality foods such as fresh fruit and vegetables: firstly, because Sicily is a fertile island, and second, because it has always been a land of invaders such as Arabs, Greeks, and Normans, who brought innovations throughout the centuries. Olives, lemons, oranges, eggplants, tomatoes, pistachios, almonds, grapes and more make Sicilian dishes varied, healthy and absolutely delicious!
Moreover, there are some Sicilian foods that you have to try when you come to visit Palermo. Don't leave the island without tasting:
Arancini: they are fried rice balls with ragu', peas and mozzarella. You have to try them hot. You will love them, especially when you feel the stringy mozzarella get stuck in your mouth after the first bite. You can find them in any bakery, rosticceria (fry shop) or pizzeria. They even sell it on the street!
Cannoli: they are pastry desserts whose name means 'little tubes.' They can be filled with cream, chocolate, or ricotta (Italian whey cheese). The ricotta ones are the most traditional, but you should try them all! You can find them in any bakery or pasticceria (pastry shop).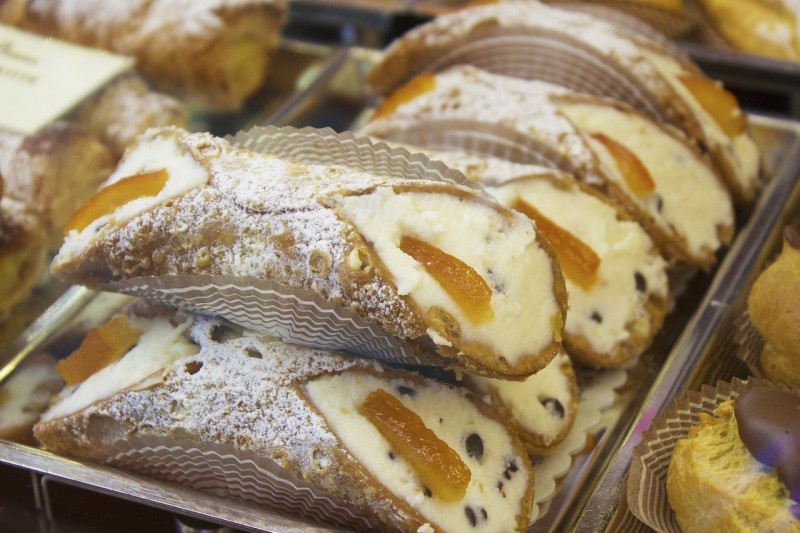 Granita: they sell it in a cup or a glass with ground ice, sugar and fresh fruit. It is typical of the summer because it is sweet and refreshing. However, as Palermo is very rarely cold, try it at any time of the year, even if you are visiting in the winter. There are different flavors: lemon, strawberry, almond, pistachio and more. I Siciliani (Sicilian people) like having their granita with an ice-cream briosche and you should copy them. You may end up loving this combination!
As Sicilian cuisine is delicious and unique, you may also be interested in taking some cooking classes where you can learn more about the Sicilian culinary tradition. For example, you can learn how to make their traditional primi piatti, secondi, contorni (side dishes) and many other dishes, and also taste their good quality wines, like the ones from the Alcamo area. Make your friends jealous by coming back from your vacation with new culinary skills, "made in Sicily".
2) The Sights
Baroque art, Norman and Byzantine architecture, beautiful mosaics, and medieval buildings and monuments spread all over the historic center are the result of centuries of invasions, but first and foremost they represent a long, fascinating history! Make sure you wear comfortable shoes, have a fully charged camera and plenty of water during your tour (as the weather in Sicily is usually warm, especially during the summer). Be ready to experience an outstanding tour of history and art in Palermo!
The grand Teatro Massimo should be the first thing you see when you come to Palermo. Dating back the 19th century, it is the largest opera house in Italy and one of the biggest in Europe. For those who are fans of Italian opera, the great tenor Enrico Caruso began his career in this theater. Also, Teatro Massimo was used as a setting in famous movies like The Godfather. Visiting the Teatro Massimo is absolutely a must. You might take up a new passion for opera, or simply enjoy climbing the same staircase as the great boss Corleone did with his family!
After having enjoyed the Teatro Massimo, go ahead and visit the Quattro Canti area. It is an intersection that divides the city in four parts. These fours quartieri (quarters) have a lot of history and art that will fascinate you. You can find beautiful buildings and churches in the Baroque style, but also old monuments which date back to the Middle Ages. Moreover, make sure to take some pictures of all the Sicilian streets and piazze (squares) that you find along the way.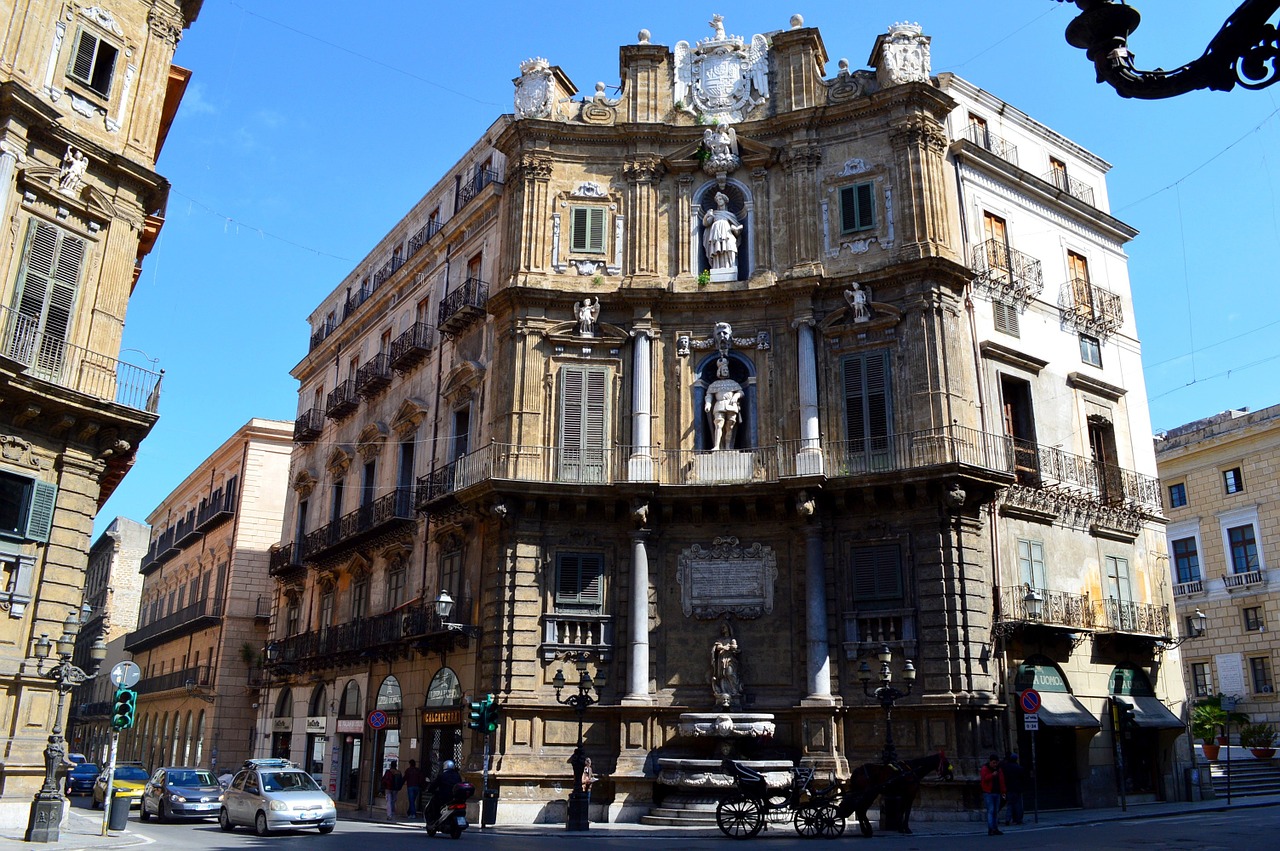 If you aren't already exhausted with all of the art in the city, then you must visit the beautiful church of Santa Maria dell'Ammiraglio (or Martorana), a cross-in-square church overlooking Piazza Bellini, in the heart of the historic center. What make this church even more beautiful are the mosaics that give the church a fascinating Byzantine style. Make sure you see all of them once you enter this gorgeous church.
Next stop of your tour of Palermo's outstanding art and history will be the Cathedral. Erected by a Norman archbishop in the 12th century, the Palermo Cathedral boasts Baroque architecture which you can see through the small side cupolas outside the building. If you are a fan of Roman history, please note that you are visiting the place where Fredrick II was crowned and buried. You might feel like you have gone back to the ancient times of the Holy Roman Emperor!
Conclude this tour in the best possible way by visiting the Norman Cathedral in Monreale, a small town very close to Palermo. You will be amazed by the stunning glass mosaics all over the church, from the naves to the floor and the aisles, all depicting religious scenes of Christ and the Apostles. Make sure this church is on your list when you visit Palermo, as the art and history of this fascinating monument are absolutely unique.
3) Shopping
Shopping in Palermo is as good as in any other great city in Italy. If you want to go shopping and find the best Italian clothing brands, from Armani to Versace and Dolce & Gabbana, go through Piazza della Liberta' and explore all the lovely streets nearby.
It is the oldest market in Palermo. This outdoor market sells mainly food such as fresh fruits and vegetables and fresh meat and fish, but also some items for the kitchen. Stop by to try some of the local Sicilian specialities. Plan on having a snack or lunch there, as you will not be able to resist to all the delicious food you will find in the bancarelle (stands), and don't get scared if you hear vendors shouting out loud to make people buy their food at a good price – it is all part of the food market tradition!
If you are planning to visit Palermo and the Sicily region, just get in touch with our travel experts! They can design an experience right for your travel needs.
Are you going to Italy anytime soon? Where?