Once known as "Vienna-By-The-Sea," Trieste is a compact port city with a multicultural atmosphere and a fin-de-siecle grandeur that has flown under the radar of many tourists who choose Italy as a destination. So what can you expect from a visit to this enchanting place, sandwiched between the Julian Alps, the Slovenian border and the Adriatic Sea? The first is accessibility. Trieste is just 100 miles east of Venice, with frequent train service to get you there in only two hours. One excellent reason to go is to spend a night at the opera. The exquisite Teatro Verdi is a late eighteenth-century gem that is a mixture of Venice's La Fenice on the inside and La Scala in Milan on the exterior, and its acoustics are wonderful! Book a room in a 4-star hotel such as the historic Continentale or the more contemporary Palace Suite, installed in one of Northern Italy's finest Art Nouveau buildings; both are within easy walking distance of the opera house.
What to See in Trieste
The second is history in a setting of uncontaminated nature. Miramare, a 19th-century Habsburg castle right outside Trieste, is breathtakingly perched right above the Adriatic Sea and has been designated a Natural Marine Reserve by the WWF for the pristine quality of its waters. On its landward side, the castle is surrounded by acres of woods and formal gardens, while not far away you can access a stunning cliffside walking path that has nothing to envy the celebrated (but much more crowded) paths in the Cinque Terre.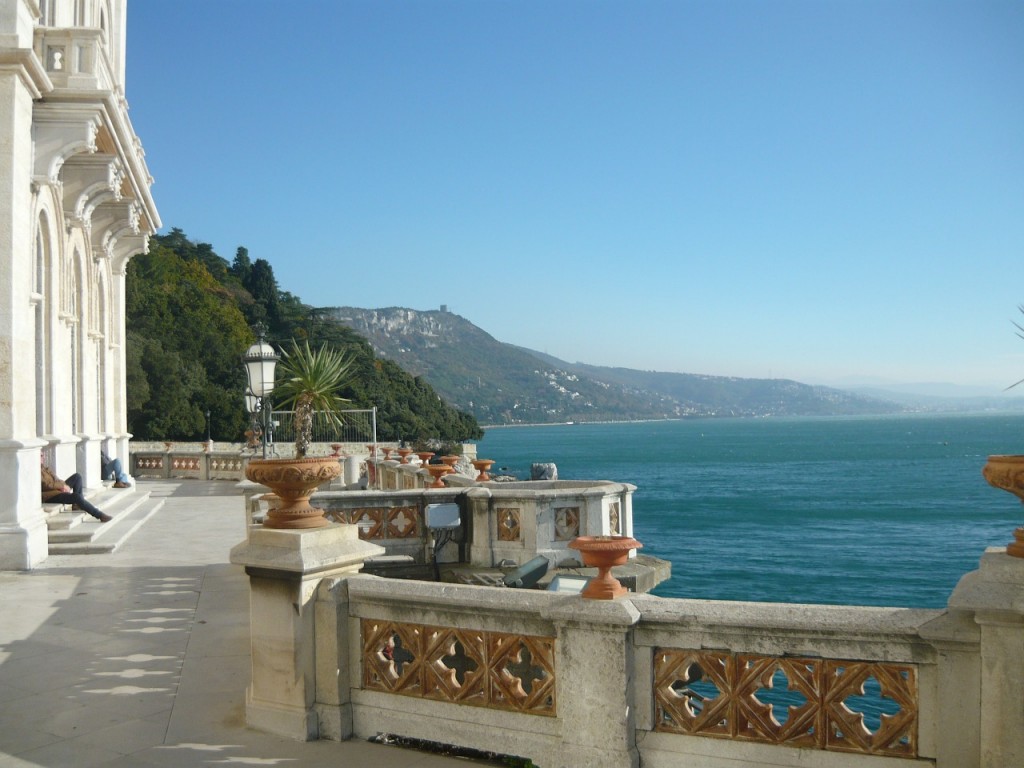 Strolling the streets of downtown Trieste, you might not think you are in Italy at all! The city was officially annexed by the Habsburg Empire in 1509, and Viennese architecture and coffee houses dominate Trieste to this day. A building not to be missed is the Jewish Temple, one of the finest synagogues in existence. Inspired by the ruins of ancient Baalbek in Lebanon, it was built in 1910 and boasts an imposing organ, plus a Mikveh (ritual bath) in the basement. And the third Sunday of each month the streets of Trieste's former Jewish ghetto come alive with a huge antiques market. It is not uncommon to come across treasures like Biedermeier furniture, Bohemian crystal, Viennese porcelain and rustic objects from Carso region of the Friuli.
Trieste's Food & Wine
Visitors to Trieste are also amazed by the vast choice of food and wine the city has to offer; not just spaghetti and pizza but a cosmopolitan cuisine that's a fascinating mix of Hungarian, Slavic, German and Italian traditions and can be savored in characteristic restaurants like the Antica Trattoria Suban. Wash it all down with a world-class Friulian wine that can stand up to the very best vintages of Piedmont and Tuscany. Here in the Friuli region, the vineyards are interspersed with fortified castles and onion-domed bell towers, a visible reminder that the Slovenian border is only a few miles away. Select Italy can arrange for you to rent a zippy yellow Vespa for touring the nearby Collio wine country, just like we did for Joseph Rosendo when we designed the itinerary for the shoot for his popular Travelscope series on PBS in September of 2008.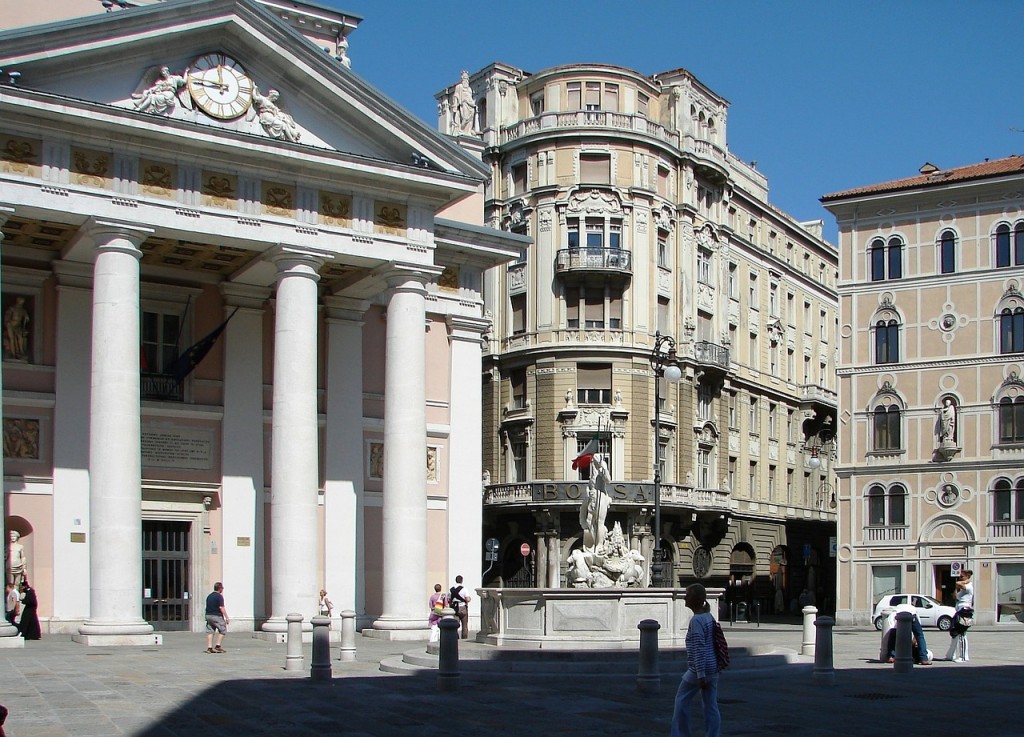 Discover the Whole Region
But why stop at Trieste when the entire Friuli region has so much to offer? If you head for the hills, you can take in San Daniele del Friuli, a charming hill town just 50 miles away. International gourmets know that San Daniele is synonymous with the finest quality, rosy-pink prosciutto, due to the area's unique microclimate caused by fresh air currents from the Alps meeting the humid currents from the Adriatic Sea. Whole hams with the trotter still attached are a familiar sight here and can be sampled at one of the more than a dozen "ham bars" scattered around town.
Ham fans won't want to miss the annual food festival in honor of prosciutto di San Daniele, held at the end of June. Called Aria di Festa, it runs from June 24th to 27th, 2016 and attracts some big international names: no less than Bob Dylan kicked off his Italian tour at last year's festival! San Daniele del Friuli is also the gateway to the Carnia and the glorious Julian Alps, a hiker's paradise of trails winding through untouched forests and alpine pastures of abundant wild flowers. So for uncontaminated nature, intriguing history, impressive architecture and great food and wine, Trieste, along with the entire Friuli region, is a destination just waiting to be discovered!
Have you ever been to Trieste? What was your favorite spot? Share your experience with us!