Florence, Venice and Rome (and increasingly, Milan) are the Italian titans of city tourism and with good reason – each place has enough attractions to keep the curious traveler busy for weeks, if not years – but Italy also has many other fascinating, historic cities that can stand alone as destinations. One of these is delightful Bologna, capital of the Emilia-Romagna region, in the Po River valley of northern Italy.
The city is Italy's seventh largest by population and an easy train ride from Venice, Florence or Milan. The world's oldest university is here, tracing its roots back to 1088, and to this day a youthful spirit characterizes Bologna despite its wealth of classic artistic and historical treasures. What Bologna doesn't have in the way of Florence's instantly recognizable Renaissance hallmarks it more than makes up for in other architectural riches – did you know, for example, that Bologna has nearly 50 miles of colonnaded arcades (porticos)? Not to mention great nightlife, shops and restaurants. Here are some things that make Bologna a place you don't want to miss:
The Food
And more food: Emilia-Romagna is one of the most gastronomically blessed regions in Italy, and the famous spaghetti alla Bolognese – or more traditionally, egg-pasta tagliatelle with the Bolognese meat ragu – is just the start.
Sample great Bolognese specialties at a place like Tamburini, where the big lunchtime platters of salumi and formaggio (under $20) truly shine. For a taste of the region's hearty foods and full-bodied wines, dine at Osteria dell'Orsa (the "inn of the bear"). Inexpensive, with most entrees coming in at under $20, and atmospheric.
If you want to bring some of Bologna back home, stop into Paolo Atti & Figli, a bakery and pasta shop in the historic center that's some 131 years old. This is the place to stock up on handmade tagliatelle and gourmet dry goods for your pantry.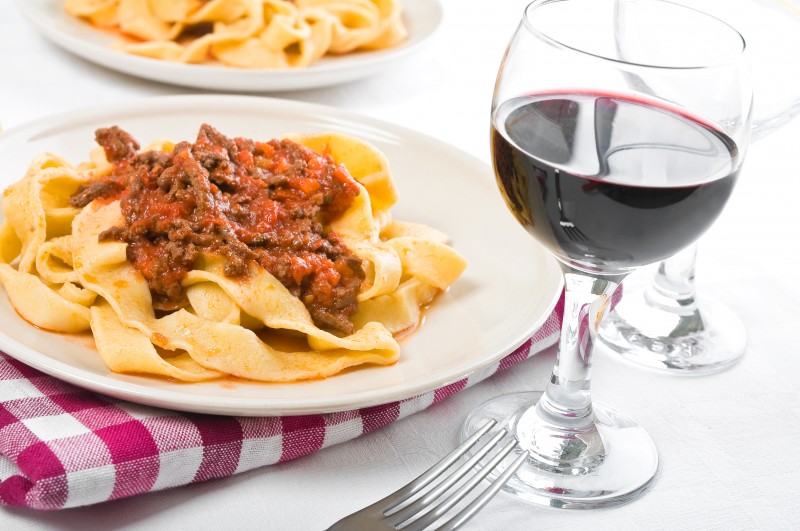 The Sights
Most of the streets in Bologna's central district follow the patterns of the ancient Roman town. The 350-acre site is a trove of medieval, Renaissance as well as Baroque architecture.
The miles of porticos that define Bologna's medieval quarter make an extraordinary backdrop for strolling. The Portico of San Luca is the longest and links the medieval city gate of Porta Saragozza with San Luca Sanctuary. Elegant Piazza Maggiore, also in the center and lined with porticos, is where you'll find the Civic Archaeological Museum of Bologna. Located inside the Palazzo Galvani, the museum's collections include important Etruscan finds.
Beautiful Piazza del Nettuno is right by the Piazza Maggiore, and is home to the ravishing Fountain of Neptune. In Giambologna's 16th-century masterpiece, the god of the sea lords it over all he surveys – in this case, the gorgeous cityscape of largely intact medieval Bologna.
The Towers of Bologna. Back in the day (about 750 years ago), medieval stone towers were a prominent feature in the city. Today there are fewer than 20, but they still provide a strong flavor of the Bologna of yore. The smaller of the "two towers" that still stand guard over the Piazza di Porta Ravegnana leans 11 feet from the perpendicular, so you can't climb it – sorry! But right next to it is the Torre degli Asinelli, and it leans much less (about eight feet). So, for $4 hike up the 500 steps for the fetching view of ancient red roof tops from the top, some 334 feet above street level.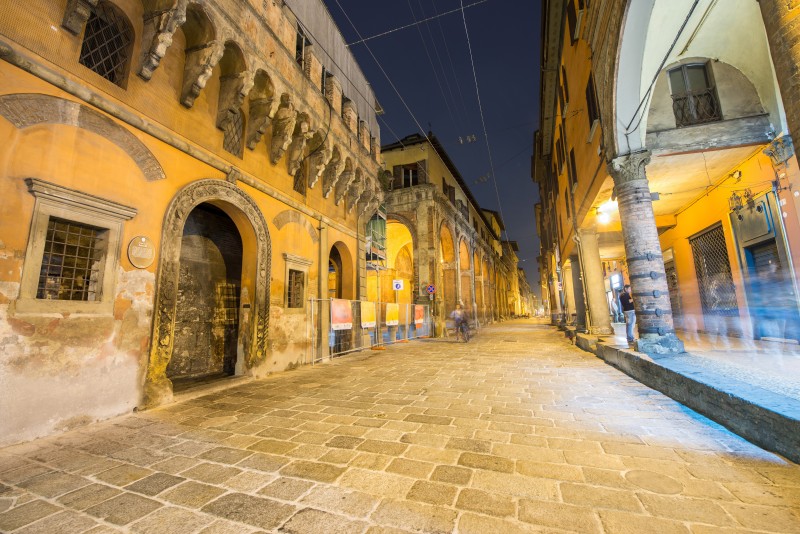 In a city of many historic churches, the Piazza Santo Stefano is a standout for its lovely shaded arcades and quartet of Romanesque churches. One of them, the church of SS. Vitale e Agricola, actually incorporates bits of ancient Roman temples.
The Museo di Palazzo Poggi is the art and science museum of the University of Bologna, and is like a supersized cabinet of curiosities. Check out the antique maps, Ercole Lelli's Anatomical Waxworks, the Ship Gallery and more.
The Shopping
Bologna is home to some famous names of Italian industry, such as Maserati, Ducati and Lamborghini – so if you're in the market for some hot wheels, you'll be in the right place. But there's more:
Mandarina Duck: The stylish and oh-so Italian manufacturer of world-class luggage and leather goods is headquartered in Bologna, so no surprise that there is not one, not two, but three Mandarina Duck boutiques in the city. Our favorite is on the irresistibly named Via Marilyn Monroe.
L'Inde Le Palais: Bologna has its share of Prada and other luxury chain stores,
but you'll find a mix of famous names from Roberto Cavalli to Valentino as well as hot newcomers at this chic designer emporium for women.
Hoffmann: No one will deny that it's a digital age, but that's what makes a classic toy in the fine Italian tradition such a well-deserved treat. This sleek shop is the place to beat for wooden toys crafted by expert hands as well as artful stuffed animals, puzzles and more.
Do you know more about Bologna, where to eat or where to shop? Let us know!