The rolling hills of Italy's lush landscape are famous for their bountiful produce. Fields of gnarled, silvery-leaved trees burst with olives. Vines carpet hillsides to the horizon. And luscious sweet lemons drip juicily from lemon groves. But the Mediterranean sun does not ripen Italy's most prized crop. It grows slowly, in the dark, under the ground and has to be hunted by dogs. Let's go truffle hunting in Italy!
What are truffles?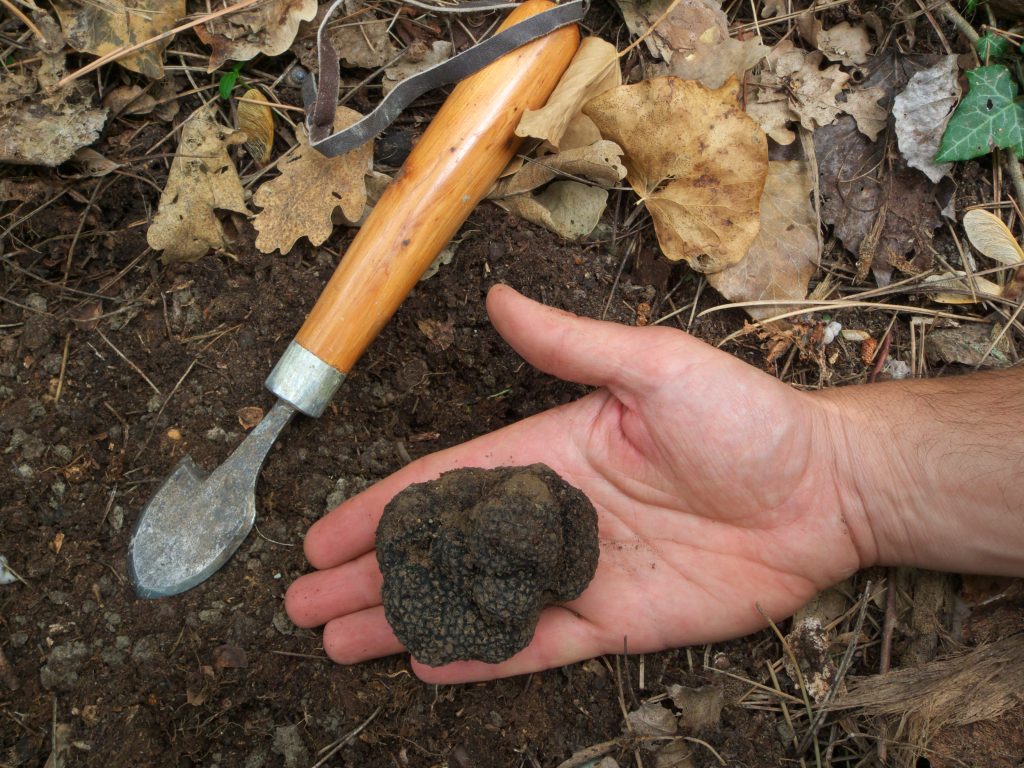 Truffles are the fruits of a subterranean fungus that typically grows around the roots of certain trees including oak, beech, birch, hazel, pine and poplar. They look a bit like a knobbly, rough-skinned potato and normally grow a few inches underground. But as they grow under, not on trees, truffles are difficult to find and therefore very expensive.
It's fortunate then that truffles have a uniquely strong smell that pigs and dogs can be trained to seek out. In fact pigs are expert truffle hunters, as the aroma is similar to pig pheromones. But as they also love to eat truffles, trained dogs have more recently replaced truffling pigs, as the hounds will release the fungus without damaging it in exchange for a treat.
Truffle history
Truffles were considered mysterious and divine by ancient peoples. The Greeks believed that truffles grew at the spot where thunderbolts, hurled by the god Zeus, hit the ground. The ancient Romans loved them for their aphrodisiac properties and poet Cicero called them "earth's offspring."
But it wasn't until the 1700s that truffles and truffle hunting in Italy really became popular. The "edible diamonds" were adored by the King of France and nobles across Europe who imported the natural fungus to add flavor and a touch of class to their banqueting tables. Today chefs all over the world use truffles for their strong flavor and these gastronomic delicacies are so prized that they are worth their weight in gold with 2015 prices hitting a high at €2,500 or $2,660 per kilo.
Truffle hunting in Italy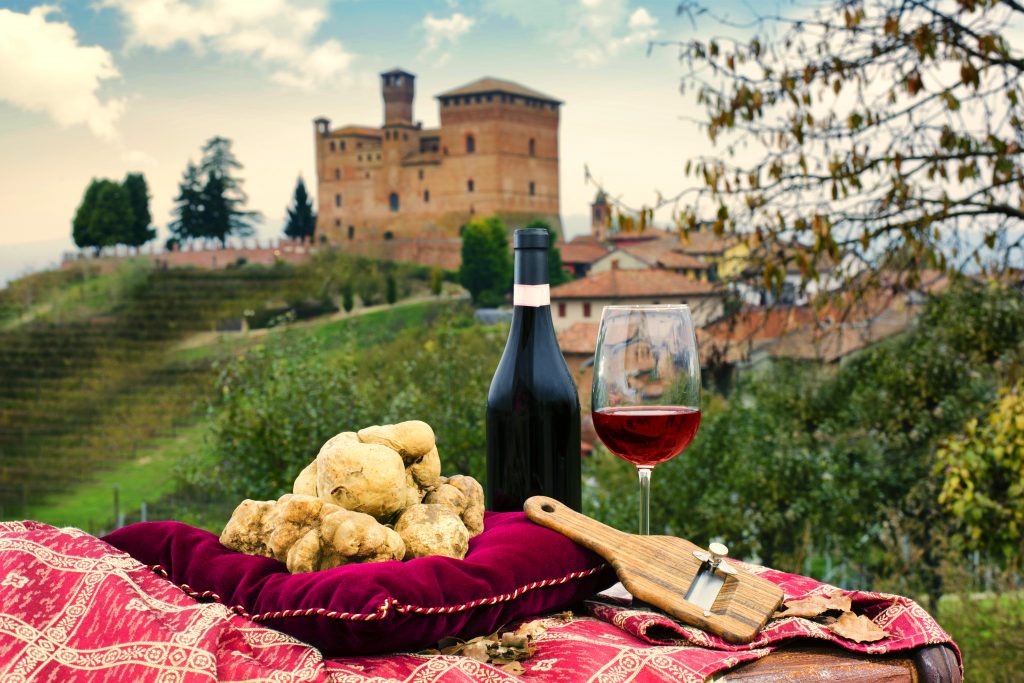 If you've ever visited Tuscany chances are you've tasted truffle dishes or come home with truffle cream or oil as a culinary souvenir. But if you want to know more about where these black diamonds come from you need to take a trip out into the heart of truffle country.
San Miniato, halfway between Florence and Pisa, is a lovely little hilltop village that celebrates the white truffle harvest with 3 weekends of truffle markets every November. The aroma of truffles wafts through the streets as visitors taste test and buy all manner of truffle goodies. From sausages and salami to paté, or from cheese to infused lard spreads, San Miniato has everything a truffle lover could want.
1) San Miniato and Truffles in Tuscany: A Full Day Excursion
So if you love this wonderful delicacy, San Miniato is the perfect place to explore truffles in Tuscany. With a full day to explore, you arrive at San Miniato to meet the Savini family's trifulau truffle hunters, who will take you through some of the local truffle types before taking you out on your very own truffle hunt with the dogs! Lunch will obviously include this delicious delicacy and maybe even some of the truffles you've found yourselves. And the day is rounded off with a guided visit of the Tenuta di Poggio wine estate where you'll learn how their grapes are turned into beautiful bio-dynamic wines. What a wonderful way to experience the bounty of Tuscany.
2) Truffle Hunting in Tuscany: A Full Day Excursion in Crete Senesi
San Giovanni d'Asso, set in the heart of the southern Sienese landscape, is another focus for white truffle hunters and lovers alike. The little hilltop town celebrates the fabulous fungus with its truffle festival in the second and third weeks of November each year, right at the height of the season and is tremendous fun for foodies. Stalls laden with piles of truffles and truffle infused delights tempt visitors but you need to be quick as fresh truffles begin to lose their prized perfume within days of being harvested so get ready to tuck in!
It's a great spot to try out a little truffle hunting in Tuscany, teaming up with a local trifolaio and his trained dogs for the morning to seek out the Tuscan treasures. You'll learn about where truffles grow and how the dogs work and, hopefully, you'll be lucky enough to uncover some of the hidden fungus for yourselves. A mouth-watering lunch of local truffle dishes at the wonderful Osteria delle Crete is then followed up with a guided tour of the medieval town overlooking truffle country.
3) Truffle Hunting in Le Marche: Half Day Excursion
But Tuscany isn't the only place that truffles flourish in Italy. You can have a truly wonderful rural experience truffle hunting in Le Marche too, an Italian region to the east of Tuscany nestled between the Apennine Mountains and Adriatic coastline. You'll spend the morning truffling deep in the woods of a private estate just outside Ascoli Piceno. The underground mushrooms thrive here all year round so, with a little help from the locals and their expert dogs that can take upwards of 4 years to train, you should be lucky enough to unearth some buried treasure just in time to add them to or grate them over your tasty Le Marche lunch. Delicious!
4) Wine & Truffles: Full Day Wine Excursion from the Langhe area
Alternatively head north-west to the Piedmont region for a full day of wine and truffles in the Langhe area. Famous for its luxurious tartufi bianchi white truffles you'll spend the morning foraging with a local truffle hunter and his devoted dogs in the hills of Monferrato, home to some of the best truffle hunting in Italy. Lunch in Alba, famous for its white truffle festival that has been running in October and November for nearly a century, is then followed up with a wonderful visit to a celebrated Barbaresco red wine producer and then a guided tasting of some of their finest vintages to conclude your day sampling the fruits of this great land.
5) Barolo Tour: 'King of Wines, Wine of Kings'
Or if you prefer Barolo, the King of wines and wine of kings, to Barbaresco stay up in the Langhe for some lip-smacking vintages, thanks to some of the best harvests in recent years. Your day begins at Grinzane Cavour, home to the 10th century Falletti di Barolo castle and with historic links both to the red wine and the unification of Italy. You'll stop for a wine tasting at a renowned local wine producer before a typical Piedmontese lunch in the village of La Morra. An afternoon visit to a second Barolo winery, including a guided tasting, illustrates the different subtleties of Italy's most exquisite red. And your final stop takes in the historic center of Alba, Piedmont's legendary heart of truffle hunting. The best wine in Italy paired with the best tartufi truffles; Piedmont is heaven for food and wine lovers alike!
Ultimately Italian truffles are some of the most prized and treasured in the world. Their scarcity, cultivation difficulties and short, localized seasons make them a culinary luxury. And their unique earthy flavor enriches dishes from pasta to cheeses to salami. It's a delicacy for which gourmets and gastronomes will pay handsomely. So scouring the misty, autumnal countryside of Tuscany, Le Marche or Piedmont country to go truffle hunting in Italy is an experience that will stay with you for a lifetime. Our travel experts are on standby to help you find these buried treasures and in the meantime make sure you leave us a comment with your favorite truffle recipes to whet our appetites! Buon apetito!

Comments
comments