Today,  the 8th of March, the world turns PINK (or yellow…read on to understand why) for International Women's Day. As an Italian living in New York, this is for me the unique opportunity to export another staple of the Made in Italy and help my dear American friends to discover, after introducing them to genuine Italian food and  Italian culture the ultimate BFF night in Italy: la Festa della Donna!
In our Select Italy world of travel, particularly food & wine, many Italian women are globally recognized for their contribution to their industries, once completely in the hands of their men counterparts. Women in wine, for examples, have surged in Italy – the Antinori sisters and the Casato Prime Donne run by Donatella Cinelli Colombini are the ultimate examples. But this is for another story…this blog is going to tell you how to focus on how to have an Italian style international women day.
A Little Bit of History…
Before breaking down the typical women's day in Italy let's take a look at the history of this festival that has become more and more meaningful for me as I get older. Being an independent young woman is not always easy and March 8th is the perfect opportunity to celebrate the achievements of women – my own personal victories and those of my girlfriends as well. It allows us to contemplate where we come from and where we are going. So, before unveiling how an Italian girl parties on March 8th, let me first go elaborate on the essence of this day.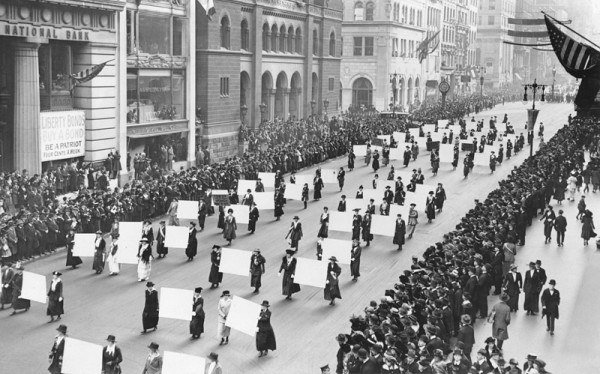 The first  International Women's Day (IWD) was established  in the United States on February 28th in 1909 by the American socialists, who organized a public performance to promote equal rights including suffrage for women. In that period thousands of working women in New York went on strike asking for higher salaries and  better working conditions. A few years later, in March 1911, a fire started at the Triangle factory in New York and 146 workers (mostly women) died. This is probably the episode that started the common belief that International Women's Day commemorates the death of working women in the fire of a Cotton factory. But the real reason why 8th March has became globally recognized as IWD is to commemorate a group of Russian women who inSt. Petersburg in 1917 took the streets to demand the end of the war. This event inspired the Second International Conference of Communist Women, held in Moscow a week before the opening of the third congress of the Communist International, to pick a day common to all countries and set March 8th as the "International Day of the Worker".
In Italy the IWD wouldn't be recognized until 1922 and only in 1946, after the war, la Festa della Donna was celebrated all over the country, beginning and continuing with the typical flower that is still today the unofficial symbol for this day in Italy: the Mimosa flower.
Read on to know why and all other ways to be prepared, next year, for a full-on Women's Day Italian style:
I. Yellow is the new…Pink
Every time  I think about la Festa della Donna I picture in my mind yellow, fluffy, and fresh Mimosa buds. In Italy the Mimosa flower, a yellow bush that blossoms in early March and has a delicate and fresh perfume, is the symbol of this special day. You will hardly find an Italian home without Mimosas. Fathers, husbands and boyfriends gift women with this yellow flowers, and no excuses are allowed: on March 8th you will find Mimosa sellers at any corner in Italy!
The particularly of this flower is that it blossoms prior to any other, flourishing in the very first days of March, as a herald of the spring to come.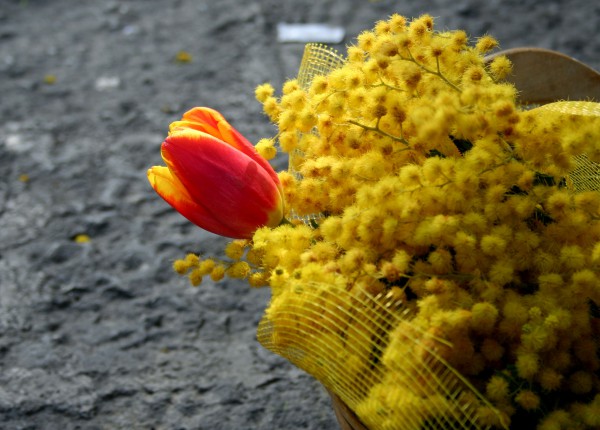 Here's a great tip for you guys: if you are dating an Italian girl buy her and all (yes, I wrote all) the women of her family a decent bouquet of Mimosas. The family lives far from you? This is not an excuse, you can deliver flowers anywhere. This small action can cost you a little bit, but you'll gain major brownie points and the family approval!
2. Forget Your Waist Line
Women's Day in Italy is all about Mimosa the flower, Mimosa the cake (yes, we invented that too), Mimosa the cocktail ,and girls night out. Even in a small city like Trento (where I come from), you'll have an embarrassing wealth of options.
Since I already told you about Mimosa the flower, let me tempt you with the cake. The torta Mimosa is a very popular Italian cake that we prepare on the occasion of Women Day. The cake is reminiscentof Mimosa because of the color but especially for its texture: crumbled sponge-cake that reminds the buds of the Mimosa. It's really a simple cake to make: you will need to prepare two sponge-cakes, one it's going to be covered with crema pasticcera e panna montata (custard and whipped cream) and the other will have crumble for the top. Making your mouth water, right?
Then, if you want, there is also the cocktail Mimosa to make a toast! Have you ever had it? One part of champagne and one part cold citrus fruit juice (fruit is always good for you) and you will also have your yellow cocktail to say salute (cheers) with your girlfriends!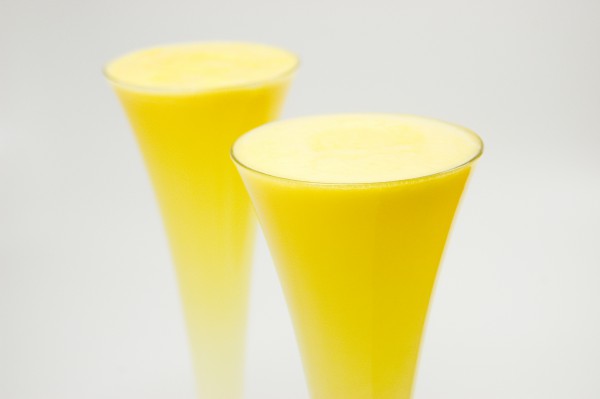 3. Work out your Thumbs – It's Girls night out!
On women's day you will text your girlfriends, more than usually already do, all day long for updates about what they are going to be your night plans. So be prepared and start now to work out your thumbs to avoid strain (and hey, with the extra cake and Mimosas, you'll get a nice workout to counterbalance!).
Yes, because who although we all love flowers and pies, the piatto forte of the day is the girls night outs! A few days before the 8th Italian families' dinner conversation is, "Hey hubby, do you remember the 8th is la Festa della Donna, right? I'm going out with the girls and our daughter has plans too…". Meaning: "Consider yourself lucky if I remember to leave leftovers in the fridge for your dinner. IWD is my day off". It's just a sort of claim to rights. Because that day has to be for us and – quoting our marketing manager (and very Italian) Andrea G. – "Men stay home doing nothing".
A typical night will include dinner because, yes, we always think about food. Restaurants usually have a W day exclusive menu and again, Mimosa is the theme. Tables, decorated with yellow flowers and dressed up BFFs enjoying their night out together. For the most adventurous girlfriend, the after party to dinnerwill be shows in the clubs, where men dance on a stage like in the movie Magic Mike. It is really common and you can find young ladies and mature ones as well.
Besides dinners and wild parties there are also many cultural initiatives like women free admission to museums and archeological sites, public performances, reading groups and many theatre plays about women rights. Italy is the homeland of culture and it won't be difficult to find an interesting exhibit. In fact, you could also plan an all-about-girls-day enjoying women artist exhibits. I assure you that you'll find creations by women everywhere! For example, last time I went to the Uffizi Gallery, I found out that the popular painting Giuditta che decapita Olofene (Judith Slaying Holofernes) was painted by an Italian woman, Artemisa Gentileschi, in 1612. It sounds amazing to me considering that most of the great artist of that centuries were men!
So from now on you too can celebrate March 8, as Italian Women Do. Think of it as a Bachelorette party, once a year every year of your life. And as with every party – it requires some planning. So share this article with your friends and bring them up to speed for a indimenticabile Italian style celebration that they do not need to wait next March 8 for… any day can be perfect to celebrate women.