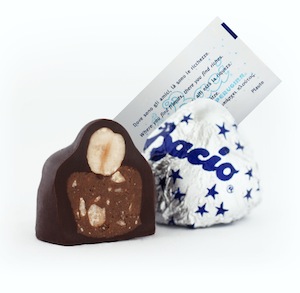 Valentine's Day: that special day where courtly love is celebrated with couples sharing chocolate, candlelit dinners, red roses and  presents. Italians are known for their romanticism, which has been said to pulse through their veins (how could it not, being surrounded daily by beautiful lanscapes and romantic locations?), and have their own small traditions to celebrate Cupid's day in a variety of ways.
Un Bacio per te:
To give Bacio Perugina chocolate is a simple, but very thoughtful,  gesture passed between couples as well as friends. This chocolate is well-known across the world for its delicious chocolaty-hazelnut taste, which few can resist, and for the little message hidden on the inside of the wrapper, perpetuating faith in love and friendship everywhere.
Be Romantic in Camogli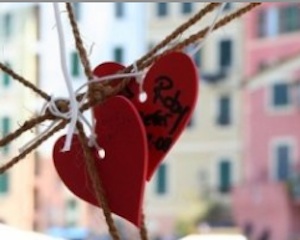 Camogli, in Liguria, a small fishermen's town that is pleasant throughout the year, but who spruce their town up especially for Valentine's Day. Anticipation builds the week before the day of love with the celebration of the Innamorati a Camogli (Lovers in Camogli). During this time, the town dedicates itself to lovers and love, hosting events, displaying decorations, and producing an overall electric energy. Townspeople also follow an original tradition of hanging heart-shaped cards with the name of their loved one on fishing nets on the harbour wall.
If you would like to bring your special someone here, walk on the promenade where the markets have delicious sweets, themed with hearts, red color and lovely words, or head to dinner at a local restaurant for a pre-fixed romantic menu served with a bottle of Prosecco. For dessert, order the signature sweet called camogliesi, a delicious pastry with a heart of chocolate and rum.
Stay Classic
If you're most interested in staying traditional, then wander on over to the famous romantic cities for a love-filled night. In Rome you can't miss an aperitivo at the Gianicolo while taking in the breathtaking view of the capital. Finish your night with  dinner downtown in one of our recommended restaurants in our Tips for Travelers collections. If you choose to spend your romantic nights in Venice, bring your special someone on a gondola tour through canals of this beautiful city and enjoy a delicious romantic dinner at la Serenissima for some fresh fish. Finally, in Florence give your honey a smooch at sundown on the stunning Ponte Vecchio.
Which is your favorite San Valentino Italian tradition? Let us know!