Select Italy Holiday Ratings


We believe that customers booking a Select Italy are looking for that personal attention and individual service, which only a truly independent, specialist company can offer. We are passionate about Italy, and our sole aim is to provide our customers with quality holidays, backed by solid experience and the highest level of customer care. We truly are the Italian specialists, with Italian directors who have over 30 years' experience in selling vacations to Italy and a sales team also with many years of experience and a passion for selling Italy.

Select Italy comprises a large range of accommodation, from simple residences to luxury hotels. The official ratings are based on certain facilities or services being available and they do not take into account the size of the bedrooms or public rooms, nor the preferred décor of the owner, which may be at odds with your taste. Hotels in the same category, even in the same resort, can vary considerably in character, ambience, service and facilities and may not offer the same staffing levels and facilities, or be as well maintained. it must be bourne in mind that cost is a good indication of standards, particulary when comparing hotels in the same star rating.

As well as the hotel's official star rating, we have also given our own special rating, based on our personal opinion. This rating should be taken into consideration, especially when comparing hotels of the same official star rating. By all means browse our website to get an idea of what we offer. However, if like many of our repeat customers, you would like the reassurance of speaking to someone with first hand knowledge of a particular property or area, then do call us. Together we will find the perfect hotel and create a wonderful itinerary.



LUXURY

Italy's finest hotels; where guests can enjoy a highly attentive service in luxurious surroundings. Our luxury collection is the ideal choice for that special celebration, honeymoon or even a wedding.



SELECT

Our Select category includes hotels which we believe offer good standards of service, accommodation and facilities, and which are situated in excellent locations.



COMFORT

Mid range properties, offering a good level of service and comfort for their price.



VALUE

A collection of reasonably priced hotels, which offer a simple but decent standard of accommodation and represent excellent value for money.



VILLAGGIO

Our Villaggio selection are family resorts, which we believe offer a good standard of accommodation and a good range of facilities to keep the entire family occupied during the vacation. These are friendly and easy-going resorts, providing very informal service and representing good value for money. These resorts have a high proportion occupancy of International clientele.



5-Star and Luxury HotelsTop Family ResortsWellness & Spa HotelsFamily Friendly Hotels
Prices From
Prices on request - Please call our Sales Consultants on 1-800-877-1755 or simply complete the below
Request a tailor made quote for this property
Choose your preferred departure date, duration and departure airport. Our experienced consultants will send you a personal quote with a price match guarantee.
About the hotel
The Borgo Egnazia Resort is the ultimate in luxury and comfort located on a breathtaking Puglian landscape in Savelletri di Fasano. The resort sits halfway between Bari and Brindisi while overlooking the Adriatic Sea.
The elegant accommodations include 63 guestrooms (with seven suites) in the main building called La Corte, 93 townhouses in the Borgo, and 28 villas. The La Corte rooms are located on the first floor of the main building and are decorated in contemporary style and either have a private balcony, or private terrace. The Borgo townhouses are located around the central piazza of the resort and consist of one and two bedroom townhouses with balconies and distant sea views. The 28 villas offer three bedrooms, three bathrooms, each with its own private pool, garden, wraparound balcony, rooftop terrace, and views of the sea.
For dining at Borgo Egnazia there are 6 elegant restaurants to choose from, one of which is a Michelin starred restaurant. For relaxation, you can choose from 4 swimming pools, a wellness spa, a championship golf course, tennis courts, a kids club for children ages 3-12, an onsite cooking school, and boutique shops.
Accommodation
Categories:

Borgo Egnazia comprises of three different accommodations:

LA CORTE
The 63 guestrooms & suites are all located on the first floor (lift available) of the main central building and are beautifully decorated in contemporary style. Local quarried limestone walls harmonize beautifully with the soothing shades of white, cream and beige, creating an elegant and serene atmosphere.

La Corte Bella (33-37sqm): Double bedroom with private balcony. Sofa seating. Internal, pool or hill view. Cot only. Interconnecting rooms available and a limited number connect with La Corte Magnifica only (on request). Rooms with distant sea view also available.

La Corte Splendida (42-46 sqm): Double bedroom with private balcony. Splendida rooms are larger and have a seating area. Views over the resort, hills or golf course. Third bed or cot on request. A limited number connect with La Corte Magnifica. Rooms with distant sea view also available.

La Corte Magnifica (60-75sqm): Double bedroom with private terrace & distant partial sea views. Sitting area (no door but separated from bedroom via arch & corridor). Some Magnifica rooms are slightly larger with living/dining areas and can connect with a Splendida or Bella room. Third bed or cot on request.

Suite Egnazia (125sqm): Large double bedroom with walk-in wardrobe and vanity corner. Bathroom with bath & double shower. Private terrace plus roof terrace with hill and distant sea views. Separate lounge area with fireplace. Private garden with plunge pool. Can connect with La Corte Bella room. Cot only (on request when booking).

IL BORGO

The 93 townhouses are set in the 'Village', which takes its inspiration from the nearby traditional hill towns. Located around a central piazza, where the entertainment takes place, Borgo comprises of one and two-bedroom, two-storey townhouses with balconies, private Arab style gardens and/or private roof terraces with distant sea views. Contemporary design & colours evoke a rustic chic style.

Borgo Splendida (42sqm): Comfortable and cosy king size bedroom with private outdoor entrance. Ground floor rooms have private furnished patios, whilst first floor rooms have furnished balconies and a roof terrace with sun-beds. Third bed or cot in the same bedroom on request. Borgo Splendida rooms, have panoramic views from a large rooftop terrace.

Borgo Magnifica (55sqm): Bedrooms with four-poster bed and lounge/dining area
Private furnished terrace. No third bed or cot.

Casetta Bella (60sqm): Casetta Bella is composed as following, Ground floor with living area, kitchenette (with microwave and kettle), bathroom and private patio & garden with a table and chairs. First floor with master bedroom and bathroom with balcony. Third bed or cot on request.

Casetta Slendida (90sqm): Ground floor with living area, kitchenette (with microwave and kettle). Extra room with bunk beds. Shower room. Private patio with a table and chairs. First floor with master bedroom, balcony and bathroom. Third bed & fourth bed or cot available for children under 12 years only.

Casetta Magnifica (90sqm): Ground floor with living area, kitchenette, service shower room/utility. Private patio and garden with a table and chairs, First floor featuring two bedrooms (twin or double bedded) one bathroom and one shower room. Third, fourth, & fifth bed or cot available.

VILLAS
The 28 villas of Borgo Egnazia are designed to offer the ultimate in luxury and comfort. With the contemporary design and colour scheme of the hotel rooms, each villa offers three bedrooms and three bathrooms and comes complete with its own private pool, garden, wraparound balcony and rooftop terrace with distant sea views. Built in clusters of four, the villas can inter-connect with each other if required, to accommodate large families or groups, with up to 12 bedrooms per cluster. Each three-story villa encompasses 250sq.m.

Villa Bella (250 sqm villa): Garden and patio. Private pool size: approximately 5mt x 2.5mt. Lower ground floor without windows.

Villa Deliziosa (250sqm): Garden with gazebo and patio. Pool size: approximately 8mt x 3mt. Lower ground floor without windows.

Villa Stupenda (250sqm villa): Garden with gazebo, patio and exclusive use of the citrus garden and courtyard at basement level. Private pool size: approximately 8mt x 3mt. Some villas without lower ground floor windows.

Villa Magnifica (250sq.m villa): Large garden with patio and gazebo. Some have windows in the lower ground floor or a third bedroom and others without windows. Pool size approximately 10mt x 3.40mt

Villa Meravigliosa: This villa is similar to Magnifica, but has a windows in the lower ground floor living area or third bedroom. It also has a larger pool of 15mt x 7mt.

To view more details about Borgo Egnazia Villas click here

Room Facilities:

All "La Corte" rooms & suites offer: bath, separate walk-in shower with rain showerhead, double vanity, bathrobe & slippers, hairdryer, toiletries, safe, mini-bar, flat-screen 32" LCD satellite TV, wireless internet access, connectivity panel, work desk, telephone, balcony or terrace. Some have distant sea views (1.5km away).

All "Il Borgo" rooms offer: stone bathroom with bath & separate shower, double vanity, safe, mini-bar, work desk, Internet by cable, TV & Wi-Fi satellite channels, connectivity panel.

Villas:

All "Villas" offers:

Ground Floor : a fully equipped kitchen with washer/dryer, formal dining room, living room, cloakroom, private pool and garden.

Upper Floor: master bedroom with en-suite bathroom featuring bath, separate double shower cubicle, double vanity unit, walk-in wardrobe and LCD TV. Second bedroom with full en-suite bathroom. Each bedroom has a private balcony.

Lower Ground Floor: third bedroom, full bathroom, 'bonus room' and entertainment room with LCD TV & DVD. (Please note that in most cases the lower level does not have outside access or natural light).

All bedrooms have twin beds, which can be configured as kings, offering flexibility for couples or families. Villa guests also have free access to all the resorts facilities, plus exclusive services, including personal assistant, butler, nanny & private chef (details & prices on request).

Each villa can accommodate six persons in the bedrooms, plus two additional guests on a fold out sofa bed in the entertainment area, or on portable twin beds in the bonus room or two cots.

Resort transfers:

Approximately 60 minutes from Bari Airport and 40 minutes from Brindisi Airport. Prices available on request. Self Drive car hire also available. Please enquire for further details.
Similar Properties You May Like...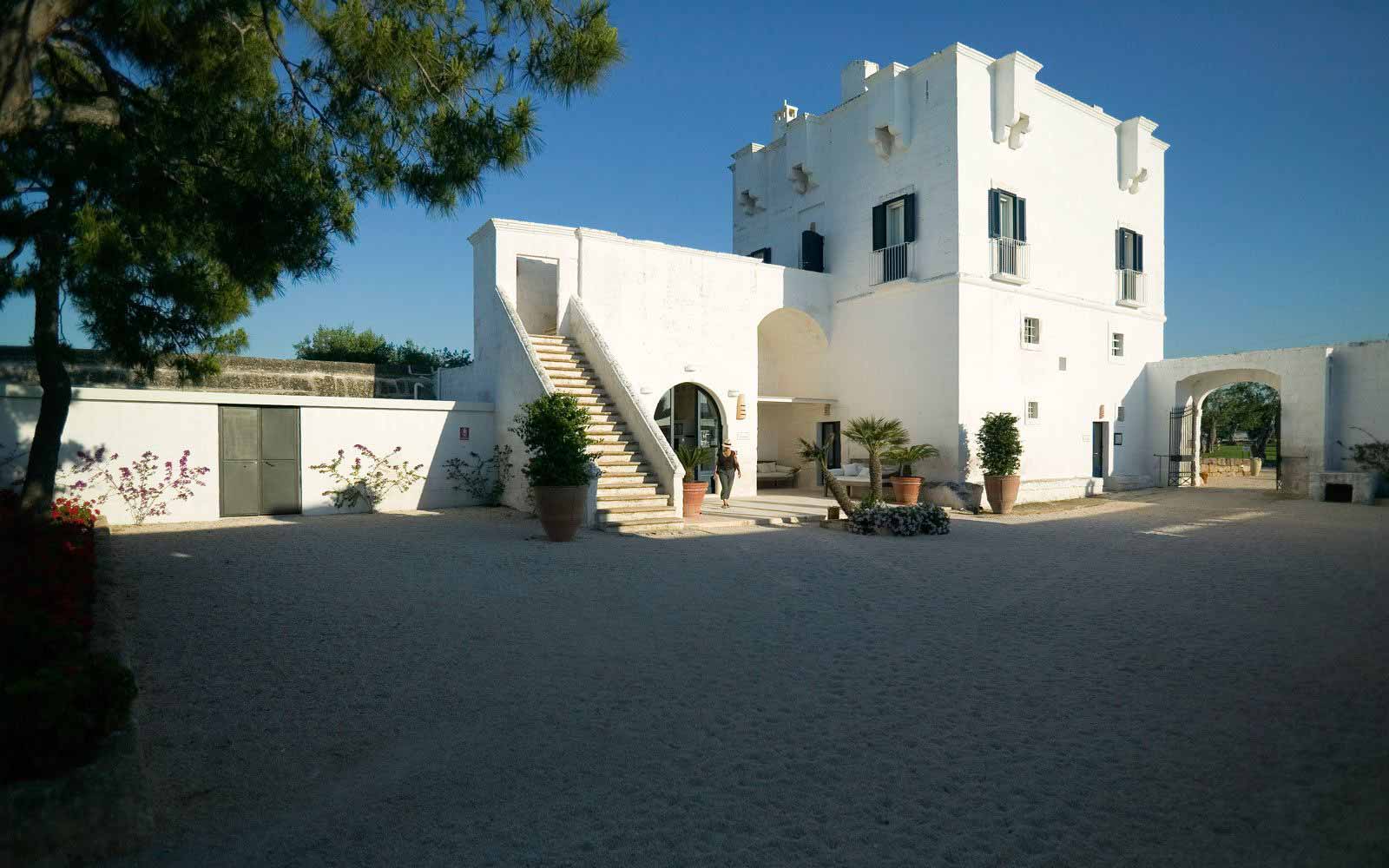 Puglia > Savelletri Di Fasano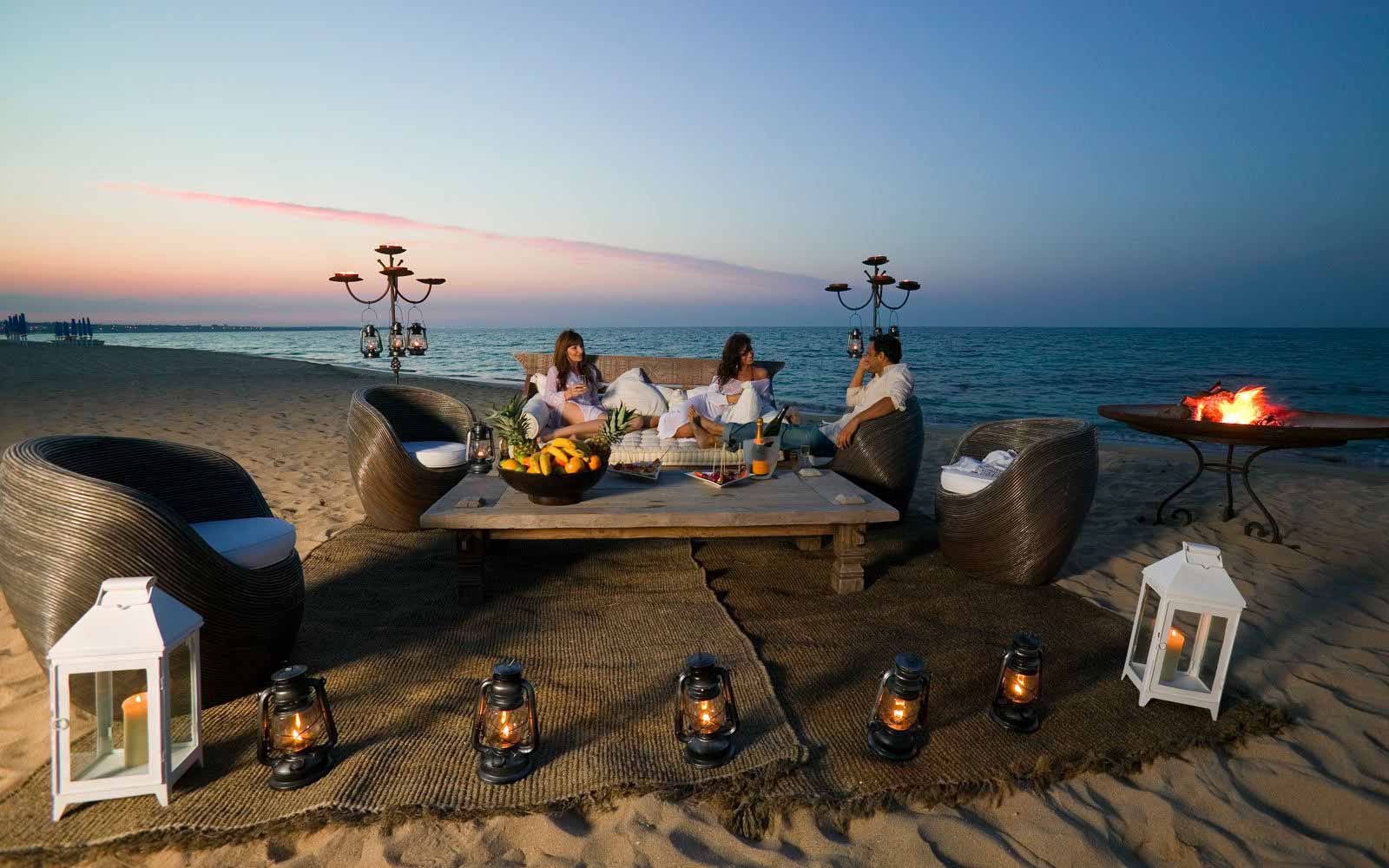 Puglia > Savelletri Di Fasano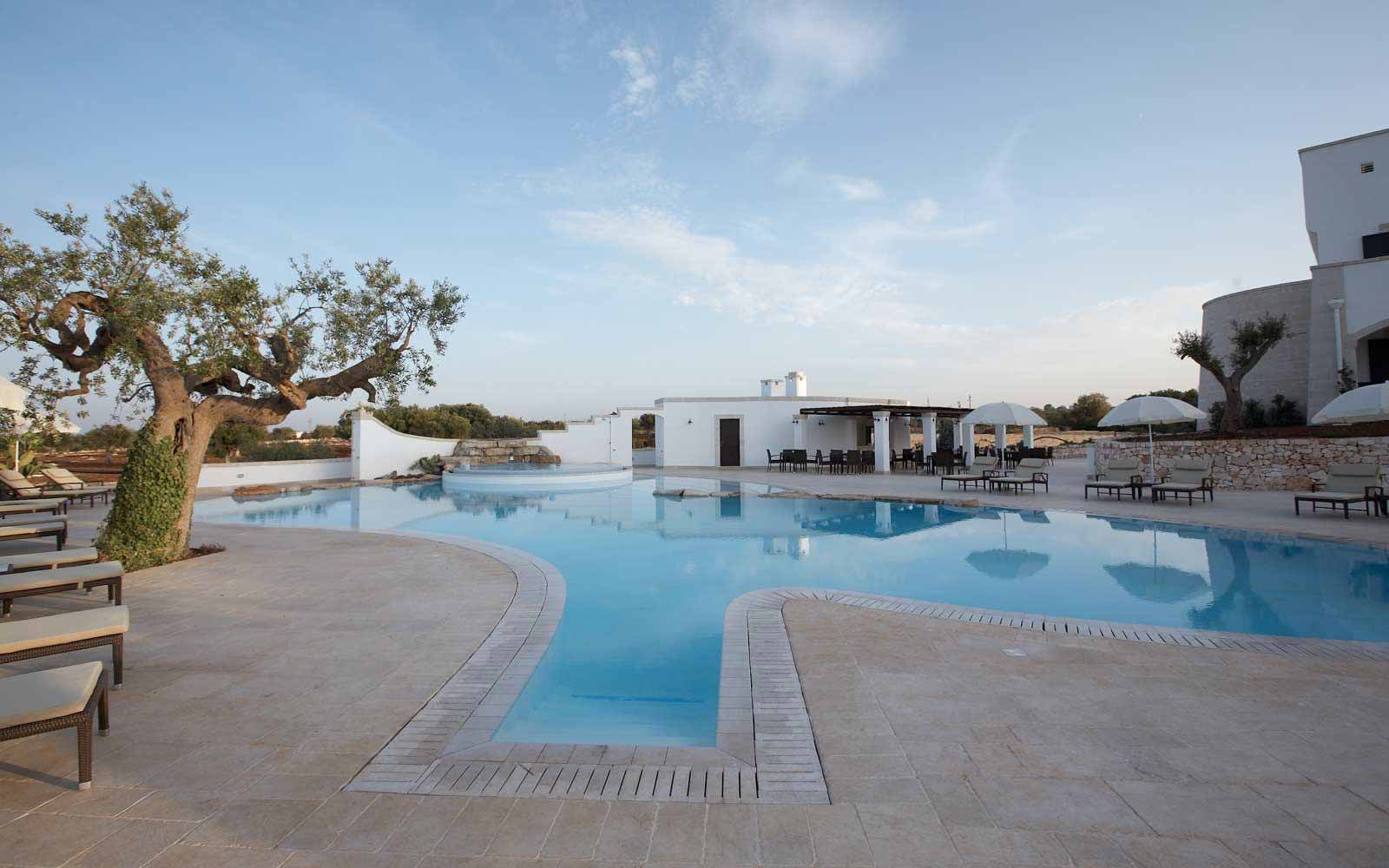 Puglia > Polignano a Mare