Let's face it, it can be challenging to keep ourselves looking fab when we're on the road a lot. Whether travel is for pleasure or business, certain factors will affect our overall physical well-being in a negative way, such as sleepless transatlantic flights, missed meals, lack of exercise, dry cabin air on planes and in airports, and changing time zones. It takes a lot of organization and willpower to counteract the things we do have control over, like food and physical activity.
Travel has always been a passion of mine. Perhaps because of my background working as a makeup artist and stylist in film and television production, I have always been aware of the things that make me feel and look as good as possible, regardless of where I am.
Over the years, I've developed my own travel style. There are certain products, articles of clothing, and details to personal grooming that give me confidence that I will look at least reasonably presentable no matter where I've landed. And after all, there is scientific evidence that if you feel you look good, physically you will feel better.There, doesn't that make all the effort worth it?
Here's my list of timeless and consistently successful ideas, products, and tips for looking great while traveling.
1. Get a Great Haircut About One Week Before Departure
If it's slightly different than what you're used to, one week will be sufficient time to work out any styling kinks. Additionally, you'll have a little time to pop back in to see your stylist if it needs a bit of tweaking.
2. Take your Hairstyling Products with You
You should know what works for your type of hair and the way you style it. Don't try to save space or cheap out here. Good products make a difference.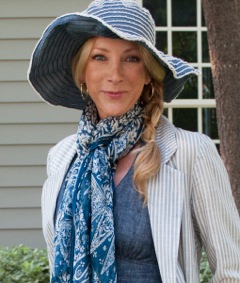 3. Sunglasses
A good pair of sunglasses is essential for protecting your eyes from damaging rays, but they can also conceal the fatigue of a transatlantic flight. They also make a great hair accessory! You can change  your look simply by pushing them back on your head so they create a sort of half up half down look with your hair, giving you a sort of casual but polished at the same time look.
4. A Stylish and Comfortable Pair of Flat Shoes
Yes, it's possible to be both stylish and comfortable. Think ballet flats or booties with a half inch heel. If it's summertime, a nice sandal will work.
5. A Pashmina or Colorful Scarf
I love black as a basic wardrobe color and the best thing about it is you can accessorize it with your favorite color pop. Scarves are stylish and practical, and you can find them even in the airport shops.
6. Top Cosmetic Accessory: Concealer or Creamy Foundation Stick
My top cosmetic accessory is a concealer or creamy foundation stick in the color of your natural skin tone. You can use it to cover the dark circles under your eyes, blemishes, or just a quick evening out of the skin tone. I always keep some in my carry-on for a quick fix just before landing.
7. A Hat or Two
Can add style to any outfit and hide a bad hair day (or just any day you don't have time for a proper wash and style).
8. Eye Drops
Eye drops to help lubricate dry eyes, wake up tired eyes, and whiten up red eyes. I do recommend going easy on the strong "red out" drops, and stick with a more natural alternative like Refresh.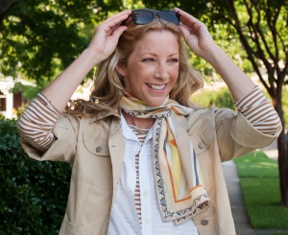 9. Mascara
My second top cosmetic accessory is mascara. Mascara instantly opens up the eyes and makes you look more awake.
10. Pale Yellow or White eye liner pencil
This final tip is a makeup artist trick that may not be for everyone, but give it a try: a pale yellow or white eye liner pencil in the corners of the eyes near the bridge of the nose. You can also line the inner rim of the lower eye lid. This really opens the eyes in a big way, but can be a bit tricky to master. If in doubt, you can book me for a lesson.
Penny Sadler was born with a map of the world in her hand, Penny's love of travel and curious mind take her far and wide as often as possible. Raised between California and Texas, her talent for creating beauty and confidence in everyone she works with comes naturally. Her interest in Italy has refined her personal travel style however, she has yet to try walking on cobblestones in a pair of high heels.