While meat-based dishes are still prevalent on Italian restaurant menus, it is no longer a problem to be a vegetarian in Italy: more and more restaurants offer a range of Italian vegetarian dishes to cater to the increasing number of Italians – and foreigners – opting for a meat-less diet.
Avoiding meat doesn't mean sacrificing taste or the chance to experience Italian culinary traditions. On the contrary, Italian cuisine is filled with recipes without any meat or fish. Here are some tasty ideas for Italian vegetarian dishes to try.
Italian Vegetarian Dishes
Appetizers (Antipasti)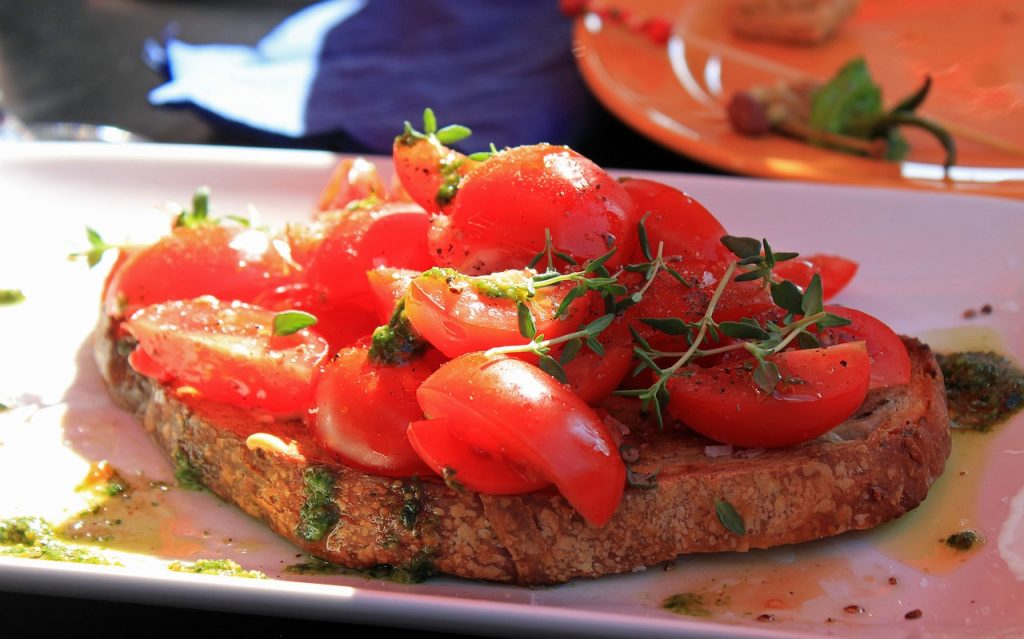 Who doesn't love bruschetta? Bruschetta, which hails from Tuscany but can be found everywhere in Italy, is a simple and delicious meal starter: it can be just a splash of olive oil and garlic rubbed on toasted bread, or it could be topped with tomatoes and basil. Bruschetta, or crostini, a similar version, can be topped with a wide range of vegetables, and sometimes cheese, like mozzarella or ricotta.
Caponata, a classic dish of Sicilian cuisine, consists of sautéed eggplants mixed with tomato sauce, celery, onions, olives and capers, in a sour-sweet sauce. Caponata is now used as an appetizer or side dish, but in the past it was a meal in itself, accompanied by bread.
Fried zucchini blossoms (fiori di zucca fritti), fried sage leaves, fried artichokes: these are all mouth-watering treats of the addictive kind! The vegetables are covered with a soft batter and then fried. As there are variations of these that feature anchovies or meat (there's still a tendency to sneak in meat in a lot of dishes!), just make sure to ask the waiter.
Pasta/Soups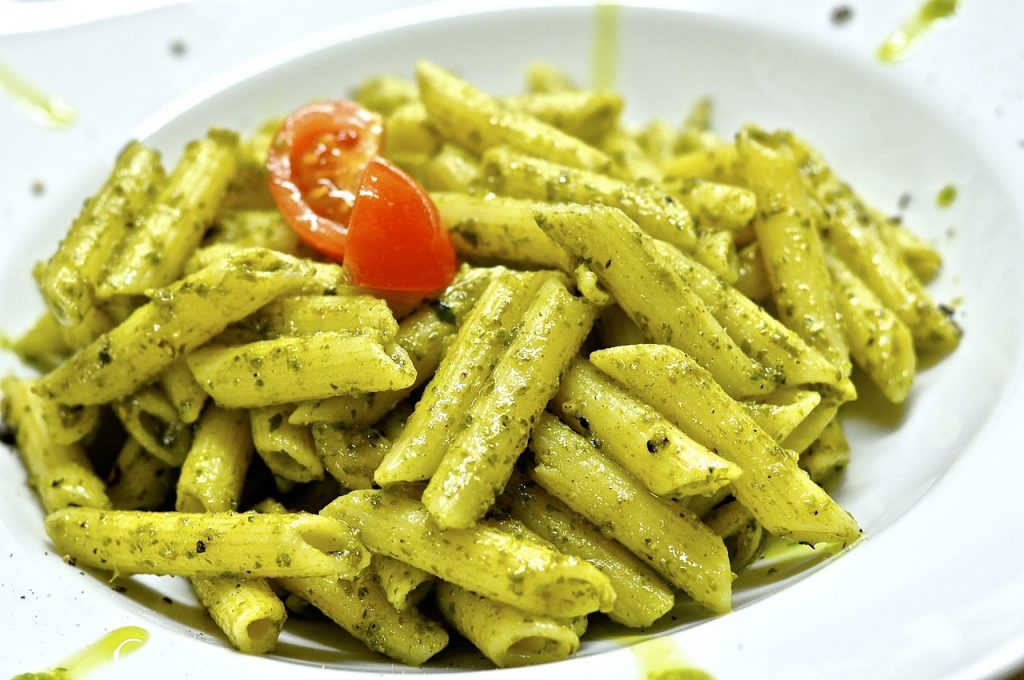 Sometimes a simple pasta al pomodoro is all you need to satisfy that pasta craving. If, on the other hand, you want to get a little more creative, see the following suggestions.
Gnocchi alla romana are a delicious treat from the region of Lazio. The dough is prepared by mixing semolina, milk, butter, parmigiano reggiano, salt and black pepper. They are usually baked in the oven after sprinkling them with grated parmigiano to give them a yummy crust.
World-famous pesto alla Genovese, a recipe from the region of Liguria, is totally vegetarian –and totally tasty! It is made with  basil grown in Liguria, coarse sea salt, pine nuts, garlic, Ligurian extra virgin olive oil and grated Pecorino Romano cheese of the best quality.
Another type of pesto, not as famous but equally delicious and vegetarian, is Sicilian pesto. Just as for pesto alla Genovese, the ingredients have to be crushed using a wooden pestle and marble mortar. Vine-ripened tomatoes, almond, basil, garlic cloves, extra virgin olive oil, salt and chili pepper are the traditional ingredients and make for a wonderful pasta sauce.
Tasty pasta alla Norma also hails from Sicily (there's not a restaurant in Sicily that doesn't feature this dish!). It is made with fried eggplant, tomato sauce, basil and shaved salted ricotta on top.
If you love stuffed egg pasta, you'll be able to enjoy a variety of it, from pumpkin tortelli (typical of Mantova and Ferrara in northern Italy), to tortelloni with ricotta and spinach (typical of Emilia-Romagna) to cappellacci with mushrooms.
Soups, from the classic minestrone to pasta e fagioli, are another great option. Minestrone, made with in-season vegetables, can be enriched with pasta or rice, or even farro and barley. For pasta e fagioli, just make sure that it doesn't have any pork (some recipes call for it). Ribollita is a famous Tuscan soup made with bread and vegetables. It is so hearty it's a meal, and a healthy one, in itself. There are variations, but the main ingredients always include leftover bread, cannellini beans and inexpensive vegetables such as carrot, cabbage, beans, chard, kale, and onion.
Pizza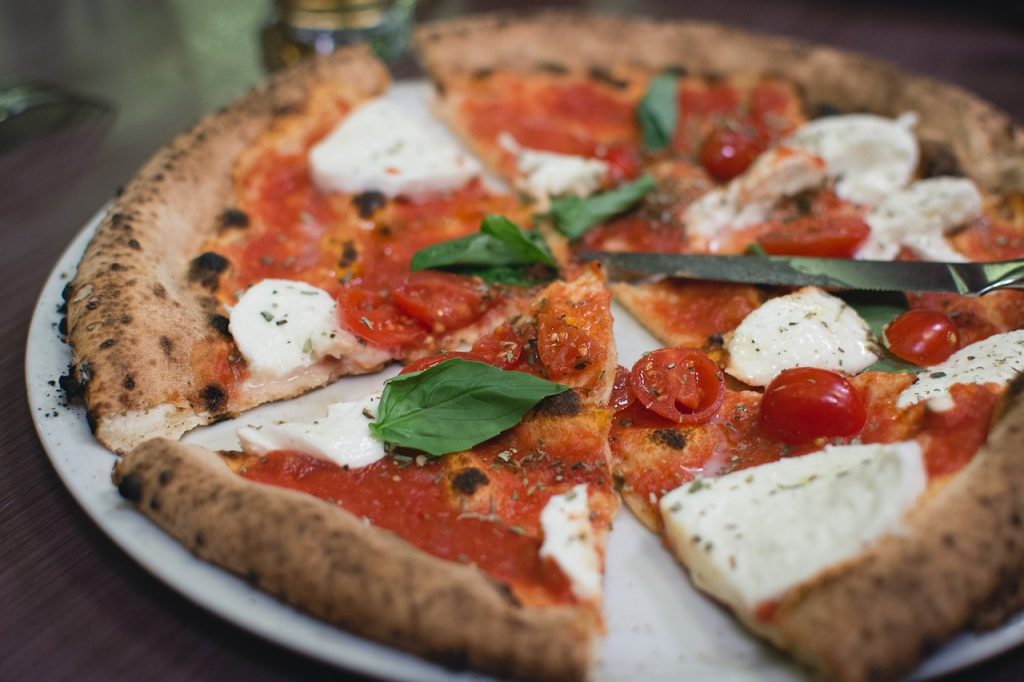 There are so many different toppings to choose from, eating vegetarian pizza in Italy is absolutely no problem! Besides the classic Margherita (mozzarella, tomato sauce and basil), you could opt for pizza alle verdure (grilled vegetables), or pizza saracena (mozzarella, fresh tomatoes, basil – the name of this pizza varies depending on the region). A simple pizza con funghi (mushroom pizza) or pizza con carciofi (artichoke pizza) will do too. The thing with pizza, it is delicious in all its versions!
Second courses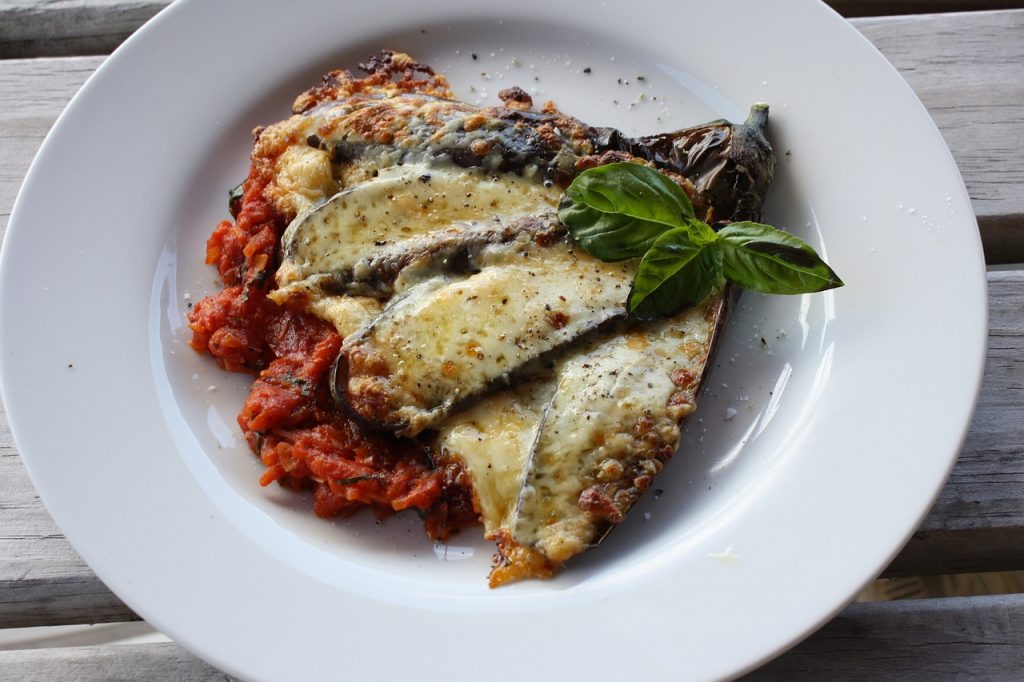 Some of the following Italian vegetarian dishes may be eaten as a second course or as an appetizer, or even as the main dish. Such is the case for insalata caprese, an ideal summer dish, made with buffalo mozzarella, tomatoes and basil, drizzled with olive oil. Mozzarella in carrozza is another dish that could be enjoyed at the start of the meal or as a second course. It's a typical recipe from Campania consisting of slices of bread stuffed with mozzarella and then fried in a pan, which makes the mozzarella melt. Sounds yummy, doesn't it?  Parmigiana di melanzane is a hearty dish from Sicily made with slices of eggplant arranged in layers transversally to each other, interspersed with sheep's cheese and basil. Erbazzone is a specialty from the Reggio-Emilia area, a quiche filled with chard, egg, shallot, onion, garlic and a whole lot of Parmigiano Reggiano (which is produced right in that area).
As regional cuisine in Italy is rich and varied, this is just a general overview of the wide range of Italian vegetarian dishes available throughout the country. There are more options available and waiters are usually happy to advise!
What is your favorite Italian Vegetarian dish? Let us know! Leave a comment below.