Ah, Thanksgiving, a beautiful amalgamation of the American and Italian cultures (…hear me out on this). This November holiday appeals to an American love of turkey, incorporates the most American of sports in the festivities, and celebrates our indigenous American ingredients such as sweet potatoes and corn. But then there are the very Italian aspects of spending hours in the kitchen to prepare for even more hours passed around the table with family and friends, of solidifying bonds over the breaking of bread (and the carving of birds), and of adamantly enforcing a "waste not, want not" policy. Especially ensuring that no one "wastes not": the American tradition of Thanksgiving leftovers is something that Italians can and do literally and figuratively eat up.
Thanksgiving Leftovers, Italian Style
Most Italian cuisine falls into the category of what has been traditionally known as cucina povera, or the "poor cuisine." Italians are masterminds of re-invention and re-use, and the peninsula's bouts with periods of extreme poverty have resulted in the creation of dishes which ensure that no piece of animal or plant is wasted. The cuisine is laden with plates such as ribollita, meaning "reboiled," a hearty soup made with leftover bread, meats, and inexpensive vegetables, and ragù, a well-known sauce that has made its way into American cuisine and which uses whatever cuts of meat are available cooked to tenderness.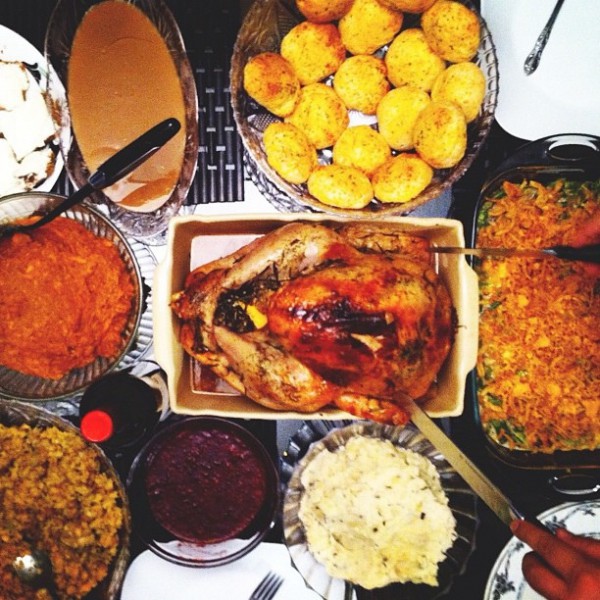 It is only natural, then, that we Italians in America look at Thanksgiving leftovers not as another boring day of turkey sandwiches, but an alluring challenge to create the most inventive and delicious dishes possible from the bountiful leftovers after the feast. So stray from your monotonous cold mashed potatoes and delve into one of more of these seven Italian dishes that you can create from your Thanksgiving leftovers.
Cranberry Sauce: Cranberry Risotto
This twist on the famous northern Italian strawberry risotto is a savory transformation of your turkey topper. For every 1 cup of arborio rice used, add up to 1/4 cup of cranberry sauce halfway into cooking the rice.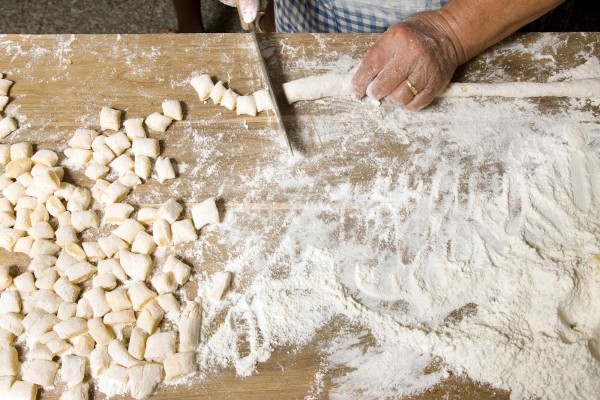 Mashed Potatoes: Gnocchi
While we have to give a nod to Bon Appetit's leftover mashed potato croquette recipe, we've got an even better way to use the day-after remnants of your sumptuous spuds. My 92-year-old Italian nonna, whose family is from Northern Italy, is the master of gnocchi made from leftover mashed potatoes. Her secret is adding less egg and more flour to account for the added moisture from the milk and butter. The gnocchi are quick to whip together, even faster to cook, and can be served with butter and Parmigiano Reggiano or a simple salsa al pomodoro.
Turkey: Quick Ragù
While the true ragù can't be beat in flavor, it takes almost a full day to make; this simple solution will not only keep you eating the leaner bird instead of the traditional red meat, but can also be thrown together in minutes.  I begin by sauteing about 2 tbsp of finely diced onions until translucent, then add turkey I've shredded with a fork and 1 tsp. tomato paste. I deglaze with a few splashes of red wine before adding pureed tomatoes, then let the sauce cook for the time my past cooks (about 8-10 minutes). When the past is ready, I toss it with the sauce in the pan. Any pasta with texture to hold the sauce will do (rigatoni or gemelli are two of my favorites).
Turkey Bones: Broth
Don't throw the scraps of the turkey away just yet! The carcass is perfect to make a batch of broth that can be frozen to be taken out for the Italian traditional Christmas dish of tortellini in brodo. Freeze small amounts in ice cube trays for days that you need just a small amount of broth to complete a dish.
Rolls: Ribollita
This classic leftover Tuscan soup is made for Thanksgiving leftovers. Throw the roasted veggies you didn't finish with the frittata into (turkey) broth, add cannellini beans and additional desired vegetables, and serve by pouring over the toasted rolls. The stale bread soaks up the flavors of the soup to create a healthy, warm meal on a chilly late November night. We love the additional kale in this New York Times' take on the soup and suggest substituting turkey broth, rolls, and your pre-cooked veggies for the corresponding ingredients.
Veggies: Frittata
This one's a no-brainer. Chop up those hoards of roasted veggies and make a fall frittata. We like Lydia Bastianich's recipe, which cooks the eggs for only a minute and leaves plenty of juice to sop up with that toasted day-after bread.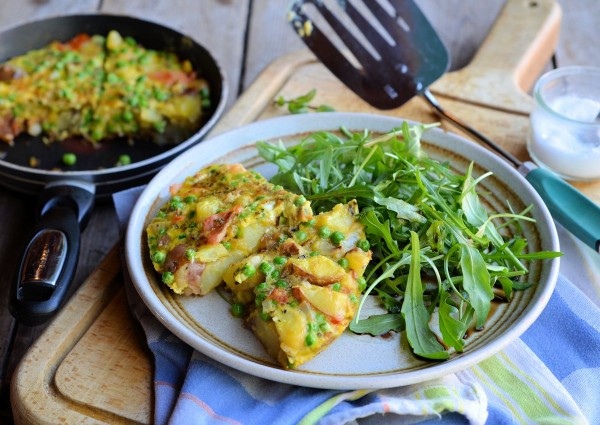 Pretty Much Any Vegetable or Meat Leftover You Have: Couscous
Despite its primarily Moroccan associations, couscous is actually a very Sicilian dish (which is quite logical when one considers the island's heavy Arab influence). Chop up extra meat and veggies and toss in couscous for a Palermo-inspired Thanksgiving leftover extravaganza. Adding a small spoon of cranberry sauce can also achieve the famous Sicilian agrodolce sweet and sour component in savory dishes such as pasta colle sarde.