Kelly is a Select Italy traveler who wanted to participate in a wine tour with her husband and two small children during her time in Italy. In addition to having two toddlers, Kelly also has celiac disease (gluten allergy) so she also had to plan for her unique dietary restrictions. This is Kelly's account of her Wine Tour in Tuscany at Palazzo Vecchio.
How do Children, Wine, and a Gluten Free Diet Mix?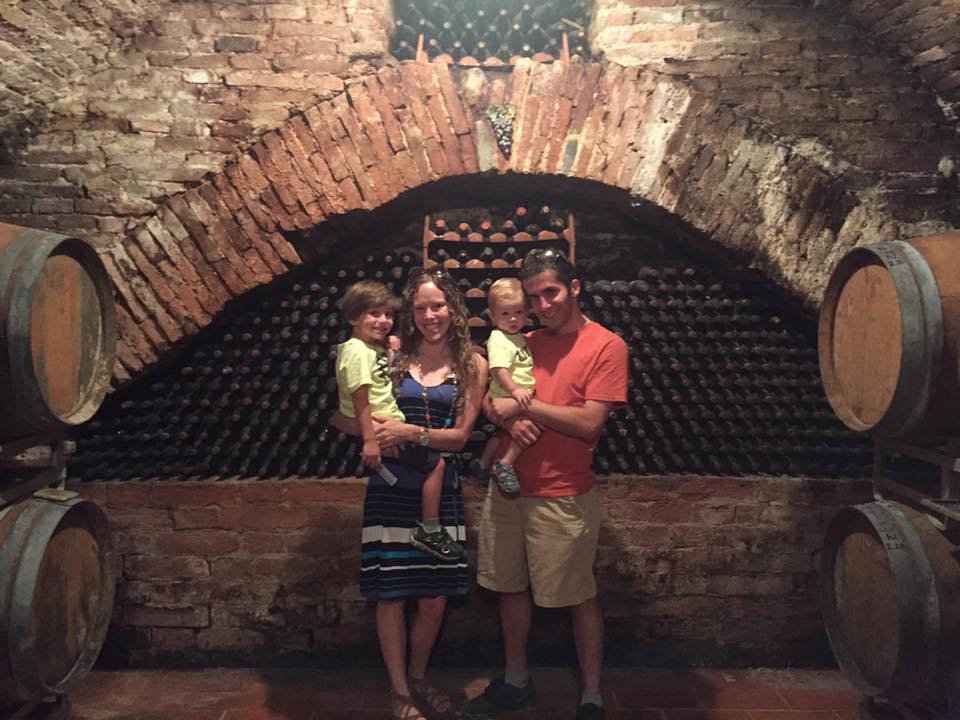 The Whole Family: Luca, 3 & Ryland, 14 months
Grazie Mille Select Italy for helping us book our private wine tour! The WHOLE FAMILY had a great time! A wine tour in Tuscany has been on my bucket list for a while, and I never imagined crossing it off with two kids involved. I was a bit skeptical at first about doing a wine tour in Tuscany with our boys Luca, age 3, and Rylind, age 1, but Select Italy assured me that the tour could be modified and made more kid friendly. The next hurdle I was concerned about was my food restrictions—I have celiac disease and must follow a strict gluten free diet. Our tour included a four course meal with various paired wines, and while I am a flexible person, I wanted to be able to enjoy the whole experience, food included. Again, not a problem at all for Select Italy! They worked with me and Palazzo Vecchio (Italian for Old Palace) to put together the perfect menu for not only me, but for the boys as well.
11th Century Monks and Toddlers
The winery is perfectly located at the top of a valley that long ago used to be a swampy area. The views from any point of the winery are fantastic. In one spot, you are able to see Montepulciano claiming the top of a small mountain, a huge sunflower field, miles of vineyards, and Cortona nestled up against another small mountain. Luca enjoyed walking around and seeing all the fresh fruits and vegetables growing on the property, and we were even able to pick some apricots right from the tree and eat them. My husband and I enjoyed listening to the history of the property. Federica, our tour guide, spoke wonderful English and she was very patient and helpful with the boys. The Palazzo was originally built as an orphanage in the 11th century and managed by monks. They took care of the children while also building the winery. The children helped harvest the grapes and tended the garden where they got most of their food. Years later, the family that still owns and resides there bought the land. They used the land as a farm and continued the winery, being sure to preserve the traditions of the monks. Today, the winery continues to thrive, producing mainly red wine.
"How is Wine Made?"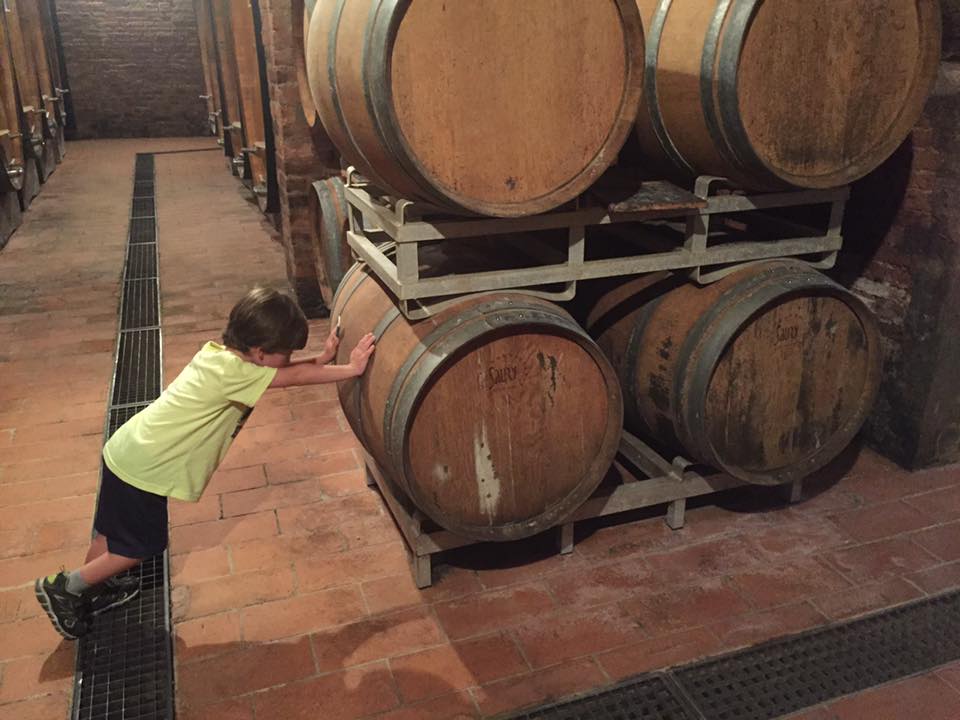 After touring the grounds, we proceeded inside to the wine cellar. Luca and even Rylind enjoyed walking around inside, and Luca became very inquisitive as to the process of how wine is made. Federica answered all of our questions and  allowed us to take all the time we needed to look around and explore. After a few photo ops, we headed into the dining area, which used to be part of the barn. The architecture inside is just as beautiful as it is outside and most of the original structure has been well preserved with arched doorways and stone floors and walls. I particularly loved the wooden beams that stretch across the brick ceiling. As we walked around, we saw old family photos and some of the original fixtures that harnessed the cattle in the barn long ago.
First Course
Our first course included two different farm-fresh Pecorino cheeses (sheep's cheese) accompanied by two different homemade jams: grape and giuggiola. The giuggiola jam was one that we had never heard of, but it was sweet and delightful. During our tour, Federica showed us the giuggiolo tree and explained that the fruit looks similar to an olive, but brown. This first course was paired with Cortona Sangiovese, which is a dark red wine that has an intense but smooth smell. It also has a smooth taste,  with a bit of a warm kick as it goes down.
Second Course
The second course was tagliolini pasta (pasta that looks like flattened spaghetti) with a Chianina beef sauce. Chianina beef is meat from an Italian bread cow. For me, they made a risotto with the same sauce due to my allergies, which tasted amazing. The boys were given the tagliolini with tomato sauce. Both boys loved this, as it was like spaghetti to them. Luca had fun slurping the pasta noodles into his mouth, and I of course had fun cleaning him up. This course was paired with Dugan Rossa Di Montepulciano. This wine is smoother than the Cortona due to it aging a bit longer. It too is a dark red wine.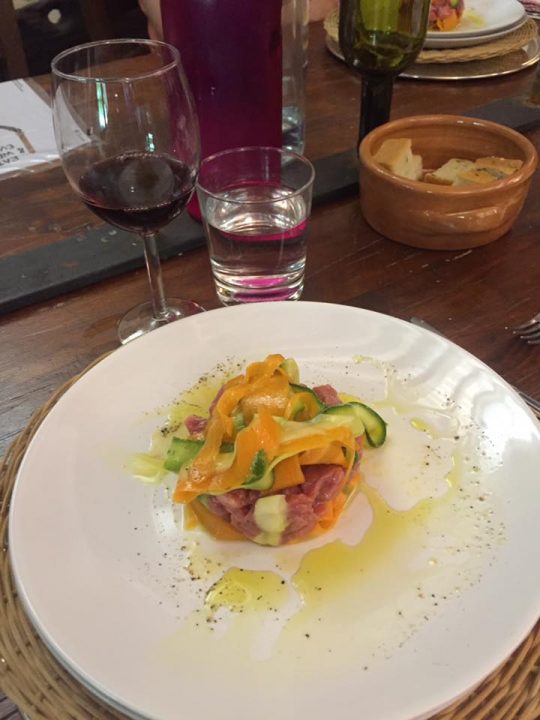 Third Course
For the third course, we were presented with Chianina beef tartare with julienned carrots and zucchini. This looked a bit strange to me, and after careful examination, I realized why. The meat, diced into small cubes, was not cooked! I was a bit hesitant at first to try it, but it was actually very refreshing. It was more like eating a salad with an olive oil and oregano dressing. Paired with this dish was Maestro Vino Nobile di Montepulciano. This wine, in my opinion, was the best and complemented the meat perfectly. While it is a little stronger than most red wines, its taste is smooth and warm. My husband also liked this one.
We tried to get Luca to try a sip, but we had no such luck. Rylind, on the other hand, took a tiny sip and proceeded to give us a big smile. Federica informed us that here in Italy, parents will sometimes give their young children some bread soaked in some wine with a little sugar on top.
Sweet Treats
To complete our dining experience, we enjoyed the perfect serving of tiramisu': a light cream pudding on top with a hint of coffee and cream, followed by soft, cake- like biscotti. Luca and Rylind enjoyed the top layer, but not so much the biscotti part due to it being soaked in Vin Santo (a type of sweet wine). To complete our tour, we purchased some bottles of wine and had them shipped to our home in Atlanta, Georgia and also got a few jars of the giuggiola jam to enjoy during the rest of our stay in Italy.
A Wine Tour in Tuscany with Tots Can be Done!
At times throughout our meal, the boys did get a little impatient and wanted to get up and walk around, but this was not a problem. Federica helped us out with the boys so that we could enjoy our meal as much as possible, and she even brought in a little kitten for them to play with. They also played with three of the family dogs that were very gentle. As parents, it can sometimes be difficult and overwhelming to go out and do things with children, but we felt welcomed as if we were guests visiting at a friend's home. The whole day was delightful and such a wonderful experience. From the tour, to slurping up pasta, to playing with the family pets, we all enjoyed our time at Palazzo Vecchio, and we are thankful for their hospitality. Select Italy played a big part into making this day happen for me and my family, and I really don't think we could have made it all come together without them. We look forward to our next adventure.