After a colleague recently recounted a long conversation with a woman inquiring about the "underground of Florence," my interest was piqued; I needed to know what one could really see. Even after living there for over three years, I wasn't sure what a visitor could easily access these days. With the recent developments of the ATAF Tram system and more pedestrian zones in Florence than when I was a local, there is decidedly more information online about what lies below the famous paving stones of the central piazzas. Yet very few clear details are available on how to access these hidden-in-plain-sight points. Here are some top sites for getting glimpses into the visible layers of history in the Città del Giglio that don't require you obtain a specialized research grant in archeology.
1. Hotel Brunelleschi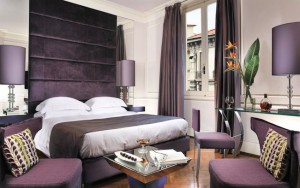 If you wish to be ensconced in history even as you sleep, check availability here. Named for its central Florence location where Renaissance architect Filippo Brunelleschi once lived, the hotel structure is made up of the Torre della Pagliazza, St. Michael's Church, and several 18th and 19th century hotels. In fact, the current hotel's tower is the oldest standing structure in Florence's historic center and has housed everything from a women's prison to a private home over the centuries. It would stand to reason, therefore, that below it is even more history of interest. When the entire complex was remodeled to form the Hotel Brunelleschi, they discovered a Roman caldarium (a room for taking hot baths) and a great deal of pottery. So much pottery in fact, that they formed a small museum in the hotel. Even if you are staying somewhere else, feel free to stop by the tiny Piazza S. Elisabetta for a glimpse of the Roman ruins and tower.
2. Ristorante "Alle Murate"
Located in the Palazzo dell'Arte dei Giudici e Notai, the Ristorante "Alle Murate" is the ultimate locale to dine on scrumptious dishes, while gazing upon layers of history. The palace is very proud of the frescoes found on the ground floor and upward that date back to the 14th century. But below ground is an excavation in progress to separate the Ancient Roman and Medieval periods to which the structure dates. The restaurant, found on the first floor, not only offers seating in their main dining room complete with frescoes soaring above, but also in their cantina where stone walls and torchlight-like lighting take you back in time to the medieval (and older) foundation. The gastronomic experience is nothing less than the historic décor might lead you to expect. While dining under the watchful eyes of the oldest known portraits of Dante and Boccaccio, Chef Giovanna's dishes are elegant and simple, because, as she says, "food will always be a primal thing." Thus adding yet another layer of history to one's evening.
3. Palazzo Vecchio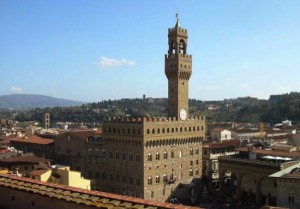 While at Palazzo Vecchio one can partake in standard and secret visits, as well as fresco painting lessons. Many people are unaware that Palazzo Vecchio also allows access to the Roman ruins underneath it. The schedule changes regularly to allow school groups, but if this is part of your mission while in Florence, it doesn't hurt to check on availability to see the Roman structure below, only hinting at what might lie beneath other areas of the historic center.
4. Duomo Santa Maria del Fiore, Chiesa di Santa Maria Reparata
One of the most iconic structures in Florence is the Duomo. Nothing more than this one word (Duomo) needs to be said, as "The Dome" is visible, even just in part, from almost every street in central Florence and from practically all pictures taken at Piazzale Michelangelo. While seeing the Duomo inside and out, admiring the façade, and reviewing the the Baptistry doors is a must, if time allows, you should venture to the right of the nave where there is an entrance to the Roman and early Christian ruins of Chiesa di Santa Maria Reparata. Of special note are the early Christian mosaic floors and Brunelleschi's tomb. No special ticket is required.
5. Fiesole's Archeological Park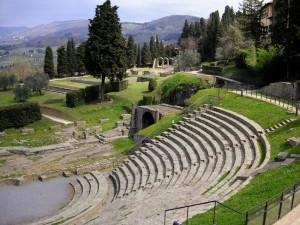 While not strictly Florence, visiting Fiesole is an easy half-hour bus ride from downtown and it offers great views of the city on a clear day in addition to being a quintessential monument to Tuscany's ancient roots. Not to miss is the Roman Theater and baths, as well as the Etruscan-Roman temple and walls. There is also an Archeological Museum that houses bronze and ceramic remnants which illustrate just how advanced the Etruscans were.
For most Americans, however, just wandering Florence's medieval and renaissance streets is sufficiently ancient. Knowing that the column in Piazza della Repubblica is only a nod to the archaic Roman pavement that came before it can open the mind up to how deep the layers of history go.
Which of these locations would you want to see? Let us know!