Beautiful landscapes, amazing culinary delicacies, fashion, arts and history, culture, and La Dolce Vita… Italy — the enchanting country — has it all! For ages the Bel Paese has been a destination everybody longs for, a wish of tourists and travelers all over the world, and a gem that poets and artists described and mentioned in their creations. Below we will present you with our top ten favorite travel quotes about Italy, its beauty and value. So pick the one you like most, close your eyes, and travel with your imagination…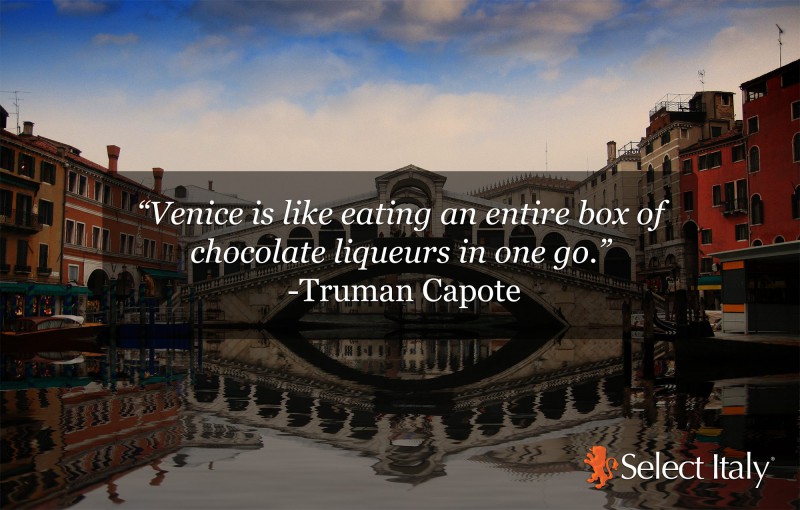 1) "Venice is like eating an entire box of chocolate liqueurs in one go." – Truman Capote
Capote, an acclaimed author famous for the well known Breakfast at Tiffany's, explains what Venice is: a city that arouses all the senses… The scent of the Rialto market and the regional products, the flavor of the Venetian delicacies, the sound of the water, tourists, and dialect, and the sight of enchanting palaces and churches. As the author explains, being in Venice has the same effect as having an irresistible box of chocolates in your hands: the more you dig into the city, the more you are addicted to it!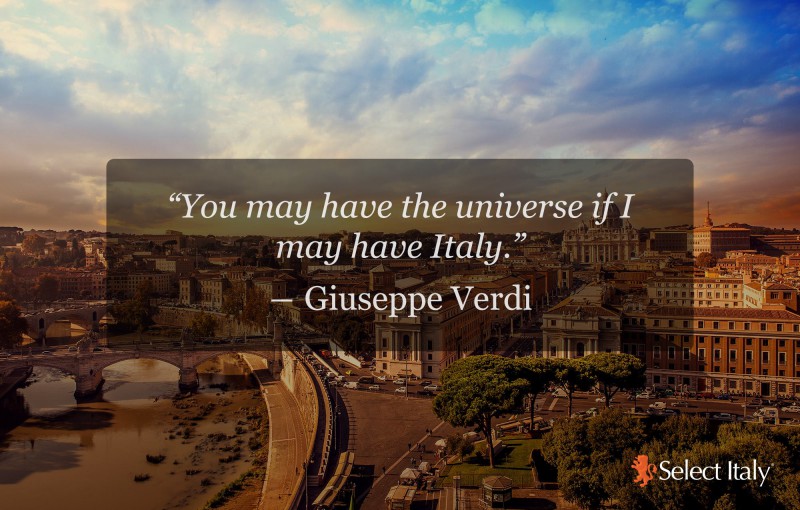 2) "You may have the universe if I may have Italy." – Giuseppe Verdi
Italy's charm lived so much in Giuseppe Verdi that he would have chosen Italy over the entire universe. This is what he wrote in his opera Attila. This quote is a clear expression of Verdi's patriotism and feelings toward Italy, moved all patriotic Italians.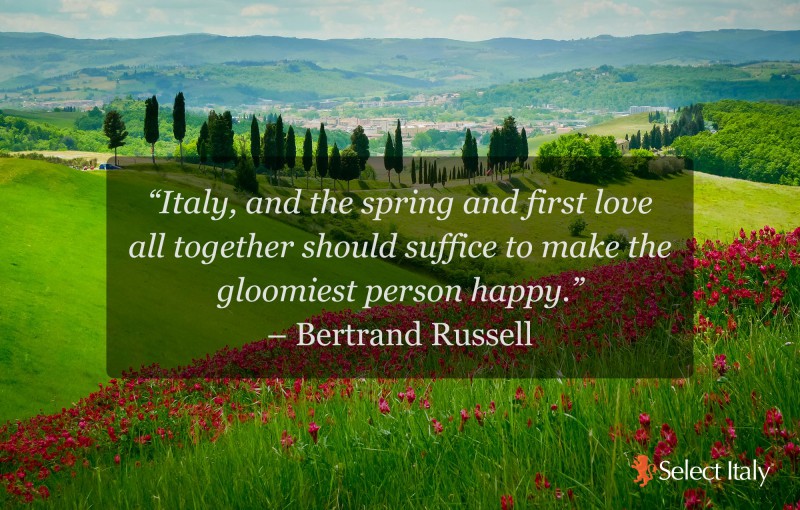 3) "Italy, and the spring and first love all together should suffice to make the gloomiest person happy." – Bertrand Russell
The analytical philosopher Bertrand Russell fell in love with Italy after his visit at the end of the 19th century. He considered the Bel Paese a great place that can bring happiness even to the most melancholy of people, together with love and spring.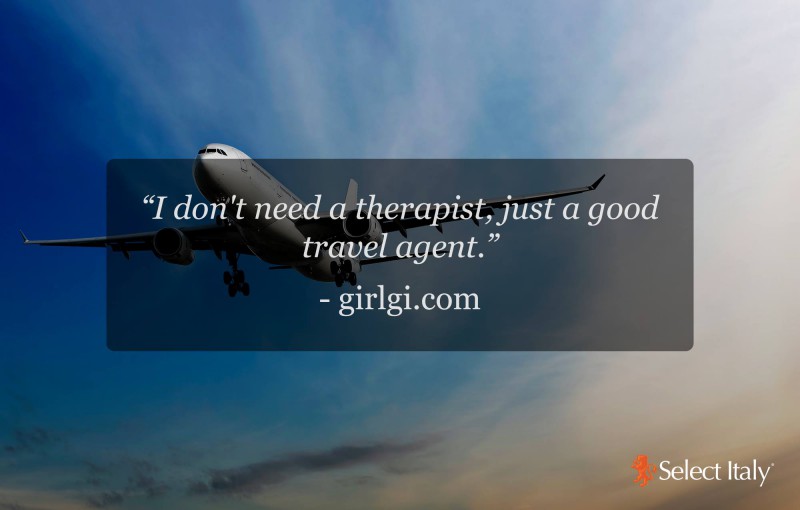 4) "I don't need a therapist, just a good travel agent." – Girlgi.com
Traveling… It is more than therapy. It is the perfect medicine! Discovering the world is a way to open your mind, widen your experiences, and meet new people, culture and is essential for your well being. Are you thinking about Italy for your next destination? And the Italian Dolce Vita is the perfect way to feel better. Contact us for an Italian trip you will never forget!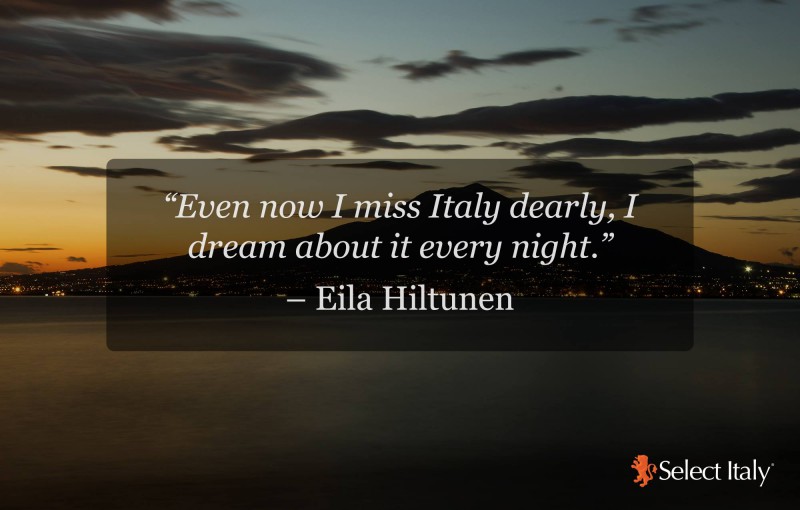 5) "Even now I miss Italy dearly, I dream about it every night." – Eila Hiltunen
Eila Hiltunen, a famous Finnish sculptor, has always loved Italy so much that the Bel Paese became her second home, like for many. She spent a lot of time near Siena, and after being surrounded by la Dolce Vita she "dreams about it every night." And it is surely a sweet dream!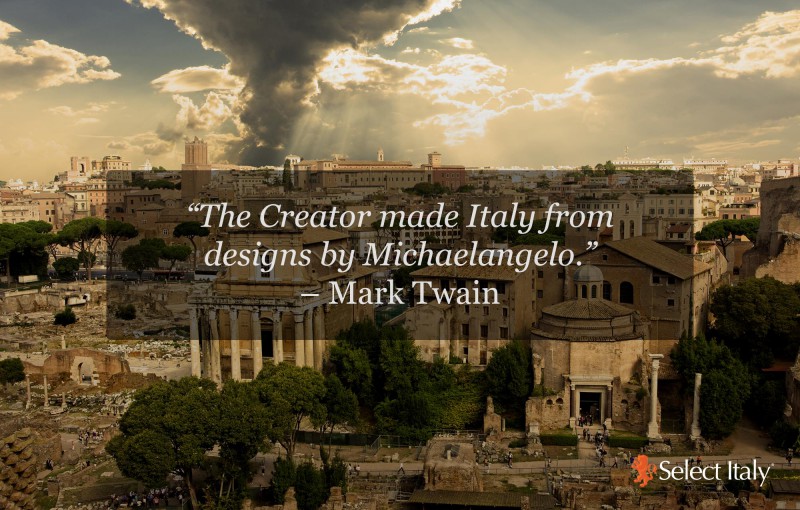 6) "The Creator made Italy by designs from Michelangelo." – Mark Twain
Italian beauty and perfection is enclosed in this Mark Twain's quote. By making direct reference to the Italian sculptor — Michelangelo — and his precision and virtue, the American writer emphasizes how graceful, enchanting, and perfect Italy is.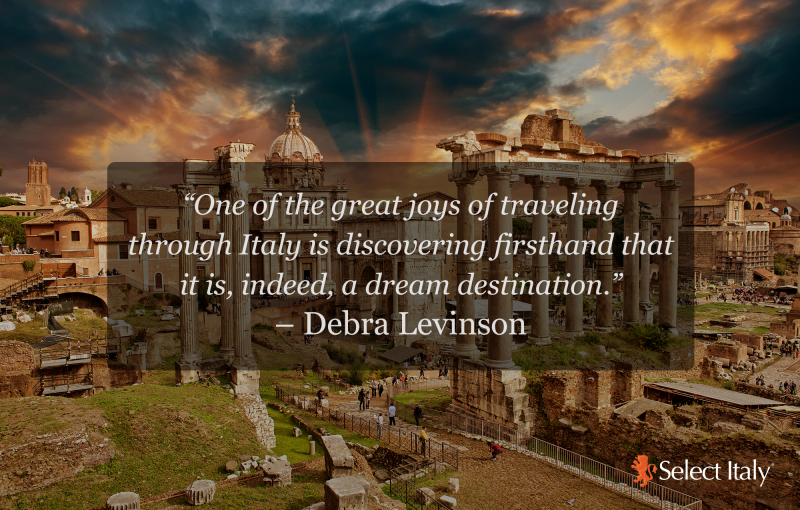 7) "One of the great joys of traveling through Italy is discovering firsthand that it is, indeed, a dream destination." – from the book "Italy Luxury: Family Hotels & Resorts" by Debra Levinson
How many of us have Italy in their list? The Bel Paese, with its charm and beauty, is a destination that has always been on the mind of thousand of traveler. And once you are traveling up and down the boot and strolling around Italy's streets, you will just realize that one of your biggest dreams is finally coming true.
 8) "When life gives you twists and turns, chique yourself up in Italy!" – Barbara Conelli
With its charm, beauty, and lifestyle Italy is the perfect destination to experience an unforgettable adventure when life gives you twists and turns. So — as Barbara Conelli said — brace yourself and "chique yourself up in Italy!"It's time for a change.
9) "Italy is a dream that keeps returning for the rest of your life." – Anna Akhmatova
Many people have never been to Italy but the Bel Paese is on their wish list. Many of us have been to Italy, but seldom get tired of it. Even for people who have lived there their whole life, Italy remains a place they fall in love with over and over again. Whatever you know about this enchanting place, its amazing landscapes and its lifestyle will always be a dream like no other and filled with many places to discover.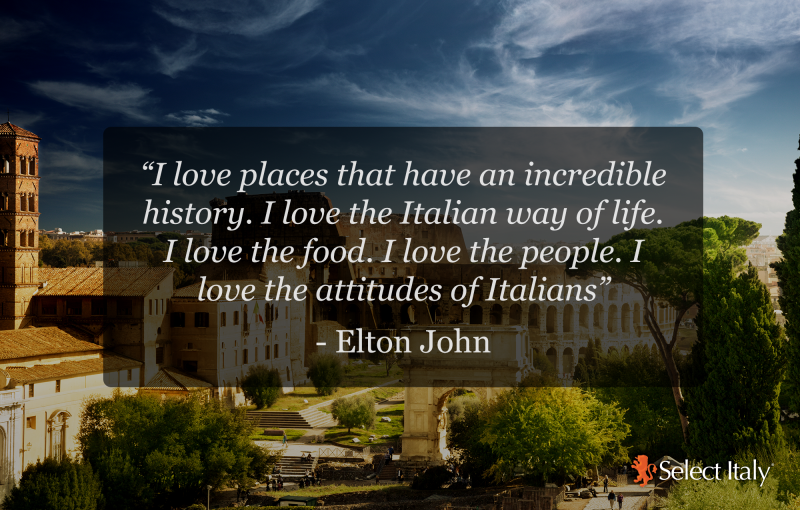 10) "I love places that have an incredible history. I love the Italian way of life. I love the food. I love the people. I love the attitudes of Italians." – Elton John
Elton John — during his performance at the Colosseo in 2005 — explained what Italy means for him. And Italy is all this: a mix of fantastic food, endless culture, history, beautiful landscapes, and amazing attitudes! And this is what gives the Bel Paese its charm and grace.
Italy is a dream, Italy is a destination, Italy is in the mind of people all over the world. Select Italy!