Select Italy Holiday Ratings


We believe that customers booking a Select Italy are looking for that personal attention and individual service, which only a truly independent, specialist company can offer. We are passionate about Italy, and our sole aim is to provide our customers with quality holidays, backed by solid experience and the highest level of customer care. We truly are the Italian specialists, with Italian directors who have over 30 years' experience in selling vacations to Italy and a sales team also with many years of experience and a passion for selling Italy.

Select Italy comprises a large range of accommodation, from simple residences to luxury hotels. The official ratings are based on certain facilities or services being available and they do not take into account the size of the bedrooms or public rooms, nor the preferred décor of the owner, which may be at odds with your taste. Hotels in the same category, even in the same resort, can vary considerably in character, ambience, service and facilities and may not offer the same staffing levels and facilities, or be as well maintained. it must be bourne in mind that cost is a good indication of standards, particulary when comparing hotels in the same star rating.

As well as the hotel's official star rating, we have also given our own special rating, based on our personal opinion. This rating should be taken into consideration, especially when comparing hotels of the same official star rating. By all means browse our website to get an idea of what we offer. However, if like many of our repeat customers, you would like the reassurance of speaking to someone with first hand knowledge of a particular property or area, then do call us. Together we will find the perfect hotel and create a wonderful itinerary.



LUXURY

Italy's finest hotels; where guests can enjoy a highly attentive service in luxurious surroundings. Our luxury collection is the ideal choice for that special celebration, honeymoon or even a wedding.



SELECT

Our Select category includes hotels which we believe offer good standards of service, accommodation and facilities, and which are situated in excellent locations.



COMFORT

Mid range properties, offering a good level of service and comfort for their price.



VALUE

A collection of reasonably priced hotels, which offer a simple but decent standard of accommodation and represent excellent value for money.



VILLAGGIO

Our Villaggio selection are family resorts, which we believe offer a good standard of accommodation and a good range of facilities to keep the entire family occupied during the vacation. These are friendly and easy-going resorts, providing very informal service and representing good value for money. These resorts have a high proportion occupancy of International clientele.



5-Star and Luxury HotelsFamily Friendly HotelsTop Family Resorts
Prices From
Prices on request - Please call our Sales Consultants on 1-800-877-1755 or simply complete the below
Request a tailor made quote for this property
Choose your preferred departure date, duration and departure airport. Our experienced consultants will send you a personal quote with a price match guarantee.
About the hotel
As far as family resorts go, Pullman Timi Ama offers a 5-star experience like no other. Starting from a stunning location with an easy connection to the beach, guests will find a world of activities and entertainment, as well as special facilities and services for children to make every family's stay more enjoyable. Take your family on a truly special experience overseas and find out for yourself why this resort has been described as fabulous.

It does not get any more exclusive or sophisticated than the Pullman Timi Ama Sardegna. Nestled between a natural salt lagoon and a white-sand beach, the luxury resort is the ultimate word in holiday accommodation. If you stay in the summer, you will be greeted by pink flamingos who inhabit the lagoon during the season. The property, located in the heart of the Capo Carbonara Protected Marine Area, is lush with the scents and serenity of nature.

The resort has 275 luxurious rooms and presidential suites that elevate your holiday experience. All the rooms have a private balcony that faces a green garden or the crystal blue bay. The interior of each room has been specially designed to recreate the look and feel authentic to the region.

Where the Pullman Timi Ama Sardegna really creates an impression is in the activities section. You can choose from a wide range of sports that include archery, table tennis, bowling, five-a-side football, and tennis. Then there is a heart-shaped swimming pool overlooking the lagoon if you want to take a relaxing dip. And there's more..

For the more adventurous, they can rent kayaks, windsurfing, and sailing equipment available at the Timi Ama beach, a short distance from the property. The highlight of the activities is perhaps the horse-riding stable located close to the resort.

The Pullman Timi Ama Sardegna takes hospitality to a whole new level. There are restaurants and bars that serve delectable food and wine, near the pool or by the seaside. There are wellness centers where you and your partner can pamper yourself. And then there is the staff who will do just about anything to make your stay a memorable experience.
The main restaurant is La Veranda, which has terrace facing the swimming pool and serves a wide selection of appetizing dishes for a buffet-style breakfast and dinner, included for guests on half board.
Restaurant I Ginepri is open from mid-May until early October weather permitting. It offers light meals á la carte for lunch and dinner (full menu prices applicable). Also open for lunch is the a la carte Restaurant Mediterraneo, which also offers 'Mediterraneo by night' late dining from 10pm until 1am (full menu price applicable).
Any alternative requests children's meals which are not included in the buffet choice, will have an additional cost of €10. Any request for adults will follow the á la carte menu cost.
To quench your thirst on sunny afternoons there is a bar by the swimming pool, one near the beach and another in the hotel lobby. The VIP Bar (open during low season or when the weather doesn't permit outdoor entertainment) offers music and shows for after dinner relaxation.
A shuttle service connects the hotel to the stunning sandy beach equipped with sun-beds and parasols. There is a heart shaped, open-air freshwater swimming pool, surrounded by sun terraces and palm trees. Beach towels are also provided. Guests may use the small gym free of charge. For the energetic, sports-minded guests, there are 4 illuminated tennis courts as well as an archery range, table tennis, bowls, five-a-side football pitch and other group leisure activities all free and bookable locally. Private coaching is also available at local cost.
NB: First and second rows of sun-beds and parasols situated on the beach are charged locally in July and August, other rows are free.
Locally there is also a diving center (PADI and CMAS accredited) and you can rent kayaks, windsurfing and sailing equipment by the beach. Boat and bicycle rental is also available and nearby there is an 18-hole golf club as well as horse riding stables approximately 700m from the hotel.
Linked to the hotel is the excellent Thalassotherapy Institute, offering a 60m² relaxation area, tea room, saunas, Hamman, hydro-massage baths and beauty center. Here you can indulge in a variety of treatments including anti-stress packages, sea aesthetics and slimming treatments.
This exclusive hotel features spacious reception areas, lounges and chill out spaces some with I-pod stations, TV & libraries. It is beautifully furnished throughout in a warm, elegant and sophisticated style. Entertainment including cabaret takes place during the high season.
Children have their own play area with pool at Baboo Village, a club for children from 4 to 12 years. A qualified team runs the club, and organizes a variety of activities, including open-air games, sport activities and handicrafts.
A charge of €15 per child per day payable locally, or €25 per child per day to include lunch (no lunch in low season). Day and evening baby-sitting services are available at a local charge. In addition, there is a complimentary Teen Club for 12 to 17 year olds (some activities at extra cost).
The small town of Villasimius is 2km away.
A complimentary welcome drink is offered on arrival.
Free Wi-Fi is available throughout the hotel.
Please note: All facilities are subject to weather conditions and open and close at the management's discretion. The hotel may host conventions or conferences.
City tourist tax charges applicable by local authority. It has to be paid directly at the hotel reception.
Accommodation
Categories:

275 Rooms on three floors with 5 lifts. The rooms are elegantly furnished and decorated to a high standard.

Classic Garden Side: Spectacular garden or mountain view from the balcony or terrace. Shower room. Baby cot only. No Classic Garden rooms interconnect with each other, but a few interconnect with Superior Garden room.

Classic Bayside: Located on the bayside with balcony or terrace. Shower room. Baby cot only. Interconnecting available with each other only.

Superior Garden Side: More spacious than the Classic Garden, rooms Superior rooms are on the garden/mountain side with a balcony or terrace. Bathroom with shower and bathtub. Third bed available. Interconnecting rooms available. A limited number also interconnect with Classic Garden rooms.

Superior Bay Side: More spacious than the Classic Bay Side, facing the bay, with balcony or terrace. Bathroom with shower and bathtub. Third bed available. Some take third bed and cot. No interconnecting rooms.

Executive Garden Side: 25-30m² double room with a furnished terrace or balcony overlooking the garden. Modern bathroom with double sink, walk-in shower and bathtub. Can accommodate up to 4 people. Cot available on request.

Executive Bay Side: 25-30m² double room with a furnished terrace or balcony overlooking the bay. Modern bathroom with double sink, walk-in shower and bathtub. Can accommodate up to 4 people. Cot available on request.

Deluxe Garden Side: Spacious room on the garden side with balcony or terrace. Double bedroom and bathroom with shower and bathtub. Interconnecting rooms available with Superior Garden Side but not each other.

Deluxe Bay Side: Spacious room on the bay side with balcony or terrace. Bathroom with shower and bathtub. Double bedroom and sofa bed capable of accommodating two extra persons. No interconnecting rooms.

Family Rooms: Spacious quadruple rooms capable of accommodating two children plus an infant. These are Superior Garden Side or Bay Side rooms. Bathroom with bath and shower. No interconnecting rooms.

Various suites are also available.

Room Facilities:

All rooms offer: air-conditioning, balcony or terrace, direct dial telephone, WiFi, satellite TV, safe, mini-bar, bathroom or shower room and hairdryer. Twin beds available.
Similar Properties You May Like...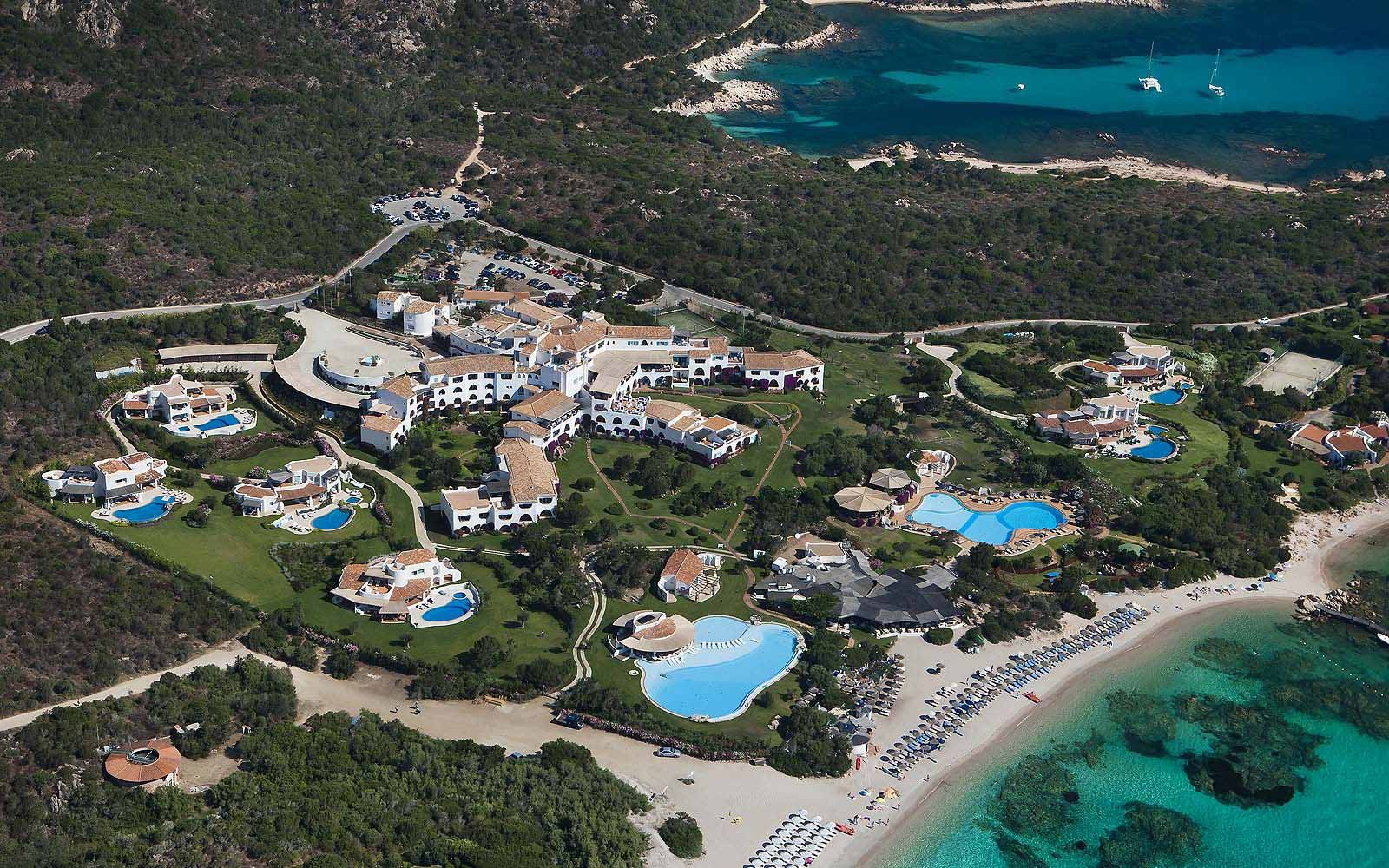 Sardinia > Porto Cervo & Costa Smeralda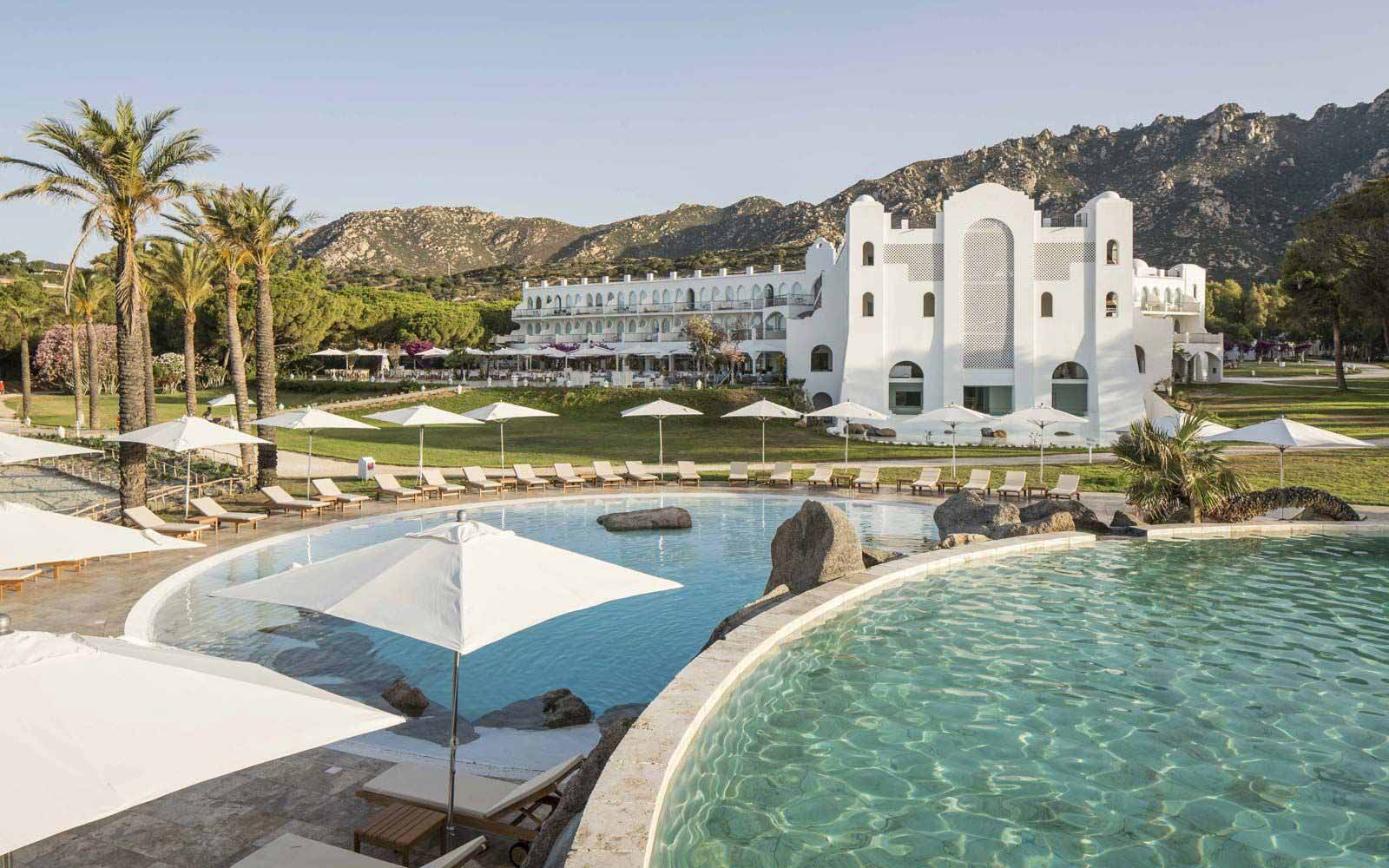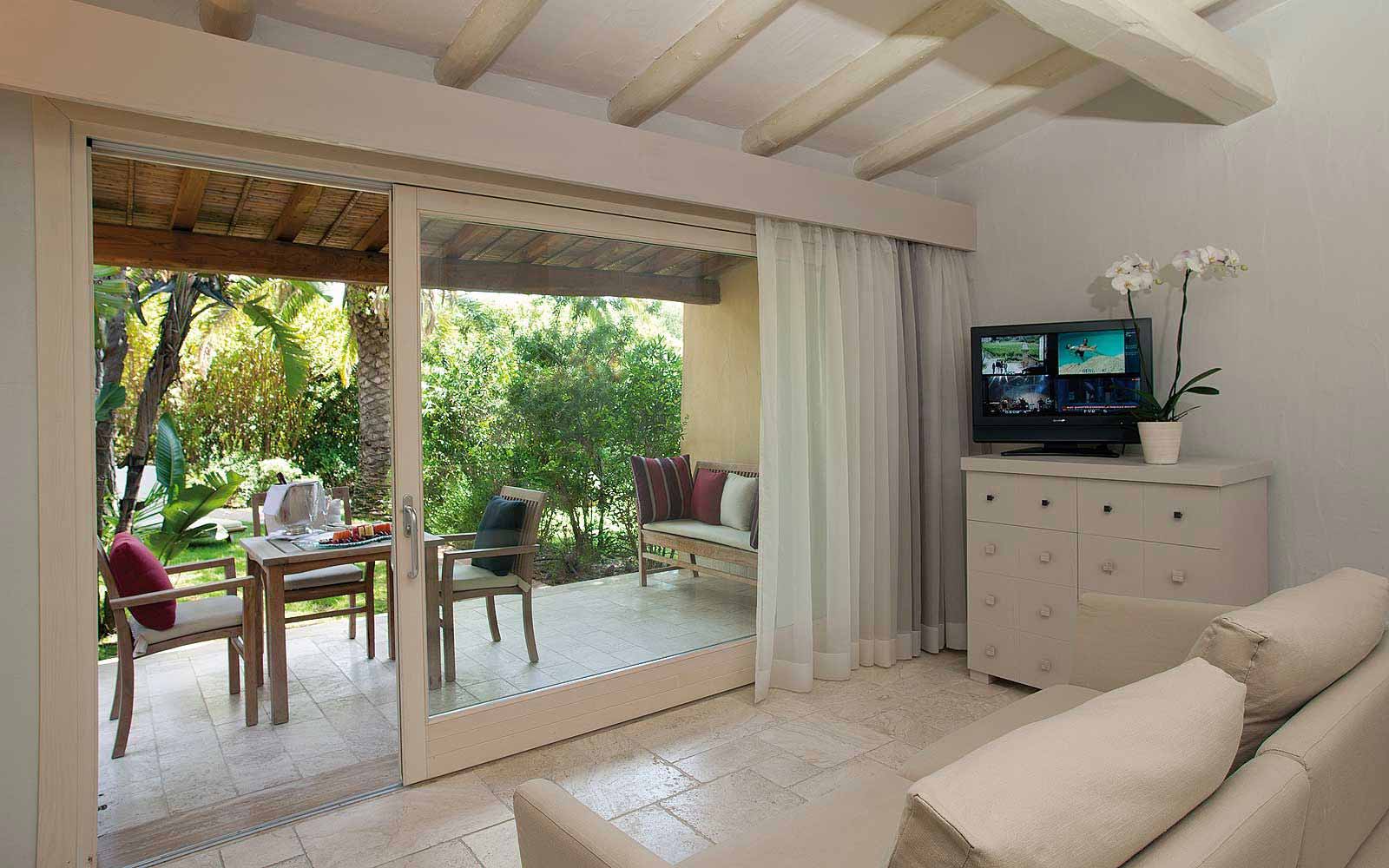 Sardinia > Santa Margherita Di Pula