Select Italy Holiday Ratings


We believe that customers booking a Select Italy are looking for that personal attention and individual service, which only a truly independent, specialist company can offer. We are passionate about Italy, and our sole aim is to provide our customers with quality holidays, backed by solid experience and the highest level of customer care. We truly are the Italian specialists, with Italian directors who have over 30 years' experience in selling vacations to Italy and a sales team also with many years of experience and a passion for selling Italy.

Select Italy comprises a large range of accommodation, from simple residences to luxury hotels. The official ratings are based on certain facilities or services being available and they do not take into account the size of the bedrooms or public rooms, nor the preferred décor of the owner, which may be at odds with your taste. Hotels in the same category, even in the same resort, can vary considerably in character, ambience, service and facilities and may not offer the same staffing levels and facilities, or be as well maintained. it must be bourne in mind that cost is a good indication of standards, particulary when comparing hotels in the same star rating.

As well as the hotel's official star rating, we have also given our own special rating, based on our personal opinion. This rating should be taken into consideration, especially when comparing hotels of the same official star rating. By all means browse our website to get an idea of what we offer. However, if like many of our repeat customers, you would like the reassurance of speaking to someone with first hand knowledge of a particular property or area, then do call us. Together we will find the perfect hotel and create a wonderful itinerary.



LUXURY

Italy's finest hotels; where guests can enjoy a highly attentive service in luxurious surroundings. Our luxury collection is the ideal choice for that special celebration, honeymoon or even a wedding.



SELECT

Our Select category includes hotels which we believe offer good standards of service, accommodation and facilities, and which are situated in excellent locations.



COMFORT

Mid range properties, offering a good level of service and comfort for their price.



VALUE

A collection of reasonably priced hotels, which offer a simple but decent standard of accommodation and represent excellent value for money.



VILLAGGIO

Our Villaggio selection are family resorts, which we believe offer a good standard of accommodation and a good range of facilities to keep the entire family occupied during the vacation. These are friendly and easy-going resorts, providing very informal service and representing good value for money. These resorts have a high proportion occupancy of International clientele.



Top Family ResortsBeach Vacations5-Star and Luxury HotelsFamily Friendly Hotels
Prices From
Prices on request - Please call our Sales Consultants on 1-800-877-1755 or simply complete the below
Request a tailor made quote for this property
Choose your preferred departure date, duration and departure airport. Our experienced consultants will send you a personal quote with a price match guarantee.
About the hotel
Experience a true 5-star luxury holiday with the whole family at Capo Boi Resort. A marvelous resort with its own bay and private beach, you will find activities for adults and children alike, as well as a multitude of services for families traveling with children to make your stay more enjoyable. Dining is also a treat with options including fresh fish and local specialties, as is the spa with its wonderful pampering amenities.

A white pearl nestled between green, verdant hills and white, marbled beaches, the Capo Boi Resort is steeped in luxury and privacy. In fact, there is hardly any area of the property that remains untouched by an elegant sophistication.

Take any of the 122 rooms of the resort, for instance. Each room carries the signature touch of opulent Italian design, complemented by a modern minimalism. The living space has been designed to give you a feeling of intimacy and splendor, while offering you unhindered views of the majestic ocean.

The luxury treatment goes up a notch at the resort's Acquapura Spa. As soon as you step into the spa, you will feel all your worries melt away. You can indulge in any one of the 5 treatment rooms, bio-sauna, steam bath, indoor pool, Finnish sauna and heated stone platforms. Or you could just take a dip in the unique Infinity Pool that is set over two levels.

The Capo Boi Resort has built its reputation as one of the most family-friendly resorts in Sardinia. Take your little ones to the Falky Land recreation center and they too will have a vacation to remember. There are indoor and outdoor play areas, entertainment for children and teenagers, sport courses and swimming academy for babies and children. The resort also provides babysitting facilities if you were to require them.

The luxury resort has special spaces reserved exclusively for families where they can get together, bond, and create everlasting memories.

The Capo Boi Resort offers premium luxury and sophistication without compromising on family values.
RESTAURANTS & BARS
The Capo Boi resort's restaurants are open day and night. Watch as Sardinia's fresh regional produce including freshly-caught fish and meat specialties are prepared at the restaurants live cooking stations, alongside authentic pasta and traditional pizzas from a wood-fired oven.
The main restaurant La Terrazza, serves a generous lunch and dinner buffet, while the beach restaurant Dal Pescatore offers à la carte meals with a fantastic view over the sandy bay. Here you are never more than an arm's reach away from refreshing drinks, ice creams and snacks served throughout the day at the beach or pool bar Le Cascate.
International DJ line-ups and special guests create an unbeatable party environment at the BarLounge.
RELAX
As one of the most luxurious Sardinia hotels, Capo Boi Resort offers a high level of relaxation and pampering too. The Acquapura Spa offers the perfect ambience for beauty and wellness. The spa includes: a bio-sauna, steam bath, Finnish sauna and heated stone platforms, indoor pool, 5 treatment rooms, cardio and fitness area, workout program with yoga and Pilates. The infinity relaxation pool, set over 2 levels and with a fabulous view of the bay and sea, is a truly special experience.
The spectacular private beach is just a few steps from the hotel and can be reached by crossing the resort's garden. It is one of the most beautiful bays on the whole island and the perfect place to unwind on your holiday to Sardinia. The sea is crystal-clear, the sand is white and fine, making it perfect for children and a paradise for snorkelers. The use of parasols and sun loungers is complimentary.
Sports and recreational facilities are available at Capo Boi Resort: meditation, yoga, Pilates, gymnastics, water gym Nordic walking, 2 tennis courts and much more. Just 2 km away from the resort is the 18-hole Tanka Golf & Country Club course.
CHILDREN'S ACTIVITIES
Capo Boi Resort is a perfect resort for families. It offers a non-stop play and fun for kids.
Falky Land is a designated space for children providing a rich multilingual entertainment program for children aged 3 and above with recreational and sporting activities 7 days a week. It includes indoor and outdoor playground areas, entertainment for children and teenagers, sport courses and swimming academy for babies, children and adults (at an extra cost).
The resort also offers a pool reserved exclusively for families, as well as a special dining service (at an extra cost).
Babysitting and baby kits are available at an additional supplement and must be reserved before or upon arrival at the hotel.
The Baby Kit includes: buggy, children bath tub, changing table, bottle warmer, water cooker, changing pad and a diaper disposal bin.
Accommodation
Categories:

The 144 rooms and suites at the Capo Boi Resort are spread between the main building, the "Garden" Pavilion and Villas.

Family room park view: 36 sqm, located in the main building, this room has a living area with sofa and TV. 10 – 20 sqm Terrace with park view.

Junior suite park view: 36 sqm, located in the main building, this room has a living area with sofa and TV. 10 – 20 sqm Terrace with park view.

Junior suite sea side: 33-43 sqm, The Junior Suite is located towards the seas includes a living room separated through a visual cover. Terrace with sea view.

Junior suite sea view: 33-43 sqm, located in the main building, this room has a living area with sofa and TV. 10 – 20 sqm Terrace with direct sea view.

Family Suite Garden: 42 sqm, "Garden" park view 21 sqm terrace. The Family Suites will captivate you with the interior design. A children's bedroom provides enough space for the little ones. The separate parents' bedroom with sofa will charm with its Mediterranean Design. The shaded terrace (21sqm) diffuses the outdoor living feeling.

Two Bedroom Villa: 50-60 sqm villa 6 sqm terrace and 6-20 sqm garden. The two-room villa stands out with its terrace and its garden. The two double rooms linked by a connecting door possess two bathrooms each and offer everything you need for a relaxing family holiday.

Two Bedroom Villa with lateral Sea View: 50-60 sqm villa with 6-20 sqm garden and 6 sqm terrace. The Two-room villa stands out with its terrace and its garden. The two double rooms linked by a connecting door possess two bathrooms each and offer everything you need for a relaxing family holyday.

Family Villa: 55 sqm villa with 6 sqm terrace and 6-30 sqm garden. From the independent villa building, you have an amazing view over the gardens. Bedrooms, children's; rooms and living rooms offer plenty of space for a fantastic lifestyle experience during a family holiday in Sardinia.

Capo Boi Suite: 85 sqm main house sea view with 30-50 sqm terrace. Experience a family lifestyle on holiday with a parents' bedroom with a second bedroom for 2 plus one child and a 31 sqm living room area, as well as walk-in bathrooms for 2 of the bedrooms. The views from the 30-50 smq terrace will enchant you.

To view Villa Bellavista click here

Room Facilities:

All rooms have Wi-Fi connection, air-conditioning, LCD satellite TV, as well as a terrace or balcony.
Similar Properties You May Like...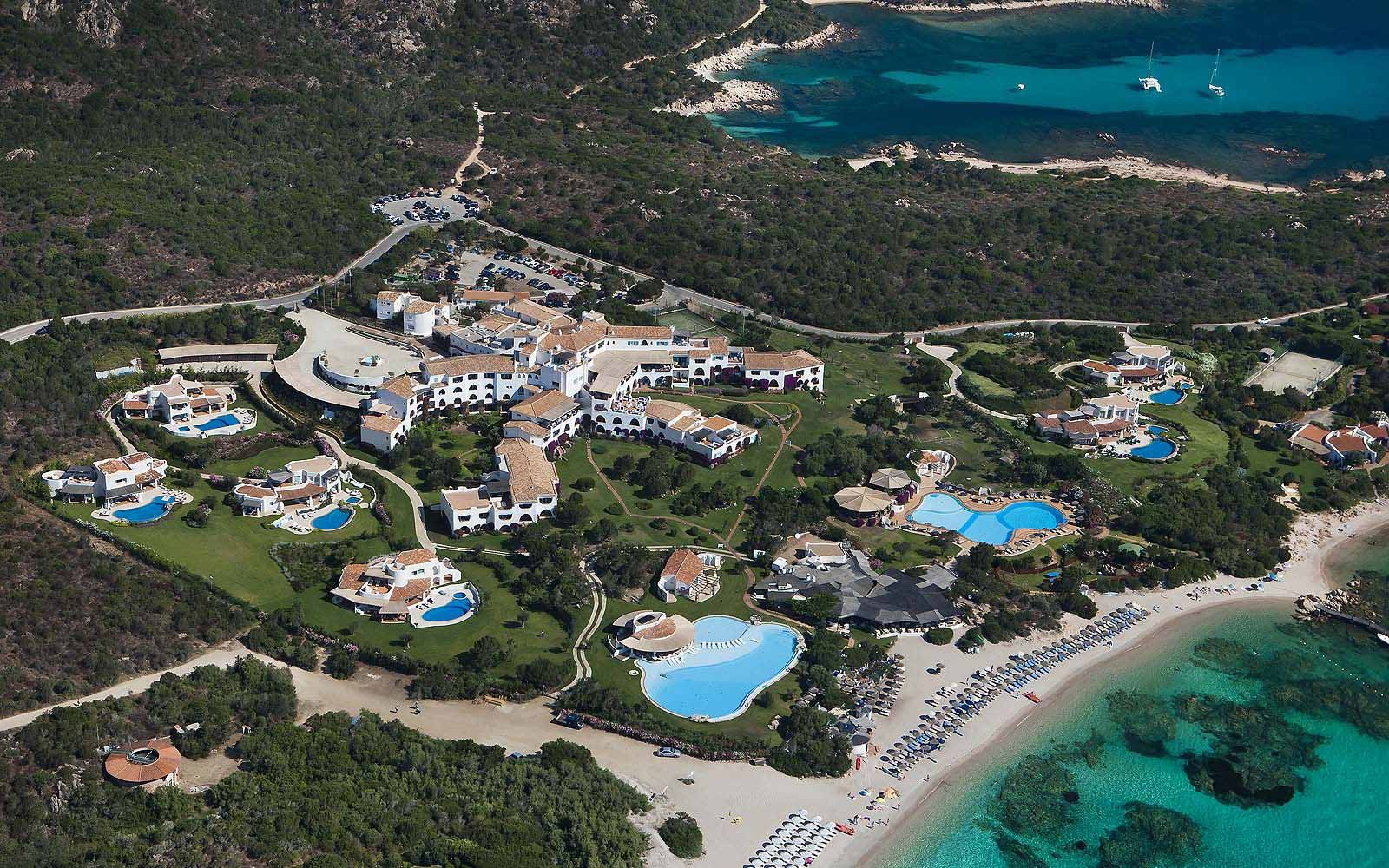 Sardinia > Porto Cervo & Costa Smeralda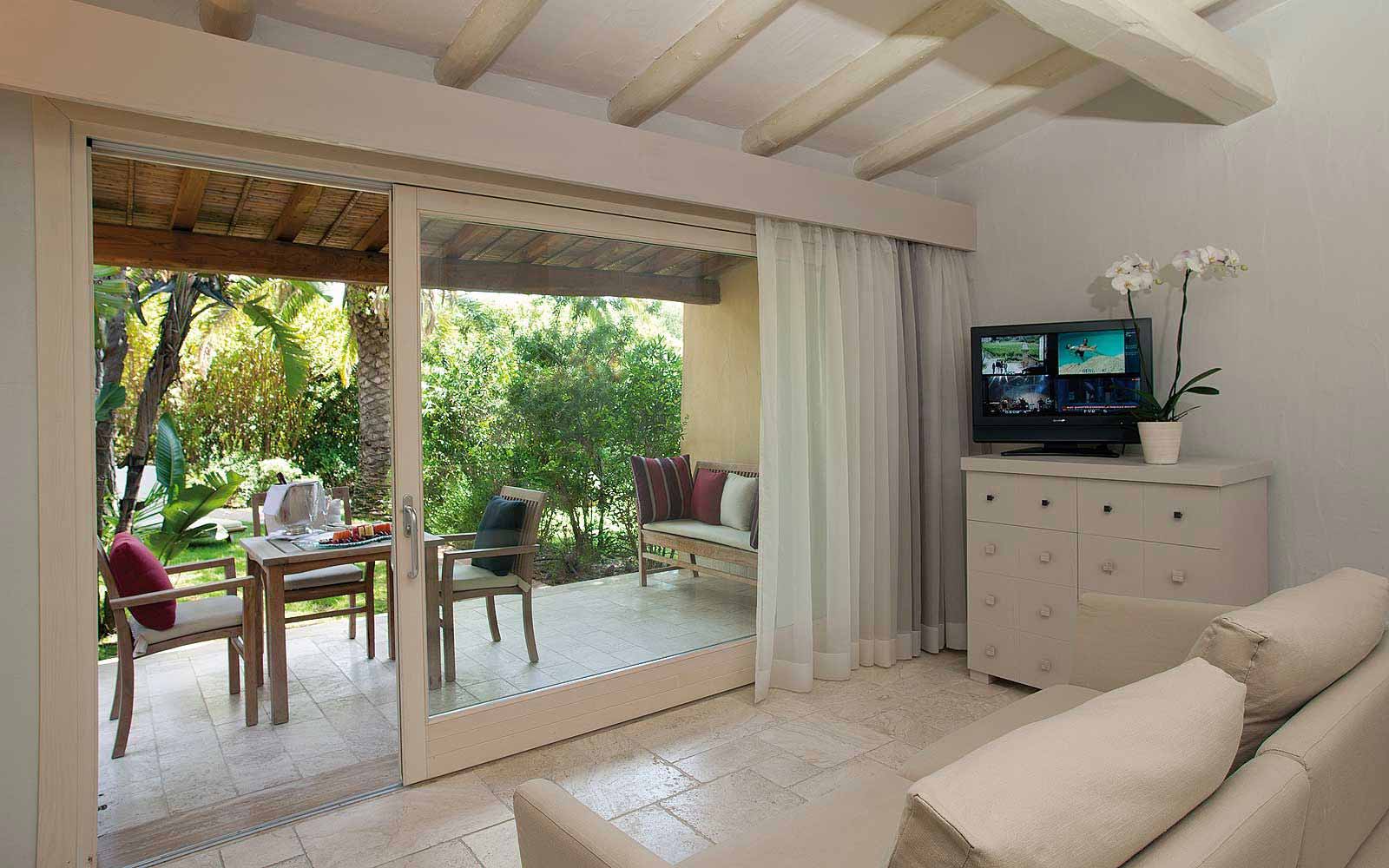 Sardinia > Santa Margherita Di Pula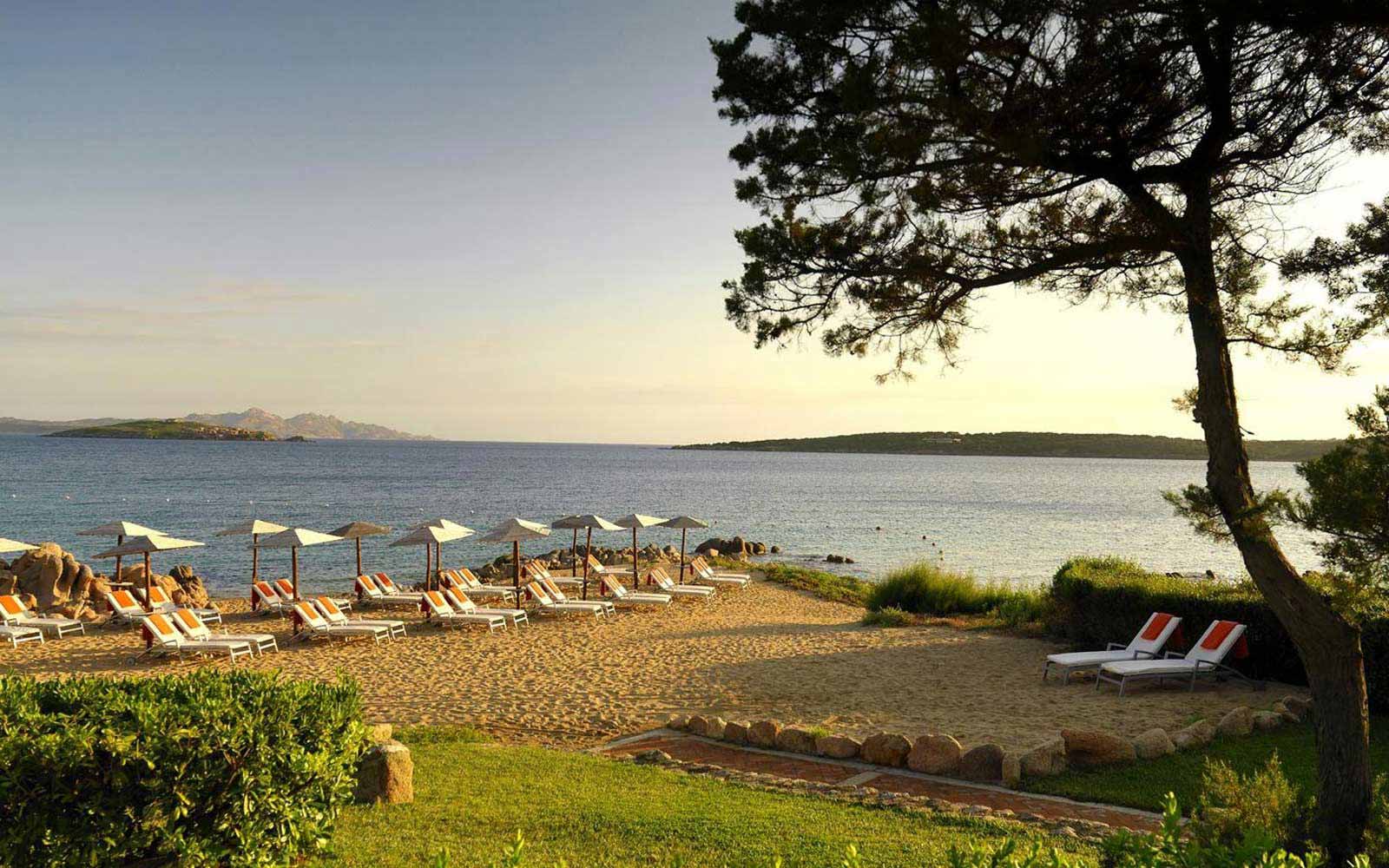 Sardinia > Porto Cervo & Costa Smeralda