Select Italy Holiday Ratings


We believe that customers booking a Select Italy are looking for that personal attention and individual service, which only a truly independent, specialist company can offer. We are passionate about Italy, and our sole aim is to provide our customers with quality holidays, backed by solid experience and the highest level of customer care. We truly are the Italian specialists, with Italian directors who have over 30 years' experience in selling vacations to Italy and a sales team also with many years of experience and a passion for selling Italy.

Select Italy comprises a large range of accommodation, from simple residences to luxury hotels. The official ratings are based on certain facilities or services being available and they do not take into account the size of the bedrooms or public rooms, nor the preferred décor of the owner, which may be at odds with your taste. Hotels in the same category, even in the same resort, can vary considerably in character, ambience, service and facilities and may not offer the same staffing levels and facilities, or be as well maintained. it must be bourne in mind that cost is a good indication of standards, particulary when comparing hotels in the same star rating.

As well as the hotel's official star rating, we have also given our own special rating, based on our personal opinion. This rating should be taken into consideration, especially when comparing hotels of the same official star rating. By all means browse our website to get an idea of what we offer. However, if like many of our repeat customers, you would like the reassurance of speaking to someone with first hand knowledge of a particular property or area, then do call us. Together we will find the perfect hotel and create a wonderful itinerary.



LUXURY

Italy's finest hotels; where guests can enjoy a highly attentive service in luxurious surroundings. Our luxury collection is the ideal choice for that special celebration, honeymoon or even a wedding.



SELECT

Our Select category includes hotels which we believe offer good standards of service, accommodation and facilities, and which are situated in excellent locations.



COMFORT

Mid range properties, offering a good level of service and comfort for their price.



VALUE

A collection of reasonably priced hotels, which offer a simple but decent standard of accommodation and represent excellent value for money.



VILLAGGIO

Our Villaggio selection are family resorts, which we believe offer a good standard of accommodation and a good range of facilities to keep the entire family occupied during the vacation. These are friendly and easy-going resorts, providing very informal service and representing good value for money. These resorts have a high proportion occupancy of International clientele.



Prices From
Prices on request - Please call our Sales Consultants on 1-800-877-1755 or simply complete the below
Request a tailor made quote for this property
Choose your preferred departure date, duration and departure airport. Our experienced consultants will send you a personal quote with a price match guarantee.
About the hotel
Location is everything with Hotel La Funtana, positioned close to transport yet offering a quiet and tranquil stay for all guests. With a lovely seaside town at your doorstep to explore and multiple beaches within easy reach, you can easily spend a day exploring the surroundings or simply relaxing by the swimming pool. One of the highlights is the on-site restaurant which offers exceptional food prepared with fresh and local produce.

Stripped of excess luxury and indulgence, the Hotel La Funtana instead focuses on providing a warm, intimate experience that is truly Italian. The hotel is located at the northernmost tip of Sardinia, amidst lush hills and an open sky. The exterior creates an immediate impression of an easy intimacy that you can expect. The walls are painted soft white with high arcs supporting the ground level and a brown-tiled roof reminiscent of an antique village house.

There are 53 guestrooms all of which are characterized by large windows that open to pleasant views. Each room is richly decorated with designs and textiles that bear the signature of local Sardinia. The interiors carry pleasant pastel hues to elevate your level of comfort. All rooms have their own private balcony where guests can lounge around during cool evenings or simply unwind with a good book or a glass of good wine.

The charm of the boutique hotel truly comes alive in its main restaurant where a large open space welcomes foodies from all over the region and the world. The purpose behind the restaurant is to treat all guests who eat there as one big family enjoying the best Italian and international foods. The local delicacies prepared by the traditional chefs are a must try.

Hotel La Funtana is a rare gem of the hospitality sector where authentic tastes, authentic culture, and authentic service are placed ahead of flashy style.


RESTAURANTS & BARS
The Restaurant, located in the main building, consists of a large and fully air-conditioned seating area. Here is where breakfast is served every day. In summer, a small outdoor area is available for guests who want to dine in a pleasant and refreshing environment.
RELAX
Decorated using located handicrafts and textiles, it offers an unpretentious and welcoming stay, with a comfortable lounge & bar and a play area for children in the garden. The building forms a semi-circle around the pool area, with some of the rooms offering pool views. Breakfast is a continental buffet with dinner being table service.
The equipped public beach is approximately 20mins walk away, where sun-beds and parasols are available from the local beach organisers (at local cost & subject to availability). Alternatively, sun-beds and parasols are available on the terraces by the swimming pool.
Accommodation
Categories:

The 53 welcoming and light-filled rooms are all equipped with:

air conditioning, TV, telephone, minibar, safe, free wifi, bathroom with shower and hairdryer.



Classic: double or triple room with large window overlooking the garden / rear.

Pool Classic: double room with large window and pool view.

Balcony: double or triple room with furnished balcony and garden / rear view.

Connecting Balcony: double room and living room with twin beds, with furnished balcony and rear view.

Superior Pool Balcony: double room with furnished balcony overlooking the pool, courtesy kit, kettle with a selection of tea, coffee and herbal teas.

Junior Suite: double room with lounge area and furnished balcony overlooking the pool, courtesy kit, kettle with selection of tea, coffee and herbal teas.

Pool Terrace Deluxe: double room on the first floor with large terrace of 13 sqm overlooking the pool, courtesy kit, kettle with a selection of tea, coffee and herbal teas, welcome fruit basket in the room upon arrival.

Room Facilities:

All offer: shower room, hairdryer, air-conditioning, mini-bar, safe, Sky TV, telephone. Some rooms have a private balcony or patio.
Similar Properties You May Like...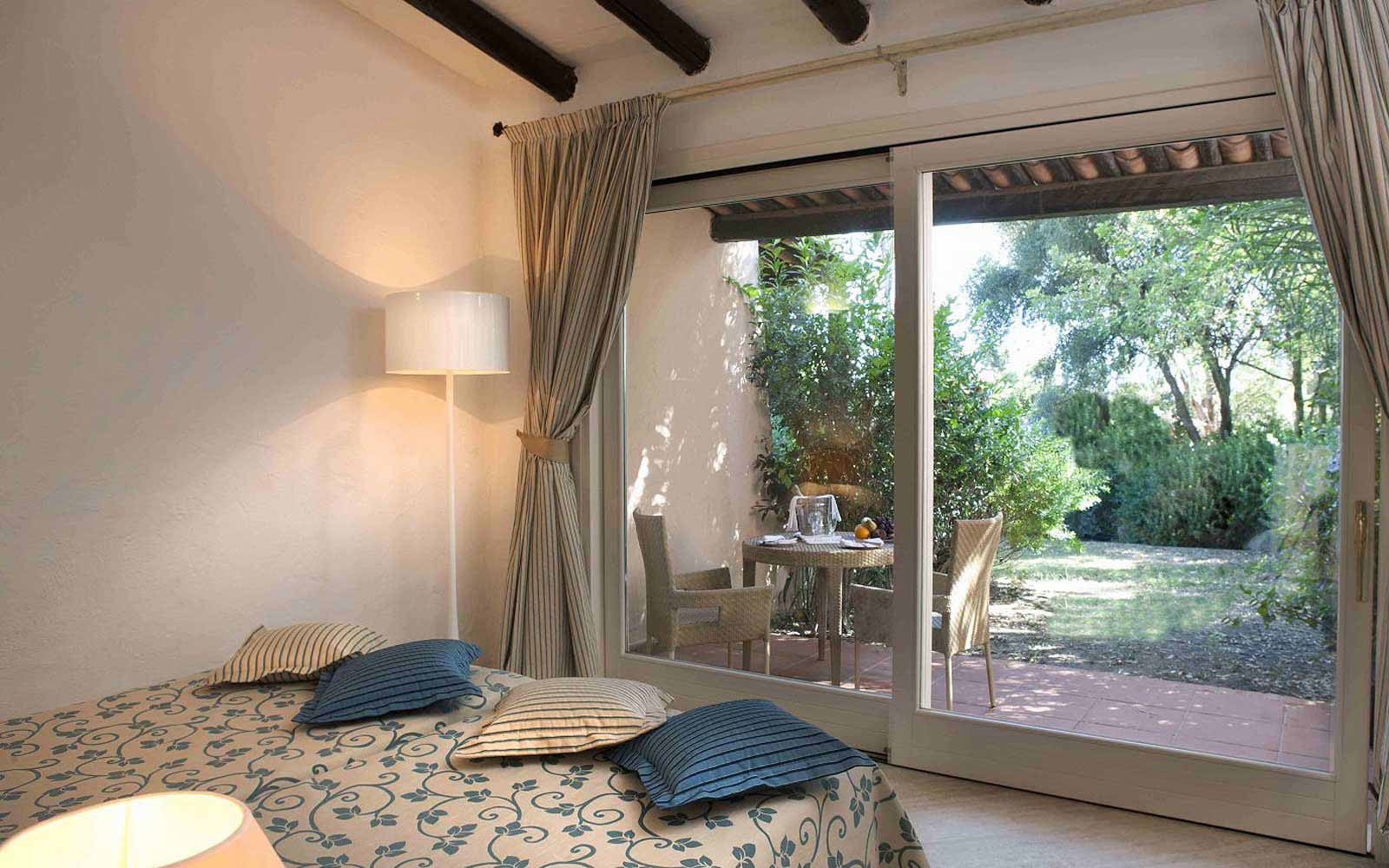 Sardinia > Santa Margherita Di Pula