Select Italy Holiday Ratings


We believe that customers booking a Select Italy are looking for that personal attention and individual service, which only a truly independent, specialist company can offer. We are passionate about Italy, and our sole aim is to provide our customers with quality holidays, backed by solid experience and the highest level of customer care. We truly are the Italian specialists, with Italian directors who have over 30 years' experience in selling vacations to Italy and a sales team also with many years of experience and a passion for selling Italy.

Select Italy comprises a large range of accommodation, from simple residences to luxury hotels. The official ratings are based on certain facilities or services being available and they do not take into account the size of the bedrooms or public rooms, nor the preferred décor of the owner, which may be at odds with your taste. Hotels in the same category, even in the same resort, can vary considerably in character, ambience, service and facilities and may not offer the same staffing levels and facilities, or be as well maintained. it must be bourne in mind that cost is a good indication of standards, particulary when comparing hotels in the same star rating.

As well as the hotel's official star rating, we have also given our own special rating, based on our personal opinion. This rating should be taken into consideration, especially when comparing hotels of the same official star rating. By all means browse our website to get an idea of what we offer. However, if like many of our repeat customers, you would like the reassurance of speaking to someone with first hand knowledge of a particular property or area, then do call us. Together we will find the perfect hotel and create a wonderful itinerary.



LUXURY

Italy's finest hotels; where guests can enjoy a highly attentive service in luxurious surroundings. Our luxury collection is the ideal choice for that special celebration, honeymoon or even a wedding.



SELECT

Our Select category includes hotels which we believe offer good standards of service, accommodation and facilities, and which are situated in excellent locations.



COMFORT

Mid range properties, offering a good level of service and comfort for their price.



VALUE

A collection of reasonably priced hotels, which offer a simple but decent standard of accommodation and represent excellent value for money.



VILLAGGIO

Our Villaggio selection are family resorts, which we believe offer a good standard of accommodation and a good range of facilities to keep the entire family occupied during the vacation. These are friendly and easy-going resorts, providing very informal service and representing good value for money. These resorts have a high proportion occupancy of International clientele.



Prices From
Prices on request - Please call our Sales Consultants on 1-800-877-1755 or simply complete the below
Request a tailor made quote for this property
Choose your preferred departure date, duration and departure airport. Our experienced consultants will send you a personal quote with a price match guarantee.
About the hotel
Start your day at Club Hotel with breakfast by the sea, go for a swim in the stunning and warm blue Mediterranean water during the day, then go on a discovery of your surroundings by bike in the afternoon, before you taste some of the most exceptional food at dinner. A vacation at Club Hotel is an experience best enjoyed in vacation mode, when curiosity is flowing and your taste buds are ready to rock and roll.

Beach destinations do not come much better than the Club Hotel. Located right on the cusp of the main beach of Baja Sardinia, you are treated to some of the most mesmerising views of the open blue waters of the Mediterranean. The hotel retains its charm as the first luxury spot on Baja Sardinia. The property bears the trademark of local design and architecture with cool stone walls and spacious shacks.

The interiors signature design flourishes such as textured walls, compact balconies, and tiled flooring. There are 110 spacious rooms spread over a main a building and an annex. The rooms in the main building have retained their old school charm, while the rooms in the annexe will appeal to more modern tastes. Most of the rooms open to an unobstructed view. Stretch your hand from any one of the rooms, and you may just touch the ocean!

When you step out of your luxurious room, you are just a short walk away from your own private beach. Here you can relax, unwind, and simply stare at the shimmering waters of the sea. As close the beach is to the property, so too is the town centre. When the sun dips below the horizon, the unique bars, cafes, and open-air markets of Baja Sardinia come alive, inviting you into their magical world.

One of the many reasons why Club Hotel has retained its name is because of its signature restaurants and cuisine. You can choose from any one of Bouganville, Miramare, or the famously-named Casablanca. The restaurants serve a range of local and international fare, while offering majestic views of the bay: A perfect dining experience for you and your companion.


RESTAURANTS & BARS
An American buffet breakfast is served on the terrace of the Miramare Restaurant, during the season (from end May until mid September).
The main restaurant "Bouganville" offers a table service for dinner. Alternatively, guests can enjoy a candlelight dinner in the elegant "Miramare" Restaurant (Open end May until mid Sept weather permitting) with its lovely terrace overlooking the sea. This restaurant is included for guests of the Superior rooms and Junior Suites, whilst guests in other room categories may dine there for a €25.00 supplement per dinner per guest by prior reservation.
Restaurant "Casablanca" (open for dinner mid June to end Aug - extra charge) is an a la carte restaurant, with an attractive terrace overlooking the bay. Specialising in fish and traditional Italian cuisine, it also offers a good choice of wines and spirits. 20% discount for all guests (discount excludes beverages & lobster).
The Bouganville or the Miramare Restaurant opens for lunch. Alternatively, there is an American bar or the beach bar serving lunchtime snacks.
Live musical entertainment takes place in the evenings (from June to September).
Guests on full board can take advantage of the "Dine Around Baja Hotels" option for dinner, without supplement (prior reservation by 1300hrs required) at the Restaurant "La Terrazza" at Hotel La Bisaccia in Baia Sardinia, the restaurant at Grand Relais dei Nuraghi in Baia Sardinia and the Restaurant "Romantic" at Hotel Le Palme in Porto Cervo.
RELAX

For the sports minded, the hotel offers mountain bikes free of charge, with tennis being available 200m away at the courts of the Hotel Porto Piccolo (at local cost).
The hotel has its own reserved area of a small beach 150m away, accessed via a pathway. Here guests will find complimentary sun-beds and parasols and a beach bar offering lunchtime snacks.
Transportation to off-site facilities & restaurants not included.
Accommodation
Categories:

110 well-appointed rooms and suites, located on the ground or uppers floors of the main building or annexe. Classic rooms tend to be more traditional, whereas the annexe rooms have a more contemporary feel.

Classic: Double or twin bedded, located in the main building or the annexe. Extra beds available for one adult, or two children, or one child & an infant. Extra beds can be standard, sofa or bunk beds.

Classic Sea View: Double or twin bedded, most in the main building, with a balcony or terrace overlooking the sea. Third bed only for adult or child.

Junior Suite: Spacious twin or double bedded rooms with a small living corner, located on the second floor in the annexe only. Extra beds available for one adult, or two children, or one child & an infant. Extra beds can be standard, sofa or bunk beds.

Junior Suite Sea View: Double or twin bedded rooms located on the first and second floor in the annexe only, with an open-plan living area and sea views. Extra beds available for one adult, or two children, or one child & an infant. Extra beds can be standard, sofa or bunk beds.

Room Facilities:

All rooms offer: bathroom with bath & shower, balcony/patio, direct-dial telephone, satellite TV, air-conditioning, mini-bar, hairdryer, safe, wake-up service, and beach towels. No interconnecting rooms.
Similar Properties You May Like...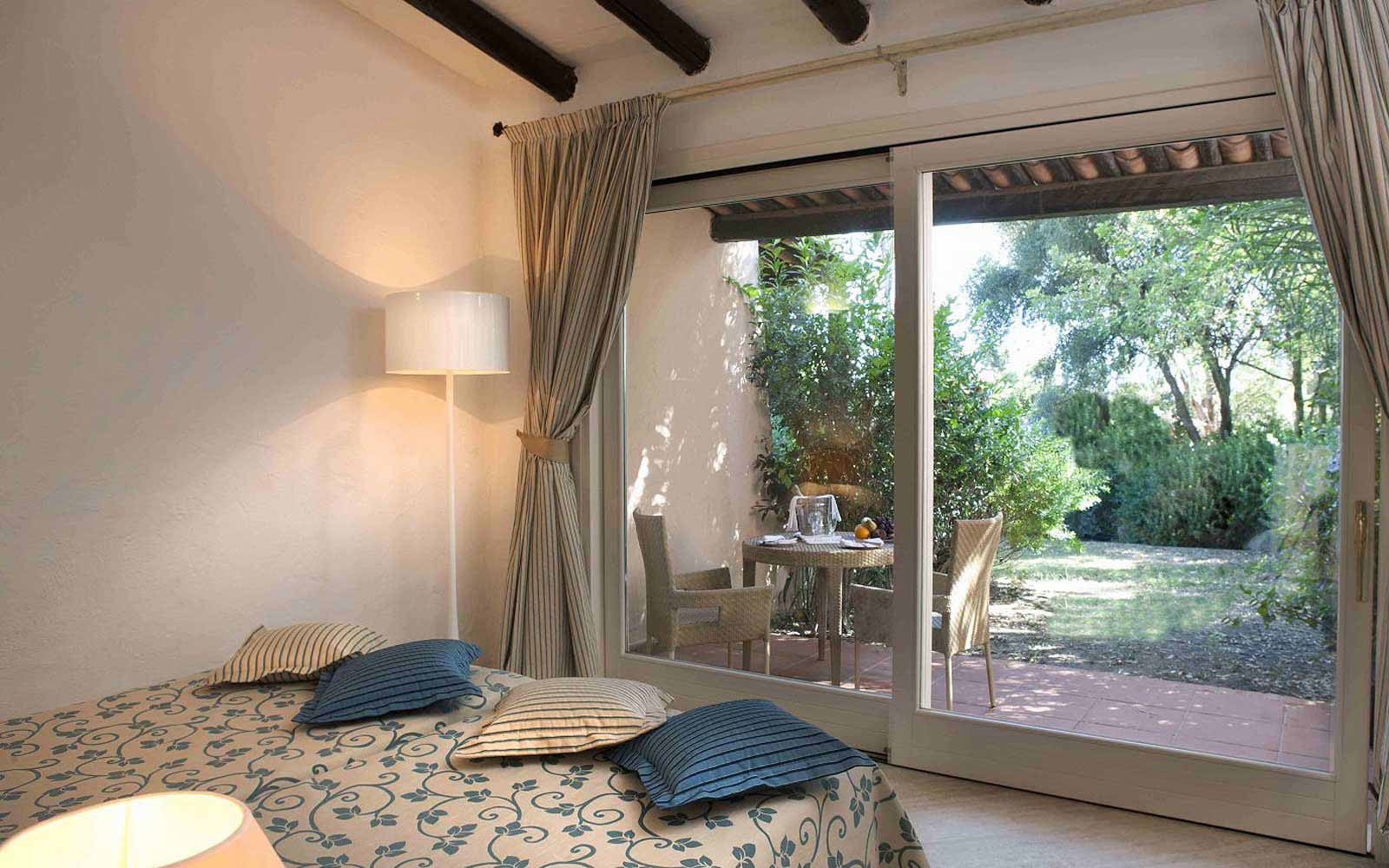 Sardinia > Santa Margherita Di Pula