Select Italy Holiday Ratings


We believe that customers booking a Select Italy are looking for that personal attention and individual service, which only a truly independent, specialist company can offer. We are passionate about Italy, and our sole aim is to provide our customers with quality holidays, backed by solid experience and the highest level of customer care. We truly are the Italian specialists, with Italian directors who have over 30 years' experience in selling vacations to Italy and a sales team also with many years of experience and a passion for selling Italy.

Select Italy comprises a large range of accommodation, from simple residences to luxury hotels. The official ratings are based on certain facilities or services being available and they do not take into account the size of the bedrooms or public rooms, nor the preferred décor of the owner, which may be at odds with your taste. Hotels in the same category, even in the same resort, can vary considerably in character, ambience, service and facilities and may not offer the same staffing levels and facilities, or be as well maintained. it must be bourne in mind that cost is a good indication of standards, particulary when comparing hotels in the same star rating.

As well as the hotel's official star rating, we have also given our own special rating, based on our personal opinion. This rating should be taken into consideration, especially when comparing hotels of the same official star rating. By all means browse our website to get an idea of what we offer. However, if like many of our repeat customers, you would like the reassurance of speaking to someone with first hand knowledge of a particular property or area, then do call us. Together we will find the perfect hotel and create a wonderful itinerary.



LUXURY

Italy's finest hotels; where guests can enjoy a highly attentive service in luxurious surroundings. Our luxury collection is the ideal choice for that special celebration, honeymoon or even a wedding.



SELECT

Our Select category includes hotels which we believe offer good standards of service, accommodation and facilities, and which are situated in excellent locations.



COMFORT

Mid range properties, offering a good level of service and comfort for their price.



VALUE

A collection of reasonably priced hotels, which offer a simple but decent standard of accommodation and represent excellent value for money.



VILLAGGIO

Our Villaggio selection are family resorts, which we believe offer a good standard of accommodation and a good range of facilities to keep the entire family occupied during the vacation. These are friendly and easy-going resorts, providing very informal service and representing good value for money. These resorts have a high proportion occupancy of International clientele.



Prices From
$839 per person (2 adults)
Price includes: 7 nights accommodation with buffet breakfast and local transfers
Request a tailor made quote for this property
Choose your preferred departure date, duration and departure airport. Our experienced consultants will send you a personal quote with a price match guarantee.
About the hotel
Why choose between mountains and beaches when you can have both within easy reach in one location? With Hotel Arathena, you will be treated to spectacular mountain views of the hills and exceptional services including a free shuttle bus giving guests easy access to the beach. When you need a break from the water and sun, the center of the village is only a few minutes away and is waiting to be explored.

The best part about Hotel Arathena is that it stays close to its local roots. Sitting on a sloping, verdant hill, the boutique property celebrates the unique character of its setting – the picturesque village of San Pantaleo in Sardinia.

The exterior of the hotel mirrors the unique houses of the village: stone walls coloured in pastel peach, terraced floors, slanting roofs covered in brown tiles. The architecture mirrors the natural slope of San Pantaleo. Step into the reception, and you will feel as if you have entered a spacious, cool cavern. The same effect is recreated in all of the 35 guestrooms.

Each room feels like your own private getaway. The décor takes inspiration from the surrounding landscape with wooden motifs that highlight the furniture and the upholstery. Peek out of the window and the beautiful cascading hills of the region greet you.

The hotel is located close to the village. A short ride will take you to local cafes, open air markets, and flea markets where you can spot local sculptors selling traditional wares. Since the hills are rich with inspiration, it has drawn many an artist to its fold. The scenery may even motivate you to undertake a creative pursuit or two.

Hotel Arathena is a traditional hotel steeped in the culture of the region. It offers a convenient point from where you can travel and explore the wooded region.
Accommodation
Categories:

35 guestrooms, located on the ground or upper floors, are individually furnished in simple Sardinian style and juxtapose the warmth of tradition and the comfort of the most recent technological standards.

Standard rooms: Double or twin bedded rooms with shower room. Some have private furnished balcony or patio. Cot possible on request.

Superior rooms: Double or twin bedded rooms, larger than the standard rooms with a sitting area and able to accommodate a third bed or cot. Most with shower room and a few with bath. Some have private furnished balcony or patio.

Room Facilities:

All rooms offer: ensuite bathrooms with shower or bathtub, hairdryer and complimentary toiletries set, individually-controlled air conditioning, satellite TV, mini bar, safe. The rooms have either views over the village or over the valley.
Similar Properties You May Like...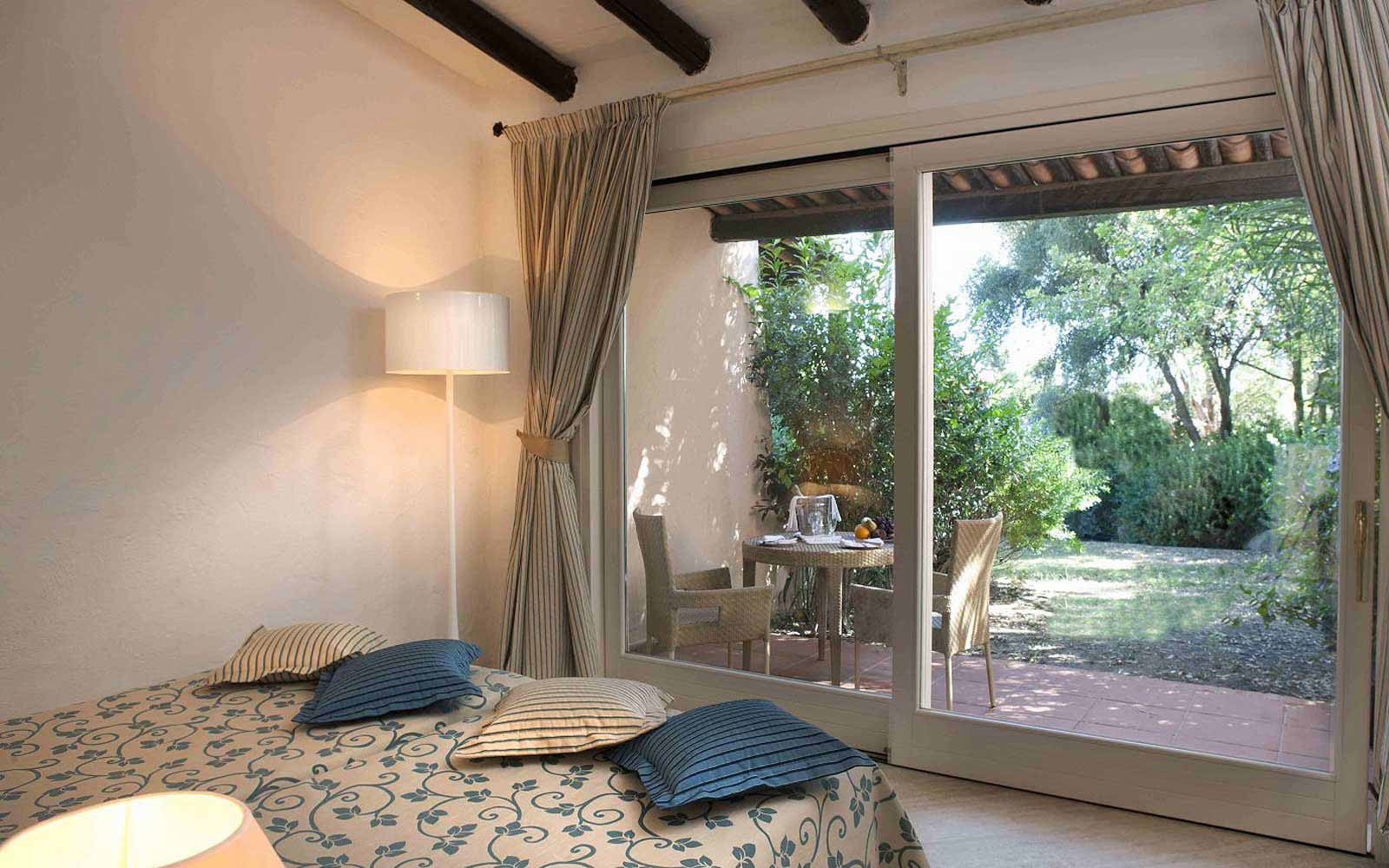 Sardinia > Santa Margherita Di Pula