Why you Can't Miss Venice in February
February is almost here, and while stores are stocking up on hearts, candy, and roses, citizens of Venice are gearing up for one of the biggest parties in the world: Carnevale. Similar to New Orleans' few days of mischief and debauchery that is Mardi Gras, this Venetian tradition is rooted in the Catholic holiday Fat Tuesday, the last hurrah of anything excess before strict Lenten fasting fills the forty days before Easter. But unlike New Orleans, Venice's festival lasts for the entire month of February, and its history and of lavish indulgence – to be frank – puts all other pre-Lenten festivals to shame. Read on and find out why you shouldn't miss Venice in February!
The Foundations
Venice was not always a party city. As the gateway to the east from the 9th century until Vasco de Gama found a course around Africa in the 15th century, the city ruled as a majestic empire, dominating trade routes and enjoying wealth and prosperity, whose evidence (and eastern influence) is still remarkably visible in St. Mark's gilded extravagance and the majestic halls of the Doge's Palace. However, when the political power of Venice began to wane, its beauty and artistic potential blossomed with the rise of the Renaissance and the city became a romantic destination for artists, philosophers, and…well, Renaissance men.
Carnevale was always celebrated as a sort of festival in those days, but it wasn't until Venice began to resemble modern-day Las Vegas in the 17th and 18th centuries that the party became legendary. By the mid-18th century, it was a full six-months of revelry and merriment, a place and time to which people came to live large and forget their lives at home. In Venice, one could find excessive food and drink, gambling opportunities, and less than tame intimate adventures – doing all of this hiding behind an extravagant costume and fanciful mask. And the events lived up to the behavior of its attendees: at its peak, extraordinary happening took place throughout the city: bull fighting in Campo Santo Stefano, bear baiting in the Church of Santa Maria Famosa, and tightrope walking in the piazetta outside of the Doge's Palace.
Today's Carnevale: A Great Reason to Visit Venice in February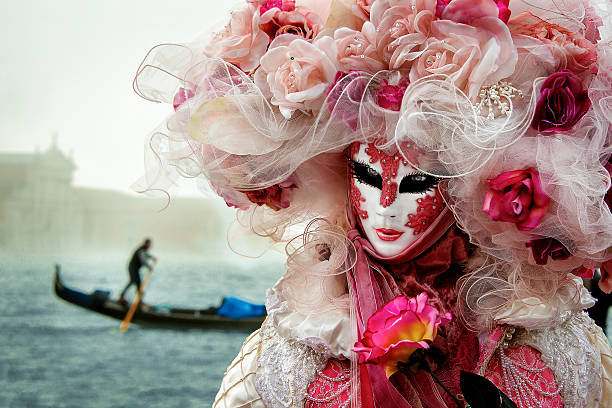 After Napoleon's conquest of Northern Italy and Venice in 1797, the once-great empire fell into a period of poverty. However, with the dawn of world tourism and its particular interest in the former Venetian Empire, the city rose to greatness once again. Not long ago, Carnevale was resurrected and came to be its present-day form. Today, its original licentiousness has toned down and visitors world-over take the trek to this cluster of tiny islands to partake in a tradition seeped in the proud history of the Venetian Empire.
If you're visiting Venice in February, check out the Carnival of Venice official website to have a complete lists of all the events. We suggest you not to miss the famous costume contest, held in St. Mark's square! The contest not only involves what the people wear on their bodies, but takes into account the traditional masks, which have played a leading role in Venetian history for centuries and whose significance and types are said to trace back to the drama genre Commedia dell'Art of the 16th century.
Venice is a city whose ties to the past seem more strong than its ties to the present and the city is never more timeless and enchanting than during the celebration. For more on the colorful history of this legendary Italian empire, we recommend the BBC documentary Francesco's Venice, which traces the city from its roots in the 600s to its conquest of Napoleon.
If you are planning to visit Venice, just get in touch with our travel experts! They can design an experience right for your travel needs.
Have you ever visited Venice in February?
Share with us your experience of this famed festival!