Close your eyes… but hey, just figuratively or you won't be able to finish this article!
Think about Italy. What are the first things that come to mind?
Blue sky and cypress rolling hills, yellow fields framed by extensive vineyards; rich history, cultural heritage and medieval hilltop towns; the smell of superb food and wine aroma.
All of these describe today's focus region: Tuscany.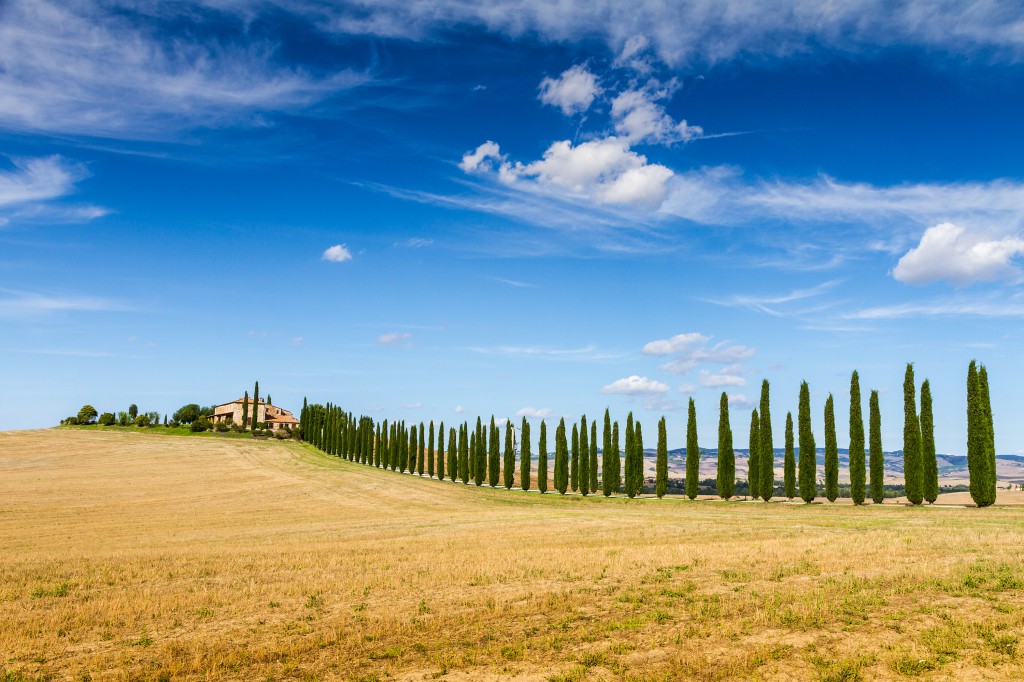 Located in central Italy, along the Tyrrhenian coast, Tuscany is arguably the most famous Italian region that owes its international fame, in part, to many best-selling books and hollywood movies set place in this special location. One of them has even the name of the region in the title! (Under the Tuscan Sun). Guess how many other regions can brag about that? Right answer – none.
Tuscany has Florence, the regional capital and main city, but it has plenty of other popular destinations, many of which have been designated UNESCO World' Heritage sites, such as Siena, San Gimignano, Pienza, the Val D'Orcia and Pisa with its Cathedral (and the adjacent leaning bell tower).
Known as the cradle of the Renaissance and home of many historical influential figures for art and science – name like Galileo, Leonardo Da Vinci, Michelangelo, Dante Alighieri, Botticelli, Machiavelli and many others – the Tuscan genius has also excelled in modern times with names like oscar-winner Director Roberto Benigni, the musician Andrea Bocelli and fashion powerhouses like Gucci and Ferragamo.
What You Should See There
Gifted with an "all-in one" geographical composition, a relatively small plot of land with a complete range of options from beautiful mountain peaks to sandy beaches, Tuscany quickly became the preferred destination for visitors from all around the world. Today it's on the top of lists for art & history lovers, food & wine enthusiasts, cruisers sailing the Mediterranean waters and travelers just looking for a relaxing gateway surrounded by nature. In the last few decades in particular, Brits have fallen in love with the hills of the Chianti Area, between Florence and Siena, buying and moving into restored old country homes at such a fast pace that the area has been dubbed Chianti-shire.
A trip to Florence is a must. Bias Alert – I was born and raised there, so it has a special place in my heart. However millions of tourists every year agree with my statement, and the long lines to get into main attractions like the Uffizi Gallery and the Accademia can be dreadful. But fear no more – smart travelers (like yourself, since you are reading this post) can choose the route of a skip-the-line ticket, to drastically cut the waiting time, or even invest in a unique experience with a VIP entrance to admire masterpieces like Botticelli's Venus and Primavera or Michelangelo's David. That should leave enough time for exploring Florence by foot, and breath in the history of the winding streets and old buildings.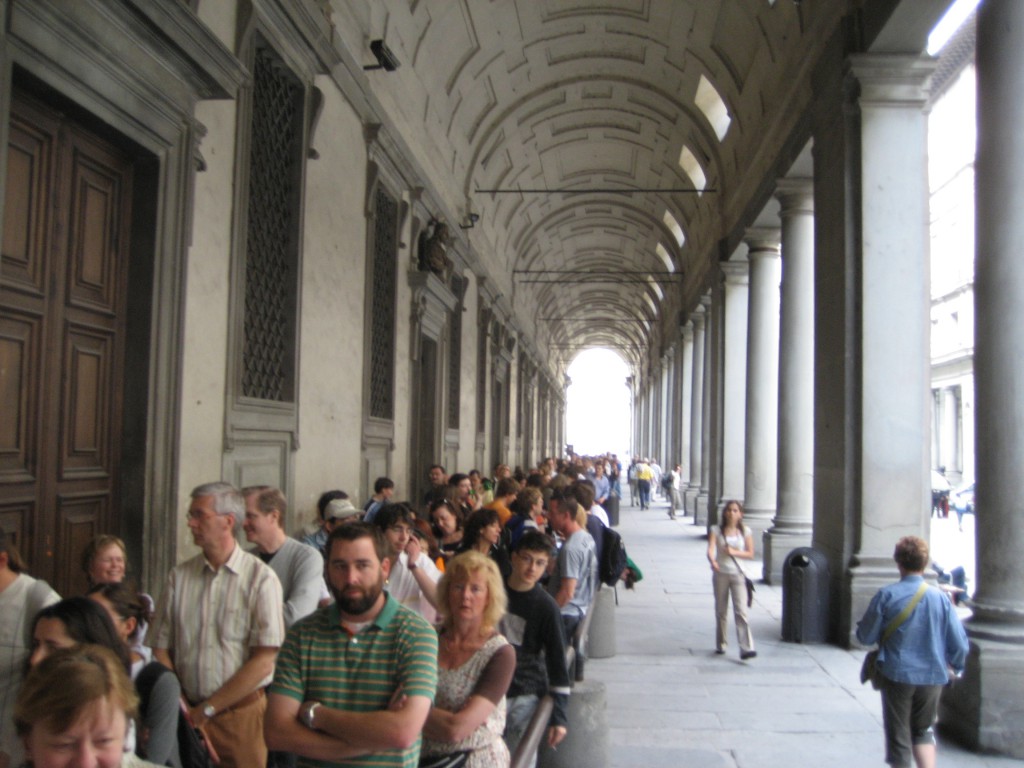 Not all travelers lodge in Florence. Many make their headquarters, the smaller, but equally charming Siena, or dive into the full experience by renting a Villa outside of the main town. It's common for couples or families to rent proprieties or farmhouses in the Tuscan countryside and take day trips to the major cities like Pisa with its leaning tower. Smaller medieval hill towns – Lucca, Pienza, Volterra, Cortona, San Gimignano, Montepulciano and Montalcino and are just as accessible, winding through picturesque vineyards.
From the leaning tower of Pisa to the Carrara Marble quarries and the Cathedral of Siena (not as praised as St. Peter in Rome or Santa Maria del Fiore in Florence but absolutely amazing) there is no shortage of wonders for Architecture lovers.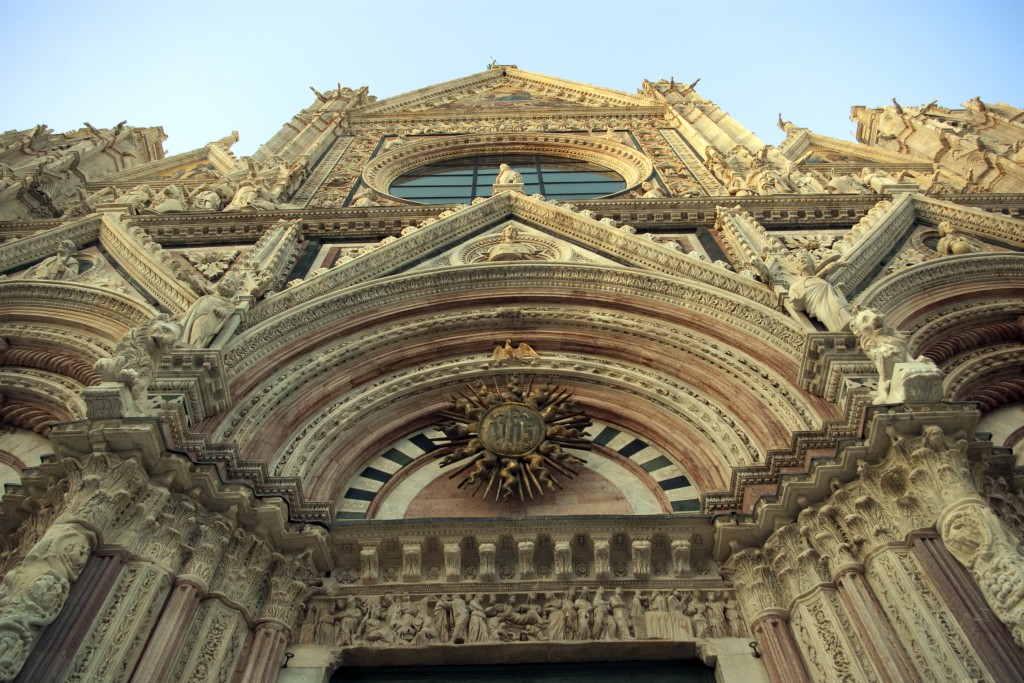 What you Should Eat There
Tuscany is a foodie mecca.
Travelers headed to Tuscany should not miss the opportunity to learn to cook a Tuscan meal in their itinerary. The regional cuisine originates from humble country kitchens and offers a wide array of simple but tasteful dishes. The most representative is probably the Bistecca alla Fiorentina, a T-bone steak sourced from local breeds of cattle, then cooked and grilled over a wood or charcoal fire. Others staples are liver pate, wildboar meat, stellar Tuscan cured meats, homemade pasta and hearty soups. Perhaps the most famous of all – ribollita a kale soup literally meaning "boiled twice". All the above are taken to another level with sensational extra-virgin olive oil. More on this later.
Iconic wines come from this region. Tuscany, like Piedmont, produces world-famous wines, most of which are big imposing reds, based with typical Sangiovese grapes. Brunello di Montalcino is the most prestigious red, while Chianti is the most characteristic and commonly enjoyed outside of Italy. Vino Nobile, Rosso di Montalcino and Rosso di Montepulciano are the other most popular local wines made from indigenous grapes. As for whites, Vernaccia is the clear winner. And not to be missed, the Super Tuscan, the prestigious red obtained with a blend of Sangiovese and non-native varietals like Merlot and cabernet; the category includes wines like Antinoris' Tignanello and Sassicaia.
Bring Tuscany to Your Kitchen Table
As you may already be aware, Tuscan cuisine has a magic ingredient –  100% Tuscan Extra Virgin Olive Oil – that can be masterfully paired with any dish you are cooking. Use the oil raw as a finishing touch to best preserve the oil's distinct characteristics. But please understand, no two oils are created equal.
In fact, EVOOs are usually divided in three macro-groups based on their intensity of fruitiness, Fruttato, in Italian, which is the bouquet of scents that emanates its flavor. This organizes the oils into intensely fruity, medium fruity, and lightly fruity. Usually the intensity varies according to the origin, with southern Italian oils being generally more intense, while northern oils are on the lighter side. But Tuscany once again, stands out with the strongest array of fruttati.
As a rule of thumb the oil, drizzled on top of dishes just before serving, should match well with food of similar notes: the oils of fruttato leggero (light) are smother and delicate and pair well with similar plates like seafood and boiled vegetables; the fruttato medio (medium) are well-proportioned and harmonious and go well with red sauces and salads; fruttato intenso (intense) marries with hearty soups, red meat and vegetables on the grill. The medium intensity is always a safe choice but owning at least each of these three intensities allows me to choose the best oil according to my prepared meals.
I was ecstatic to know that Eataly carries an excellent set with a selection of Frantoio Franci's oils with the  three differing levels of intensity of fruitiness so I can play and match with pairings and different dishes!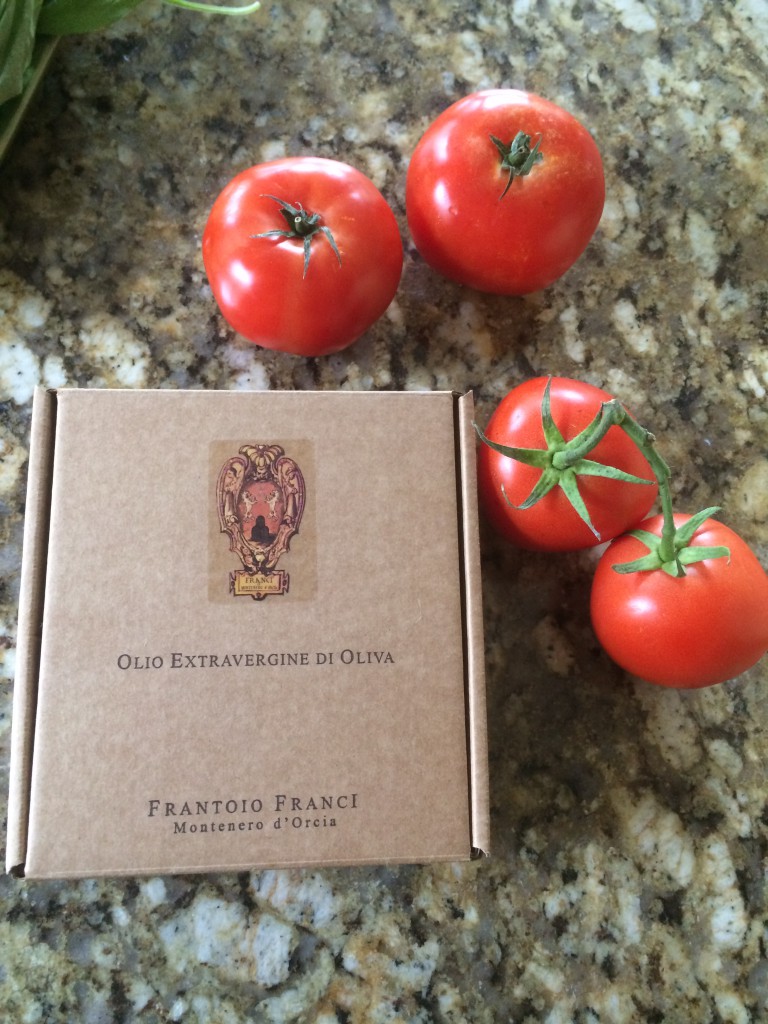 It doesn't hurt that the packaging is beautiful (spoiler alert to my friends reading this post, you guys are looking at your Christmas gift!). Frantoio Franci is an award winning oil producer (Frantoio means oil mill in Italian) set in a small hilltop town on the slopes of the Amiata Mountains in southern Tuscany, overlooking the splendid valley of the River Orcia.  This oil set contains three of Franci's best oils: a light fruit called Olivastra Seggianese, a medium fruit oil called Le Trebbiane, and an intense fruit called Villa Magra.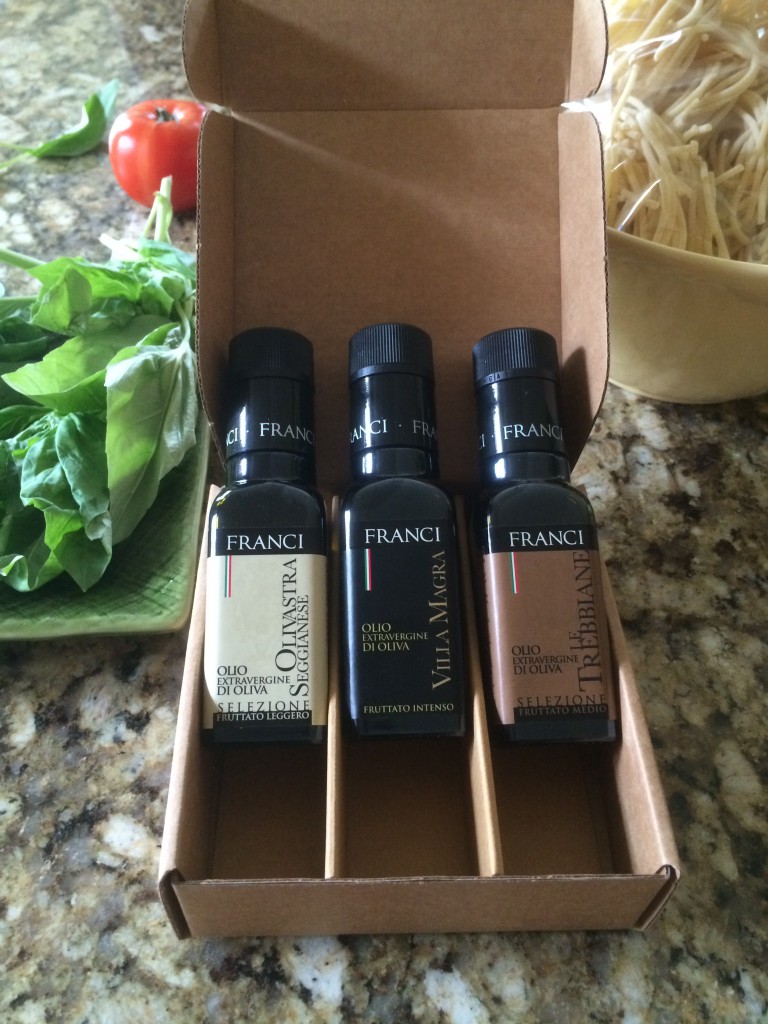 So when a group of friends visited us last week, my wife and I decided to have some fun with our Tuscan dinner using the three different oils in different dishes. First with some typical fettunta, grilled country-style bread, rubbed with garlic and drizzled each of the three different intensities. Then we challenged our friends to guess which intensity was on each of the slices and, man, what a difference! While all three flavors were delicious, the distinction was most noticeable in spiciness and structure.
For the main dish we used the fruttato medio oil as a final touch to top the red sauce for our pasta. At Eataly we also found a beautiful bag of Pici, the traditional hand-rolled fat spaghetti-like pasta from Siena. The Sienesse habitually top it with a lovely red sauce garlic sauce called Aglione. The taste of our Aglione Sauce was tremendously enhanced by the medio EVOO.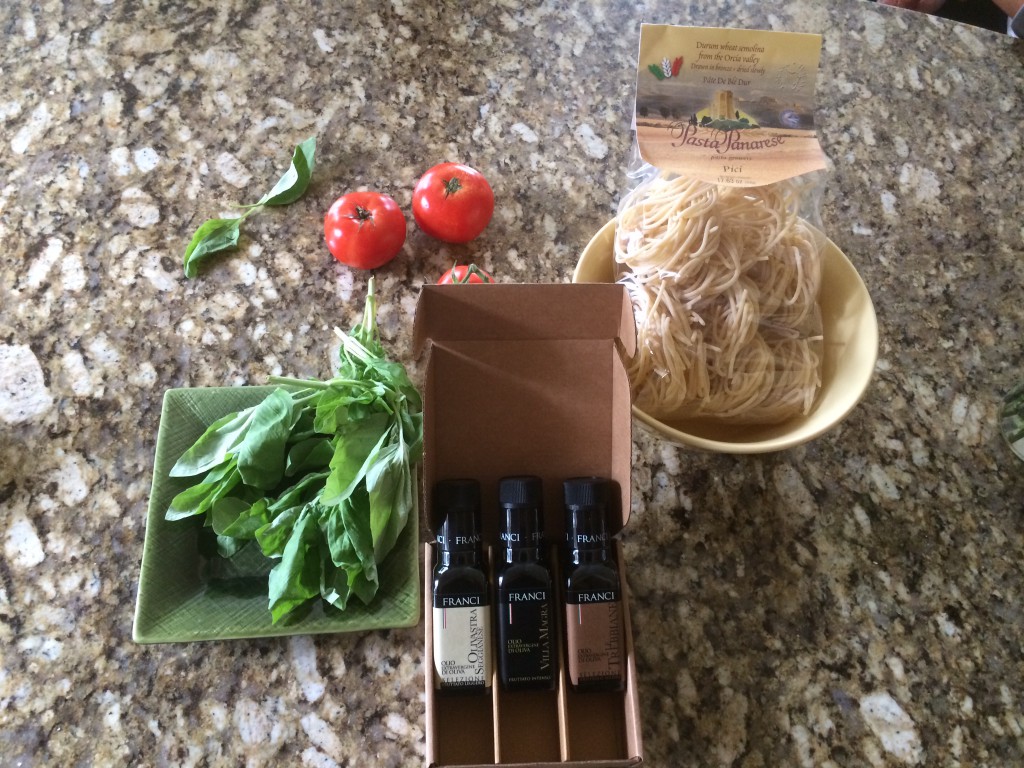 We then used the fruttato intenso for some grilled T-bone steaks, Florentine style, and bit of the fruttato leggero on top of steamed veggies. The dinner was a blast and at the end of the night, while sipping our last glass of Brunello di Montalcino (bought in our recent visit to the Casato delle Prime Donne) we wondered – when are we doing this again?
@ItalyFoodies: Join Our Discussion-What's Your Take
1. Now is your turn! How would you pair each of the three different oil intensities – light, medium and intense?
2. What's your favorite traditional Tuscan dish?
3. Which of the iconic Tuscan wines would you sip (while starring at a beautiful sunset over the rolling hills of Tuscany)?