Bike tours in Italy are a fun and environmentally-friendly way to see the country. They allow you to travel at a slower pace, really taking in the landscape that surrounds you. Italy's mild climate and varied terrain, with soaring mountains in the Dolomites, rolling hills in the countryside and flat coastal roads with sea views, makes it an ideal destination for cycling enthusiasts. And you don't necessarily need to be a regular biker to enjoy one of the many possible bike tours in Italy.
To spice up your vacation and add a little variety, why not add a bike tour along with your city's sightseeing? Here are some of the top destinations for bike tours in Italy.
Bike Tours in Italy: Top Destinations
Tuscany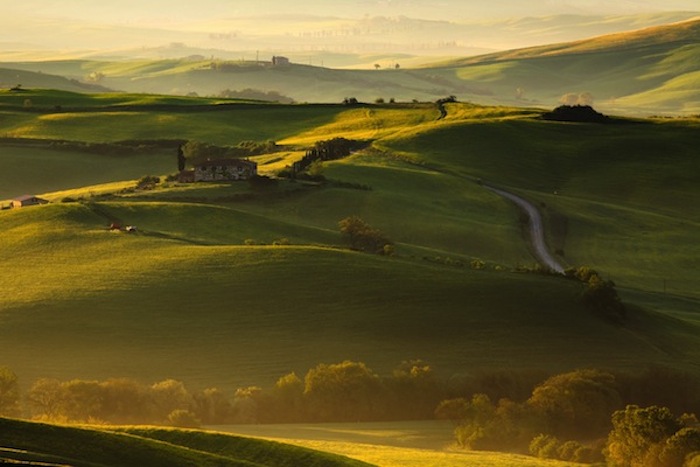 Ah, Tuscany! Always a favorite with travelers to Italy, the region's verdant and hilly countryside is dotted with vineyards and olive groves, while ancient hilltop towns oozing charm at every corner and delicious food and wine make Tuscany a great destination for bike tours.
A great thing about cycling in Tuscany is that there are itineraries for every level of experience and fitness: from easy, half-day tours through Florence's flat historic center to full-day rides in the countryside, complete with wine and olive oil tastings (calories to be burned off, thanks to all that pedaling!).
You may not immediately think of discovering Florence on a bike, but a shared tour with fellow bike enthusiasts actually gives you the chance to see more of Florence than you would on foot. In fact, your guide will make sure you see all of the city's major monuments, along with a few spots normally missed by tourists. You even get to go for gelato in the charming, less-crowded Oltrarno district.
Another great Tuscan city that is perfect to explore on a bike is under-the-radar Lucca. Located 50 miles west of Florence, which makes it an ideal day trip from Florence, Lucca has a well-preserved historic center, enclosed by brick walls that are wide enough for tall trees to grow on top. The walls have remained intact, even as the city expanded and modernized. Once they lost their military function, the walls became a pedestrian promenade, the Passeggiata delle Mura Urbane. You can bike along the walls, too, and through the park along the banks of the Serchio river.
A day spent pedaling in the Tuscan countryside takes you through small towns and past beautiful vineyards and silvery-green olive trees. There are frequent rest stops and a lovely Tuscan lunch with Chianti wine will be served to refuel your energy. You'll also have many opportunities to take photos to record your carefree moments on the road – and make all your friends jealous of your biking experience in Italy!
Puglia
Puglia may not be as popular as Tuscany when it comes to bike tours in Italy, but it's actually a prime destination for cycling. Flat, sunny, with miles of sandy beaches (hint: swimming dips!), Puglia forms the heel of Italy's boot and is lapped by both the Ionian and Adriatic seas.
An eco-friendly e-bike tour is an excellent way to explore Puglia. The Adriatic coast, with its blue sea, and the green countryside, with its many olive groves, will be the backdrop of your bike ride. Using power-assisted bikes and accompanied by an expert guide, you'll pedal through a peaceful but varied route that starts in Savalletri di Fasano, a small town known for its typical country houses called masserie. You'll also get to visit the archaeological sites of Egnazia and see the ancient pilgrim's route that, during the Crusades, connected the port of Brindisi to Rome. Hopping off the bike when you reach Monopoli, you'll get to enjoy a guided walking tour of this picturesque fishing village and its historic sites, including a castle. Your lunch will be in a typical masseria, where you'll sample the local wine and olive oil and try Puglia's famous taralli, crunchy snacks flavored with black pepper or fennel seeds.
The Dolomites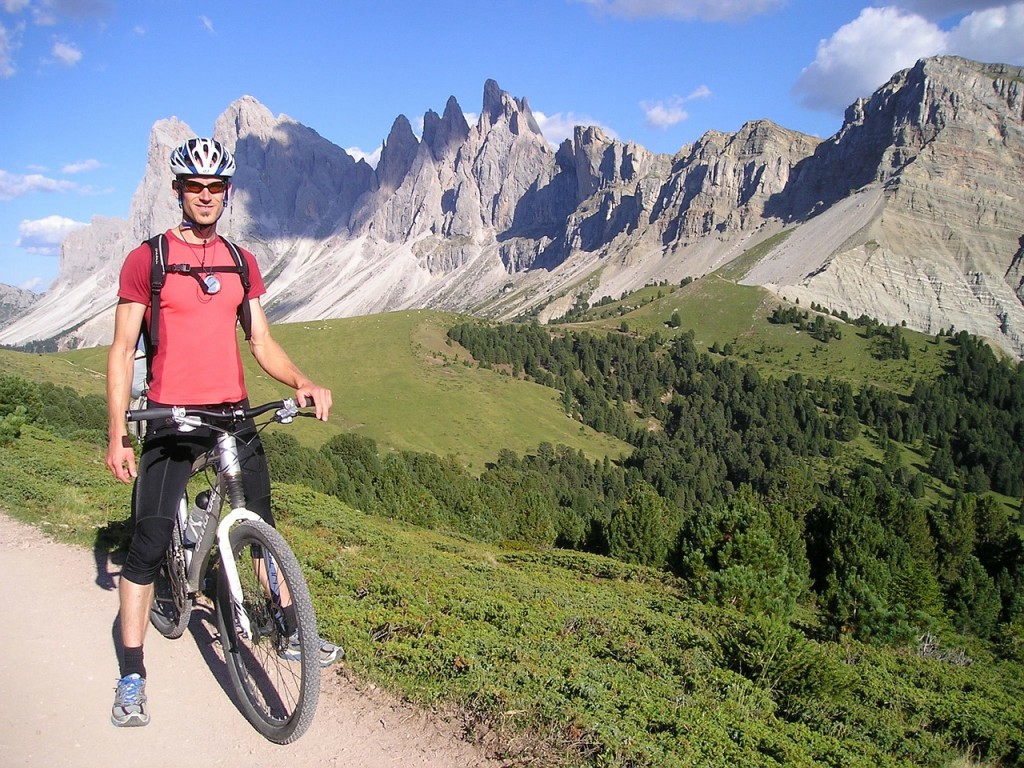 As described by UNESCO, who added the Dolomites to its World Heritage List in 2009, "The site of the Dolomites comprises a mountain range in the northern Italian Alps, numbering 18 peaks which rise to above 3,000 meters and cover 141,903 ha. It features some of the most beautiful mountain landscapes anywhere, with vertical walls, sheer cliffs and a high density of narrow, deep and long valleys."
This area is a paradise for nature lovers and active travelers, offering some of the most spectacular bike tours in Italy. Locals themselves are avid bikers and very welcoming toward fellow cyclists. For this reason, there are many well-marked bicycle routes in the area. For example, the Bike Path of the Dolomites runs  for about 60 km (38 miles) amid beautiful mountain vistas, from Calalzo di Cadore to Dobbiaco, passing picturesque mountain villages where you can get a feel for the Italian and German cultures of the region and try the excellent local cuisine.
Another recommended bike tour goes from the Dolomites to Lake Garda, starting in the Puster Valley, and proceeding along the rivers Rienz, Eisack and Adige, until you reach the north bank of Lake Garda in the beautiful Italian Lakes region.
And if you're up for a challenge, consider taking part in the Dolomiti Superbike, the legendary mountain bike race in the Dolomites that covers 113km (70 miles) — if this sounds like too much, there's a shorter, 60-km (38-mile) version. The race takes place every year at the beginning of July, and attracts thousands of mountain bike enthusiasts for what is considered one of the toughest bike races in the Dolomites.
Do you like cycling? Have you ever been on a bike tour in Italy?