There's nothing like the feeling of placing a precious "momento" of your Italian vacation in your homebound bag only to find that it is gone when you arrive. But the cold hard facts are that it happens, and it happens more often than you'd think, to the unsuspecting American abroad. The good news is that it's an experience which can easily be avoided with one simple mantra: READ THE SECURITY AND CUSTOMS RULES. Depending on from which and through which country you are traveling, the regulations may change, but there are a few staple tips that will help you to bring your piece of Italy home free from confiscation.
Airport Security
Follow the general airport security guidelines that you're used to. Don't put a bottle of olive oil in your carry-on – it's liquid! (so is Nutella, by the way) – and leave the scissors and nail clippers in your checked luggage. Some airports still make you take your shoes and belt off, so leave the laced-up boots and hard-to-buckle belt at home.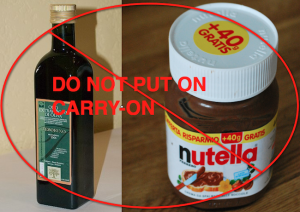 Customs Rules
The general process of returning to the US from the European Union is relatively simple if you understand the ins and outs. On the plane coming back before you reach the US, you will get a customs form from your flight attendant. This asks the standard questions, such as your name, address, passport number, etc, as well as includes a section where you should declare the goods you are bringing back. Your reentry will involve standing in what is usually a long line (even longer for non-citizens) in order to preliminarily be cleared for entrance. You are then ushered into a baggage claim, where you pick up your luggage and stand in another (sometimes shorter) line with your customs form. The official reviews the form, at times checking your bag and other times confiscating objects, and then allows you to enter US territory.
The Form: The big question here is whether or not you should itemize all individual small souvenirs purchased. While it is most advisable to do so in order to avoid any trouble whatsoever, "miscellaneous gifts" is also a way to lump in any trinkets you might be hauling back home.
Keep Your Receipts: anyone who is challenging, over-taxing, or claiming you are over your allowances will be able to argue much less with paper proof.
Know Your Allowances: Travelers coming back to the US may bring up to $800 worth of foreign goods duty-free, 200 cigarettes, and up to 1 liter of alcohol (or shall we just say wine, as it is Italy, after all) if you are over 21 years of age.
Packages: If you're over your allowances, you can send packages with a value of up to $200 to your home.
Expensive items: There have been more than a fair share of people who have easily smuggled in expensive Prada shoes or Murano jewelry by wearing them on their way home. However, they do so at a risk, and the hefty fines that come along with being caught will more than exceed the price you paid for the piece itself.
Do you have any customs rules experience to tell us? We want to know!