Each region in Italy has its own unique character with local cuisine, dialects and traditions dating back centuries. And the Italian islands are no different. From the 117 lagoon islands that make up the historic city of Venice to the cultural melting pot of Sicily that mixes Arab, Greek and Italian influences to the mind-blowing beauty of Sardinia's sapphire waters, each island offers something special and unique. And with over 450 isles dotting the coastline, in addition to the freshwater lakes, rivers and lagoons of this wonderful land, there is an abundance of choice for the traveler. So where should we start? Here are just 8 of our favorites for your consideration; any one of them makes a truly memorable destination.
Procida, Gulf of Naples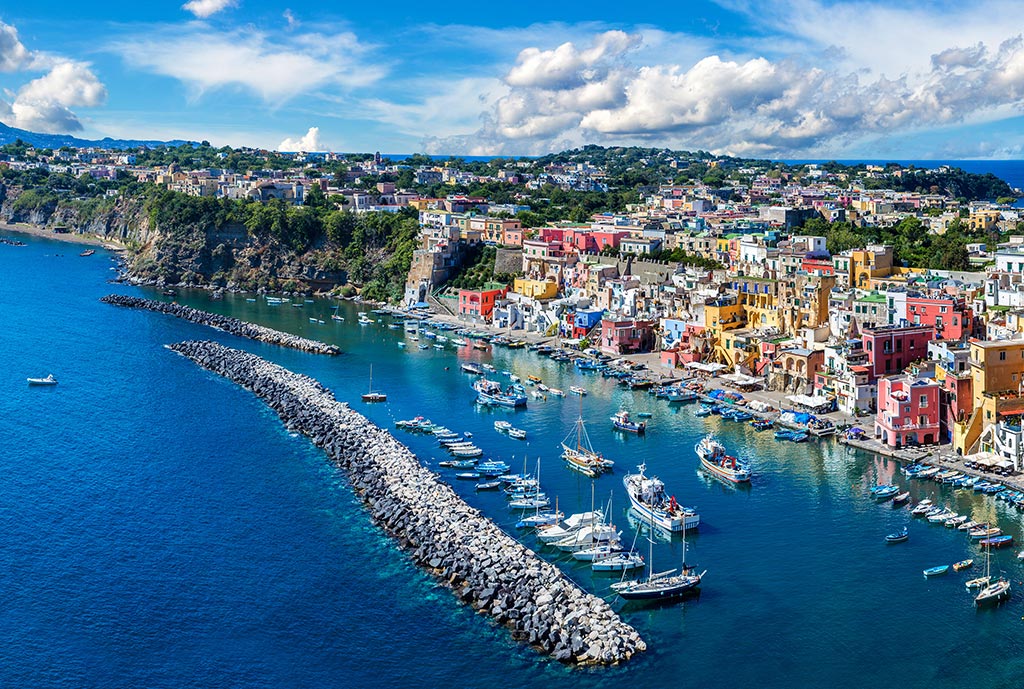 The Gulf of Naples is famous for many things: the historic city of Naples, obviously. and Mount Vesuvius, the active volcano that buried Pompeii and that still looms over the bay, as well as the clifftop resort of Sorrento. But out in the bay sits a pretty little island, loved by the ancient Greeks, admired by the Roman ruling classes and even used as a film set for "The Talented Mr Ripley" and the instant classic, "Il Postino." This is the island of Procida.
Pastel-painted fishermen's cottages line the quaysides, lemon-trees fragrantly dot the landscape and sandy beaches fringe the western edge of the island, offering a wonderful Italian getaway. And at just an hour's boat ride from Naples, this is a delightfully picturesque holiday hideaway, far from the crowds. Absolutely idyllic!
Sicily, southern Italy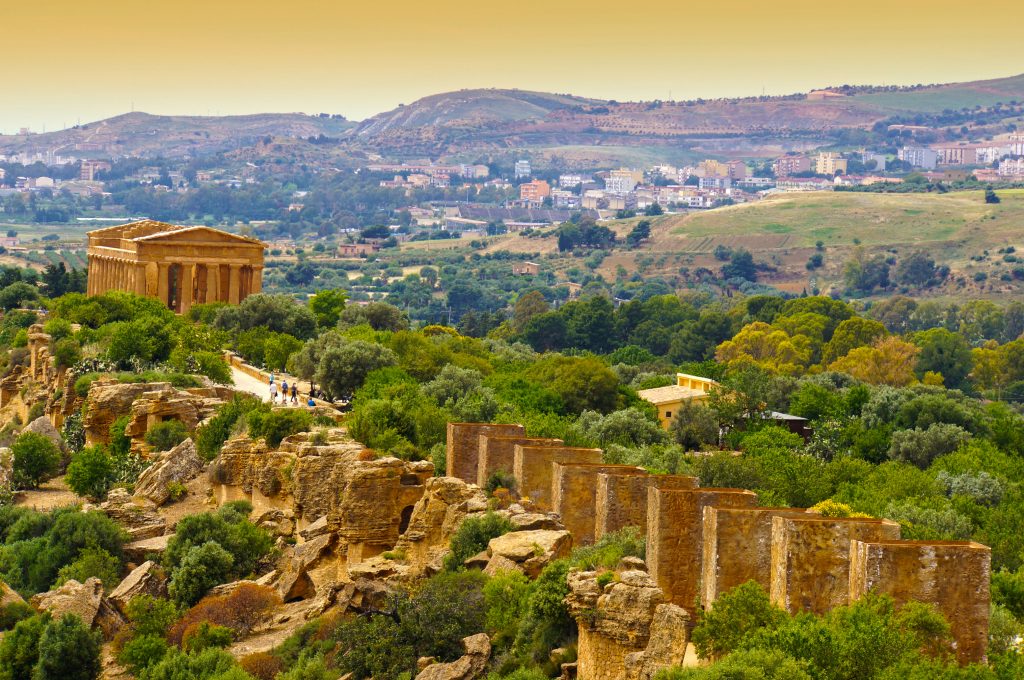 From one of the littlest to the largest of the Italian islands, Sicily is perched off the toe of southern Italy, just like an odd-shaped football. The island's central Mediterranean location, between Africa and Europe, has made it the target of numerous invaders down through the centuries and, consequently, Sicily is a fabulous melting pot of cultures.
So you'll find ancient Greek temples in the south, Roman amphitheaters on the eastern side and exotic spices and sultanas throughout its cuisine. Sicily's architecture, dialect and culture all bear witness to these invaders, offering many amazing day trips or vacation destinations. This is one island that really gets under your skin so whether you pick the long, shallow beach of Cefalù, the hilltop theater of Taormina, the capital of Palermo or the Valley of the Temples, you'll want to return year after year, to peel back another layer of this wonderful historic isle.
The Aeolian Islands, off Sicily, southern Italy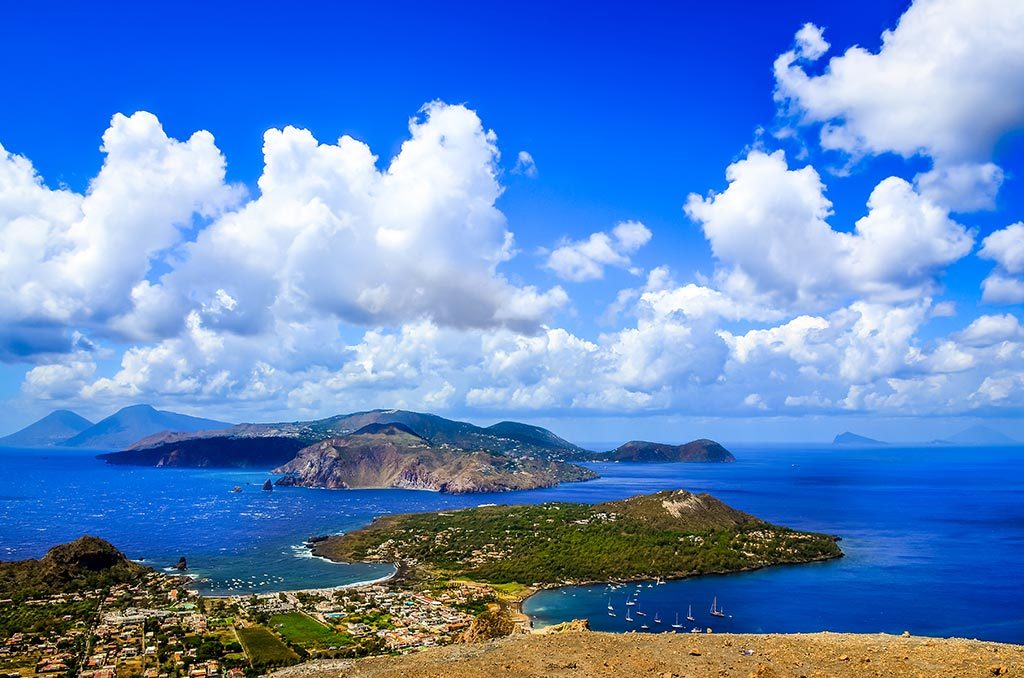 Emerging out of the sapphire sea off Sicily's northern coastline are seven little Italian islands, the Aeolians. Lipari, the liveliest, is also the largest but each of the seven volcanic isles, including Stromboli, Salina and Panarea, offers a little bit of paradise. From black volcanic beaches to crystalline waters and wonderful countryside, the islands are perfect for sun-seekers, sailors and nature-lovers alike, with some great trails offering irresistible walks off the beaten track. And after all that activity and adventure, make sure to treat your taste buds with a glass of the local "wine of the volcanoes," the sweet Malvasia of Lipari. Cin Cin!
Isola Bella, Lake Maggiore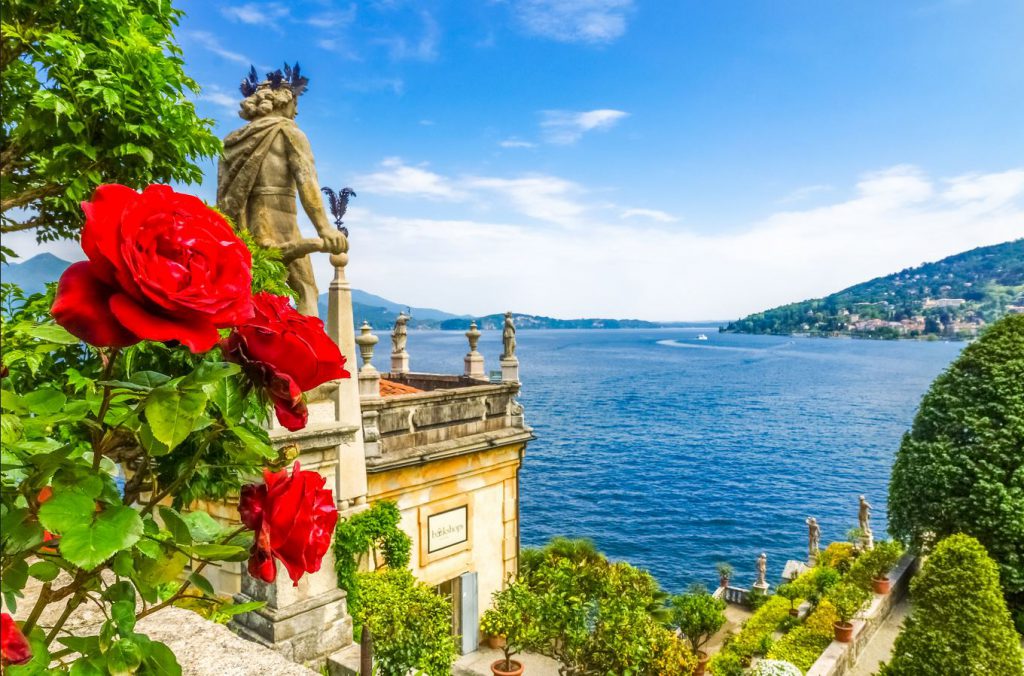 Visited by such luminaries as Charles Dickens, Napoleon and his wife Josephine, the tiny Isola Bella, meaning "beautiful isle," is an island treasure at the center of the freshwater Lake Maggiore in northern Italian. The island itself is just 350 yards long by 435 yards wide but is home to a glorious 17th century summer palace dedicated to Isabella, the wife of Vitaliano Borromeo, as well as the most wonderful Italian gardens.
Packed with water features, terraces and a splendidly ornate water theater centerpiece, the gardens are a fabulously over the top. And the views of the lake are simply stunning — it's a miniscule island that packs a massive, memorable Baroque punch that will put a huge smile on your face.
The Pontine Islands, Lazio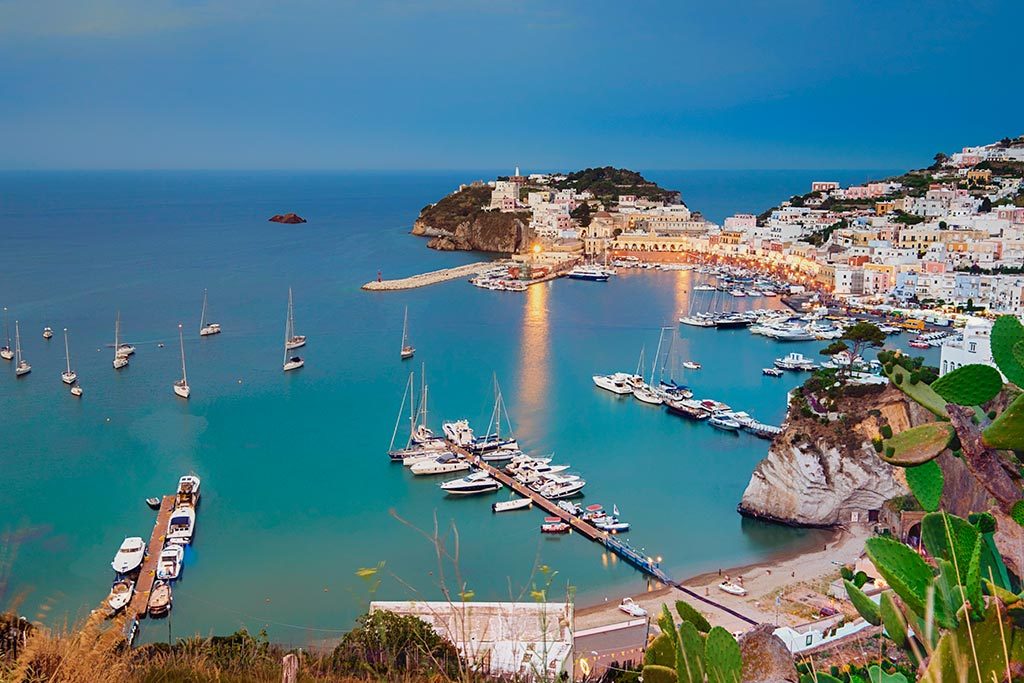 This beautiful little archipelago of six islands is located around two hours off the Lazio coastline, and while known to Roman holiday-makers for over 2,000 years, it is little known to international tourists. Only two of the islands offer vacation accommodations, but if you want to get off the beaten track, these authentically Italian islands are a fabulous choice for walking, swimming and sunbathing. The largest isle, Ponza, is popular for water-babes with great swimming and sailing, the green island of Zannone is perfect for nature lovers and tiny Ventotene is perfect for those seeking some solitude.
Sardinia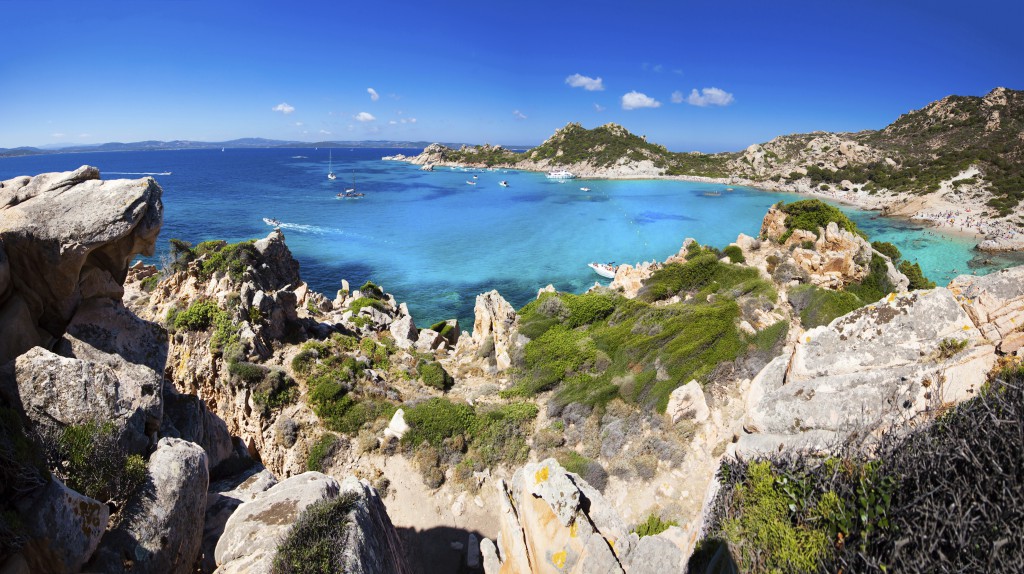 We can't talk about Italian islands without mentioning Sardinia, Italy's second largest isle and a chic holiday destination. Famous for the powdery sand beaches of its Costa Smeralda, the crystal-clear waters of its almost 1,250-mile-long, pristine coastline and its rugged, mountainous interior, this is one of the Mediterranean's most naturally beautiful spots.
The island's history goes back millennia with ancient, beehive-shaped stone nuraghi dotting the landscape. And we've not even touched on the fabulous bars and restaurants serving delicious local food and wine, just a short hop from the beaches. The beaches in the main towns of Cagliari, Alghero and Sassari attract the in-crowd, but if you want to get off the beaten track, head for some of the smaller villages or venture inland for a genuinely Sardinian experience. You will not be disappointed!
Murano & Burano in Venice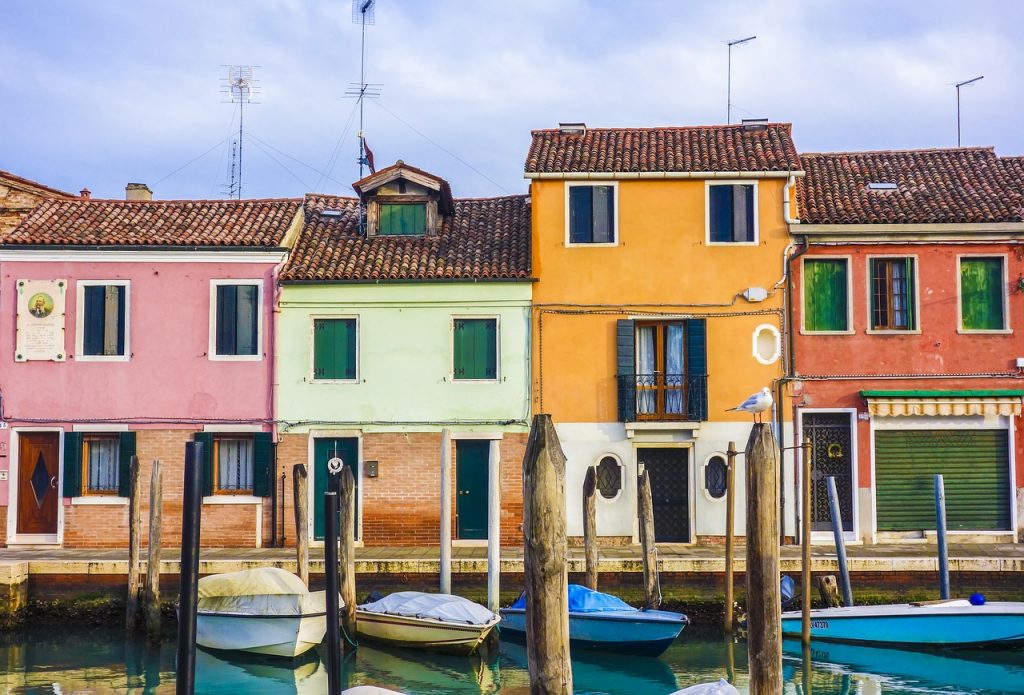 The lagoon city of Venice is made up of around 117 islands, many of which cluster together to form the historic center, where Vivaldi and Casanova once lived, while the rest are scattered around the large lagoon. The city draws millions of visitors each year, but if you venture out into the lagoon, you'll find two individual islands of particular note, both of which have their own unique artisan traditions and characteristics.
The nearest and larger island of Murano is world famous for its glassmaking that dates back centuries, and once dominated global production. Its glass beads were once used as money and for trade by early explorers of Africa, the Americas and Asia and appear in the necklaces of many cultures around the world. Meanwhile, Murano's chandeliers, mirrors and glasswork decorated the palaces of Europe for centuries, until other territories such as China started to mass produce glass. Today, Murano is still a byword for stylish, sophisticated glass artwork and a trip to the island is a must to see how the kaleidoscope colors are injected into molten glass to create Muranese magic.
Just a short, 30-minute boat ride away is another, slightly smaller island: Burano. It's home to a community of fishermen who live in wonderfully photogenic, pastel-colored cottages. And while the men were at sea, the women kept busy doing piecework as lace makers. A single piece of lace might take several weeks to produce and involve half a dozen women, since each person does just one type of stitch. It's an eye-straining, intricate and delicate craft that is, sadly, slowly dying out. But if you're lucky, you'll catch some locals sitting in the shade of their canal-side courtyards or in one of the family-run shops, large bolster on their knee, as they patiently knot the fine, white thread into a lace veil, tablecloth or decorative trim for a dress. Absolutely amazing!
Which Italian islands are on your wish list?
With over 450 Italian islands sprinkled around the Mediterranean, Tyrrhenian and Adriatic seas and throughout the freshwater lakes and rivers of the Italian peninsula, there is an abundance of choice for every visitor. So whether you prefer family fun on the beach, classic Italian gardens, secluded idylls, lush green coastal hiking, swimming, snorkeling or sailing, there is literally something for everyone. Leave us a comment with your favorite Italian island memories and, in the meantime, our expert travel consultants are on standby to help you draw up your perfect island hopping itinerary. Buon viaggio!