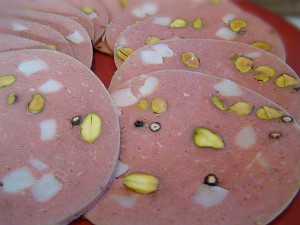 One of the most distinct and recognizable salumi in the world, Mortadella, might remind you of a certain American dish…it is light pink in color and often placed between two slices of bread. But this one differs greatly from the lunchtime favorite, bologna sandwich, of American children.  This meat is splashed with white spots and filled with spices. With an intense aroma, many ingredients such as black pepper, myrtle berries, nutmeg, pistachios, jalapeños, and olives are only a fraction of the incredible flavor. This "queen of salumi" can sometimes be about 12 inches in diameter and can weigh up to several hundred pounds!
The Mortadella made in Bologna is know as a PGI (protected geographical indication) salumi. Celebrated all over the world, Mortadella is one of the most representative gastronomic products of the Emilia-Romagna region.
The origins of the name Mortadella are unknown but many speculate one reason for the name comes from the Latin word farcimen myrtatum, referring to a cooked and textured sausage flavored with myrtle. Another idea derives from the Italian word mortar or mortarium, which was used to grind the meat.
The Mortadella Secret
Visible in the Archaeological Museum of Bologna, there are two stones dating back to the Roman period which indicates the unique Mortadella origins. One stone shows pig rearing and the other shows a butcher using a mortar to crush the meat and spices together. Created as a luxury product, the process started in the 12th century when skilled workers in Bologna started to specialize in preserving pork meat. Many rules were implemented regarding the production of the salumi and large fines were executed if you didn't comply.
The techniques of processing Mortadella are fascinating and are a unique addition to the Mortadella mystery
Three mincing machines are used to mince the meat
Lardelli are added to the mixture along with spices
Dry-air heaters are used to cook the meat for either a few hours or a few days depending on the size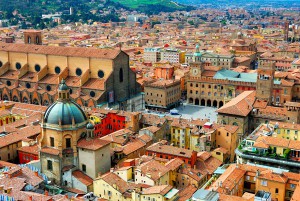 Mortadella can be sliced thinly and is eaten with fresh bread, cut into small cubes, or used as a perfect stuffing for tortellini. Any way you eat it, you can't stop with just one bite; the taste is addictive!
MortadellaBò
From October 10-13 an event has been created to not only celebrate Mortadella but the various culinary traditions of Emilia-Romagna. Held in the various piazze of Bologna's city center, Mortadella tastings, educational and cultural activities, culinary workshops, cooking shows, and wine tastings will be the highlight of this miraculous region.
Have you tried Mortadella before? Share your favorite Mortadella experience!