Any traveler knows all too well how intimately the travel experience is connected to that of surprise. It is surprise, in its infinite forms and fashions, that makes travel so attractive and fulfilling. Were there no surprises, what a bore travel would be…
An unexpected place where we had a small, but very welcome and tasty, surprise was the Milano Centrale Railway Station. We took note of it because so many Select Italy clients pass through this station on their way to see Leonardo's Last Supper, or simply to reach another destination by train.
Eating in a railway station is, by and large, something to be feared and loathed due to the lack of decent establishments. The norm is sad, limp sandwiches consumed standing up at the bar counter or, even worse, industrial food from vending machines for the traveler in a hurry to take on board: these are the images that come to mind when one thinks of train station meals.
However, when Bistrot Milano Centrale opened in the Spring of 2013, it gave travelers the chance to enjoy a state-of-the-art facility with some of the best that Italian cuisine has to offer, to eat or to shop (or why not both?). The Bistrot is the result of a project that, among its various partners, includes the University of Gastronomic Sciences in Pollenza, right outside Bra, the Piedmont town where the Slow Food movement was born.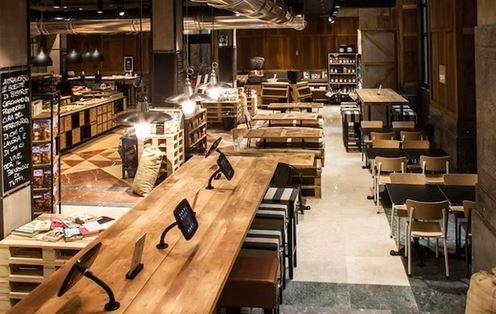 Conceived as an indoor marketplace in a typical Italian town, the only challenge upon entering is to decide where to go among all the counters and specific thematic areas. Here you'll find Il Forno (the Baker's Corner) where bread and pizza is baked daily, prepared with select flours from Lombardy and all-natural yeast (not the horrendous, industrial-chemical kind). Sweet cookies, cakes, and croissants are not missing, either, while next to Il Forno is the coffee and tea counter where espresso finds its natural home of excellence.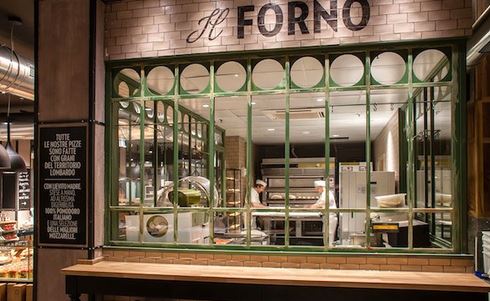 There's also a Fresh Groceries corner with freshly squeezed juices, salads, and fruit salads made on the spot with fruits and vegetables acquired every day. And of course there is a Pasta corner, a Cheese and Cured Meats counter, and one dedicated to Wine and Beer, too.
But in addition to the variety of food options, special mention needs to be made of the comfortable space and its décor. Designed to be welcoming and eco-friendly, the Bistrot is embellished with natural, recycled materials such as reused wood parquet, original counters, and old armchairs that have been re-upholstered in jute bags. The tech aspect leaves nothing to be desired either, offering customers free (and fast) Wi-Fi and iPad stations, together with power plugs and books, magazines, and train timetables for consultation. And all this is available every day from 6:00am to 9:30pm at night!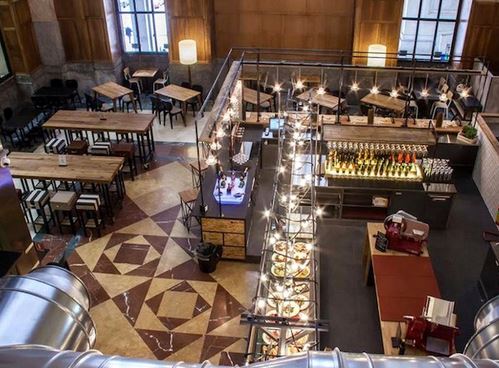 Upon leaving the Bistrot to catch our train, we realized that this is the kind of place one might want to go, even if there is no train to catch. A added bonus is the train station location that contributes to the Bistrot's charm, offering myriad opportunities for people watching that only a busy railway station provides.