Stroll down a street in Italy during the month of December and you will see a few things that are familiar to American Christmas: select stores will be dotted with wreaths, strings of lights may be strung across strade, and the occasional Santa Claus peeks out of the window. For anyone used to the United States' cup overfloweth-ing with Christmas decorations, lights, and music during the period between Thanksgiving and December 25, this might seem a bit scant. However, Italy's traditions are, in fact, rich and celebrate the season in their own special way. Below are but a few of our favorite Italian Christmas traditions:
Christmas Treats
Although different parts of Italy have different Christmas treats, one truly takes the cake (no pun intended). Panettone, which has Milanese origins, is tall sweet bread dotted with candied fruit. And no, this is not your aunt's barely edible fruitcake – it is fluffy, slightly sweet and buttery, with juicy fruits – and is a coveted Christmas treat. Mass-produced cakes are available in Italian stores (as they are also in the United States), but the best are the artisan cakes found in bakeries and specialty sweet shops. If you can't make it to Italy to pick one of these up, those found in the United States are also worth a try.
Presepi
The first thing to keep your eyes peeled for are the famous presepi, or nativity scenes, spread throughout churches, piazzas, homes, and public buildings (and believe me, you don't even have to keep them peeled, just open – these things are everywhere!). Legend has it that St. Francis of Assisi began the tradition with the first presepe in the 13th century and with it held a nativity pageant and mass on Christmas Eve. Ever since, the tradition has taken off. It is especially prevalent in the South, especially in Naples where nativities are made not only with the traditional figures of Jesus' birth, but also the recognizable shapes and faces of contemporary celebrities and recognizable personas. (This year one includes figures of Prince William and an expecting Kate…I'll leave it up to you to decide the classiness of this one).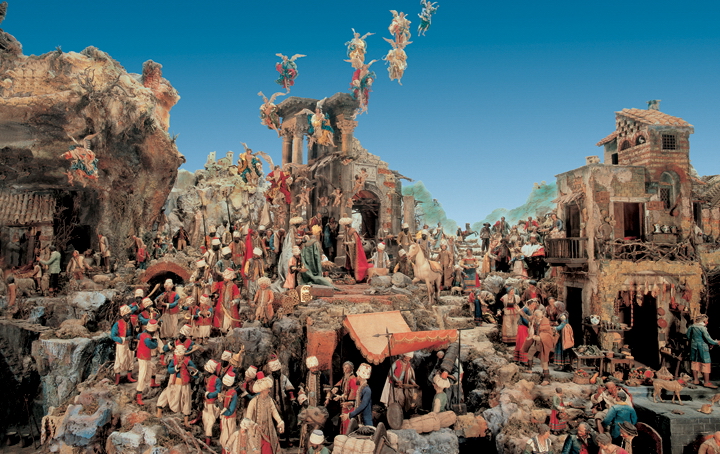 Christmas Meals
The meal on Christmas Eve is traditionally meatless (fish doesn't count), and ranges in dishes from region to region (it is from the meatless tradition that the Italian-American Feast of the Seven Fishes developed). Christmas Day's meal is meat-based, and in certain regions, Tortellini in Brodo, a soup of tortellini cooked in broth, is eaten; it is a must in Bologna, where the tradition began.
La Befana
Although by now Santa Claus, called Babbo Natale in Italian, has made his way into the hearts of Italian children, the traditional gift giver is La Befana, a Christmas witch. Legend has it that la Befana was an old woman who was visited by the wise men, who asked her for directions days before the birth of Christ. They also asked the woman to join them in their quest, but she refused. She was later asked to join a group of shepherds, but refused again. Now, she flies around on her broom on January 5, the night before the Epiphany, trying to find the Christ child and leaving gifts for children, hoping one is the one for whom she is searching.
Do you know of any other Italian Christmas Traditions? Share them below!