With its beautiful scenery, rugged mountains and relaxed après-ski scene Italy is a fabulous winter sports destination. And whether you are a snowboarder, cross-country skier or downhill ski aficionado, a beginner or an expert, there are dozens of ski-resorts with miles of snowy pistes to enjoy. Its resorts are scattered throughout the Alpine peaks and precipitous Dolomites with the best being found in the Veneto, Piedmont and Valle d'Aosta so if you're having problems choosing where to go here are our four favorite resorts for the best ski holidays in Italy.
1. Cortina d' Ampezzo, Veneto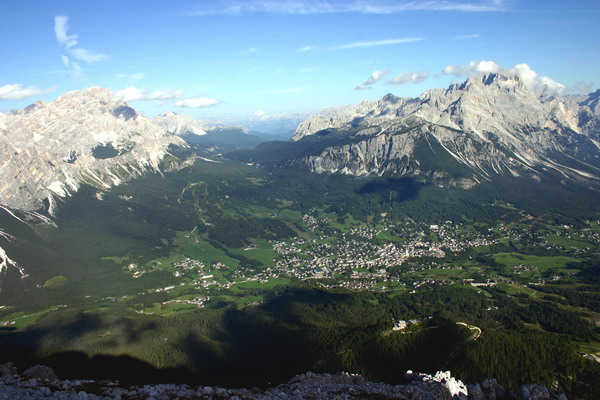 At 4,016 feet above sea level and with just under 100 miles of thrilling skiing, Cortina d'Ampezzo is probably one of the best-known, oldest and most glamorous ski resorts in Italy. Nestled high in the Dolomites, northern Italy, Cortina sits in a wide glacier-carved valley dotted with chocolate-box chalets and surrounded by soaring, jagged pinnacles. The area is, quite rightly, UNESCO World Heritage designated for its natural beauty and also offers world class skiing having hosted numerous competitions including the World Cup, Nordic Skiing Championships and 1956 Winter Olympic Games over the years.
Today its vast downhill ski facilities are perfect for both the first-timer and the Olympian alike with about half the terrain falling into the beginner or intermediate bracket and the rest suiting experienced skiers better. And, unlike some resorts, excellent snow-making facilities practically guarantee skiing from late November until late April so it's the perfect destination for a ski holiday in Italy.
Things to see & do: As well as its fabulous downhill ski facilities, Cortina D'Ampezzo also offers cross-country skiing, ice-skating, a bobsled run and some of the best designer shopping and laid-back après-ski in the Dolomites. Alternatively if you want a day away from the slopes, Venice, Verona, Treviso, Lake Garda and much of the Veneto region are all within 2 to 3 hours reach.
Getting there: You can fly into 3 nearby airports with driving or transfer times of under 2 hours from Treviso and Venice or around 3 hours from Verona.
Where to stay: The family-run 4* Hotel Ancora in the center of town and with the gorgeous natural backdrop of the Dolomites makes a perfect base for skiing, shopping and socializing.
2. Madonna di Campiglio, Trentino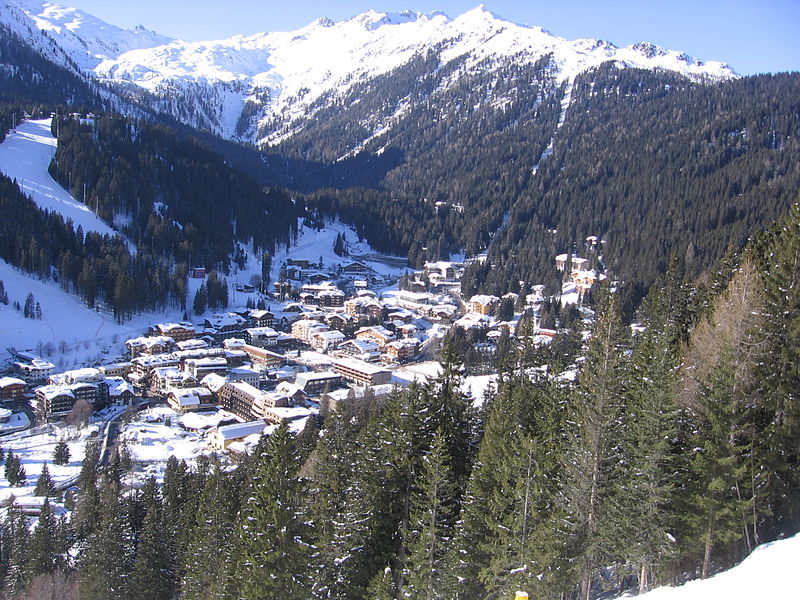 Madonna di Campiglio, an elegant village 5000 feet up in the Dolomites, has been welcoming tourists for over 150 years and skiers since the 1950s. And with nearly 100 miles of downhill skiing, 25 miles of Nordic skiing and 24 lifts linking it's pistes with 7 other resorts in the Skiarama Dolomiti area including Pinzolo, Tonale and Monte Bondone, the village is extremely popular.
Reaching altitudes of 8500 feet Madonna di Campiglio, or the pearl of the Dolomites, is best suited to intermediate and expert skiers offering 21 blue-rated runs, 12 red and 6 thrilling black runs. Perfetto!
Things to see & do: Madonna di Campiglio is one of the main access points to the famous Via Ferrata or iron road that enabled World War I soldiers to climb high into the mountains to defend the border. Today the via Ferrata is a protected climbing route using iron rungs, a steel cable and even ladders to traverse otherwise dangerous terrain as long as you have a head for heights! Alternatively if you want a day of sightseeing, Trento, Bolzano and the countless attractions of Trentino – Alto Adige are all within 1 to 2 hours reach.
Getting there: The easiest access to the Dolomites is via Venice, Verona or Milan international airport with transfer times of around 2.5 to 3.5 hours.
Where to stay: Speak to our friendly travel experts for advice on the best places to stay for the best ski holidays in Italy and to enjoy the Madonna di Campiglio slopes.
3. Sestriere, Piedmont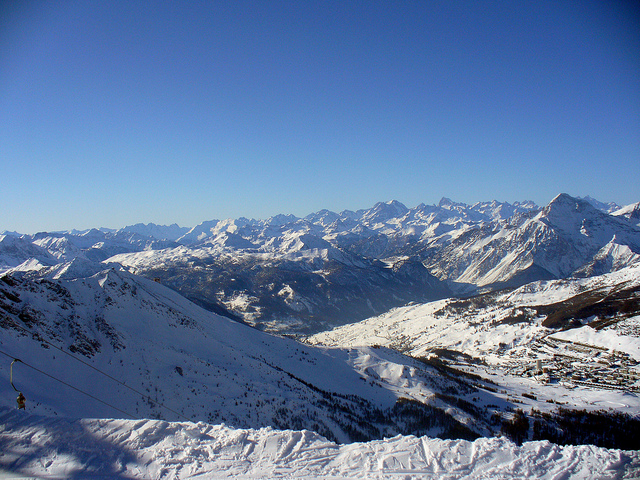 Set in the picture postcard perfect Susa valley in the Alps, 60 miles from Turin, Sestriere is at the heart of one of Europe's largest ski zones, the Via Lattea or Milky Way. A gondola ski lift system from Sestriere offers easy access to the networks 146 pistes, 120 of which are enlarged with artificial snow and over 300 miles or 400km of spectacular skiing. With views over the Alpine peaks and plateaus 66 ski lifts criss-cross the slopes to connect Sestriere to 6 other villages including Pragelato, Sauze d'Oulz and even Montgenèvre in France so don't forget your passport!
And don't just take our word for the world class skiing in Sestriere. Its snowy slopes have also hosted the Alpine Ski World Cup, 2006 Winter Olympics and Winter Paralympics confirming its status as one of Europe's best resorts for winter sports and especially ski holidays in Italy.
Things to see & do: If you fancy a day off from ski-school or away from the 7 resorts of the Milky Way zone why not drop down into the old Italian capital of Turin. The city is packed with beautiful porticoes, enormous piazzas and plenty of history to entertain and inform. Alternatively take the glass lift to the top of the Mole Museum for the best view across the Fiat car producing city. And don't forget to check out the fabulous food and drink as Turin is home to some of the best hot chocolate, coffee and Cinzano based aperitivi drinks in Italy! Cin Cin!
Getting there: The easiest access to Sestriere is via Turin international airport that is just 60 miles or a couple of hours away.
Where to stay: Our friendly travel experts are on standby to help you book the best places to stay to take advantage of Sestriere's spectacular skiing!
4. Courmayeur, Valle d'Aosta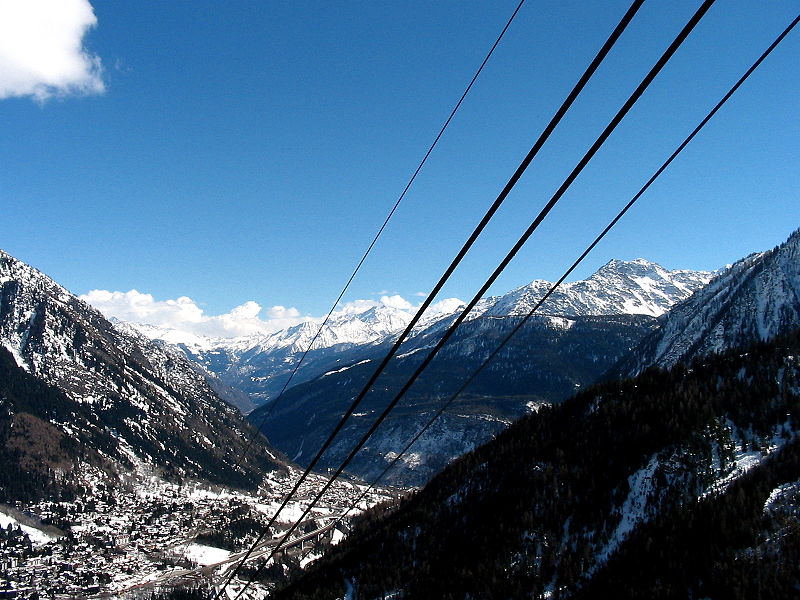 The picturesque old Alpine town of Courmayeaur, or Curia Maior, in the northwest mountains of Italy has been a tourist destination for years thanks to its spa facilities, fabulous scenery and year round attractions. It sits at a breathtaking 15781 feet above sea level at the foot of the southern elevation of Mont Blanc, Europe's highest peak, and is the self-proclaimed highest commune in Italy.
As a base for ski holidays in Italy Courmayeur is known for its great winter sunshine and although its own piste skiing is limited it has wonderful off-piste skiing and great connections into the panoramic Skyway Monte Bianco cable car system across the Aosta Valley offering a combined 180 pistes suitable for all levels of skier. Add in its sister town of Chamonix just the other side of the massive Mont Blanc and you can see just how easy it is to experience several different areas in just one ski holiday based in Courmayeur.
Things to see & do: Courmayeur's quaint cobbled streets offer great boutique shopping and an extremely lively, authentically Italian après-ski scene but if you want to take a break for a day, Turin's perfectly porticoed pedestrian streets offer a great day trip away from the slopes. Alternatively, stay local and check out some of the fabulous food offered at the town's restaurants or its annual Mountain Gourmet Ski Experience hosted by Michelin-starred chef and gastronomic genius Heston Blumenthal. Mmmm, delicious!
Getting there: Courmayeur is perfectly positioned for both Turin at around 100 miles or Geneva, just 70 miles away with transfer times of approximately 90 minutes so getting there couldn't be simpler.
Where to stay: Our friendly travel experts are always just a call away to help you book the best ski holidays in Italy. I hope you're ready to get packing!
Planning ski holidays in Italy
Ultimately Italy offers many wonderful mountain locations for skiing and winter sports. It's blessed with warm winter sun, a relaxed après-ski scene and family friendly atmosphere making it the perfect location for skiing holidays. And if you add in the spectacular scenery, proximity to some of the world's largest piste networks, reliable snow and easy transfers you will have a ski trip to treasure. So whether you choose Courmayeur, select Sestriere, meet in Madonna di Campiglio or cherry pick Cortina, you will never forget your adrenaline-fuelled ski holidays in Italy! Leave us a comment with your favorite skiing memories!