Select Italy Holiday Ratings


We believe that customers booking a Select Italy are looking for that personal attention and individual service, which only a truly independent, specialist company can offer. We are passionate about Italy, and our sole aim is to provide our customers with quality holidays, backed by solid experience and the highest level of customer care. We truly are the Italian specialists, with Italian directors who have over 30 years' experience in selling vacations to Italy and a sales team also with many years of experience and a passion for selling Italy.

Select Italy comprises a large range of accommodation, from simple residences to luxury hotels. The official ratings are based on certain facilities or services being available and they do not take into account the size of the bedrooms or public rooms, nor the preferred décor of the owner, which may be at odds with your taste. Hotels in the same category, even in the same resort, can vary considerably in character, ambience, service and facilities and may not offer the same staffing levels and facilities, or be as well maintained. it must be bourne in mind that cost is a good indication of standards, particulary when comparing hotels in the same star rating.

As well as the hotel's official star rating, we have also given our own special rating, based on our personal opinion. This rating should be taken into consideration, especially when comparing hotels of the same official star rating. By all means browse our website to get an idea of what we offer. However, if like many of our repeat customers, you would like the reassurance of speaking to someone with first hand knowledge of a particular property or area, then do call us. Together we will find the perfect hotel and create a wonderful itinerary.



LUXURY

Italy's finest hotels; where guests can enjoy a highly attentive service in luxurious surroundings. Our luxury collection is the ideal choice for that special celebration, honeymoon or even a wedding.



SELECT

Our Select category includes hotels which we believe offer good standards of service, accommodation and facilities, and which are situated in excellent locations.



COMFORT

Mid range properties, offering a good level of service and comfort for their price.



VALUE

A collection of reasonably priced hotels, which offer a simple but decent standard of accommodation and represent excellent value for money.



VILLAGGIO

Our Villaggio selection are family resorts, which we believe offer a good standard of accommodation and a good range of facilities to keep the entire family occupied during the vacation. These are friendly and easy-going resorts, providing very informal service and representing good value for money. These resorts have a high proportion occupancy of International clientele.



5-Star and Luxury HotelsWellness & Spa HotelsItalian Hospitality CollectionSports & Outdoor Recreation
Prices From
Prices on request - Please call our Sales Consultants on 1-800-877-1755 or simply complete the below
Request a tailor made quote for this property
Choose your preferred departure date, duration and departure airport. Our experienced consultants will send you a personal quote with a price match guarantee.
About the hotel
As far as wellness resorts go, Fonteverde is the ultimate luxury experience. With a spa offering exquisite treatments and restaurants offering traditional Tuscan fare, you will have everything you need to make this vacation an especially re-energizing one. The picturesque location is also a hub for wonderful activities that you can access while staying there, including visits to local wineries, cooking classes and various tours.

One word perfectly sums everything that Fonteverde is – a palace. The supremely luxurious spa hotel is a historical monument reborn as a premium holiday property. Nestled in one of the most beautiful locations of the Tuscan hills, the Val d'Orcia park, you are offered front row seats to a view of the verdant undulating hills. Luxury is front and centre wherever you look. The opulent guestrooms and suites are tastefully decorated with plush curtains, antique furniture, and marble glazed bathrooms. The exquisite artwork in the rooms serve to heighten the level of sophistication.


The highlight of the property, however, is the spa. The ancient palace was surrounded by hot springs. Fonteverde has channelled the natural phenomenon to provide a superior spa experience for guests. You can indulge in the wide range of holistic treatments that combine traditional and contemporary philosophies to leave you feeling refreshed and rejuvenated. The luxury does not stop at the treatments; you can also indulge in seven therapeutic swimming pools, a wellness centre, and a beauty center.


The location of the property allows you to do more than just pamper yourself with messages and spa treatments. You can also go for a guided tour of archaeological sites of Sovana and Chiusi, visit the wineries of Montalcino and Montepulciano, or go horse riding at the stables located in close proximity. The Fonteverde is a prime destination where luxury and wellness combine to create a memorable vacation.
RESTAURANTS & BARS
For lunch guests may choose an open air buffet at Restaurant 'La Corte' or the new Bioaquam Café by the pool. Restaurant 'Fernando I' serves an excellent assortment of fine, traditional Tuscan cuisine, together with Spa cuisine dishes.
Accommodation
Categories:

Standard – Junior Suite – Suite
Similar Properties You May Like...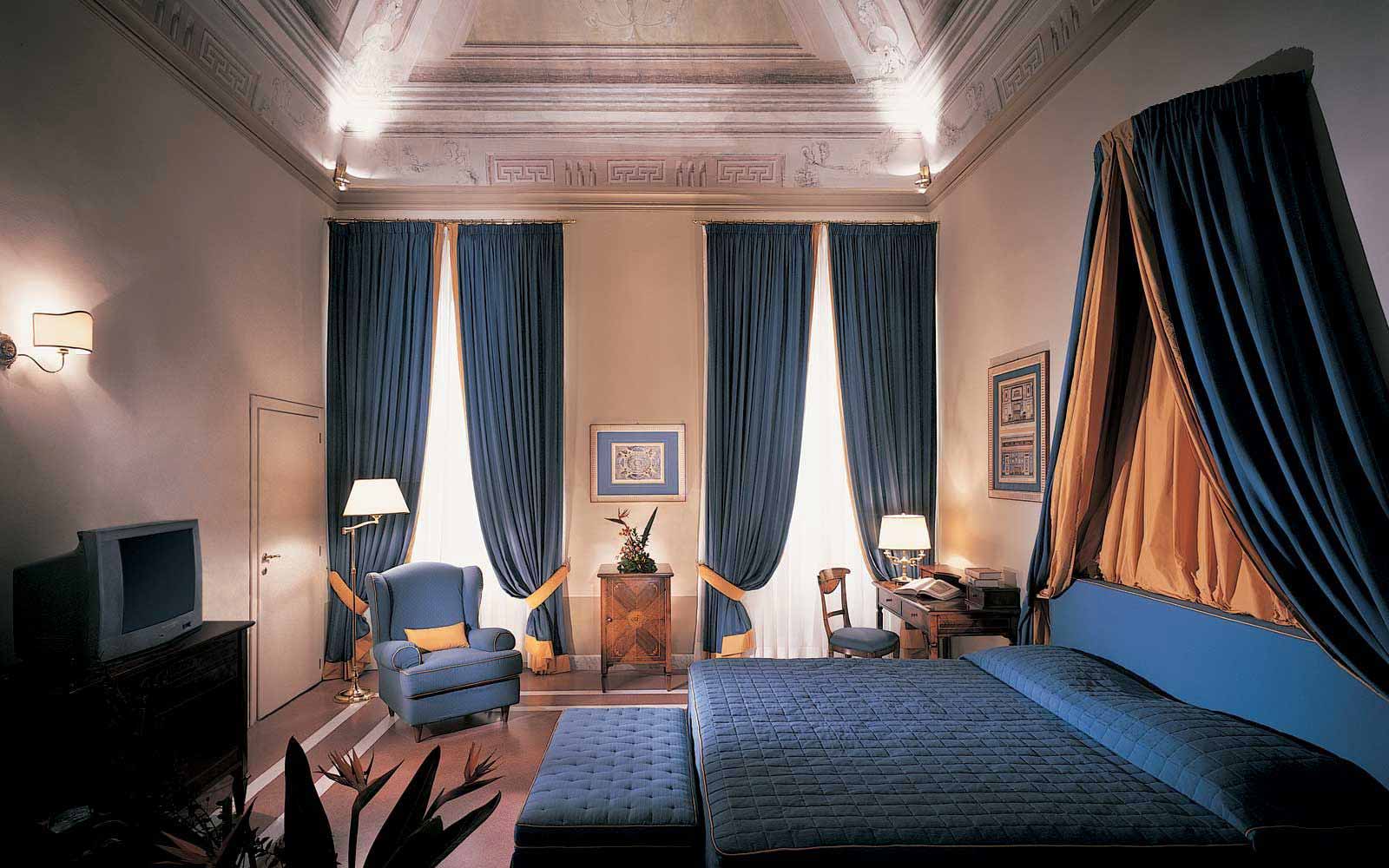 Tuscany > San Giuliano Terme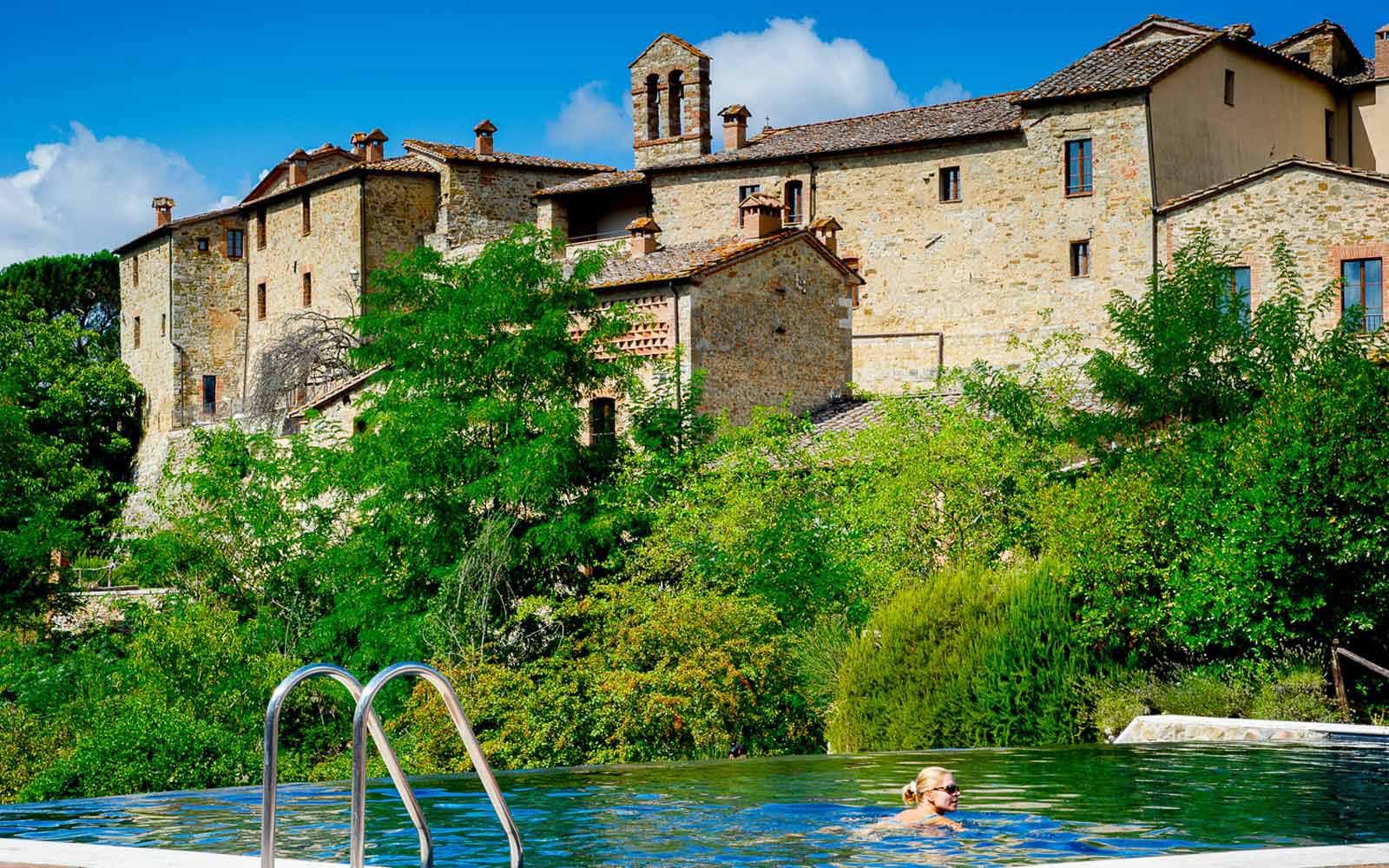 Tuscany > Monastero dell' Ombrone