Select Italy Holiday Ratings


We believe that customers booking a Select Italy are looking for that personal attention and individual service, which only a truly independent, specialist company can offer. We are passionate about Italy, and our sole aim is to provide our customers with quality holidays, backed by solid experience and the highest level of customer care. We truly are the Italian specialists, with Italian directors who have over 30 years' experience in selling vacations to Italy and a sales team also with many years of experience and a passion for selling Italy.

Select Italy comprises a large range of accommodation, from simple residences to luxury hotels. The official ratings are based on certain facilities or services being available and they do not take into account the size of the bedrooms or public rooms, nor the preferred décor of the owner, which may be at odds with your taste. Hotels in the same category, even in the same resort, can vary considerably in character, ambience, service and facilities and may not offer the same staffing levels and facilities, or be as well maintained. it must be bourne in mind that cost is a good indication of standards, particulary when comparing hotels in the same star rating.

As well as the hotel's official star rating, we have also given our own special rating, based on our personal opinion. This rating should be taken into consideration, especially when comparing hotels of the same official star rating. By all means browse our website to get an idea of what we offer. However, if like many of our repeat customers, you would like the reassurance of speaking to someone with first hand knowledge of a particular property or area, then do call us. Together we will find the perfect hotel and create a wonderful itinerary.



LUXURY

Italy's finest hotels; where guests can enjoy a highly attentive service in luxurious surroundings. Our luxury collection is the ideal choice for that special celebration, honeymoon or even a wedding.



SELECT

Our Select category includes hotels which we believe offer good standards of service, accommodation and facilities, and which are situated in excellent locations.



COMFORT

Mid range properties, offering a good level of service and comfort for their price.



VALUE

A collection of reasonably priced hotels, which offer a simple but decent standard of accommodation and represent excellent value for money.



VILLAGGIO

Our Villaggio selection are family resorts, which we believe offer a good standard of accommodation and a good range of facilities to keep the entire family occupied during the vacation. These are friendly and easy-going resorts, providing very informal service and representing good value for money. These resorts have a high proportion occupancy of International clientele.



Prices From
Prices on request - Please call our Sales Consultants on 1-800-877-1755 or simply complete the below
Request a tailor made quote for this property
Choose your preferred departure date, duration and departure airport. Our experienced consultants will send you a personal quote with a price match guarantee.
About the hotel
Located just outside Siena and a short distance from the stunning Castel Monastero resort, the magnificent 17th-century Villa Lavanda is surrounded by sweeping grounds and a thriving Chianti vineyard.

The Villa has been painstakingly restored and retains all the typical features of Tuscan country architecture: from its elegant simplicity and harmonious proportions to the terracotta tiled floors and exposed wooden beams, and from the spacious rooms opening onto the gardens to the large patio where guests can immerse themselves in nature from dawn to dusk.

Easy to reach by car and with its own private car park, Villa Lavanda offers guests the exclusive services of Castel Monastero: two outstanding restaurants, "Contrada" and "La Cantina", both under the supervision of Michelin-starred chef Gordon Ramsey, a wonderful state-of-the-art Spa, guests may choose from an array of weight-loss, detox and revitalizing treatments created exclusively for Castel Monastero by Dr. Mosaraf Ali, a leading expert in Ayurvedic and integrated medicine.

Villa Lavanda is strategically located, enabling guests to discover the very finest Tuscan art, architecture and cuisine every day at their own leisure.

Description
-Two floors, each with its own separate entrance
-Two large terracotta patios
-Living area with large windows
-Kitchenette
-One bedroom on the first floor with one bathroom complete with bathtub and separate shower, double washbasin
-Two bedrooms on the second floor with one bathroom with double washbasin, bathtub and separate shower.
Accommodation
Accommodation & Facilities:


Exterior - Surrounded by wonderfully peaceful gardens filled with olive trees and fragrant Tuscan plants, Villa Lavanda is set over two floors, each with its own separate entrance.

The large terracotta patio is the ideal place to delight in the beautiful natural surroundings, enjoying lunches and dinners in complete freedom. A gratifying fitness corner can be set up on request. Just beyond the villa, spectacular vineyards stretch as far as the eye can see. During the harvest guests can help pick the grapes, giving them a chance to savour the true Tuscan country spirit and its wine par excellence: Chianti.

Ground floor- With direct access from the garden, the ground floor oers a spacious, airy living area with large windows looking out onto the stunning vineyards. The furnishings are a homage to the warmth of the Tuscan tradition, to the history of Castel Monastero, once the domain of the aristocratic Chigi Saracini family, and to cutting-edge technology. Adjacent to the living area there is a kitchenette equipped with every possible convenience: crockery, cooker, refrigerator.

Also on the ground floor is a spacious bedroom, decorated in truly romantic colours, materials and stunning fabrics. Next to the bedroom there is a sumptuous bathroom, complete with bathtub and separate shower, double washbasin and black marble finishes.

First floor -An internal staircase, decorated with fine frescoes depicting the Chigi Saracini coat of arms, leads up to the first floor. This floor can also be accessed from its own private entrance via the garden and a second patio. Filled with natural light and colours, the second floor boasts two wonderful bedrooms. They feature antique furniture, decorative frescoes and the very latest technology. The comfortable setting is completed with a handy closet and an elegant bathroom with double washbasin, bathtub and separate shower.

Cleaning- Staff from Castel Monastero clean the Villa and change bed linen and towels twice a week (included in the tari).Additional cleaning services are available on request
Similar Properties You May Like...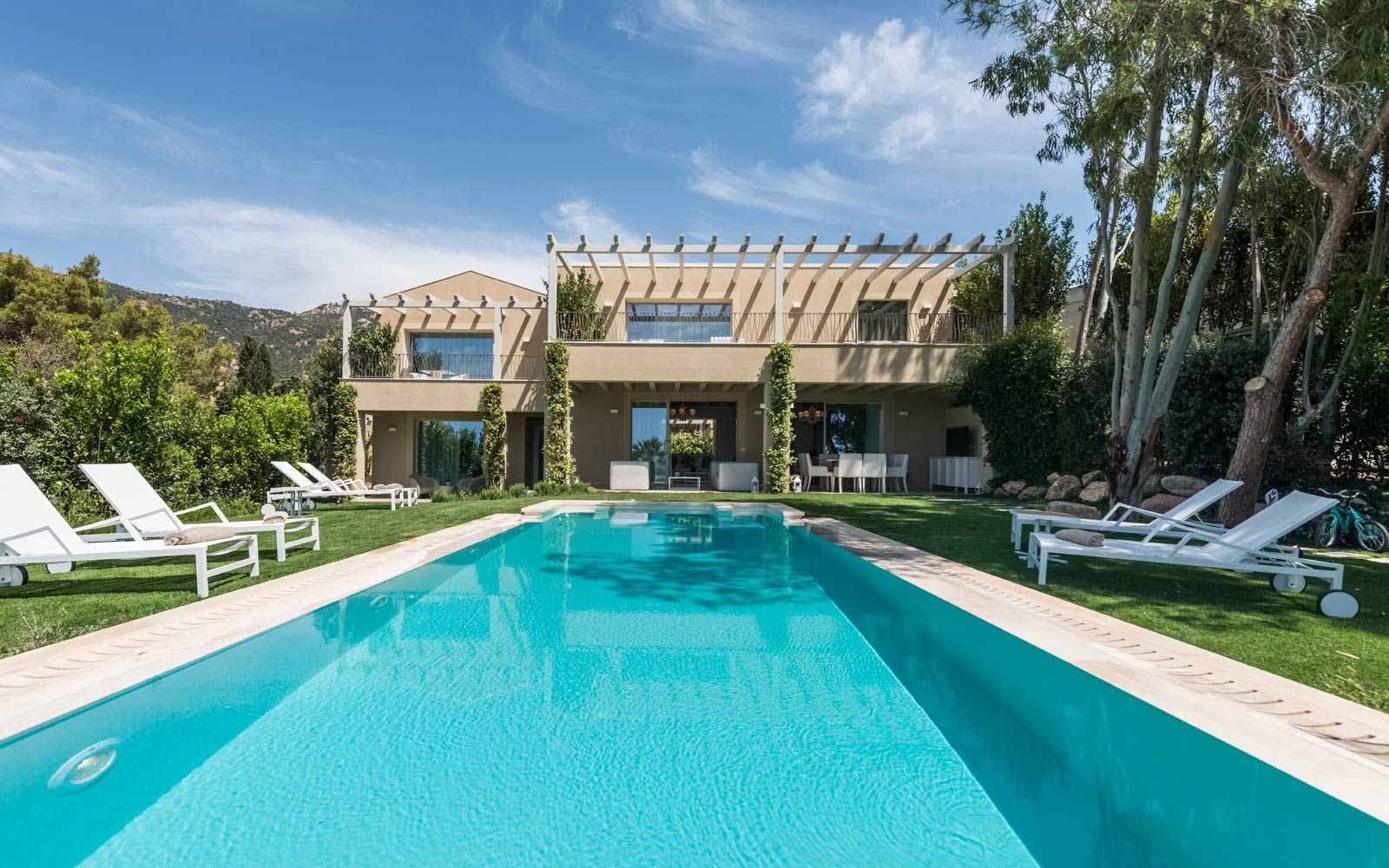 Sardinia > Santa Margherita Di Pula