Select Italy Holiday Ratings


We believe that customers booking a Select Italy are looking for that personal attention and individual service, which only a truly independent, specialist company can offer. We are passionate about Italy, and our sole aim is to provide our customers with quality holidays, backed by solid experience and the highest level of customer care. We truly are the Italian specialists, with Italian directors who have over 30 years' experience in selling vacations to Italy and a sales team also with many years of experience and a passion for selling Italy.

Select Italy comprises a large range of accommodation, from simple residences to luxury hotels. The official ratings are based on certain facilities or services being available and they do not take into account the size of the bedrooms or public rooms, nor the preferred décor of the owner, which may be at odds with your taste. Hotels in the same category, even in the same resort, can vary considerably in character, ambience, service and facilities and may not offer the same staffing levels and facilities, or be as well maintained. it must be bourne in mind that cost is a good indication of standards, particulary when comparing hotels in the same star rating.

As well as the hotel's official star rating, we have also given our own special rating, based on our personal opinion. This rating should be taken into consideration, especially when comparing hotels of the same official star rating. By all means browse our website to get an idea of what we offer. However, if like many of our repeat customers, you would like the reassurance of speaking to someone with first hand knowledge of a particular property or area, then do call us. Together we will find the perfect hotel and create a wonderful itinerary.



LUXURY

Italy's finest hotels; where guests can enjoy a highly attentive service in luxurious surroundings. Our luxury collection is the ideal choice for that special celebration, honeymoon or even a wedding.



SELECT

Our Select category includes hotels which we believe offer good standards of service, accommodation and facilities, and which are situated in excellent locations.



COMFORT

Mid range properties, offering a good level of service and comfort for their price.



VALUE

A collection of reasonably priced hotels, which offer a simple but decent standard of accommodation and represent excellent value for money.



VILLAGGIO

Our Villaggio selection are family resorts, which we believe offer a good standard of accommodation and a good range of facilities to keep the entire family occupied during the vacation. These are friendly and easy-going resorts, providing very informal service and representing good value for money. These resorts have a high proportion occupancy of International clientele.



Prices From
$819 per person (2 adults) and from $2626 per family
Price includes: 7 nights accommodation on half board and local transfers - (family 2 ad + 1 ch under 13 years)
Request a tailor made quote for this property
Choose your preferred departure date, duration and departure airport. Our experienced consultants will send you a personal quote with a price match guarantee.
About the hotel
The Hotel Baia is a 4 star property set on a promontory amongst the beauty of the Sardinian sea, the golden dunes, and surrounded by the soft beauty of the Mediterranean landscape. The hotel is designed for relaxation and wellbeing of its guests, and has a fresh and welcoming ambience, with stunning views of the coast.

The hotel offers 77 rooms located on the ground floor each with a patio and with either beach view or garden view, white walls and white ceiling beams, with lots of light and sunshine from the windows. Guests can choose from either Prestige rooms or suites. Prestige rooms can accommodate up to 3 people with double beds, sofa bed, and baby cot and are very spacious and comfortable. Suites offer more room and can accommodate up to 4-5 people, have an excellent view of the sea, and suite guests receive more exclusive attention such as reserved beach service on the first row of the Monte Cogoni beach, free access to the Bioaquam at Chia Natural Spa, reserved table at La Pergola restaurant and can dine at other restaurants without a supplement.

The main restaurant at Hotel Baia is La Pergola which offers casual culinary dining in a relaxful atmosphere with dishes inspired by Mediterranean and Sardinian traditions and included in half board rates. Guests can also choose to dine at one of the nine restaurants of the resort with a supplement.

The Monte Cogoni beach is located right near the hotel where guests can enjoy a nice path to this peaceful wonder of nature with white sand and clear waters. Beach umbrellas and beach loungers are included in the service. Guests can also enjoy lounging by the Baia swimming pool and also partake in sports activities organized by the resort.
Accommodation
Categories:

Prestige Parco: 26 sqm. Step into the heart of the Mediterranean's nature and its fragrances: the Prestige Parco rooms all look out over the myrtle bushes, mastic trees and wild olive trees that weave their way through the granite of the hill. The stylish Prestige Parco rooms combine bright white areas with design elements and exposed beams and are spacious, charming and extremely comfortable. Each room can sleep up to three guests, with a double bed, a single sofa bed and a cot for a baby, if required.

Prestige Laguna: 26 sqm. These are among the new, prestigious and recently created rooms at Hotel Baia. Each room has a view extending over the lagoon, home to striking free-roaming pink flamingos.Their style combines traditional Mediterranean elements with aspects of modern design. Every room can accommodate up to three guests, with a double bed and a single sofa bed. A cot is available for small children.

Prestige Mare: 26 sqm. These rooms are charming and welcoming and have an unforgettable sea view. Light is one of the rooms' greatest fortes thanks to the modern, Mediterranean white walls and it is decorated with modern designer pieces. Each room can accommodate up to three guests, with a double bed and a single sofa bed. A cot is available for small children.

Suite: 45-54 sqm. The brand Baia Suites are immersed in Mediterranean nature, just a stone's throw from the sea and lagoon. The Suites comprise two areas - the night area with a double bed, and a day area with a sofa bed. The suite can accommodate up to four people and a child's cot.

Suite Incanto: 140sqm. The new Incanto Suite is perfectly positioned on the promontory, surrounded by nature and Mediterranean shrubland. The suite includes two double rooms, both en-suite and with their own small lounge. The two rooms are joined by a large communal living room measuring 50 square metres, furnished with a sofa bed and complete with its own bathroom. There is a large garden area outside, with a sheltered veranda and a well-equipped relaxation area. Suite Incanto guests benefit of beach services at Monte Cogoni beach in first row.

Room Facilities:

All the rooms offer: 4-door wardrobe, safe, minibar, desk and 32-inch TV. The outside area is furnished with deck chairs and coffee table.
Similar Properties You May Like...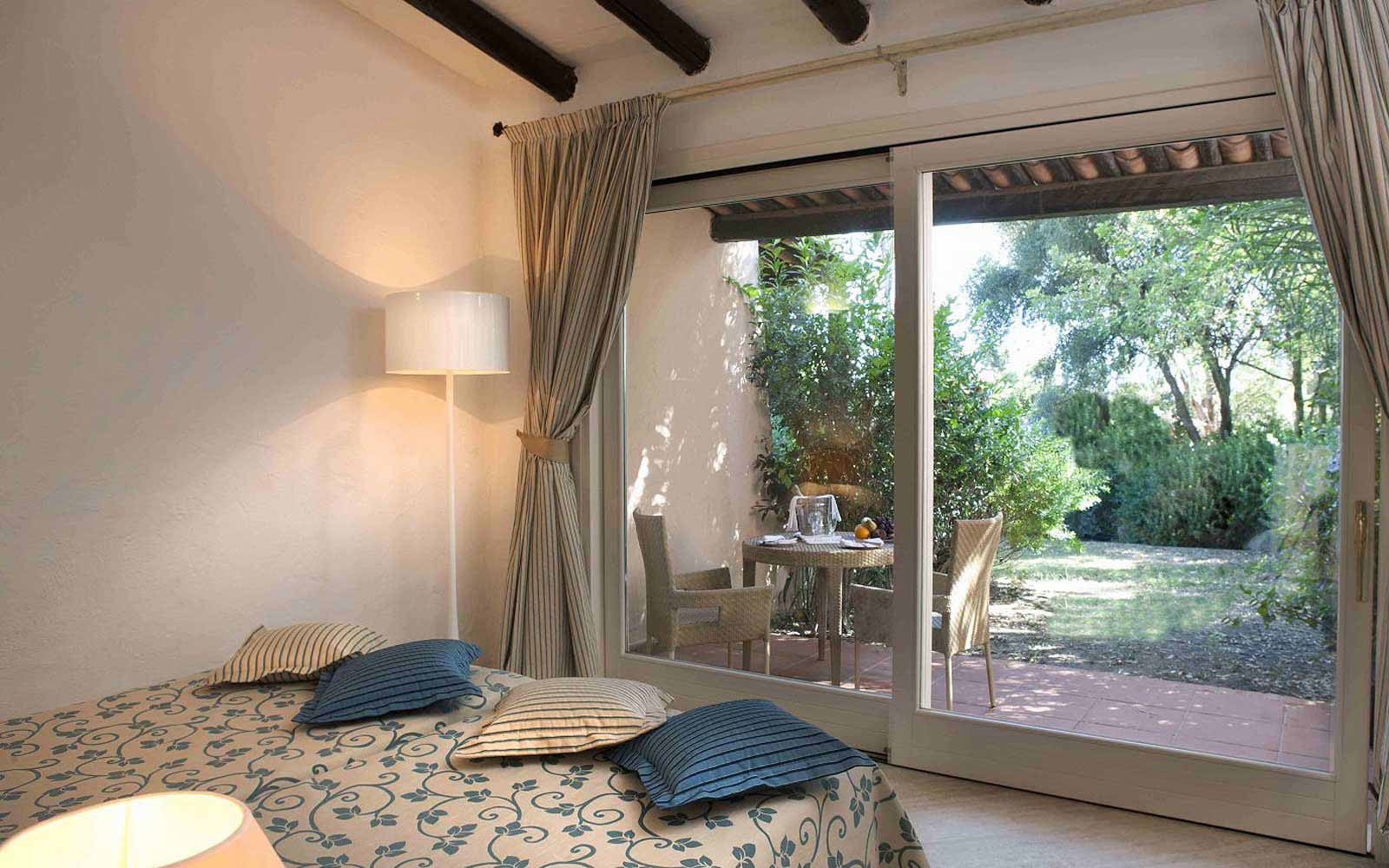 Sardinia > Santa Margherita Di Pula