Select Italy Holiday Ratings


We believe that customers booking a Select Italy are looking for that personal attention and individual service, which only a truly independent, specialist company can offer. We are passionate about Italy, and our sole aim is to provide our customers with quality holidays, backed by solid experience and the highest level of customer care. We truly are the Italian specialists, with Italian directors who have over 30 years' experience in selling vacations to Italy and a sales team also with many years of experience and a passion for selling Italy.

Select Italy comprises a large range of accommodation, from simple residences to luxury hotels. The official ratings are based on certain facilities or services being available and they do not take into account the size of the bedrooms or public rooms, nor the preferred décor of the owner, which may be at odds with your taste. Hotels in the same category, even in the same resort, can vary considerably in character, ambience, service and facilities and may not offer the same staffing levels and facilities, or be as well maintained. it must be bourne in mind that cost is a good indication of standards, particulary when comparing hotels in the same star rating.

As well as the hotel's official star rating, we have also given our own special rating, based on our personal opinion. This rating should be taken into consideration, especially when comparing hotels of the same official star rating. By all means browse our website to get an idea of what we offer. However, if like many of our repeat customers, you would like the reassurance of speaking to someone with first hand knowledge of a particular property or area, then do call us. Together we will find the perfect hotel and create a wonderful itinerary.



LUXURY

Italy's finest hotels; where guests can enjoy a highly attentive service in luxurious surroundings. Our luxury collection is the ideal choice for that special celebration, honeymoon or even a wedding.



SELECT

Our Select category includes hotels which we believe offer good standards of service, accommodation and facilities, and which are situated in excellent locations.



COMFORT

Mid range properties, offering a good level of service and comfort for their price.



VALUE

A collection of reasonably priced hotels, which offer a simple but decent standard of accommodation and represent excellent value for money.



VILLAGGIO

Our Villaggio selection are family resorts, which we believe offer a good standard of accommodation and a good range of facilities to keep the entire family occupied during the vacation. These are friendly and easy-going resorts, providing very informal service and representing good value for money. These resorts have a high proportion occupancy of International clientele.



Prices From
Prices on request - Please call our Sales Consultants on 1-800-877-1755 or simply complete the below
Request a tailor made quote for this property
Choose your preferred departure date, duration and departure airport. Our experienced consultants will send you a personal quote with a price match guarantee.
About the hotel
With its spa, its various swimming pools and a free shuttle transporting guests to the different beaches around the area, this magnificent accommodation is the perfect location to relax and re-energize. The staff at Villa Del Golfo Lifestyle is also one of the highlights of this property, providing continuously and without fail attentive service for all guests. Come for the tranquillity, stay for the excellent service.

For a perfect view of the clear blue sea, there is perhaps no better vantage point than the Villa Del Golfo Lifestyle. Perched on a verdant hillside that gently tapers towards the crystal waters of the open ocean, the luxury resort offers front row seats to the mesmerising Gulf of Arzachena and beyond. Stare a little longer, and you will also catch sight of the stunning Baja Sardinia.

The resort has focused all its energies on providing a premium hospitality service, where you feel pampered right from when you check in until you check out. There are 58 thoughtfully designed rooms, all of which have their own patio overlooking the blue sea or the green hills. No matter which room you reserve, you are guaranteed a great view.

One of the highlights of the Villa Del Golfo Lifestyle is a swimming pool unlike any you may encounter in a hotel or resort – a seawater pool. Located on the magnificent outdoor terrace, taking a dip in the pool will feel similar to swimming in the ocean. There is also an indoor, temperature-controlled pool where you can take a few leisurely laps.

The Armonia Spa is a must visit for guests looking to get rid of their accumulated stress. There are a variety of treatments and beauty packages that will not only rejuvenate your body, but your mind as well.

For a more adventurous touch, you can skip the indoor luxury and head out to the open sea in your own private yacht, which you can rent from the reception.

The Villa Del Golfo Lifestyle offers a near perfect balance between luxury, tranquillity, and a sprinkle of adventure.
RESTAURANTS & BARS
Restaurant 'Miraluna' is located on the pool terrace and offers tasty grills and Mediterranean cuisine, with ingredients including fruits, vegetables and olive oil produced from the hotel's own vegetable patch or purchased from local sources.
Buffet breakfast is prepared with delicious products from the gardens of the family Pireddu and from selected neighboring farms. The setting for the four-course table service dinner is very romantic, with beautiful views over the Bay of Cannigione. There is also an adjacent lounge bar, leading out onto the terrace.

"La Colti" farmhouse in the countryside, next to Cannigione Village, serves traditional Sardinian cuisine; guests can also book in Cooking lessons where typical regional dishes are made (extra cost, pre-booking advised).
"Cutter Lounge & Restaurant" with an exclusive terrace overlooking the sea, located in the center of the village of Cannigione, offers a summer and innovative à la carte menu with refreshing salads, gourmet pizzas, delicate second courses and local dishes and delicious cocktails to be enjoyed until late evening.

"Acqua di Mare" Sea Deck, offers guests the chance to enjoy an exquisite dining experience for two, surrounded by the gentle sounds of the water and nature. A sunset aperitif and romantic dinner are the perfect ingredients to make your special occasion unique.
"Chiaro di Luna" on our private sailing yacht BonAria , is ideal for a romantic dinner for two, and to enjoy the pleasure of quiet sailing on the enchanted Gallura Sea.

DINE AROUND: Customers who book the half-board supplement, can enjoy our "2020 Special Suggestion - Exclusive Dine Around", it means that guests on half-board treatment, can choose to eat in the three restaurants of our Resort as follows:

Dinner at "MiraLuna Restaurant": a fish, meat, vegetarian, vegan served Menù for a finest culinary experience inspired by the Mediterranean, its aromas and its flavors; Dinner Half Board menu (drinks not included)

Lunch or Dinner at "Cutter Lounge": a summer and innovative menu à la carte with refreshing salads, Gourmet Pizzas, delicate local main courses to enjoy by the unique sea terrace; Lunch or Dinner that includes one appetizer, one main course and one dessert (drinks not included). Free shuttle service included.

Dinner at "Farmhouse la Colti": a rich and extensive typical Sardinian set menu with traditional recipes prepared with seasonal produce that comes from our farm; Dinner with a traditional set menu with appetizers, main course, second course, dessert (drinks not included). Free shuttle service included.
RELAX
The Armonia Beauty Center, offers a varied selection of treatments and massages (at local charges). There is a heated indoor pool and fully equipped gym.

The outdoor seawater swimming pool (heated in low season) with small bar corner, complete with sun-loungers and pool towels, which are offered on a complimentary basis. There is also an indoor heated swimming pool where it is possible to swim against current.

On the small strip of beach just 100m from the hotel, a fully equiped sun-deck was recently added to enable guests to both soak up the beautiful Sardinian sun and enjoy the soothing turquoise sea whilst sipping on a fresh drink. (upon prior reservation and at local cost)

The hotel also arranges a free shuttle service to the nearest fully equipped sandy beache of Barca Bruciata.

Guests can also rent the BonAria, the hotel's very own private Sailing Yacht, for exciting tours around the archipelago, as well as for just a dinner on the emerald waters during summer evenings. The Yacht is equipped with a skipper and hostess and can take on board up to 8 people for day trips or 6 people in three cabins with ensuite bathrooms.

The motor boat of the Hotel "AriaBona" is available for group or exclusive day trips to the national park of Tavolara and Molara, the archipelago of Bonifacio or La Maddalena (available for 2 up to 4 guests). On request and with supplement.

In addition,Villa del Golfo Lifestyle Resort can also organize a culinary experiences such as, cooking classes and food and wine tastings, to promote and enhance the products of the Sardinia region.

Villa del Golfo Lifestyle Resort has implemented a series of environmental initiatives that include 100% electric cars "Renault Zoe" that are available in the hotel for daily rental. The battery recharging points are located in the hotel's private car park.


Accommodation
Categories:

The 56 guestrooms are located between colonnades and terraces. They are elegantly decorated in a Mediterranean style with bright colours, wood furnitures and ceramic floors typical of the Emerald Coast.

Charming Sea View Rooms: 25 sqm, these elegant rooms are located between colonnades and terraces and have a spectacular view of the Gulf of Arzachena. The light wooden furniture and furnishing, the delicate tones of the decorations and fabrics welcome our guests in a very charming atmosphere that contributes to a truly enjoyable and pleasurable stay. The warm colours and scents of the Mediterranean maquis in which the Hotel is immersed will provide our guests of indelible sensorial memories. There is an interior living corner in the room with armchairs and table. Each sea view room has outdoor space of 10 sqm with chaises longue, chairs and table. Private bathroom with bath and shower.

Suites sea view: 45 sqm. With a unique design, the comfortable and spacious Suites include one bedroom, one luxurious living room and a veranda of 15 sqm with sea view. They reflect the same style of the other rooms, but provide more privacy and comfort. They can be located in the main building or in a separate building 150m away. Bathroom with tub or shower cubicle (preference on request). Coffee and tea facilities in the room.

Superior Suite Sea View and private Pool: 55sqm. In a private location. independent from the main building these suites are all different from each other. They have a bedroom with a Queen size bed, with a door leading to a lounge area. The bathroom has a whirlpool massage shower, private parking, large outdoor area with sea views and private pool (approx 7m x 3m). Coffee and tea facilities in the room.(formerly named Senior Suites)

Luxury Suites: 65sqm. In a private location, luxury suites are furnished with elegant decor. The bedroom leads to a lounge are via a door. Private pool (approx 7m x 3m) and large outdoor area, sea views and private parking. There are two luxury suites available which have two bedrooms en-suite(on request).

Villa Le Saline. In addition to the rooms and suites, the hotel also offers one, three-bedroom, two bathroom self-catering villa, located within the grounds. Details on request.

Note: Due to its layout and hillside location, some rooms are accessed by several steps. Rooms also available on the ground floor and at pool and restaurant level accessible by lift.

Room Facilities:

All rooms offer: Coffee/ tea amenities • A complimentary daily bottle of mineral still water
• Direct dial telephone• Safe for laptops• Bathrobes, slippers, exclusive bath amenities• Hairdryer• Evening maid service• Satellite TV• Air conditioning and heating system
Similar Properties You May Like...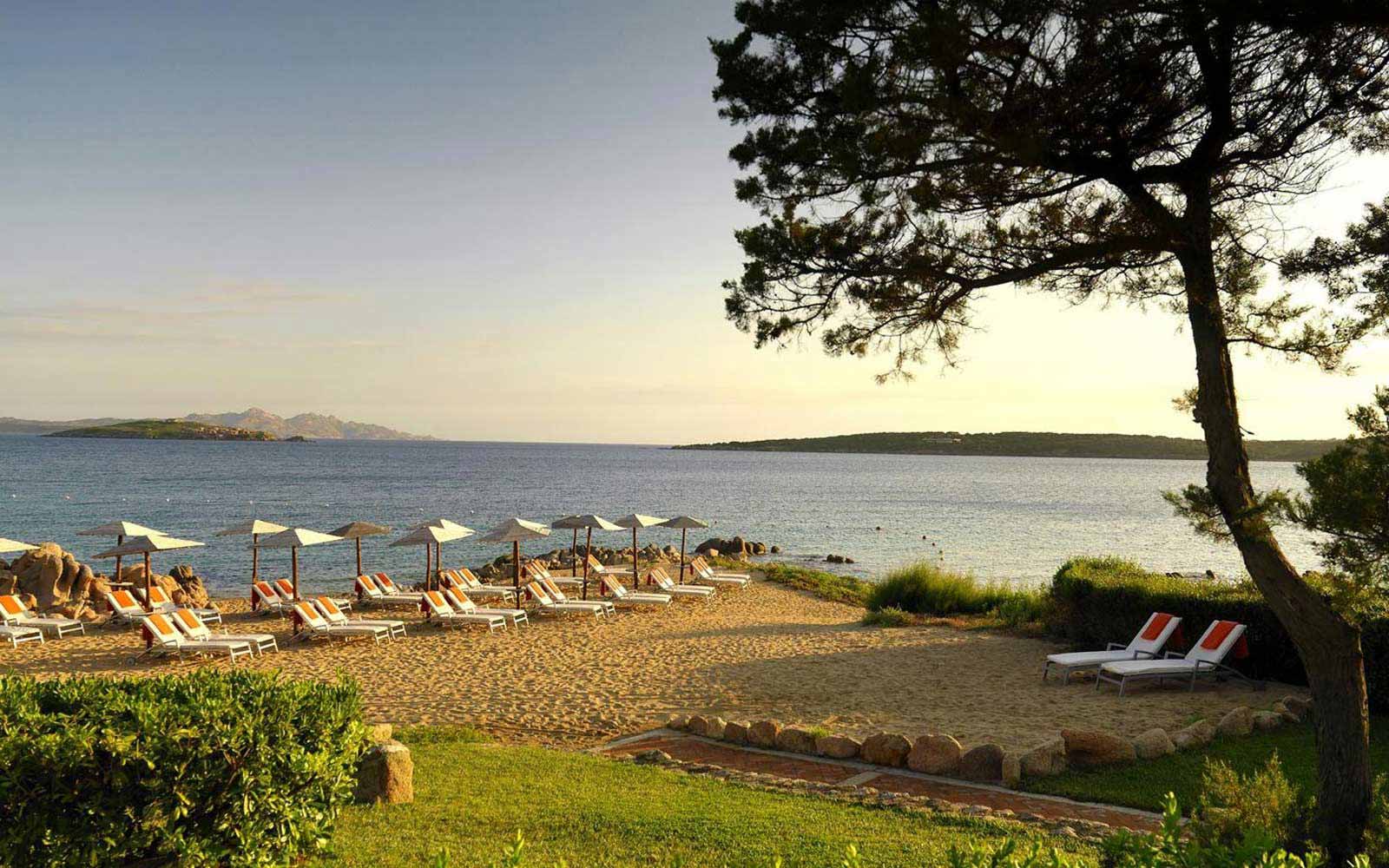 Sardinia > Porto Cervo & Costa Smeralda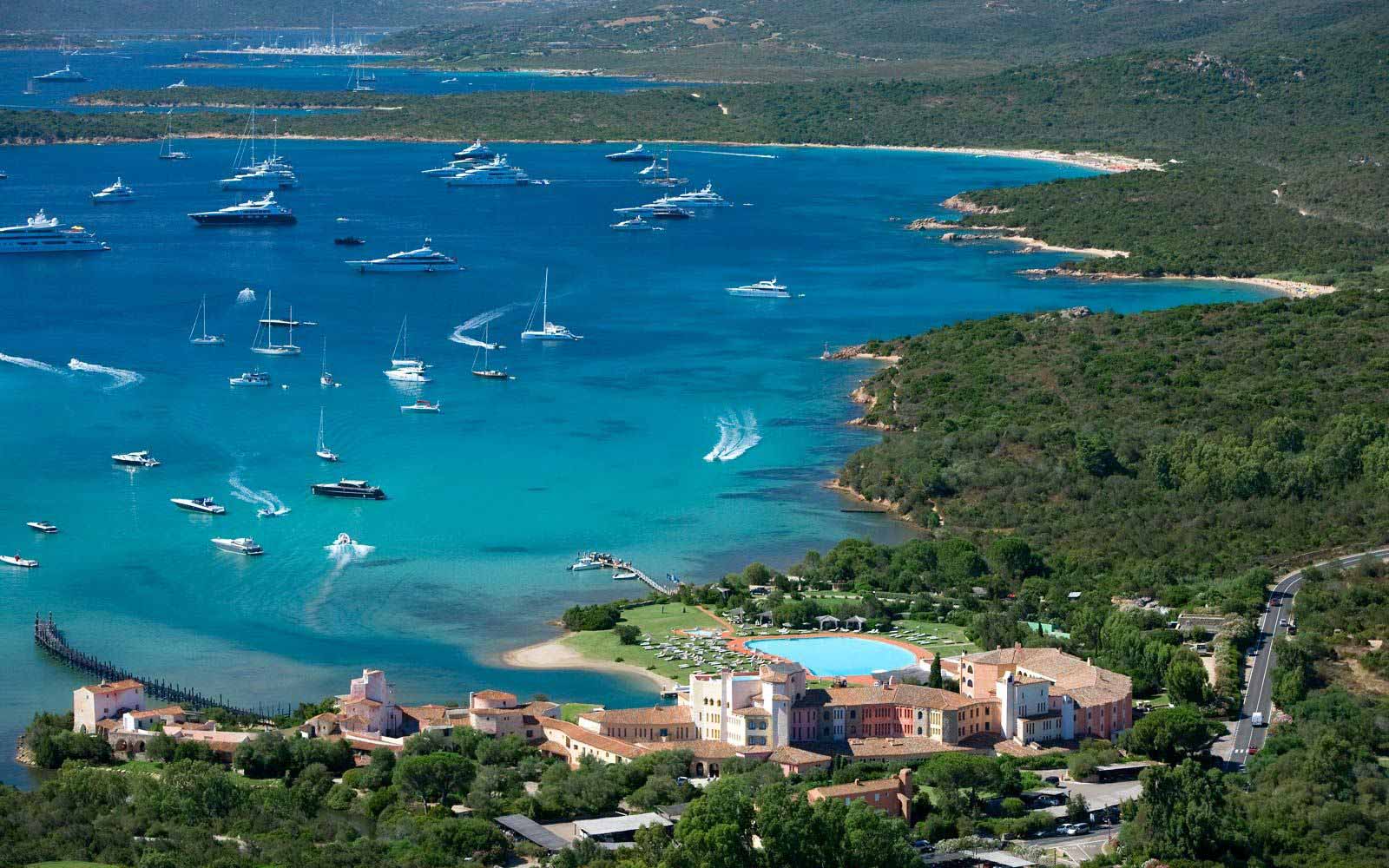 Sardinia > Porto Cervo & Costa Smeralda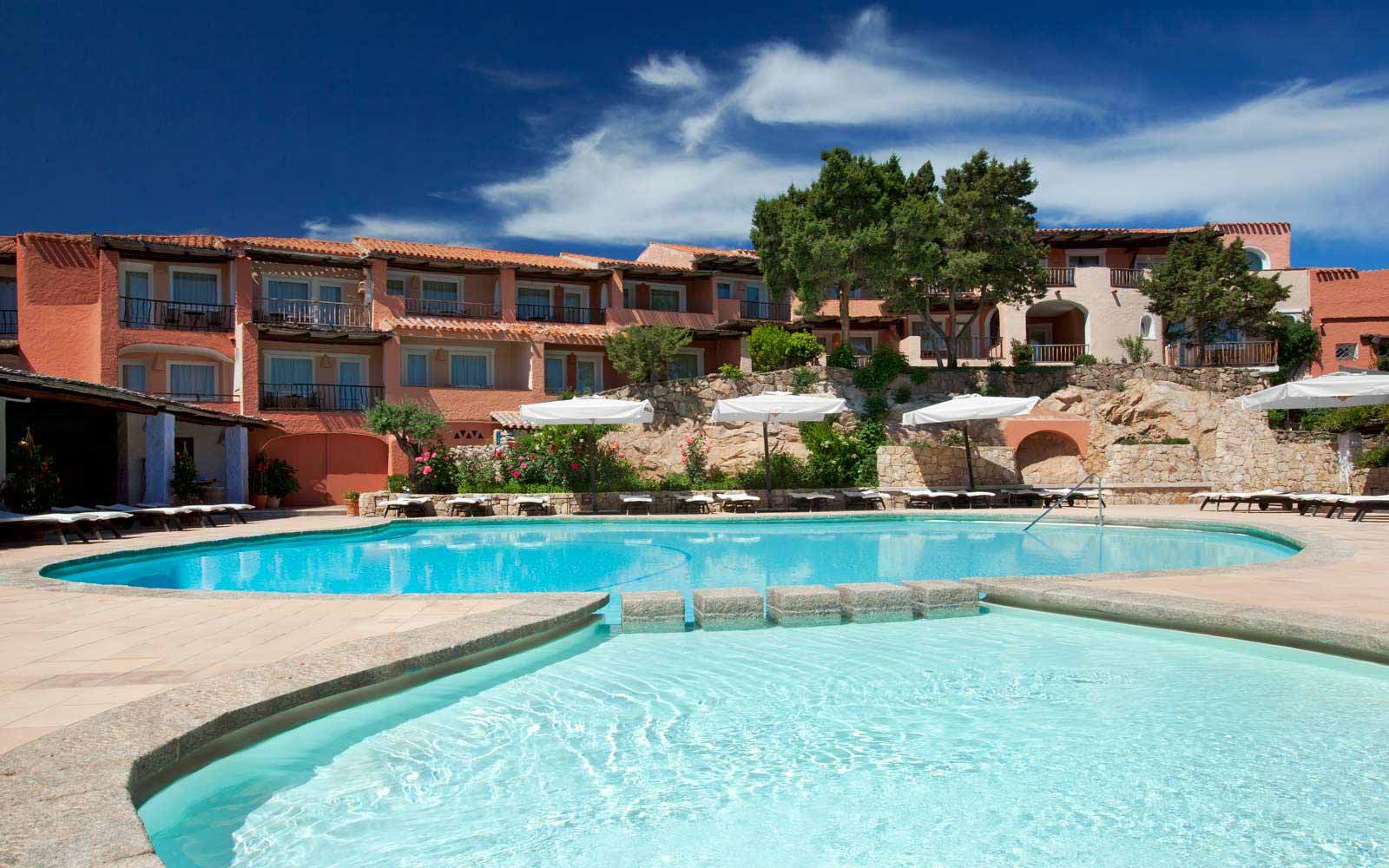 Sardinia > Porto Cervo & Costa Smeralda