Select Italy Holiday Ratings


We believe that customers booking a Select Italy are looking for that personal attention and individual service, which only a truly independent, specialist company can offer. We are passionate about Italy, and our sole aim is to provide our customers with quality holidays, backed by solid experience and the highest level of customer care. We truly are the Italian specialists, with Italian directors who have over 30 years' experience in selling vacations to Italy and a sales team also with many years of experience and a passion for selling Italy.

Select Italy comprises a large range of accommodation, from simple residences to luxury hotels. The official ratings are based on certain facilities or services being available and they do not take into account the size of the bedrooms or public rooms, nor the preferred décor of the owner, which may be at odds with your taste. Hotels in the same category, even in the same resort, can vary considerably in character, ambience, service and facilities and may not offer the same staffing levels and facilities, or be as well maintained. it must be bourne in mind that cost is a good indication of standards, particulary when comparing hotels in the same star rating.

As well as the hotel's official star rating, we have also given our own special rating, based on our personal opinion. This rating should be taken into consideration, especially when comparing hotels of the same official star rating. By all means browse our website to get an idea of what we offer. However, if like many of our repeat customers, you would like the reassurance of speaking to someone with first hand knowledge of a particular property or area, then do call us. Together we will find the perfect hotel and create a wonderful itinerary.



LUXURY

Italy's finest hotels; where guests can enjoy a highly attentive service in luxurious surroundings. Our luxury collection is the ideal choice for that special celebration, honeymoon or even a wedding.



SELECT

Our Select category includes hotels which we believe offer good standards of service, accommodation and facilities, and which are situated in excellent locations.



COMFORT

Mid range properties, offering a good level of service and comfort for their price.



VALUE

A collection of reasonably priced hotels, which offer a simple but decent standard of accommodation and represent excellent value for money.



VILLAGGIO

Our Villaggio selection are family resorts, which we believe offer a good standard of accommodation and a good range of facilities to keep the entire family occupied during the vacation. These are friendly and easy-going resorts, providing very informal service and representing good value for money. These resorts have a high proportion occupancy of International clientele.



Prices From
Prices on request - Please call our Sales Consultants on 1-800-877-1755 or simply complete the below
Request a tailor made quote for this property
Choose your preferred departure date, duration and departure airport. Our experienced consultants will send you a personal quote with a price match guarantee.
About the hotel
Positioned right in the heart of Sorrento, a stay at Hotel Antica Mura comes with views that take your breath away, elegantly decorated public areas and guestrooms, as well as dips in the swimming pool with an entourage of lemon and orange trees that are so typical of the area. Guests looking to explore the area beyond the town of Sorrento can engage the assistance of the hotel staff who will be able to help with booking local tours.

The Hotel Antiche Mura recreates the grandeur of Italy's rich heritage. Set in a 19th century villa, the property has been designed to evoke a sense of nostalgia and romanticism for architectural and décor styles that graced a glorious past. The name of the property itself is derived from an ancient town wall that protected the region from invaders.

While the villa proudly displays its 'Bella Epoque' style, the 50 guestrooms and Suites have been refurbished to reflect the classy Art Nouveau period. Each room has been stylishly designed with premium wooden furnishings and lush upholstery to create a sophisticated as well as relaxing living space. You can pick and choose from a variety of room options that include standard rooms, family rooms, and luxurious suites.

One of the highlights of the boutique property is the serene citrus orchard that surrounds the clear blue swimming pool. The outdoor area offers a tranquil spot to relax and rejuvenate. You can either take a dip in the cool water, simply lounge around in comfortable deck chairs, or indulge in the refreshing drink at the bar located near the garden.


RESTAURANTS & BARS
The elegant liberty style breakfast room, with its wrought iron chandelier, offers an ample breakfast including freshly baked croissants and cakes. In the evening, the American Lobby Bar lobby on the serves drinks from 4 pm until midnight.
Accommodation
Categories:

Standard

Comfort

Junior Suite

Suite

Heaven Suite

Room Facilities:

Swimming Pool – Pool/Snack bar – Gardens - Lobby Bar – Breakfast room – Hotel garage (payable locally)

Resort transfers:

Approximately 60 minutes from Naples airport. Prices available on request

Supplements:

Upgrades on your standard accommodation are available from only £11 per person per night
Similar Properties You May Like...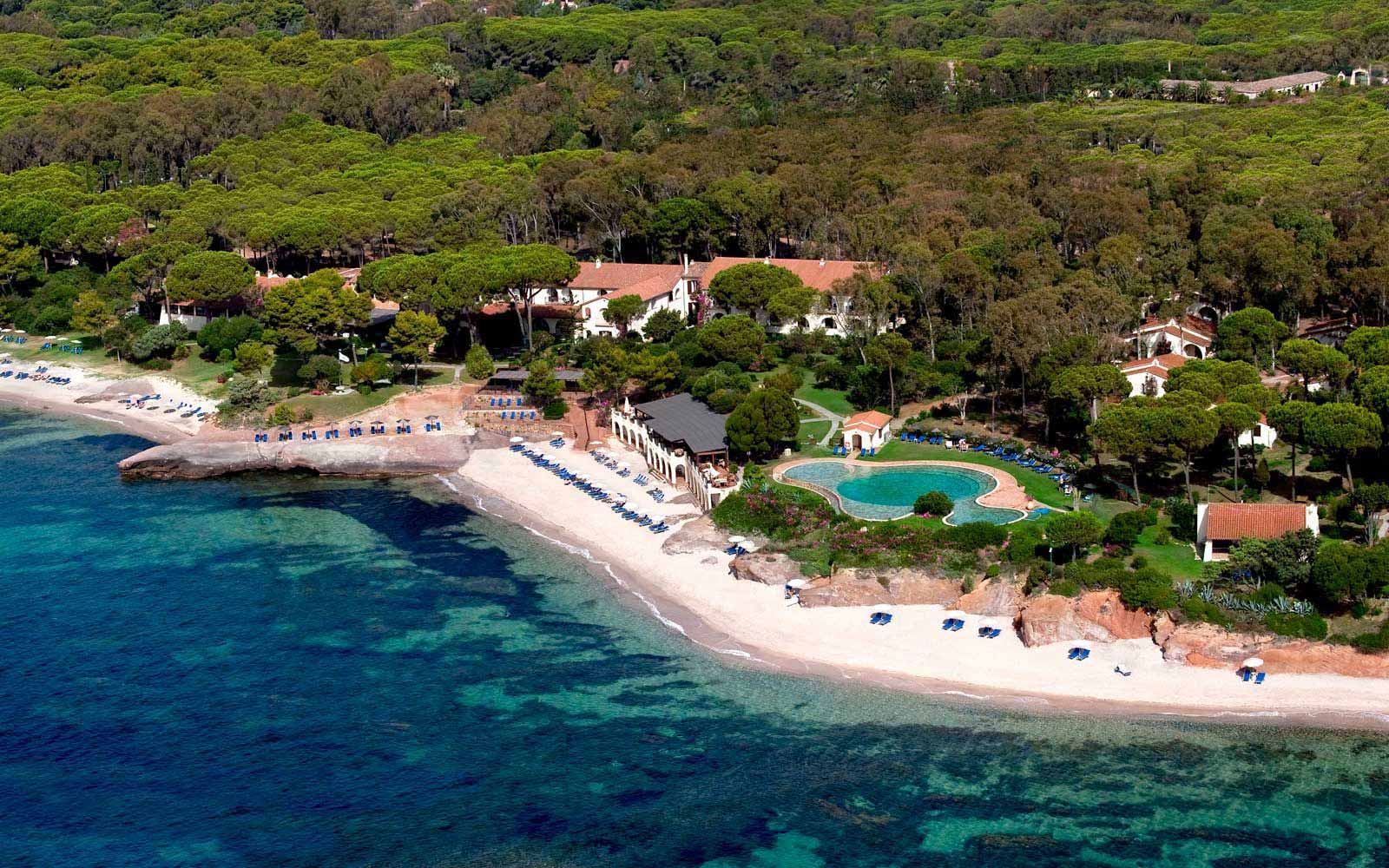 Sardinia > Santa Margherita Di Pula