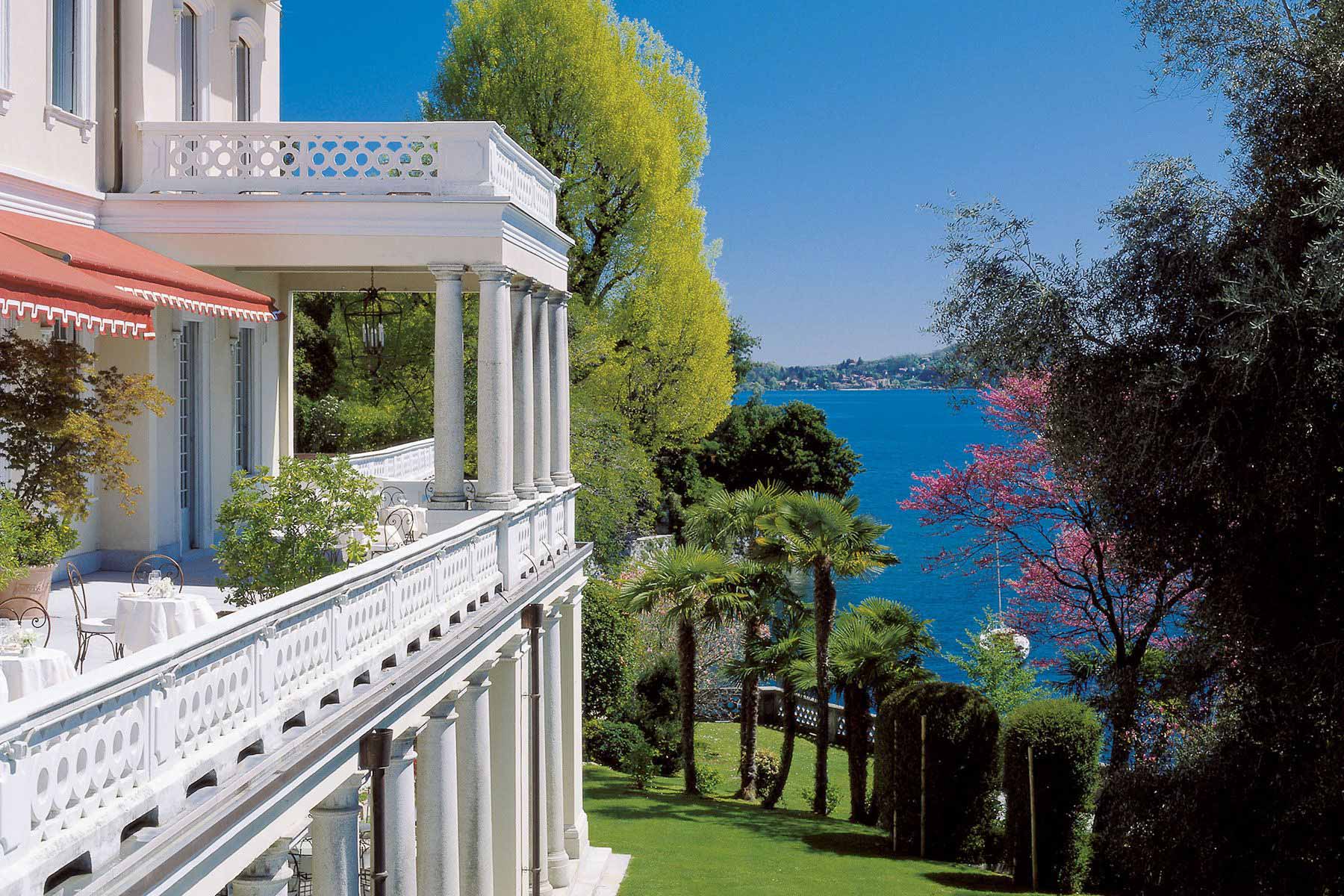 Lake Maggiore, Lakes
THE LOVELY ITALIAN LAKES
Five magnificent lakes occupy the so-called Italian Lake District in the north of Italy, at the foot of the Alps: Maggiore, Como, Iseo and Garda. While each has its own distinct flavor and atmosphere, the Italian Lakes are all equally beautiful and offer a range of activities and sights to entertain visitors: gardens, villas, historic buildings, lakefront towns, hiking trails, boat rides, and a stunning scenery surrounded by mountains.

The westernmost lake, Lake Maggiore is Italy's second largest lake. Mediterranean vegetation grows in abundance thanks to the mild climate both in summer and winter, with many gardens displaying rare and exotic plants. The main town is Stresa; located along the shores of the lake, it features a pleasant lakeside promenade adorned with flowers along with spectacular views of the lake's Borromean islands.

Just west of Lake Maggiore is Lake Orta, one of the least known Italian lakes, yet just as beautiful as the others. If you're looking for tranquility, consider a stay on Lake Orta at the exclusive Hotel Villa Crespi. Located in a Moorish-style villa surrounded by lush gardens, it boasts a two-Michelin starred restaurant headed by award-winning chef Antonino Cannavacciuolo.

Perhaps the most famous of the five Italian lakes, Lake Como offers breathtaking scenery and a romantic atmosphere, highlighted by the number of elegant villas and superlative gardens. Lake Como is the Milanesi's favorite lake as it is only an hour from Milan. The best way to enjoy the splendors of Como is from the water. Staying on Lake Como is a great opportunity to visit a much praised wine region of Italy: Franciacorta, where the wine of the same name is produced using the Champagne Method.

Little-known and away from the major tourist itineraries is Lake Iseo, framed by lush green mountains surrounding its crystal clear waters. The main town of Iseo is the perfect base for exploring the lake and its surroundings such as the Val Camonica, famous for its Stone Age rock carvings, to the north, and the rolling Franciacorta wine region to the south.

Lake Garda is Italy's largest lake and the easternmost of the Italian Lakes. Shared among the regions of Trentino, Lombardy and Veneto, Lake Garda offers a varied landscape, from rolling green hills to tall mountains, from lakeside beaches to vineyards, lemon trees and olive groves.
Your Destination:
Lakes

FACILITIES:
66 Guestrooms & suites | 2 Restaurants | Piano bar | Lounge | Spa/wellness centre | Swimming pool | Tennis court | Shuttle to Stresa
Select Italy Holiday Ratings


We believe that customers booking a Select Italy are looking for that personal attention and individual service, which only a truly independent, specialist company can offer. We are passionate about Italy, and our sole aim is to provide our customers with quality holidays, backed by solid experience and the highest level of customer care. We truly are the Italian specialists, with Italian directors who have over 30 years' experience in selling vacations to Italy and a sales team also with many years of experience and a passion for selling Italy.

Select Italy comprises a large range of accommodation, from simple residences to luxury hotels. The official ratings are based on certain facilities or services being available and they do not take into account the size of the bedrooms or public rooms, nor the preferred décor of the owner, which may be at odds with your taste. Hotels in the same category, even in the same resort, can vary considerably in character, ambience, service and facilities and may not offer the same staffing levels and facilities, or be as well maintained. it must be bourne in mind that cost is a good indication of standards, particulary when comparing hotels in the same star rating.

As well as the hotel's official star rating, we have also given our own special rating, based on our personal opinion. This rating should be taken into consideration, especially when comparing hotels of the same official star rating. By all means browse our website to get an idea of what we offer. However, if like many of our repeat customers, you would like the reassurance of speaking to someone with first hand knowledge of a particular property or area, then do call us. Together we will find the perfect hotel and create a wonderful itinerary.



LUXURY

Italy's finest hotels; where guests can enjoy a highly attentive service in luxurious surroundings. Our luxury collection is the ideal choice for that special celebration, honeymoon or even a wedding.



SELECT

Our Select category includes hotels which we believe offer good standards of service, accommodation and facilities, and which are situated in excellent locations.



COMFORT

Mid range properties, offering a good level of service and comfort for their price.



VALUE

A collection of reasonably priced hotels, which offer a simple but decent standard of accommodation and represent excellent value for money.



VILLAGGIO

Our Villaggio selection are family resorts, which we believe offer a good standard of accommodation and a good range of facilities to keep the entire family occupied during the vacation. These are friendly and easy-going resorts, providing very informal service and representing good value for money. These resorts have a high proportion occupancy of International clientele.