Italy is a wonderful land of treasures. Whether your passion is gladiator-packed history, mouthwatering wine and cuisine or superlative Renaissance art there is plenty to discover. And it's all set against a picture postcard background. Add in over 4700 miles of glorious Mediterranean coastline including the craggy cliffs of the Cinque Terre, the exhilarating coast roads of the Amalfi and the long sandy beaches of Sicily and it's almost impossible to know where to start! So before you book your next trip, let's have a look at some of the best boat tours in Italy to give you a little inspiration and a taste of what Italy's stunning coastline has to offer. The hardest part will be choosing where to stop; come on, let's dive in!
Exploring the Cinque Terre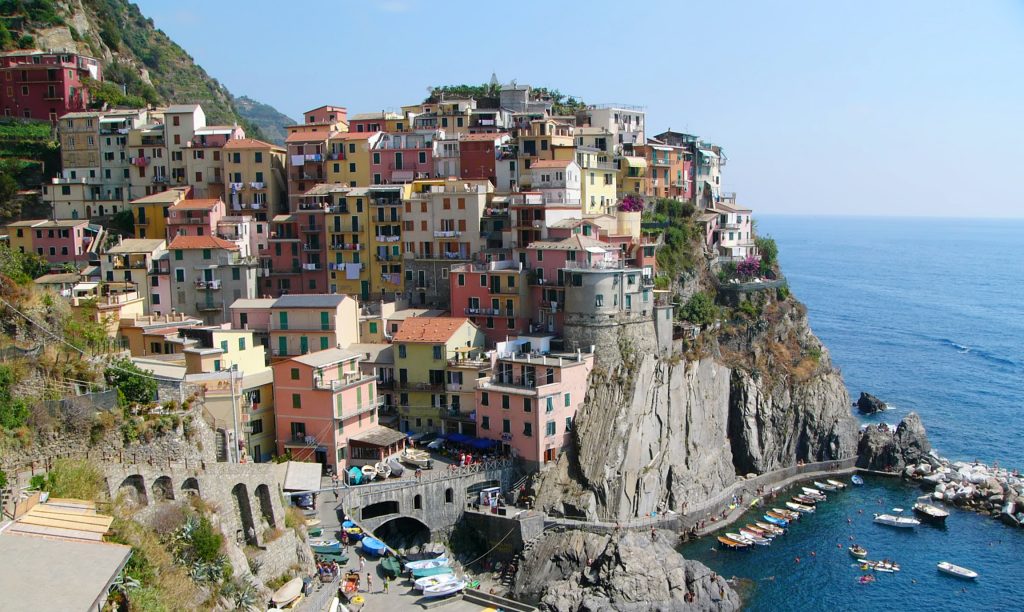 Meaning "five lands" the rugged Cinque Terre coastline near Genoa in northern Italy has been a UNESCO World Heritage Site since 1997 for good reason. Five clifftop lands or villages cling precariously to the craggy Ligurian shore and, thanks to being largely inaccessible by road, they've remained unchanged for centuries offering a unique experience for the visitor.
Multicolored little houses crowd and clutch onto rocky outcrops from Monterosso al Mare in the north, down through Vernazza, Corniglia, Manarola and finally Riomaggiore at the southerly most point. And each village is interconnected by a famous cliff top footpath known locally as the Via dell'Amore or road of love attracting walkers and ramblers from around the world. But if you really want to appreciate this Italian jewel, you need to get out onto the water for one of the most scenic boat tours in Italy.
Gliding gently along the glorious Cinque Terre coastline on a 32-foot catamaran allows you to take in every nook and cranny of the rainbow colored fishing villages and appreciate the sea views whilst enjoying delicious local appetizers and drinks on board. The full day excursion sets sail from nearby La Spezia, stopping in the idyllic Portovenere for lunch before an afternoon of some of the most spectacular views in the Mediterranean sailing or even swimming past all 5 villages. It's just one of the truly unforgettable boat trips in Italy and a regular wish list entry.
Alternatively, if you're a keen photographer and want to stop off at some of the villages for a closer look then a motorboat trip is the ideal solution. The full day cruise slowly traces the coastline, stopping in at 4 of the 5 villages for a guided tour relating each one's history and highlights. Or if you prefer, just sit back, relax and watch the wonderful world go by as the waves languidly lull your boat onwards. Perfetto!
Enjoying the Costiera Amalfitana, Amalfi Coast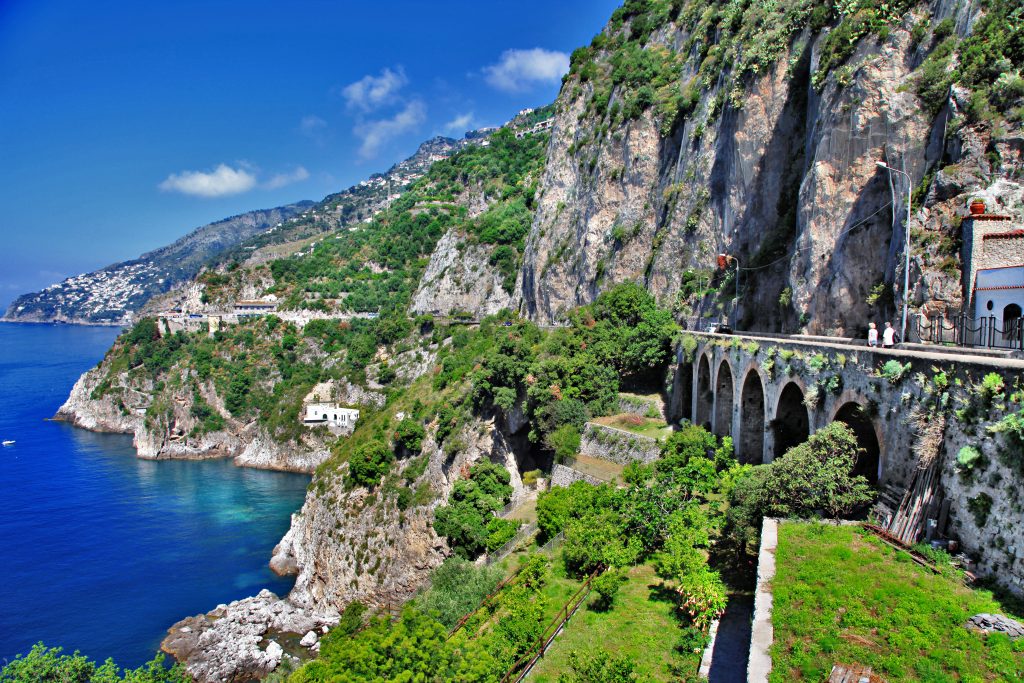 Another region famous for its littoral beauty is Campania where you'll discover the magnificent Costiera Amalfitana, or Amalfi Coast, just south of Naples and Pompeii. Thirty miles of cliffs, bluffs and steep shores are dotted with 13 pastel painted medieval towns and villages including Positano, Amalfi and Sorrento. The only road route in is the hair-raising hairpin coastal Strada Stratale that clings to the hillsides whilst offering stunning sea views across the Bay of Naples and beyond. But it's the sun-kissed villages, huddled into the Amalfi's steep gorges and romantic island of Capri, just off the coast, that really draw the visitors.
And again, the best way to explore the celebrated cliff-lined, jagged coastline is to set sail. Take to the water, sailing from Positano, for a full day boat trip along the shore and out to the delightful island of Capri. Not only will you have time to explore onland, climbing up to Capri's stylish centre, but you'll also pass under Tiberio's Leap; an infamous spot where disobedient servants or unwanted guests were allegedly thrown off the cliff! The jewel in this trip, however, is the unforgettable visit to Capri's sea level grottoes, best known of which is the blue grotto where the sunlight pierces the cave illuminating the seawater and lighting up the darkness.
Or if you're looking to turn up the romance, then there can be few better boat tours in Italy than a sunset cruise along the Amalfi coast. And you even get to choose your own boat! So whether you prefer a chic 50-foot yacht or a swanky speedboat, there's something for you! Plus you can set off from any of the towns along the coastline so you really can sit back with a sparkling Prosecco and let the crew do all the hard work as the sultry sun sets slowly below the waves. It's a perfect trip for a proposal, honeymoon, family celebration, birthday or just to soak up the last of the magical Amalfi rays. Unforgettable!
Alternative boat tours in Italy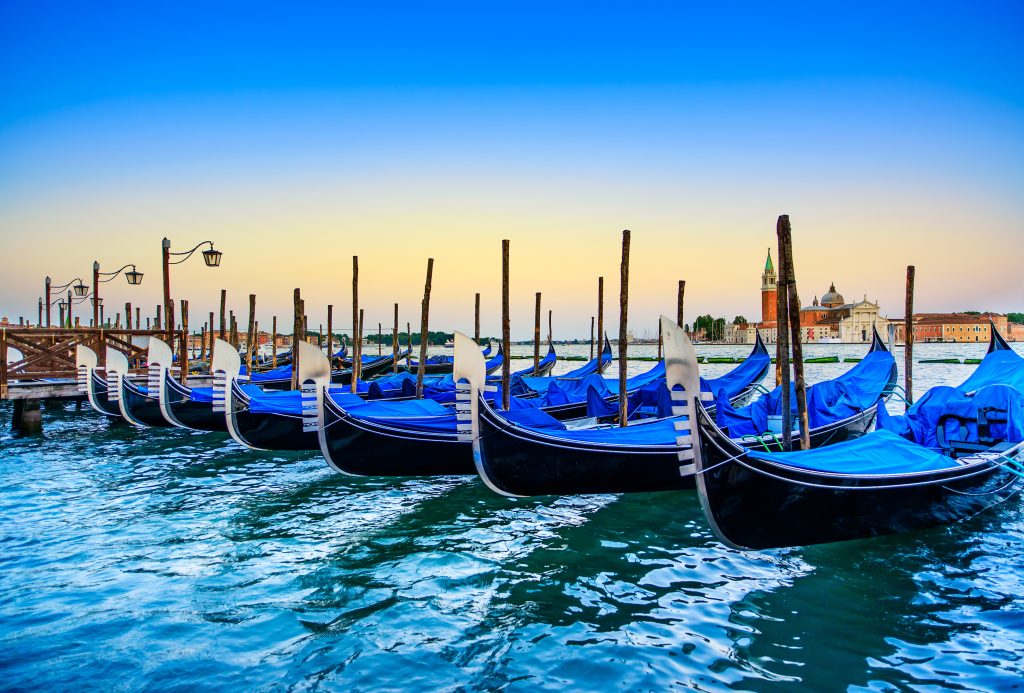 If you're not a big fan of the sea, there is still a way to enjoy Italy from the water without making waves by taking a boat tour of one of Italy's gorgeous lakes, lagoons or rivers.
Boats are famously an intrinsic part of Venetian life with the iconic black gondolas gracefully gliding up and down the Grand Canal. And there are lots of different gondola options and routes to pick from. Or you can venture out into the shallow lagoon for a boat trip with a difference including a hands on floating cookery lesson with chef Mauro, followed by an authentic 4 course meal. Buon apetito!
Lake Garda also offers the chance to get out onto the calm fresh water with a lakeside trip around the old walled town and Roman villa of Sirmione.
Or what about a gentle boat tour on the Arno River in Florence as you're rowed along in a traditional barchetto. It's the perfect ending to a day of sightseeing and museums, seeing the Renaissance city from a totally different perspective.
Ready to come aboard?
Ultimately Italy is almost entirely surrounded by water so adding a boat tour to your holiday is an amazing way to enhance your vacation. You'll create memories that will last a lifetime whilst enjoying some of the most beautiful, scenic coastlines in the world. You may even change your life if your sunset proposal gets a yes! So what are you waiting for? Our travel experts are waiting to help you sail away with the right choice from our wonderful selection of boat tours in Italy. And don't forget to leave a comment to let us know which trip catches your eye. Buon viaggio!