Soccer Games in Italy: How to Attend and Buy Tickets
Are you planning to attend soccer games in Italy but don't know how to do it? No worries, here you will find everything you need to know about buying tickets and attending a soccer game during your trip to the Bel paese.
Whether you are a passionate soccer fan or not, you definitely cannot miss the opportunity to participate in such an incredible experience. Soccer is by far the most popular sport in Italy, the home country of some of the most historic and legendary soccer teams in the world.
Due to the huge amount of official and unofficial websites, rules and regulations, finding and buying tickets can be a real nightmare at times. We designed this short guide so you can avoid all the pitfalls and make the whole process as easy as possible.
The Italian Soccer Season
The first thing you need to know is that the Italian Serie A, as well as the other minor Italian professional leagues — Serie B and Serie C — runs from the end of August to mid May. Summer is an amazing season to visit this country, but if you are traveling between June and August, you normally won't be able to attend soccer games in Italy.
But don't worry: this year (2016) the European Cup will take place in France and you will certainly be able to watch the Italian national team play on TV in almost every bar or restaurant of the country, even in the most remote locations. If you are interested in how Italians fans watch a game and their pre game-rituals, we have described that in other blog posts, so have a look at them if you want to live soccer like an Italian or know the differences between Italian and American soccer fans!
If you do come during the right period and want to see soccer games in Italy, you will be able to find many high-quality games, especially if you are visiting big cities like Milan, Turin, Florence, Rome and Naples. Most of the games are held on Sunday, but it is not unusual to see games on Saturday or Monday evening, and even in the middle of week on Wednesday.
How and Where to Buy Soccer Tickets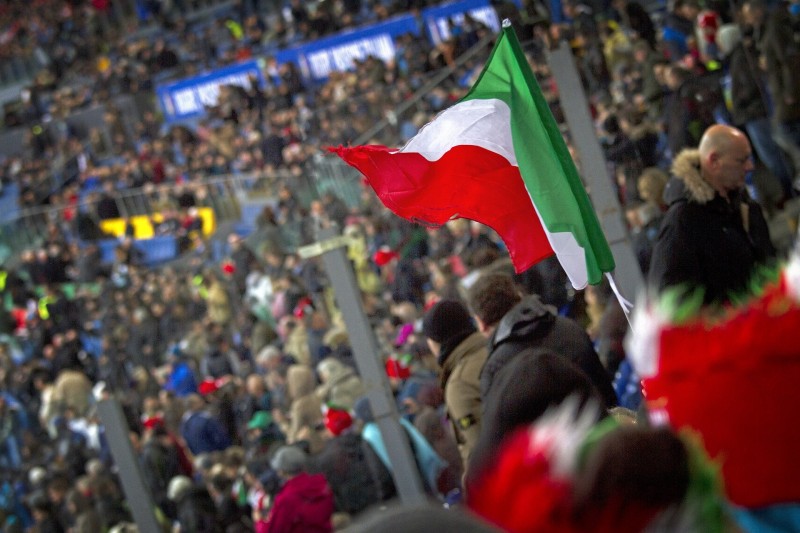 Even if it is normally possible to buy tickets directly at the stadium the day of the game, I wouldn't recommend this option, especially if big matches are going to take place. You run the risk of finding out that there are no more tickets available, even if you go hours beforehand to increase your chances.
The easiest way is probably to purchase tickets online. For AC Milan and FC Internazionale for instance, you just need go to their websites and follow the few steps required, selecting the print at home option. You will be sent the tickets by email and all you need to do is print and show them at the entry gates of the Giuseppe Meazza stadium, also know as San Siro or "La Scala del calcio", referring to the famous La Scala theater, Italy's most famous Opera house.
Usually websites are only partly translated in English and many Italian soccer teams do not actually sell tickets directly, but rely on other companies like Ticketone or Listicket to distribute tickets on their behalf. Just go to their websites and look for the team you are interested in and you will easily find tickets for Juventus, Roma, Lazio, Napoli, Fiorentina and many other Italian teams.
Another easy option is to buy tickets directly at the team's points of sale and ticketing offices located all around the city. You can find them by looking at the team's website or by searching on Google "FC Inter points of sale Milano", for instance. Otherwise, you can directly ask the hotel you are staying at and they will certainly know where the closest and best location is.
I would also like to give a special mention to FBC Unione Venezia, Venice's local team currently playing in the 4th tier of the Italian league system, Serie D. After having played in the Serie A for a long time, in 2005 it was declared insolvent because of bankruptcy. Despite this, Venezia still plays in the historical Pier Luigi Penzo stadium, one of the few soccer fields that is accessible only either by boat or on foot. The stadium is located on the Sant'Elena Island, easily reachable with a fascinating 30 minutes walk from St. Mark's Square, where the stunning Doge's palace is located. If you want to experience something different, just give it a try: you can buy a ticket for about $10 directly at the stadium.
Other Useful Information
Many people get often confused when they hear about the "Tessera del Tifoso," a fan card that is sometimes required in order to purchase soccer tickets in Italy.
Let's try to clarify this point.
The "Tessera del tifoso" is a card that identifies the supporter of a particular team. It was introduced a few years ago for security reasons, and it has been widely criticized by numerous fans of the majority of the teams. However, this card presents some advantages: it allows to have facilitated routes inside the stadiums, discounts on other events organized by the companies and the possibility to purchase tickets without having to stand in line at the box office.
As a general rule, you must have the card if you are an Italian citizen living in the region of the opposing team. Let's say you want to see Milan-Roma in Milan and you live in the Lazio region (where Rome is located); then you will need the card in order to be able to purchase a ticket. It is also compulsory to have the card if you want to watch the game from the away fans section of the stadium, regardless of your nationality/residence. So if you live in Milan and you want to see the game from the section of the stadium reserved to the Roma fans, then you will need the card. This system applies to all teams/regions.
Therefore, if a tourist  wants to purchase a regular ticket for soccer games in Italy, he/she won't need the "Tessera del tifoso,", unless he/she wants to see the game from the away fans section of the stadium. Additional limitations may apply for games where a risk to spectators and citizens is expected.
Tips & Recommendations
Now, some final tips and advice to make the most out of your experience:
Support the local team! Make sure you wear something that reminds the home team's colors or, even better, buy the home team's scarf, t-shirt or cap on your way to the stadium. You will be able to find a whole variety of accessories and gifts ideas that are surely going to be appreciated by your friends and relatives at home.
Chant! Even if you don't speak Italian. You will be impressed with the banners and vocal support of the home fans, especially during the most important games. If you try to learn the team's anthem and sing some of the chants along with the other thousands of supporters, you will immediately become part of that unique atmosphere, enjoying the game even more.
Don't forget to bring your Passport/ID card with you the day of the game. The name printed on the ticket must match the one on your identification. Also, keep in mind that if you purchase the ticket online with the "print at home" option, typically only the paper copy will be accepted at the entrance gates and you won't be able to enter the stadium by showing the PDF document on your smart phone or tablet.
Bring cash, especially if you are trying to buy tickets directly at the stadium and if you want to buy some food or drinks during the game. Credit cards are rarely used.
If you are travelling to Italy at the end of May 2016, you will also have the chance to attend the final of the most prestigious competition for soccer clubs in Europe: the Champions League. Two of the best European teams will face each other in Milan on May 28th. A memorable experience you definitely don't want to miss!
Have you ever been to a soccer game in Italy? Are you willing to attend one? Share your experience with us and leave a comment below!