La Scala in Milan is Italy's leading opera house and one of the most prestigious in the world. Many of the greatest world's singers from the past 200 years have performed at La Scala.
Inaugurated in 1778, La Scala was built to replace the Royal Ducal Theater, the home of opera in Milan, which had been destroyed by fire. It was erected on the former location of the church of Santa Maria alla Scala, hence the theater's name (which, in case you were wondering, means "staircase").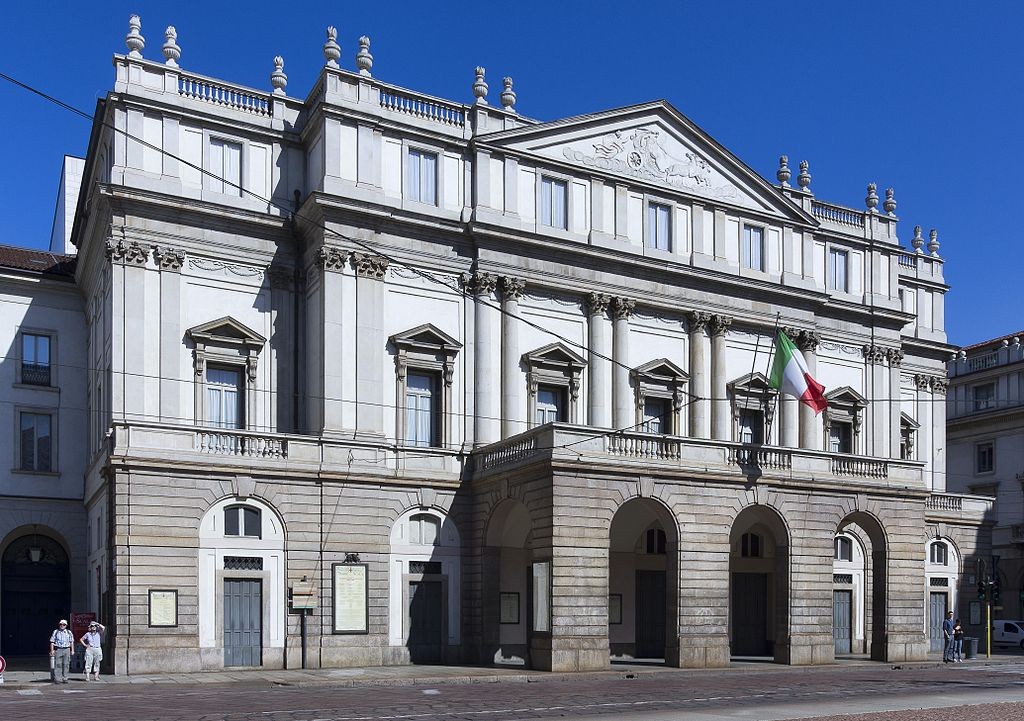 Originally designed by neoclassical architect Giuseppe Piermarini, the building was remodeled in 1867, modernized in 1921, restored in 1946 after having been bombed in World War II, and renovated between 2002 and 2004. La Scala has been the stage for many famous opera premieres, including Bellini's Norma, Verdi's Otello and Falstaff, and Puccini's Madame Butterfly and Turandot.
La Scala's opera season is currently in full swing. It opens every year on December 7, the feast of Sant'Ambrogio, Milan's patron saint. For classical music lovers, attending an opera at La Scala is an experience not to miss. However, buying a ticket and choosing a seat for one of La Scala's performances can be quite confusing, so avoid any hassle by taking advantage of Select Italy's Opera Package, which gives you two nights' hotel accommodation and first category tickets to your chosen performance. Easy and convenient.
All booked? Great. Now, to fully enjoy the experience, read on for some interesting tidbits from La Scala's 238 years of history.
Performed first, then (almost) forgotten
The opera that inaugurated the opening of La Scala in 1778 was composer Antonio Salieri's Europa riconosciuta. It was not performed again until December 7, 2004, when it was chosen as the opening performance after the theater had been closed for three years due to major renovations. Since the work had not been performed for so long, La Scala had to re-print the score from scratch, using the original manuscripts in its library.
A place for gamblers
Back in the 19th century, La Scala, as most theaters at the time, also served as a casino. Gamblers stood in the foyer, making it difficult for spectators to actually hear the music, as a famous patron, author Mary Shelley, pointed out in 1840: "The theatre of La Scala serves, not only as the universal drawing-room for all the society of Milan, but every sort of trading transaction, from horse-dealing to stock-jobbing, is carried on in the pit; so that brief and far between are the snatches of melody one can catch."
You don't want to mess with the "loggionisti"
Singers performing at La Scala must be most fearful of the so-called "loggionisti." Gathering in the upper gallery known as "loggione" (the cheap seats), they are the most critical opera fans, and can be really merciless towards the singers. If they don't like the performance, they hold no restraint in making the artist know – shouting, catcalling, and booing. The most famous case-in-point? In 2006, tenor Roberto Alagna was booed off stage during a production of Aida, which forced his understudy, Antonello Palombi, to replace him mid-scene – dressed in jeans. Alagna later said he was broken-hearted. He has never returned to La Scala. (Fun fact: not even Luciano Pavarotti escaped the criticism of the loggionisti: in 1992, his performance of Verdi's Don Carlo was booed.)
Verdi and La Scala: a complicated relationship
The legendary composer Giuseppe Verdi had a special relationship with La Scala, albeit not always a smooth one. His name is linked more than any other to the history of La Scala, but, for years, he refused to have his work played there because, he claimed, the orchestra had "corrupted" (his word) some of his music (this originated in a dispute over the production of Giovanna D'Arco). He eventually changed his mind and conducted his Requiem there on 25 May 1874, with the premiere of two additional masterpieces taking place in subsequent years, Otello and Falstaff.
Unfinished, but still worth playing
Another important name associated with La Scala is that of Arturo Toscanini, one of the greatest conductors of all time. He played the cello at the world premiere of Verdi's Otello in 1887, with the composer conducting. By 1898, Toscanini had become principal conductor at La Scala, and from 1921–1929, served as its Music Director, marking one of the finest periods in the theater's history. Perhaps the most awkward episode involving Toscanini took place during the premiere of Giacomo Puccini's great opera Turandot in 1926. Turandot was unfinished at the time of Puccini's death two years before. Thus, when the performance reached the middle of Act 3, Toscanini stopped the orchestra, laid down his baton and, turning to the audience, said, 'Here the opera ends, because at this point the maestro died'. Slowly, the curtain was lowered.
Are you going to Milan? Give us a call today, our expert will gladly help you planning your trip.