Select Italy Holiday Ratings


We believe that customers booking a Select Italy are looking for that personal attention and individual service, which only a truly independent, specialist company can offer. We are passionate about Italy, and our sole aim is to provide our customers with quality holidays, backed by solid experience and the highest level of customer care. We truly are the Italian specialists, with Italian directors who have over 30 years' experience in selling vacations to Italy and a sales team also with many years of experience and a passion for selling Italy.

Select Italy comprises a large range of accommodation, from simple residences to luxury hotels. The official ratings are based on certain facilities or services being available and they do not take into account the size of the bedrooms or public rooms, nor the preferred décor of the owner, which may be at odds with your taste. Hotels in the same category, even in the same resort, can vary considerably in character, ambience, service and facilities and may not offer the same staffing levels and facilities, or be as well maintained. it must be bourne in mind that cost is a good indication of standards, particulary when comparing hotels in the same star rating.

As well as the hotel's official star rating, we have also given our own special rating, based on our personal opinion. This rating should be taken into consideration, especially when comparing hotels of the same official star rating. By all means browse our website to get an idea of what we offer. However, if like many of our repeat customers, you would like the reassurance of speaking to someone with first hand knowledge of a particular property or area, then do call us. Together we will find the perfect hotel and create a wonderful itinerary.



LUXURY

Italy's finest hotels; where guests can enjoy a highly attentive service in luxurious surroundings. Our luxury collection is the ideal choice for that special celebration, honeymoon or even a wedding.



SELECT

Our Select category includes hotels which we believe offer good standards of service, accommodation and facilities, and which are situated in excellent locations.



COMFORT

Mid range properties, offering a good level of service and comfort for their price.



VALUE

A collection of reasonably priced hotels, which offer a simple but decent standard of accommodation and represent excellent value for money.



VILLAGGIO

Our Villaggio selection are family resorts, which we believe offer a good standard of accommodation and a good range of facilities to keep the entire family occupied during the vacation. These are friendly and easy-going resorts, providing very informal service and representing good value for money. These resorts have a high proportion occupancy of International clientele.



Prices From
$1581 per person (2 adults) and from $2780 per family
Price includes - 7 night accommodation on full board, local land and boat transfers - (family 2ad + 1 ch under 12 years)
Request a tailor made quote for this property
Choose your preferred departure date, duration and departure airport. Our experienced consultants will send you a personal quote with a price match guarantee.
About the hotel
Santo Stefano Resort is located on Santo Stefano Island in Sardinia. Being the only resort on the island, customers will be able to fully immerse in the Mediterranean surroundings and relax while having the whole island to themselves.
The Santo Stefano Resort is blessed with opulent rooms filled with natural light throughout the day. There are close to 300 rooms with 4 additional suites that are the very definition of style and elegance. The rooms and suites are stacked with all the modern amenities that you will need: mini bar, TV, and a tea corner. Each room has been carefully designed to allow the cool sea breeze to serenade through it.
One of the highlights of the resort is the artistically landscaped outdoor area that offers you the perfect getaway from all the stress and humdrum of daily life. The outdoor area is dotted with calming palm trees, lush gardens, and pinewoods. Enjoy the private beach area, reserved exclusively for guests of the resort. If all you want to do is relax, just grab a lounge chair and spend the day taking in the soothing sea sounds.
For the more active guest, the resort offers two tennis courts where you can perfect your game or hit a couple of balls. For the more adventurous, there are two volleyball courts set in the golden sands.
A stay at any resort in Italy will be incomplete without a unique food and drink experience. The Santo Stefano Resort raises the standard when it comes to the cuisine, offering guests a true taste of local and international fare. In fact, most guests recommend the food to be one of the best they have tasted during their stay in Italy. It is rich with fresh seafood as the menu includes a special lobster on the grill and the fresh fish carpaccio. Exquisite wine is served along with the food to heighten the culinary experience.
After you have relaxed on the beach and had your fill of delicious food, you can enjoy a musical concert, live theatre, or simply let your hair down and dance. The Santo Stefano Resort leaves no stone unturned to offer a premium luxury experience to its guests.
RESTAURANTS & BARS
At the Santo Stefano Resort cooking is an art. Every dish is the quintessence of goodness and beauty, teamed with taste in a harmony that tantalize the eyes and palate. Here, the excellence of Italian tradition is epitomized in a game of international contamination, resulting from our chefs' great experience and ongoing research. Highly talented professionals, their only intent is to turn every single foodie moment into a culinary experience for all to enjoy.
The main restaurant "ALLIUM", with buffet service, spacious and with panoramic windows overlooking the sea for dinners bathed in the glow of spectacular sunsets. There are also themed areas for pizza, pasta, BBQ and vegetarian buffet.
The alternative restaurant "IL COVO ON THE BEACH" is next to the sailing beach where you can spoil yourself during the day and have lunch on the sand at the water's edge. The restaurant also takes evening reservations for romantic dinners. Both Buffet or table service available and a Pizza and Grill Corner with 100 seat capacity.
The LOUNGE BAR, the "heart" of this resort, is a lively bar where there is music and jam sessions throughout the day, and where you can enjoy breakfasts, snacks, cocktails and aperitifs
RELAX

Take care of your body, even on holiday. The spa at the resort will be pleased to welcome you and increase your sense of wellbeing. Try our sauna and Turkish bath, together with unique sophisticated treatments for total pampering.

Massages and beauty treatments to make your holiday even more relaxing can be booked every day (with supplement) along with exclusive massages for couples "under the stars" (subject to availability - with supplement)

If you love to shop, the boutique offers a collection for that fashionable, unique holiday look. Clothing, accessories, sun products and everything else you need for your stay. Exclusive articles, unique clothing lines and gifts to take home as souvenirs of an unforgettable holiday, including typical food and drink.

Alternatively, you can just stretch out on the private and fully serviced beach and soak in the sun.


CHILDREN & ACTIVITIES

The Santo Stefano Resort has something for everyone. For the children, there is both Mini (5 - 11 years olds) and Junior (12 - 17 years) clubs operating daily and run by dedicated and highly qualified animators and staff. They can organize the most appealing activities such as, family parties, lunches and cinema shows with the staff. Music clinics, tent camps, themed parties, cookery courses, drama workshops, talent shows, botanical excursions and sports courses: all thought up to ensure your child experiences all the excitement of being a main player

For the more active, the resort offers a wide range of activities for both adults and children alike. Running, Fitness, Power Water, Sailing, Beach Volley, Tennis, 5-a-side Football, Diving, Walks. Some included and other at charge. (further details on request)

Top professionals from the world of sport, entertainment, music, and cooking will mingle unobtrusively with our guests, fulfilling your desire for wellbeing and fun. They are Friends who make entertainment their real vocation. Capable of making each event perfect and giving your holiday all the attention it deserves.

The Arena is the place where you will become the real main player of your vacation. Throughout the day it moves at an engaging pace, in the evening it comes alive to the most moving notes. The best musicians play here, fresh from their world tours including, rock stars, composers and the resident DJs from big-name radios. They bring you hundreds of concerts, acoustic jam sessions, cult tracks on request, daily DJ sets and hours and hours of live music.
Accommodation
Accommodation & Facilities:

The 299 rooms, all offer air conditioning, hairdryer, safe and minibar. Room service is subject to an extra charge and beach towels are available daily. A laundry service is also available on request.

Rooms types

Double and triple rooms with terrace or patio with either garden or sea views and some on the sea front with direct access onto the beach. Ideal for couples and possibility of adding an extra bed.

Junior Suites and Family Rooms with terrace or patios, with two door entry, 2 rooms, 2 bathrooms are perfect families who want to enjoy an all-comfort holiday. Maximum occupancy 4 people

4 Suites with minimal, elegant furnishings. Directly overlooking the sea with patio, private sunbeds and espresso machine - Maximum occupancy 3 people.




Similar Properties You May Like...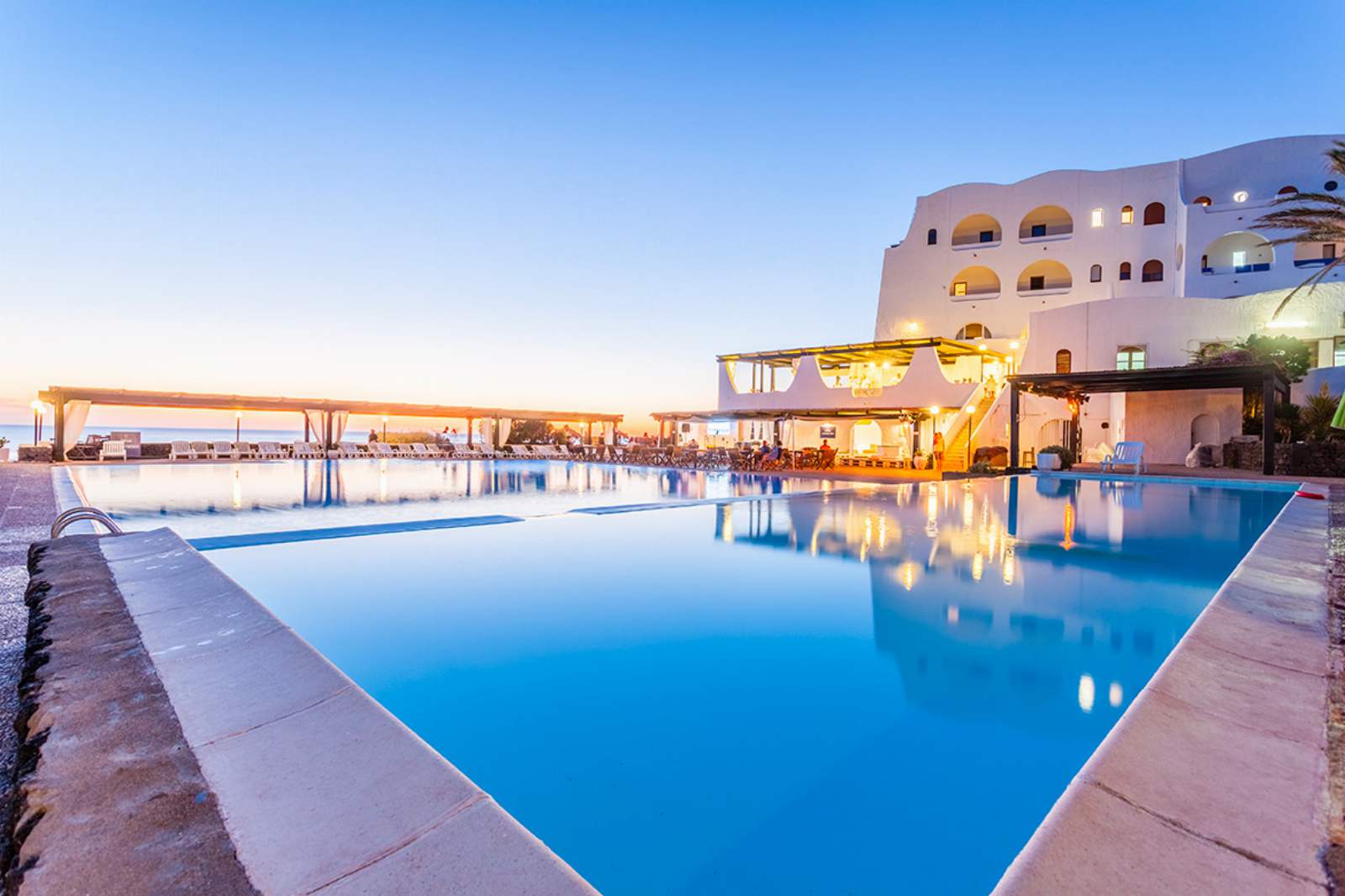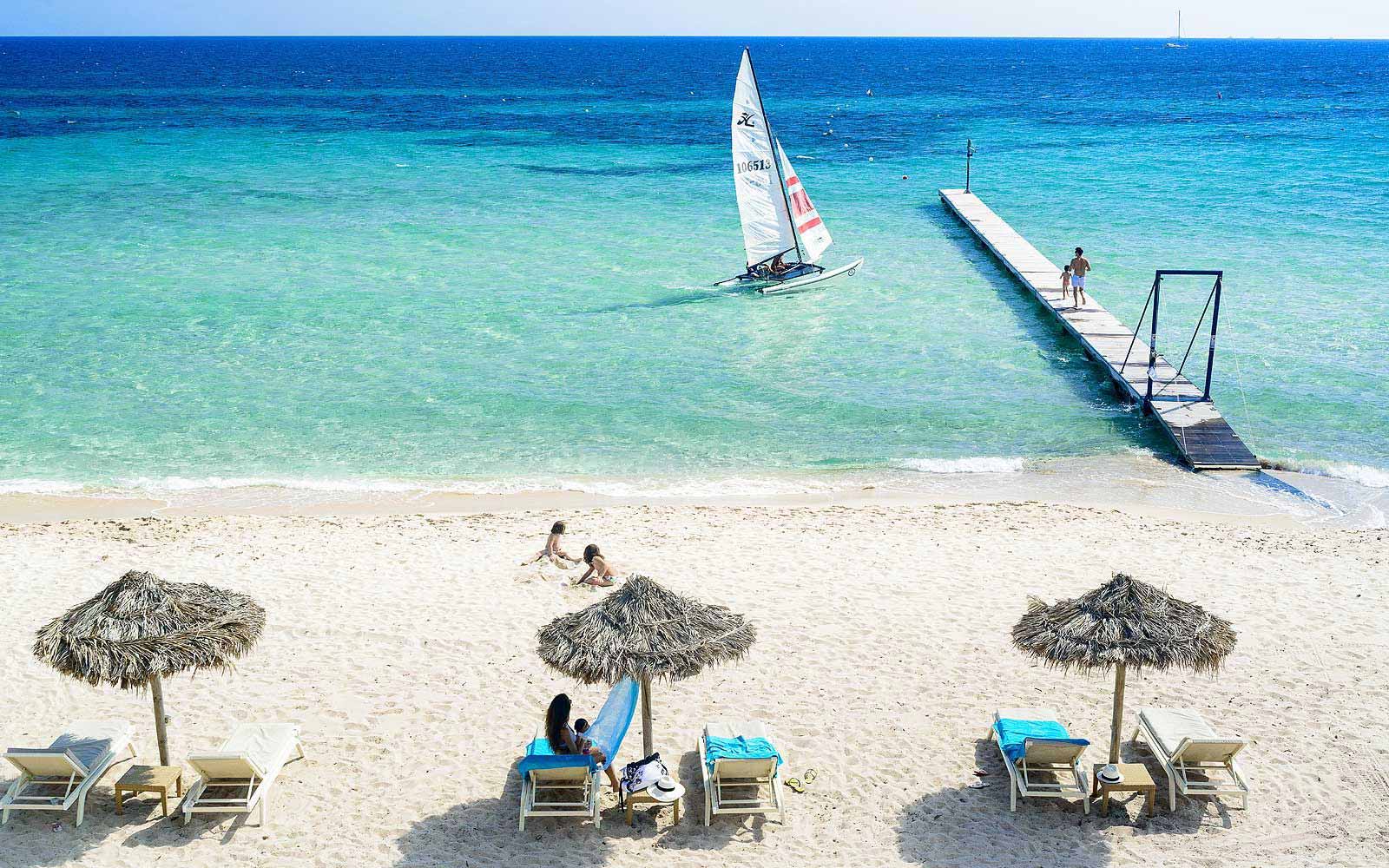 Sardinia > Santa Margherita Di Pula