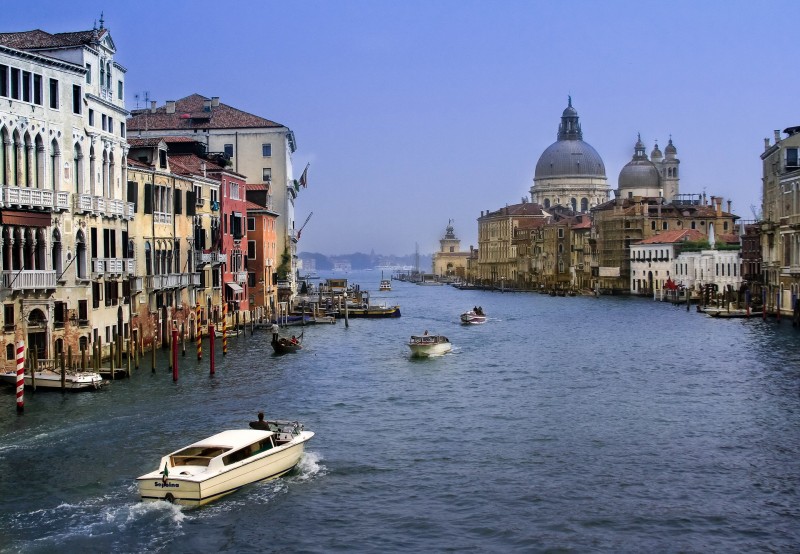 Venice is a busy place throughout the year, but in summer it buzzes like a beehive: other than the usual flow of international tourists and the Arts & Architecture Biennale, the Venice Film Festival is held every year at the beginning of September. There is no better time to spot celebrities in the Laguna, nor to see so much great art and beauty. If you have been to Venice before, you'll be surprised to know the city still has many secrets to reveal, things do to and foods to be tried.
Be sure not to get stuck on your way from the Venice airport so you can start enjoying the vibrancy of the city right away!
From Venice Marco Polo Airport to Venice Center
Venice Marco Polo Airport is located approximately 13 km (8 miles) from the city center. Opened in the early 60s, it's the most trafficked airport in the northeastern part of Italy, and after its expansion in 2002, it's the third busiest airport in the country after Roma Fiumicino and Milano Malpensa. It's second and third most covered intercontinental routes are Philadelphia and New York City, and more than 8,000,000 passengers have traveled through Venice Marco Polo in 2014.
Venice Marco Polo offers a series of transportation options to reach the city center that are mostly by taxi, bus or motorboat: read our recommendations to choose which works best for you.
By Water Shuttle
If your accommodation is located along Venice's canals, and you want to drop off your bags as soon as possible to start visiting this unique city, why not consider booking our shared water taxi service? The fare is more reasonable than taking a private Venetian water taxi and you can make a spectacular trip across the lagoon to honor the most authentic spirit of the place!
The Venice Airport Shuttle offers shared shuttle service to/from the Marco Polo Airport to/from hotels in the center of Venice. Once you arrive at the Venice Airport, you will be directed to the pier where the boat is docked, which is 500 yards (a 10-minute walk) from the airport. The shuttle will stop at your hotel dock if it is accessible to the airport shuttle; otherwise you will be taken to the pier closest to your hotel.
By Bus or Water Bus
Due to its proximity to the city, buses are a simple option to travel from the airport to your next destination. Both urban buses and airport shuttles cover the route and depending on where you need to go, you will easily find a mainland bus stop nearby. If you want to travel to the inner part of Venice and its islands, there is also a very practical water bus. 
Car Rental & Private Transfers
If Venice city center is not your next destination after landing and you need a car to continue your trip, several rental agencies are available right at the airport. We also offer a great rental service which will meet all you needs for transportation and can be easily booked in advance before your arrival. Alternatively, why don't you consider booking one of our private transfers? If renting a car is not for you and you need a simple, fast way to reach your destination, we have the right customizable solution for you!
Now that you are in Venice, take a look at our guided tours, food and wine experiences, museum tickets, and more!
Have you ever landed at Venice Airport? How was your experience? 
Comments
comments