Driving a car in Italy can be pretty intimidating, especially when you have to read traffic signs in Italian while navigating drivers whose idea of the need to follow traffic laws changes on a case-to-case basis. Add the fact that all major cities have restricted driving zones with no crystal clear marking, and you are in for a real guessing game that might end up in a hefty fine in your mailbox upon your arrival home. Therefore, if you are planning to drive in Italy, you'll want to do a little research regarding the best option of travel in your desired destination. Namely, you'll want to know ZTL, a tiny acronym of three small letters, but a big fine. The abbreviation ZTL stands for Zona a Traffico Limitato or restricted traffic area. This area usually corresponds to the historic downtown part of cities and is only accessible to residents of that area, store owners, and public transportation and taxis. And for some reason, no cars without permits can be allowed in this area. Mamma mia! 
ZTL… Italy's Version of EasyPass?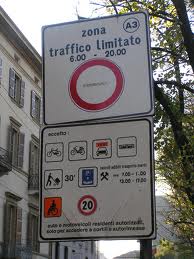 The ZTL functions similar to the way an EasyPass system works in the United States. Car access is usually controlled through cameras and if you don't have a permit to drive in the restricted traffic area, the cameras will record your license plate and you'll receive a heavy fine, even if you are driving a rental car (remember you do give your information to the rental car company).
If you don't have time to research ZTLs before your departure to Italy, we recommend that you ask the rental car company about it when picking up your vehicle. Most of the automated verification stations are clearly marked with a white square-shaped sign and have a red circle on it, much like a do not enter sign. They are usually placed at the corner near traffic lights where you may be able to catch the fact that you are entering into a restricted zone and turn around in another direction.
Unwanted Souvenirs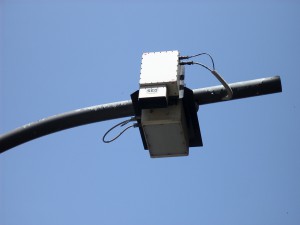 In some cities, the restricted traffic area is also highlighted by a special "traffic" light. When the light is red it means that the area is accessible to authorized cars only. If the light is green that means you have freedom to access that area. At night this traffic light is usually green: the most heavy limitations are typically enforced during the day. For example, if you are ever in Florence, keep your eyes peeled and you won't believe what you see: this sign is common almost everywhere.
Although most of the automated verification stations are clearly marked, if you pass into one without a permit, you won't be stopped by a police officer. Instead of at the time of violation, the traffic light will more or less take a picture of your license plate, and a violation requesting payment will be sent to your home – or to the rental car company. That's right, folks, even if you are driving a rental car, the request for payment will be forwarded to your home country. When you enter the restricted area fines can be very high and will cumulate each time you pass a control point you pay… so pay attention!
Avoid the Fines
In order to be aware of the access specification for different Italian cities, you will need to consult the page of each single municipality. You may want to search in Google something like "Comune + ZTL". Even if the most of the municipality websites are partially or entirely in Italian, you might be able to find a map of the ZTL and to familiarize yourself where you can and can not drive.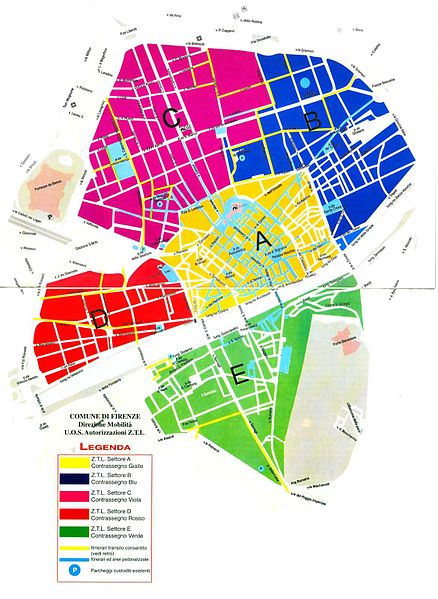 Below you can find links to major Italian city municipalities:
Don't get in trouble in FLORENCE: avoid driving in the city center and its nearby surrounding areas. Florence is beautiful on foot especially without those hefty fines!
Read the signs in PISA: there are 8 gates with telematic patrol to enter various ZTL areas in the city. Or have your vehicle put on a list to be able to drive in any ZTL area.
Don't be fooled in BOLOGNA: a large area in the historical center or this city has restricted ZTL zones from 7 a.m. to 8 p.m. But watch out! There are a few tricky 24-hour restricted zones that you can never drive through.
Avoid the chaos in MILAN: to get into the city center you must activate a 5-Euro entrance ticket. Read the fine print to make sure your vehicle meets the rules to enter.
Opt out of driving in ROME: public transportation is an easy solution to the ZTL drama. With Rome having the highest restricted traffic zones in Europe, take a bus, the metro, a taxi, or walk; you won't want to miss out on captivating historical sites.
Be careful in NAPLES: this city, who is famous for its crazy drivers, also has a large amount of restrictions. Car owners must purchase documentation to be allowed in any ZTL.
Picture perfect in TURIN: there are 35 ZTL points regulated by cameras in this city, and every license plate that enters a restricted zone is photographed.
Don't sweat it in PALERMO: although there are 54 various ZTL checkpoints, the city of Palermo is working on guidelines for these zones to make them safe, reduce air pollution, and save energy.
Select Italy offers many easy options to make your travel from point A to B trouble (and fine) free. Private transfers, train tickets, and airport shuttles, are all available so you can avoid those pesky ZTLs. Our How-to…Get Around series also offers helpful tips for your Italy journey!
What is your transportation secret for getting around in a car in Italy?
Comments
comments