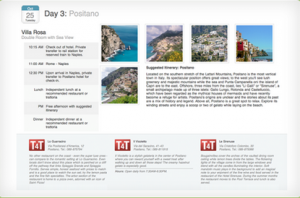 If you have never been to Italy before and you have only compiled a rough idea of where you want go and what you want to see, don't worry! Here at Select Italy, we have a complete planning service that specializes in creating the perfect Italy packages and tours. Visiting another country is supposed to be a fun and memorable experience, so don't spend any more time worrying about what you are missing out on. Start looking through our website today for the ideal match for your Italy vacation.
 Italy Packages That Match Your Wishes
Our experts will talk with you and listen to what you want to see and do while you are on vacation in Italy. Then they will put together a selection of Italy packages for you to look at and choose from. Select Italy will keep working with you to create the ideal itinerary that is going to provide you with your dream vacation. Then sit back and relax as we take care of making the necessary arrangements for the entire package. Your trip to Italy should be an unforgettable experience and exceed all of your expectations. Let Select Italy help plan your next vacation to Italy.
Comments
comments