Visiting a new country can be daunting. What is there to see and do? How can you get around? What's the food like? Can you recharge all your gadgets? And what should you wear? So many questions and that's before you even start packing! But don't worry, here at Select Italy we have thought of everything in our 8 free Italy travel guides. So what are you waiting for, here's how all you need to know to enjoy your vacation in Italy; let's dive in!
Free Italy travel guides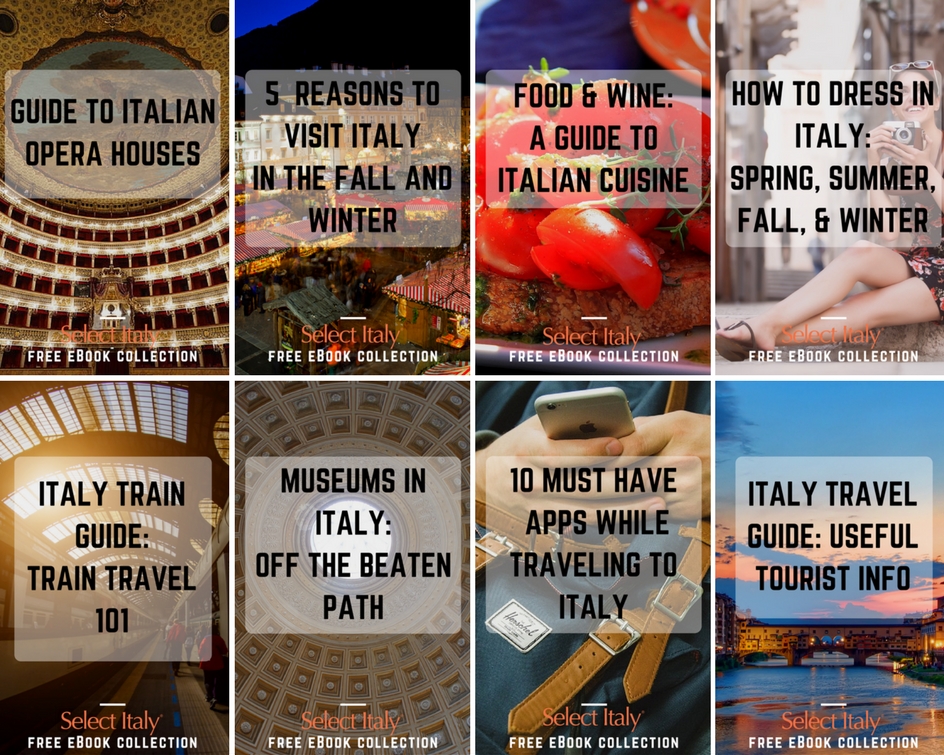 1) Italy Travel Guide: Useful Tourist Info
When you first arrive in a new country, there are a few things that hit you straight away. From the blast of hot summer air that greets you as you step off the plane, to the lyrical local language being spoken around you to the time difference that can turn night into day it all adds to the anticipation and sense of excitement. And travelling in Italy is no different. So if you've never visited before check out our free useful tourist info guide for an idea of what to expect from the coins in your purse, to the weather forecast to key dates in the Italian calendar. This is your go-to-guide to the necessities of life in Italy and well worth a read before you arrive to help you get your bearings.
2) Food & Wine: A Guide to Italian Cuisine
Italy's stunning landscape, breath taking art and fascinating history makes it an excellent destination for your vacation but no trip is complete without sampling two key elements; Italian food and Italian wine. The difficulty is knowing where to start, though, as each of Italy's twenty regions boasts its own unique local specialties, rooted in its differing land, culture and traditions. With Select Italy's Food & Wine Guide we give you our top tips on how to order, understanding the mysteries of Italian coffee culture, wine etiquette and the wonderful local specialties to look out for wherever you are in the country. For foodies and connoisseurs of wine, this is definitely one of our recommended Italy travel guides not to be missed.
3) Museums in Italy: Off the Beaten Path
If your passion is the past, the history of how the Romans built their empire or simply stunning medieval architecture and you've already seen the classic attractions, why not download our free ebook to museums off the beaten track. We'll guide you round the marvelous mosaics in Ravenna, Mantua's eclectic, sprawling Ducal Palace and the ancient Paestum Temples in southern Campania, showing you a host of magnificent sites away from the hordes. This is Italy at its very best and a perfect illustration of why there are more UNESCO world heritage sites here than anywhere else in the world.
4) How to Dress in Italy: Spring, Summer, Fall, & Winter
For many people Italy means one thing; fashion. And Italians certainly know how to dress, with the aim being to create a good impression, or a bella figura. For a visitor all this focus on being stylish can make packing your suitcase extremely difficult. So drop the crocs, skip the socks with sandals and get ready to dress to impress with one of our most popular Italy travel guides: How to dress in Italy in Spring, Summer, Fall & Winter. You'll learn the secret dress codes that all Italians know, how to look cool whatever the weather and the top 10 must-have fashion items for the discerning traveler in Italy. Perfetto!
5) Italy Train Guide: Train Travel 101
So we've covered Italy's fabulous food, stepped off the beaten path to discover hidden gem museums, and avoided the worst fashion faux-pas; what next? Well, how about a bit of Italy Train Travel 101 to help you to explore further afield. Personally there is nothing quite like travelling by train, watching out the window as bobbing sunflowers, vines, olive groves and stunning scenery glide past. And these days Italy's high-speed trains have changed the way you can travel making many cities reachable within a day trip. Sounds tempting doesn't it? Check out our ebook for everything you need to know about buying tickets, finding your train, transfers, reservations and handling your baggage.
6) 10 Must-Have Apps for Travelling in Italy
Whilst you're on the move, keeping luggage to a minimum is crucial so instead of bulky guidebooks, check out our ebook and download 10 must have apps for travelling in Italy. As with all our Italy travel guides this one gives you tips and tricks to make getting around easier, suggesting apps for your smartphone or tablet that organize your packing, help you navigate around town on foot or via public transport and even check if your medicine is available in Italy. You'll never need to carry a heavy guidebook again!
7) 5 Reasons to Visit Italy in the Fall and Winter
If you think that Italy is just a spring or summer destination, however, think again. We offer 5 reasons to visit Italy in the fall and winter suggesting the best destinations for winter sun, Christmas markets and carnevale celebrations. And we have lots of great ideas to avoid the crowds and make the most of your low-season trip enjoying the winter sales, delicious regional cookery classes and mouthwatering seasonal food markets. Don't miss out on the chance to see Italy as Italians see it, its beautiful all year round.
8) Guide to Italian Opera Houses
And finally, think of music in Italy and there's probably just one thing that comes to mind; opera. In fact an Italian invented opera back in the late 1500s when Jacopo Peri staged his homage to Greek tragedy called Dafne. The "work", translated as opera in Italian, started the most popular international operatic scene and today Milan's La Scala, Naples' Teatro San Carlo and Venice's La Fenice are still in the top 10 opera houses in the world. So, if you're planning an evening at the opera, check out the last of our Italy travel guides – the Select Italy guide to Italian opera houses. You'll learn all about Italy's most famous opera companies, how to dress for opening night and where you can find opera around the country. Simply stunning.
Download them now!
Our ebooks are written with the expert guidance of our fabulous travel specialists and based on years of experience assisting travelers like you to book the perfect vacation in Italy. Leave us a comment with your best piece of advice about travelling in Italy. And in the meantime we wish you a wonderful vacation! Buona vacanza!
Click here to download the eBooks.
Comments
comments