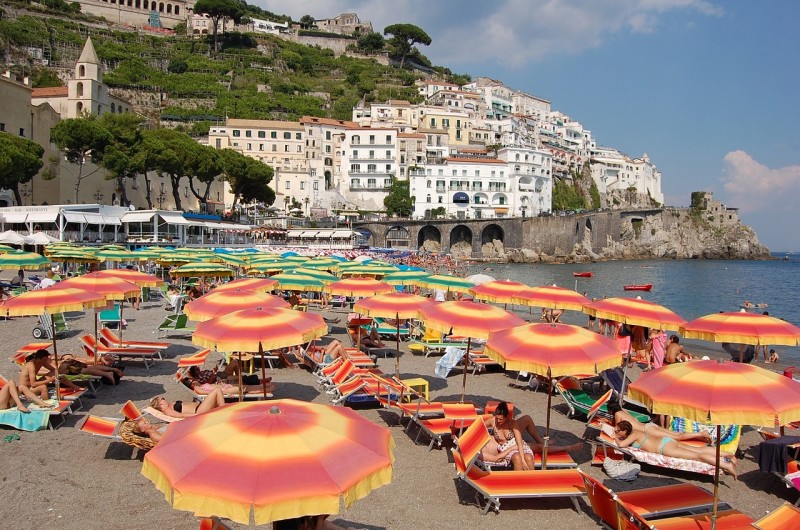 The first thing that you're wondering is, what is the Italian holiday Ferragosto? Ferragosto is Assumption Day and is a religious holiday that also celebrates the middle of summer.  This period is important because it also marks the beginning Italy's famous vacation period. Celebrated on August 15, Ferragosto is unique in that most Italians will take this vacation period – even those with businesses and shop.  It's important to know what to do during this time so here our suggestions!
5 Tips for the Italian Holiday Ferragosto
1. Go to the beach
You'll find most Italians heading to the beach during this period. Ferragosto is generally the time in Italy where you'll find coasts that are far more crowded than the cities.  You'll find that the beaches are packed with people, vendors, and plenty of unique experiences that you won't find at any other time during the year.
2. Stay away from the cities and plan ahead
As stated before, most cities will turn into ghost towns during this time of vacation. It's not like the United States, most stores, even the usual 24 hour ones (except for some pharmacies, perhaps) will be closed. That said, if you find yourself in cities just because your transitioning from one vacation locale to another, make sure you plan ahead.  Pack what you need before you travel if you're heading to Italy in mid-August.
3. Check out the festivities
Remember, this is a time of vacation. Although most other-venues will be closed, plenty of festivals will open up during this period.  If you can't find music, food, parades, and fun in the cities, then it's time to shuffle around a little more!  All of the fun is at the festivals and you're guaranteed to have one of the most unique, thrilling, and eye-opening times of your life. One example, Rome's Gran Ballo di Ferragosto, is full of awesome fireworks, live dancing, and other great things that you just can't miss.
4.  Palio of Siena
Lucky for you, Italy's greatest festivals are Carnivale and The Palio of Siena. The Palio of Siena, taking place on the 16th (sorry Carnivale fans, you'll have to wait a little longer), is the biggest horse race in Italy and, by far, the most important one in August. Folks from all over the world travel to Siena in Tuscany to see this festival and you owe it to yourself to check out this awesome event.
5.  Embrace your stay!
What better time to go on vacation to Italy then when all the Italians are vacationing as well? It's a great time to experience in Italy as everyone will be in fun mode and you'll have a great time interacting with and enjoying the company of many of the locals. Vacation time is a stress free time so ditch your worries and live it up!  As the Italian saying goes, La Doce Vita!
Have you ever been in Italy during Ferragosto? Share your experience with us!
Comments
comments