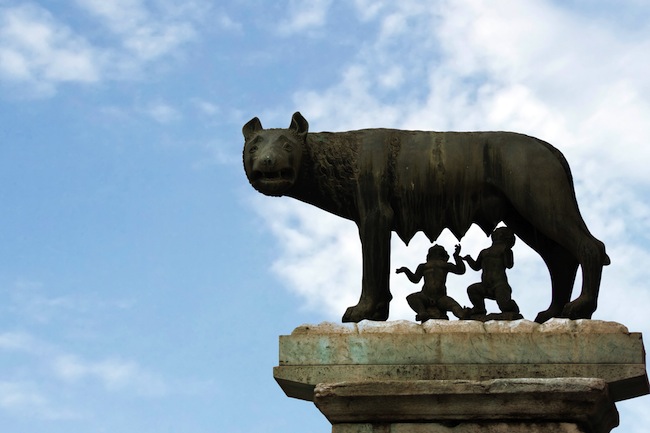 Rome, the city of Romulus and Remus, the Colosseum, pasta alla carbonara and cobble stones streets (San Pietrini), is also (in)famous for a rather unpleasant aspect…its traffic. Lines of cars piled one on top of another can be intimidating, and the ZTL in the center will often result in heavy fines for those who are not familiar with the area. However, like so many other big cities, there are several ways to travel in and out of the capital city.
The Metro
The subway or La Metropolitana is one of the fastest ways to travel in Rome. Many people might think that it is not safe or slow, but, as in similarly large cities like NYC or Chicago, this is a faster, safer, and more well connected method of transportation if you keep these few tips in mind:
Lines: LINEA A (orange) and LINEA B (blue). There is also a new line under construction, called (logically) LINEA C
Traveling: LINEA A brings you from N-W to S-E and LINEA B will get you from N-E to S-W. Both meet mid-way at Rome Termini
Ticket price: Daily €1.50; Weekly €24.00
Time: Sun-Fri (5:30 AM – 11:30 PM) and Sat (5:30 AM – 12:30 AM)
Allowed: You can bring your bike (one per person, FREE) and your animal (buying a ticket and keeping it in a cage or leash)
Buses
Don't be fooled when you look at a map of Rome – it initially seems like a small, circular city, but it is actually quite big and labyrinth-like! Rome's ample size makes traveling by bus another excellent alternative. This is especially pertinent if you are against using the subway/being underground and want the extra perk of getting driven around the Eternal city. Here are few things to remember:
Tickets: You can buy your ticket next to bus stops at the tabacchi (shops where you can buy cigarettes, gum and magazines). These stores are normally recognizable by the T hanging outside of their shop. Buy them here, not on the bus, as chances are very small you will be able to.
Validate your ticket: Remember to find the yellow machine in the bus and stamp your ticket. Violators will be fined.
Prices: a ticket that lasts 75 minutes costs €1.50; 3 days unlimited pass €16.50 and weekly €24.00
Routes: We recommend buying a map with all the bus routes so that you plan your way ahead of time. If you have internet, you can use Google Maps, but do not pay attention to the time tables as the traffic often results in tardy arrivals.
Getting Off: This might seem easy, but unfortunately not every bus has an internal board or voice that announces each stop, and at times if there is no one waiting for the bus at the platform the bus won't even halt. Most buses have the STOP button…but what if you don't know which is your stop? There are a few solutions. One is asking the driver to let you know when to get off by showing the maps and your stop. However, sometimes the language barrier is a problem. You best chance is to either ask a local bus rider next to you or follow the route in real time (don't count stops since sometimes some are skipped) and press the button when you are ready to leave. The last important tip is to exit the bus from the middle exit and not the side ones, which do not open unless people need to enter.
Night Bus: The subway might be closed, but you are not stranded and obliged to get a taxi – there are night buses which are sometimes even punctual since there is less traffic during these hours!
Now you should be ready for your bus adventure!
Rome Termini Station
In Rome there are several train stations, but the biggest and most well known is Rome Termini. Located near the center of Rome, you can arrive here by bus, metro or taxi. The station is quite large and connects to all of the main cities in Italy. If you buy your ticket at the station, get it stamped by one of the validation machines next to each track (e-tickets, such as the ones issued by Select Italy, do not need to be validated). If you have a while to wait for your train, you can get a coffee, buy some magazines and even indulge in some shopping.
As shown in this infographic, we strongly believe that traveling by train around the boot is one of the best ways to get around, so get your ticket fast and see the many beautiful landscapes of this country.
And don't forget! To get to the Fiumicino Airport you don't have to pay for a taxi, just take the fast train for $35 by sending an email to info@selectitaly.com with your desired dates and times.
Stazione Tiburtina
This is the "Cinderella" (aka not-exactly-princess-status) of the train stations in Rome, but inside there are wonders. Tiburtina station can be reach by LINEA B of the metro, bus or taxi. This station is for shorter trips but is also the biggest station for long bus rides around Europe.
The main routes are:
Roma-Florence
Roma- Ancona
Roma-Pescara
If you are interested in taking one of the routes from Tiburtina, send an email with your desired route, date, and time to info@selectitaly.com.
As you can see, there are different means of transportation for your next Roman adventure. Once you are out of the main city, if you would like to enjoy the Tuscan hills or drive on scenic drives of the Amalfi coast we suggest to rent a car or get a private car.
Tell us your Italian transportation experience? We want to know!
Comments
comments