Once upon a time…no incipit is more suited that that when we write about the Maestro Ennio Morricone. Not only because his name was brought to popularity from movies such as Once upon a time in the West and Once upon a time in America but also for how he entered my life, and those of my friends, many years ago. Even if I was clueless of who Morricone was, my friends and I were maybe some of his greatest fans! And in particular some of the biggest fans of this song:
Isn't it awesome? Now imagine someone whistling it…that was the soundtrack that my best friend's dad majestically used when, instead of classic bedtime stories, made us happy by telling us short far west tales. We didn't know much about Spaghetti Westerns, Clint Eastwood or John Wayne. We just used our imagination and in a second, thanks to that music, we could dream of  cowboys, sheriffs, heroes, badmen and gunfights. Florence and the Far West had never been closer.
Year afters I discovered the Maestro Ennio Morricone and his collaborations with another great Italian artist, his friend Sergio Leone, I fell even more in love. The power duo delivered some of the biggest masterpieces that the movie industry has ever met and coincidentally became friends during their school days. Most famously known for their teamwork of the Spaghetti Westerns, the duo have truly created history.
Who is he?
Recently celebrating his 85th birthday on November 10th, Ennio Morricone is a world-wide icon. He is a conductor, composer, and orchestrator and has scored over 400 films in his lifetime. Truly incredible, the Maestro was born in Rome where he started writing music at the age of six and is now known as the most versatile and influential composers of all time.
Why is he famous?
In a career spanning seven decades, he has composed a staggering body of music, including scores for more than 450 films: A Fistful of Dollars; For a Few Dollars More; The Good, The Bad, and the Ugly; Once Upon a Time in the West and A Fistful of Dynamite; The Battle of Algiers; Sacco and Vanzetti; Cinema Paradiso; 1900, Malena; The Untouchables; Once Upon A Time in America; The Mission; U-Turn; The Unknown Woman; and The Best Offer, among hundreds of others.
Some of the many achievements of Maestro Morricone are:
5 Academy Awards nominations; one of which he won in 2007
3 Grammy Awards (for the soundtracks of Once Upon a Time in the West and The Untouchables) and 6 nominations
An induction into the Grammy Hall of Fame for the soundtrack album of The Good The Bad and the Ugly
2 Golden Globes (for his scores for The Mission and 1900) and 8 nominations
The ASCAP lifetime achievement award; the career achievement award from the Film Music Society; and 27 Gold records and 6 Platinum records
Morricone in the United States
In 2014, with two exclusive events, Ennio Morricone will perform his first-ever Los Angeles concert at the Nokia Theatre on Thursday, March 20th, followed by a performance in New York at the Barclays Center on Sunday March 23rd. In both of these concerts Morricone will perform music from a number of his works and conduct an ensemble of 200 musicians and singers. This is only the second time Maestro Morricone will perform in the U.S. since the historic concert of 2007, and it is sure to be one of the most amazing experiences by the Maestro. Want more information? Visit enniomorricone-usa-2014.com.
"Through the years Morricone has created music that is as memorable as the films it accompanies, and sometimes more so."— Jon Pareles, The New York Times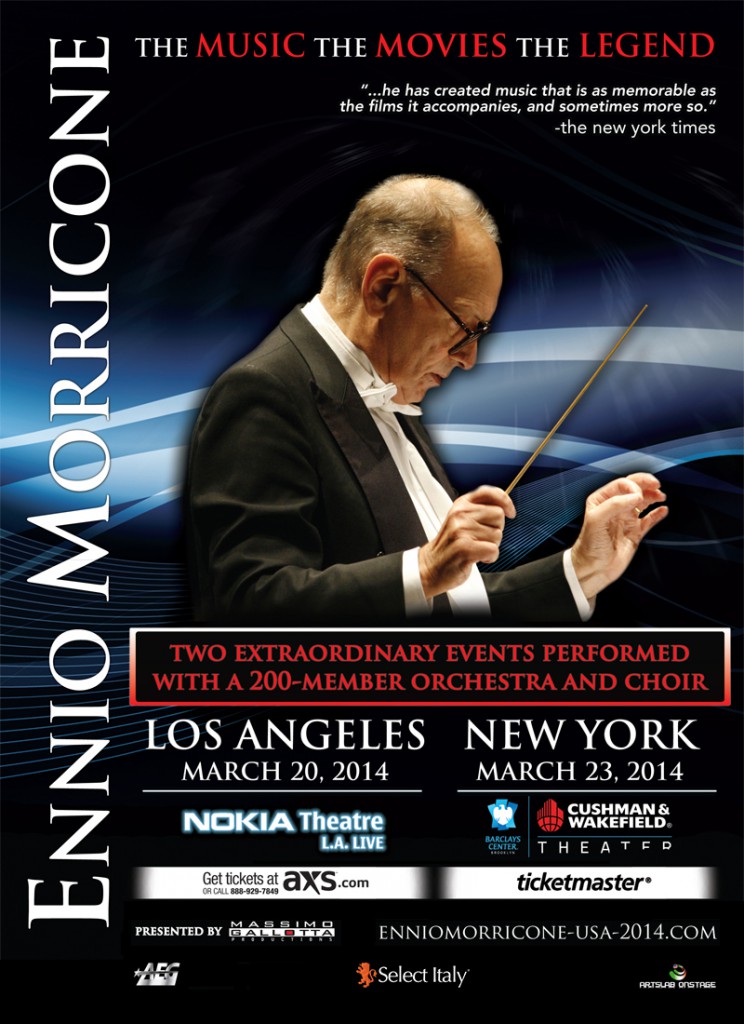 Do you have any great memories of Ennio Morricone? Share with us! 
Comments
comments