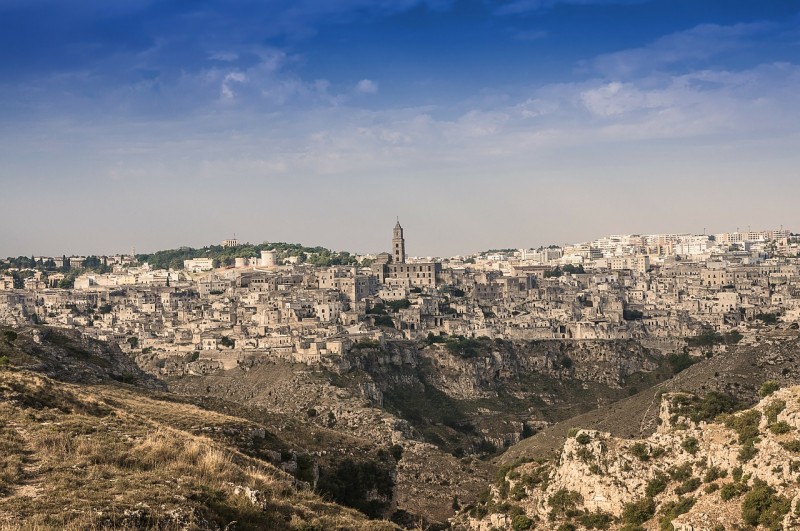 Basilicata… what's that? No, not some strange traditional dish you are pressured to eat while visiting your relatives in Italy or some grand legendary museum in Rome that you've never heard about. Basilicata… it's a region in Italy!
Perfectly positioned in what resembles Italy's instep and sandwiched in between the regions of Puglia and Calabria, Basilicata is a little-known charm of Italy. Decorated with rolling hills, rustic homes, and spirited locals this region is an enchanting addition to the Bel Paese.
Basilicata Thrives!
Previous to World War II, Basilicata was fighting an on–and-off-again battle against The Kingdom of Italy, begging to claim their independence. Years before the war, wealthy families controlled the land and exploited its people, providing them with little assistance. Basilicata, left powerless in a dilapidated economy, developed into an impoverished region. Such poverty left a chunk of its citizens no choice but to emigrate, which led to a demographic crisis from which its still recovering. In fact, the level of emigration was so epic that even the Italian government decided to offer the overlooked region a hand.
Since then, things have been looking up for Basilicata. UNESCO declared the Sassi di Matera a World Heritage Site, Fiat established an enormous factory leading to an upsurge in the economy, and Pollino National Park was established. Basilicata is now proving to be an extremely vital asset to Italy. In 2007, the European Fund for Regional Development initiated a six-year transformation of this land focusing on creating sustainable jobs, promoting economic and social cohesion, and participating in development and adaptation.
Residents of Basilicata are enthusiastic and proud to show off their home, welcoming more and more visitors each year. The land of this region is flawless and remains untouched to uphold its pristine image. Here you can easily find marvelous lakes and a relaxing atmosphere – ideal for any much-needed getaway. Basilicata's land stretches from the Tyrrhenian Sea to the Ionian coast, where beaches are far from none besides the illuminating sun of Southern Italy and the hint of fresh air that never seem to disappoint.
Coast to Coast
Indeed, natives of Basilicata are so elated about their origin, sharing it with others is no problem at all. The film 'Basilicata Coast to Coast', which was released in 2010, shares the Basilicata terrain in a brilliant way with its audience. Director and actor Rocco Papaleo was born in Basilicata and created this film with the idea to promote the image of this region in conjunction with the European Fund for Regional Development. The film follows four friends who are in a band and their unforgettable journey to a national theater festival where they are scheduled to perform. The friends decide to leave ten days before the festival to travel the region on foot, aka "coast to coast." With a humorous plot line and entertaining music, each member of the group embarks on a process to find the true meaning of their lives that has been lost over time. The film beautifully captures the culture and scenery of Basilicata and is an eminent film to not only for a great laugh but also to enjoy the splendor of this Italian destination.
Select Italy's Basilicata
Matera, which is a city and one of the two provinces in Basilicata (the other being Potenza), is a flawless option if you wish to explore rich history and outstanding beauty. Basilicata's Matera is too scenic of a destination to pass up; wonderful luxurious hotels add to an unforgettable vacation experience where it is possible to spend the night in a 9,000-year-old ornate and serene cave. The best way to discover the city of Matera would be to walk around and dive right into rare accounts including cave dwellings, ancient water systems, the Park of the Rupestrian Churches of Matera, and gaze at beautiful frescoes. Local cuisine is incredible – no where else can you find over ten types of fresh pastas and lamb around every street corner. And don't forget the wine! Basilicata is home to a multitude of wineries where indigenous grapes create the perfect flavor combination.
Basilicata is a pure example of Italian culture. Have you ever been in Basilicata?
Comments
comments