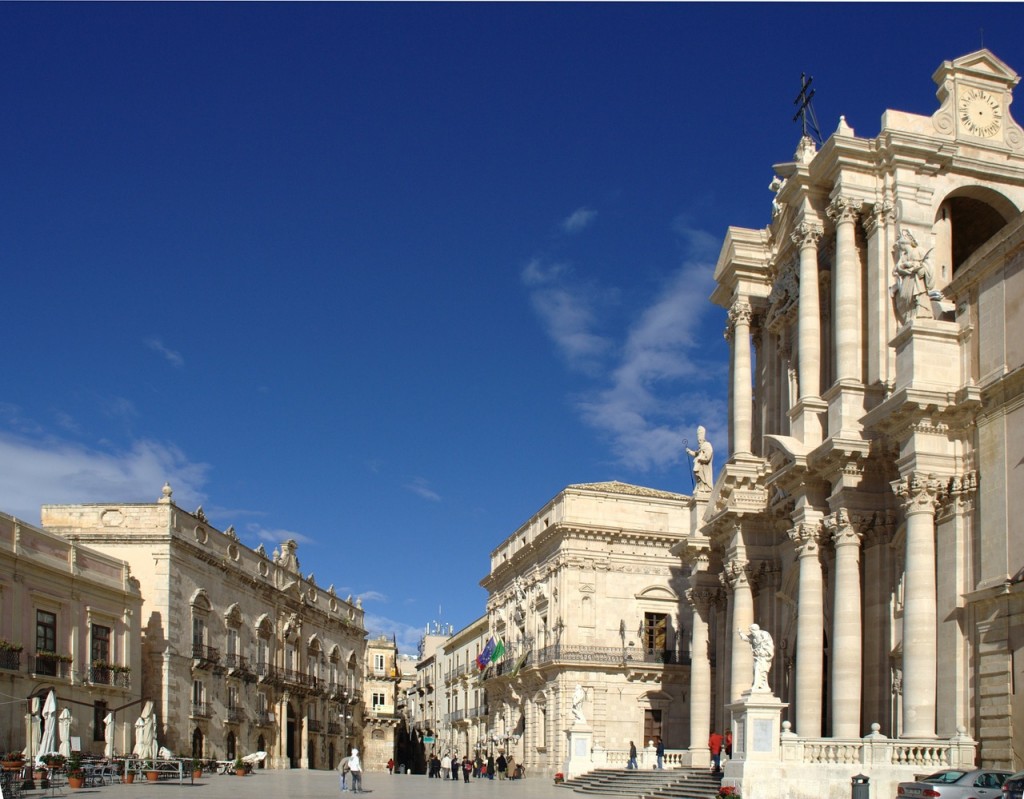 Ah, Siracusa! Once the teeming New York City of the ancient Mediterranean world, now a sleeping beauty of ochre and pastel Baroque buildings next to a shimmering cobalt sea, Siracusa (or Syracuse) is the shining star of southeastern Sicily and a true Italian treasure.
According to travel writers Dana Facaros and Michael Pauls, of Cadogan Guides, Siracusa "was one of the most important cities of the Western world for over a thousand years. This is the city that whipped Athens in the Peloponnesian War and put an end to her imperial dream. Later, Plato came here to teach philosophy to Syracuse's tyrant, and Archimedes invented his brilliant machines to defend the city from the Romans." They go on to say that the light here is "sharp and brilliant" and "that, perhaps more than anything, reminds the visitor of its Greek founders."
Well, there are reminders aplenty of Sircacusa's golden Greek past, but the light truly is spectacular. In summertime of course, but also in winter, when the crisp light throws the details of the old city's Baroque buildings into stunningly sharp relief. Resplendent and full of surprises, Siracusa has at least six places that are almost guaranteed to put a smile on your face:
1) Ortygia
The ancient Greeks thought this island was shaped like a quail, and Ortygia is the Greek word for the bird. It's connected to the mainland by two small bridges, but really does project a Venetian island atmosphere. The beautiful Piazza del Duomo is a triumph of Sicilian Baroque architecture. As pretty as the cathedral is (its façade was completed in 1754), check out its bones: inside and out, the  supporting Dori columns inside are actually what remains of a very large fifth-century Greek temple to Athena
2. Fontana Arethusa
When you first set your sights on this enormous fountain, on the site of an ancient seaside freshwater spring, you will smile because you will remember that you may have forgotten just how romantic some spots in Italy can be. Ancient Greek legend holds that Artemis turned the nymph Arethusa into this fountain so she could hold onto her virginity, which was endangered by the randy river god Alpheus.Today papyrus reeds, swans and gorgeous views abound.
3. The Greek Theatre
Siracusa's ancient Greek theater, on the mainland in Neapolis, seats 15,000, making it one of the world's largest ancient Greek theaters. It held more spectators than even the ancient Roman amphitheater, also in the archaeological zone. Both theaters are still in use, particularly for summer theater performances.
4. A Really Big Ear
If you thought your pet rabbit had big ears, wait until you catch sight of the Orecchio di Dionisio. Near the Roman amphitheater, the so-called Ear of Dionysus is an ancient man-made cavern, shrouded in legend, that measures 211 feet wide by 69 feet tall. If you've got a secret to tell, keep it to yourself here: in an ear of this size, the softest whisper carries far and wide.
5. Barocco Bliss
If the Piazza del Duomo steals most of Siracusa's Baroque thunder, don't forget to simply drift, and you'll see architectural details on fountains and balconies and façades that will compete to sweep you off you feet.
6. Seafood
Siracusa is a city of the sea and that, of course, means seafood. Don't miss a stroll around the fish market. Restaurant Don Camillo serves great seafood dishes in an elegant setting. The Ristorante Antica Locanda is a more casual restaurant, but owner Enrico takes the freshness of the seafood he serves very seriously. Even simply grilled swordfish takes on a new dimension of flavor. Both restaurants are on the island of Ortygia.
Which of these 6 places in Siracusa made you smile? Tell us!
Comments
comments